BEST OF 2020
The Best Albums of Summer 2020
By Bandcamp Daily Staff · September 25, 2020
These are our favorite albums of the last three months.
Merch for this release:
2 x Vinyl LP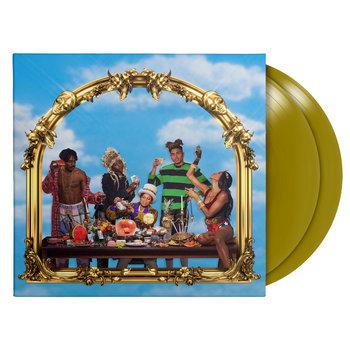 You may know Aluna Francis from her partnership with George Reid in UK dance music powerhouse AlunaGeorge. On Renaissance, the DJ, producer, and singer-songwriter steps out on her own, and the results are glorious. If you're familiar with AlunaGeorge, the array of electronic styles—house, UK garage, dancehall, electro, and so forth—that Francis expertly rolls into her ebullient sound won't come as a surprise, but the seamlessness, expansiveness, and joy of her work here seems to indicate a level-up in confidence and creativity. (She has specifically said that Renaissance is to be placed firmly in the lineage of Black-originated dance music.) Collaborations with similarly bold Black artists feel, well, genuinely collaborative, with Francis' voice firmly intact but her respect for the featured artists clear. The song with KAYTRANADA, "The Recipe," is smooth, sensual, and worldly; "Get Paid," with Princess Nokia and Jada Kingdom, is a fiery dancehall track about knowing one's self-worth. With genuine happiness a precious commodity these days, I can firmly recommend Renaissance not just as a terrific solo debut, as brainy as it is full of dancefloor pleasure, but as an instant and necessary mood lift (just try listening to "Body Pump," a standout even on an album where no tracks feel skippable, and not feeling at least a twinge of genuine delight).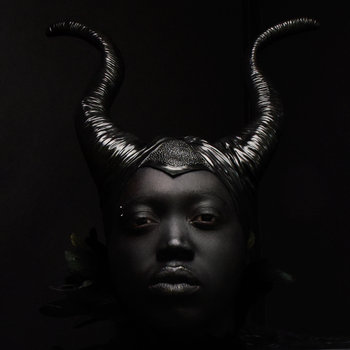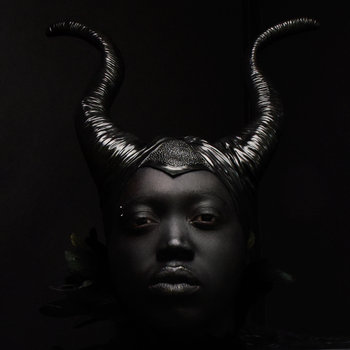 Merch for this release:
Vinyl LP, Compact Disc (CD)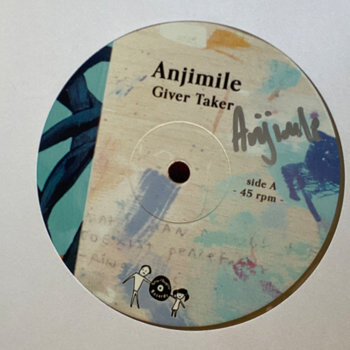 Anjimile's full-length debut, Giver Taker, is a deeply spiritual album. Giver Taker tackles themes of life, death, and rebirth, and was written while Anjimile was in addiction treatment as well beginning to live more fully as a non-binary trans person. On the title track, Anjimile is concerned with the grief of losing a friend: "I said my goodbyes in the garden/ Stifling my cries/ I beg your pardon/ How could you's and why's to my maker/ Cut me down to size," he sings. On "1978," he recounts the influence of his grandmother: "In the night it's a miracle to be held by you/ What today can I make inside of my heart to you?" Many of Anjimile's delicate lyrics are influenced by the Biblical imagery prominent in his childhood, and the chorus of "In Your Eyes" harkens back to his time in a youth choir. In all, Giver Taker is a mediation on reclamation of one's self.
Read our interview with Anjimile.
Blu & Exile
Miles
Merch for this release:
Vinyl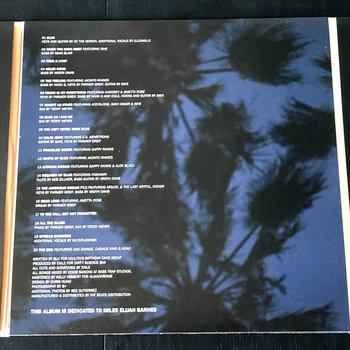 Anyone who was still holding out for a Blu & Exile comeback now, 13 years after their masterpiece breakout Below the Heavens and a seemingly endless string of stalls and false starts, found their supernatural belief rewarded in July with Miles, a mammoth, 90-minute-long triple-LP that unfolds with such ease you may find yourself wondering why it took them so long to deliver it. Blu, anticipating your question, provides the answer in "The Feeling," one of the album's many bright, searching tracks: "The feeling is gone," he says, "I couldn't even pen a good song/ I had to let it go/ And ask God to direct my flow." On Miles, happily, the feeling is back, and what the album does, above all else, is reaffirm the fact that any hope placed in the duo was well-founded. Blu has paired with countless producers over the years, but his sunny, engaging vocal style still sounds best over Exile's twinkling keys and humid jazz, funk, and soul loops. Ditto Exile, who has manned the boards on notable projects—last year's Black Beans, with Choosey, was one—but who seems almost genetically equipped to tap into Blu's everyman charisma and spin beats that match his mood. They maintain that good-natured back-and-forth throughout the record, spirits high even when detailing personal loss. Too long to be a victory lap, Miles is more like a victory marathon.
Read our interview with Blu & Exile.
Merch for this release:
Vinyl LP, Compact Disc (CD), Cassette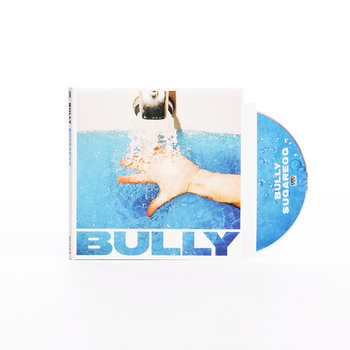 Alicia Bognanno loosens her grip and sharpens her focus on Bully's third release, the guttural and gripping SUGAREGG. This is a record jam-packed with visceral thrill after thrill as Bognanno careens through songs exploring feelings of rage, angst, and defiance, her raspy, full-throated vocals going head-to-head with her tattered guitar attack without any one element ever overpowering the other. Grunge has always been the star ingredient in Bognanno's musical DNA, and songs this dropped-down can sometimes err on the doomy side; but the spirit on SUGAREGG is one of joy that comes from achieving some semblance of hard-earned emotional equilibrium. An excellent record with which to scream into the void that is 2020. Bognanno is screaming right along with us.
Read our Album of the Day on SUGAREGG.
Boris
NO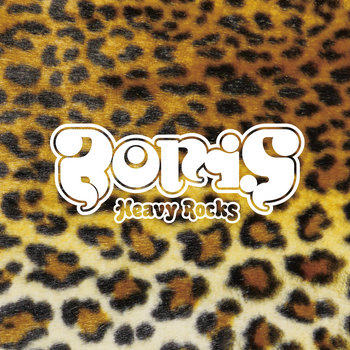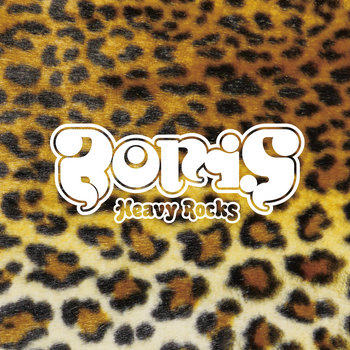 Merch for this release:
Vinyl LP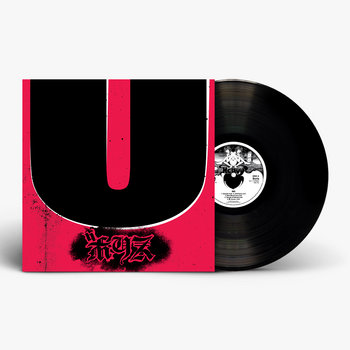 The only constant in Boris' nearly 30-year career is, a bit ironically, their shared commitment to inconstancy. From the mournful sludge and stoner metal of their early days, to their splits with obscure grindcore outfits and world-famous noise icons, to recent flirtations with shoegaze, electronic, and pop, the Japanese band's catalogue spans a vast musical universe that offers endless avenues for intensity. Condensing three decades of heaviness into 40 minutes of grinding, cathartic hardcore (or as the band calls it, "extreme healing music"), NO marks the closest Boris have drifted to the event horizon since the '90s—a natural reaction to a world in disarray: "It was the only way to stay calm during coronavirus," drummer Atsuo told Bandcamp last month. Accordingly, the album's defining moments develop its makers' frantic desire for escape as the basis for twitchy D-beat ("Non Blood Lore"), doomy black-n-roll ("Anti-Gone"), and at the very end, euphoric post-metal ("Interlude"). Whereas many recent albums astounded thanks to their slow, commanding sweep, NO offers a searing reminder that, even well into their journey, Boris remain loud, fast, and maniacal as ever.
Read our Big Ups with Boris.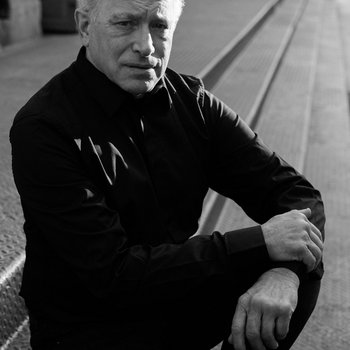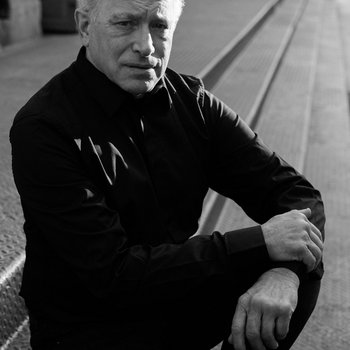 Merch for this release:
Vinyl LP, Compact Disc (CD)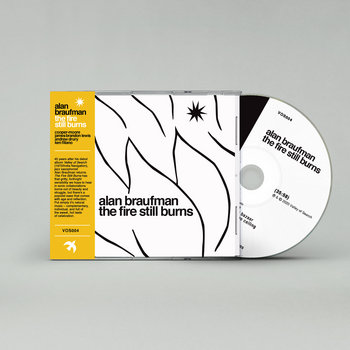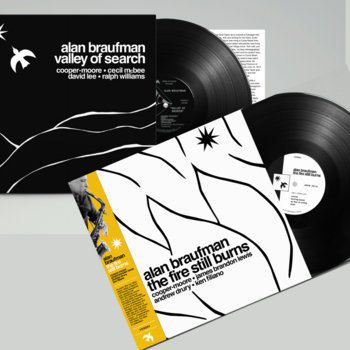 In 1975, saxophonist Alan Braufman released Valley of Search, a superb free jazz album recorded in a storefront on the ground level of a broken-down loft. Released on the India Navigation imprint, it largely went unnoticed until 2018, when Braufman's nephew, music industry luminary Nabil Ayers, reissued it. Forty-five years later, the scenery is a little different; Braufman recorded his new album, The Fire Still Burns, in an upstate New York studio in a single day. Perhaps on purpose then, the music on Fire feels raw, as if Braufman and the band (including pianist Cooper-Moore, a major part of Valley of Search) were trying to recapture the magic of their mid-'70s set. Yet the music here feels bigger, brighter, and just as spiritual. Songs "No Floor No Ceiling" and "Creation" harbor the same frenetic energy as the 1975 record. Elsewhere, "Morning Bazaar" represents a newfound direction for Braufman; it's jazz that doesn't strictly adhere to any sort of genre labels. Time hasn't diminished Braufman's creativity; all these years later, he's still creating list-topping records that'll resonate forever.
Read our Album of the Day on The Fire Still Burns.
Merch for this release:
Vinyl LP, , T-Shirt/Apparel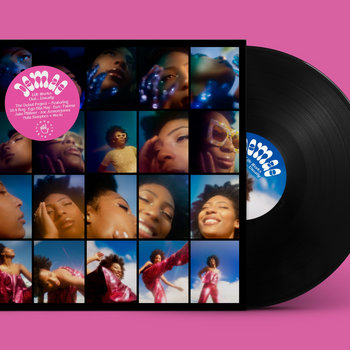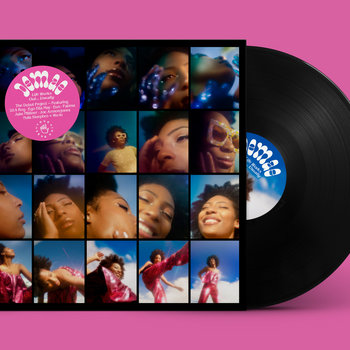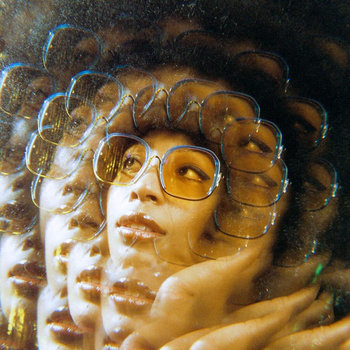 Demae's debut solo EP was a pleasant surprise. Not that she hasn't always been great; but Life Works Out…Usually offers so much in a tight window, and it never veers off course. Here, the singer cuts a stellar blend of '90s-leaning neo-soul without either mimicking her influences or hanging around too long. Even when she's chastising social media dependence, like on "People Are Weird," it never feels like she's talking at you; she just wants you to put down your damn phone and stop seeking validation from strangers. The album's high point is "Basic Love," a body-rolling slow groove dedicated to the superhuman power of romance. Here, Demae is swimming oceans and climbing mountains just to show how committed she is. Then on "Seasons Change," the EP's meditative closer, she assesses the here and now: This is her moment and she vows to keep pushing, no matter how much the world tries to push back.
Merch for this release:
Vinyl LP, Compact Disc (CD), 2 x Vinyl LP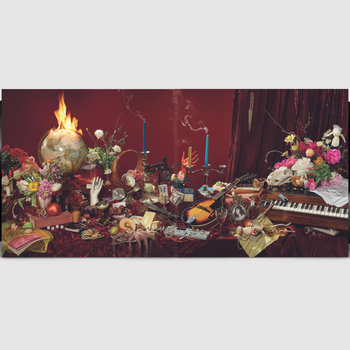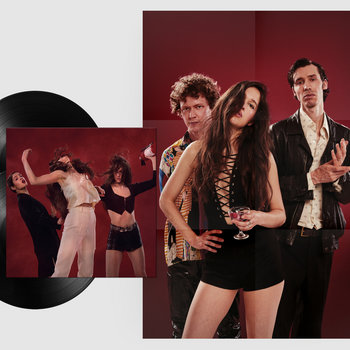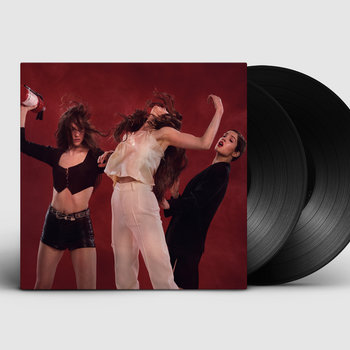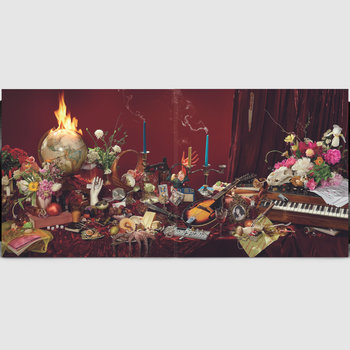 Look, either you like your albums sung by a sarcastic French woman who seems to loathe the very music that she's making, or you don't. If you do, I've got good news for you: Marie Davidson has done it again. Another batch of acid-tongued punchlines and slim middle fingers, the defiant Renegade Breakdown finally makes good on Davidson's threats to bail on techno once and for all, instead handing over a wild stack of songs that swing obstinately from '90s house to cabaret to European schlager to inebriated guitar pop; Davidson holds every one of them at such a terrifically arch distance it's hard to know how much of it is a put-on—but, then, it's just as hard to care. Early in the record, Davidson delivers what is certain to be its most quoted lyric, "By the way, there are no money-makers on this record/ This time I'm exploring the loser's point of view." The line is no doubt a reference to Soulwax's Grammy-nominated remix of her song "Work It," but it's also basically true: "Just In My Head," a smoky, Marlene Dietrich-style jazz number slams into the stumbling avant-electronics of "Lead Sister" like two drunk strangers falling into each other at a bar. Aesthetic purists will accuse the album of being a "hodgepodge," and they'll be right, but they'll also be missing the point. Breakdown is supposed to be messy—a musical game of 52-pickup scattered across the dance floor; every card you choose is a Joker.
Merch for this release:
Vinyl LP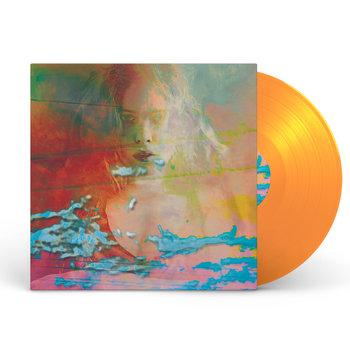 In Katie Dey's earliest work, the Melbourne producer and singer-songwriter felt like a bit of a cypher, pitch-bending and glitching up her voice into a fluttering, hard-to-capture trill over pop hooks that were almost equally fractured. Over the last few years, she's moved on from that experimental mode into a more straightforward one—on mydata, her latest, her voice is front and center, her lyrics clear. The hooks are sweet, the beats bop, and the synth strings swoon (her songwriting, though, remains wonderfully unconventional, unbound from verse-chorus-verse). For an album about connection—explicitly about an internet relationship between two trans people, a thing I may know a thing or two about myself—it's absolutely the right move. There is a particular kind of understanding to such a relationship that it's hard to parse out for cis people, but Dey touches on the universally resonant parts of it in such smart ways that one doesn't have to. "Happiness," for example, is tender and radiant ("Hold my hand/ I can't stand it/ If you want me/ Fuck this waiting/ Let's escape this loneliness"), with a sheepish coda immediately recognizable to anyone who's made such a big move ("Anyway, just a thought/ I'm embarrassed, ignore me"). While some may wish for the more abstracted version of Dey from her early work, I see mydata as an artist coming into her power, able to capture a very specific experience and honor it sonically while also finding the broader humanity in it.
Merch for this release:
Vinyl LP, , T-Shirt/Apparel, Cassette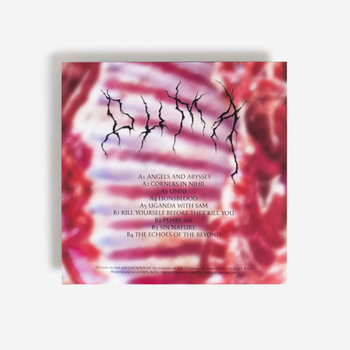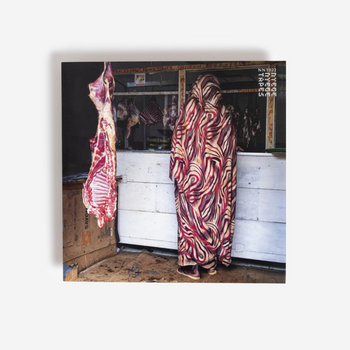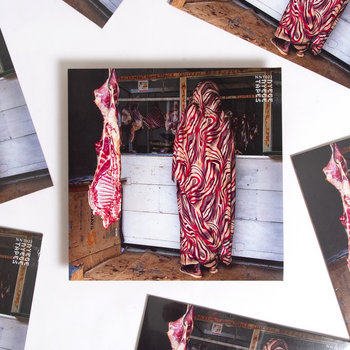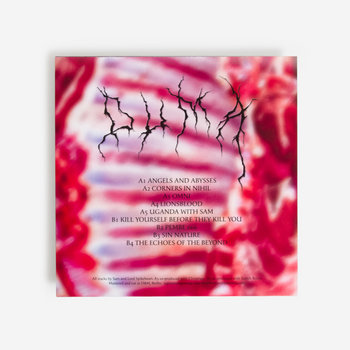 The self-titled debut from Duma, the duo of Sam Karugu and Martin Khanja (aka Lord Spike Heart), ranks among the most dark and demanding albums of 2020: a love letter to Nairobi's extreme metal scene penned from within the shadows, infused with trap, ambient, and industrial techno to earsplitting effect. Their claustrophobic, distorted arrangements on standouts like "Lionsblood" and "Omni," all raspy vocals and bludgeoning synths, render the songs chaotic yet inescapable, the sound of a band struggling to outlast the nightmare they've created. But a closer examination of Duma's pattern of devastation, particularly on its meditative, subdued closing stretch, reveals a silver lining, a frayed strand of hope waiting to be discovered and unthreaded. "Even if it's dark, there's some light in it," Khanja told Bandcamp upon the record's release, framing its duality between harshness and hope thusly: "There's a lot of knowledge and wisdom in it, and that will inspire your children and their children." Even in pitch-black darkness, Duma manage to find that one glimmer of light—and thrillingly for us, turn it into a full-blown supernova.
Read our interview with Duma.
Carla J. Easton
Weirdo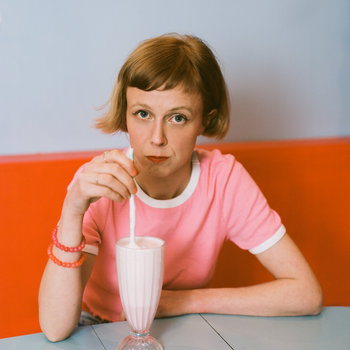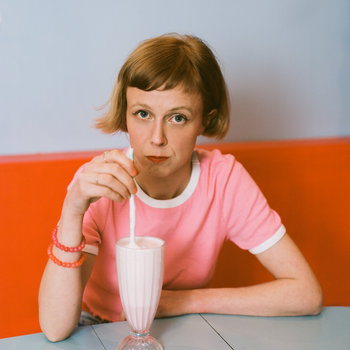 Merch for this release:
Vinyl LP, Compact Disc (CD)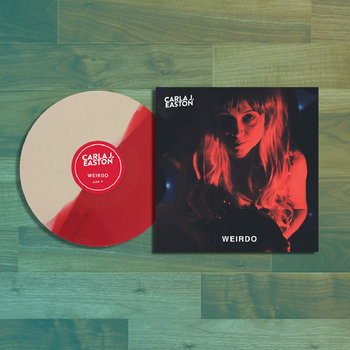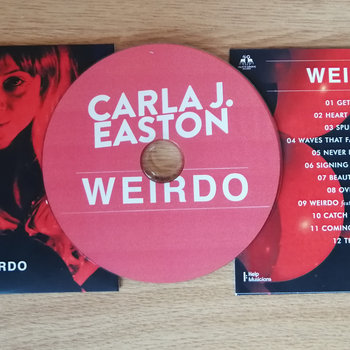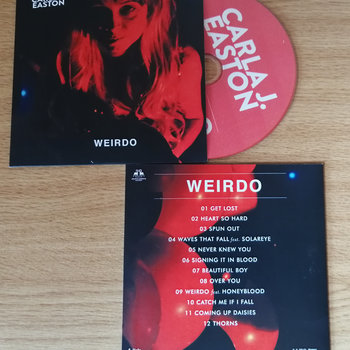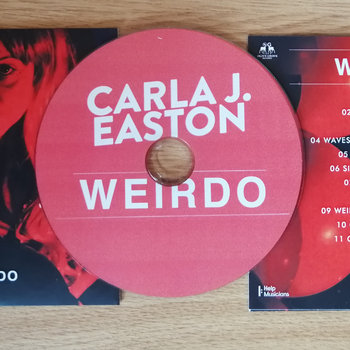 Carla J. Easton is one of the best pop stars you've never heard of—unless you're tapped into the Glasgow underground, or you discovered her by way of her work as Ette (Homemade Lemonade was one of our favorite records of 2016). On Weirdo, Easton leans so hard into pop conventions she threatens to topple them over, in the same exuberant way that Charli XCX did on her early work. Her voice, a coo that crackles at the edges in the same way Robyn and Cyndi Lauper have mastered, is pushed all the way into the red. The synths are maximum spangly, the beats simple but vivacious. (I have listened to opener and ode to romantic escapism "Get Lost" and the Carly Rae Jepsen-esque crushed-out anthem "Heart So Hard" together as if they are a double A-side an embarrassing number of times this summer.) And, lest you think Easton can only do full-speed-ahead pop, luminous ballads like the bell-limned "Signing It In Blood" (which is just waiting for a CW music supervisor to find it) and "Coming Up Daisies," so soaring it feels a little bit airsick, are just as delightful. It's been a real weird summer, so Weirdo's summer jams feel just right.
Read our Album of the Day on Weirdo.
Natalie Duncan
Free
The theme of Natalie Duncan's latest album is a "second coming-of-age." On Free, the British R&B singer crafts songs about self-determination, doubt, and freedom. On the slow-burning love song "Sirens," Duncan sings, "I never expect too much, because I know how it feels to be burned." She mourns the loss of love on "Autumn," and on the glossy "Pools," she sings, "You make it so easy to feel everything that you/ I don't need you to save me," to an unnamed lover. On "Glass," against a backdrop of crooning horns, Duncan samples Nina Simone's thoughts on freedom from the documentary, Nina: An Historical Perspective, making the theme of self-determination and freedom crystal clear. The album ends with the spoken-word-heavy track "Diamond," which marries Duncan's stream-of-consciousness lyrics to a jazz melody. "Happiness is just a concept," she tells her audience.
Read our Album of the Day on Free.
Astrid Engberg
Tulpa
Merch for this release:
Vinyl LP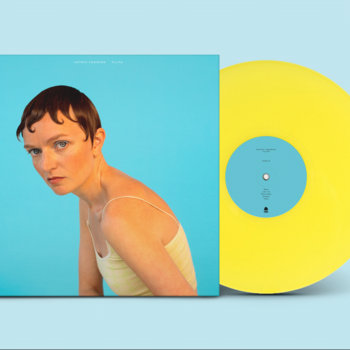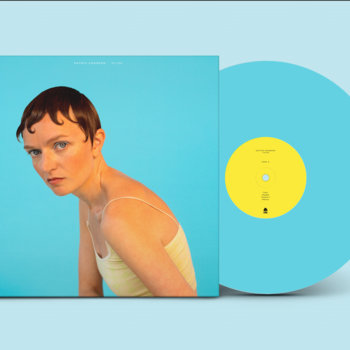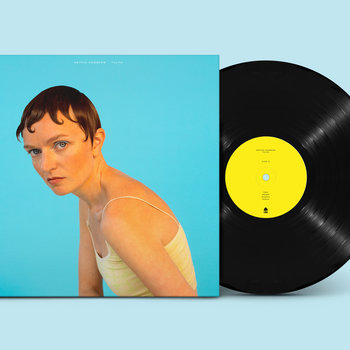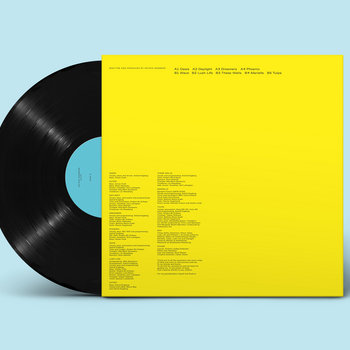 Tulpa, the second album from Danish singer-songwriter, producer, and DJ, Astrid Engberg, is a record tethered to physical trauma. Its themes of resilience and healing were inspired by a head injury she suffered over a decade ago, and the eternity of chronic pain she's been trapped in ever since. "Yesterday I was born again/ How do I explain it to someone who doesn't know pain?" Engberg ponders on "Phoenix," her weariness eventually melting away to reveal joy at reconnecting with, "the sounds, the colors, the silence" we all take for granted. The thrill of rediscovery permeates the music as well, as Engberg (joined by a bevy of live musicians and orchestra members) weave a vast, strong web of contemporary soul, neoclassical music, improvised jazz, Scandinavian folk balladry, and even hip-hop. "I might never be without this pain, but it doesn't stop me from living and experiencing life," Engberg writes in an accompanying statement, "because life is too extremely valuable to let go." Words to live by, especially in the age of Covid-19—and when presented through such beautiful, ebullient exercises in genre fusion, Engberg's optimism sounds unstoppable.
Merch for this release:
Vinyl LP, Compact Disc (CD)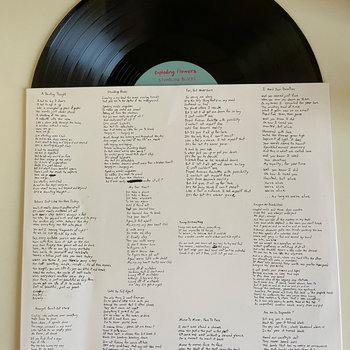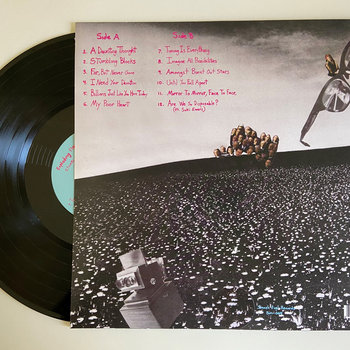 On Stumbling Blocks, Exploding Flowers draw from the musical well-spring that's been watering the roots of indie pop since The Byrds struck the opening chords on "I'll Feel A Whole Lot Better." The L.A. band's colorful full-length is a record seemingly tailor-made to strum the heartstrings of every era's lovestruck guitar group fan. With finely honed, brightly melodic songs that occasionally dip into moodiness, Exploding Flowers use jangling guitars, peppy handclaps, and cheerful organs to summon up an atmosphere that's blissful, nostalgic, and occasionally melancholy ("Are broken dreams almost worse than a broken heart," goes the bridge on the title track.) The band clearly knows their guitar pop history, and you'll find a page from nearly every chapter in the genre's evolution on Stumbling Blocks, from the moment when punk melted into power-pop (the jaunty "My Poor Heart") or candy-colored '60s psychedelia met dry post-punk minimalism ("Far But Never Gone.") Suki Ewers of Mazzy Star contributing guest vocals to the final tracks connects the dots on a record that's as sweet as the times are sorrowful.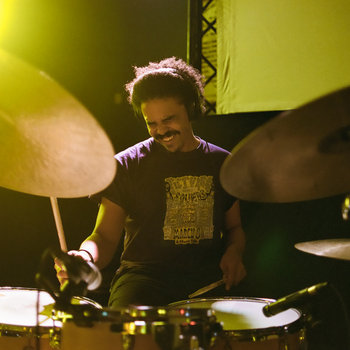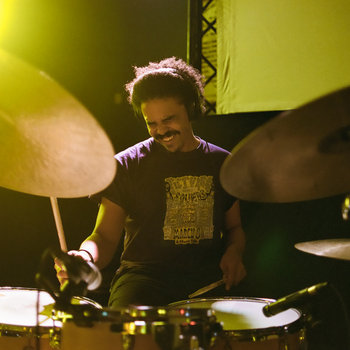 Merch for this release:
2 x Vinyl LP, Compact Disc (CD), Vinyl LP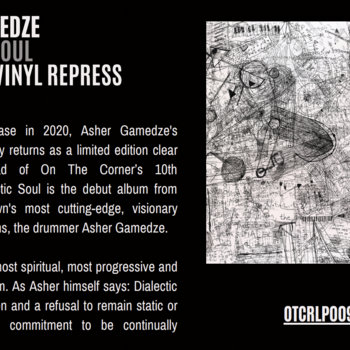 Though he's based in Cape Town, Asher Gamedze's debut strikes the same chord as any of the Black Liberation jazz released in the late '60s and early '70s in the United States. James Mtume and Sun Ra used their art to denounce racism in the U.S., but Gamedze set his sights on South Africa's anti-apartheid movement in the 1970's. Activists Steve Biko and Miriam Makeba are inspirations here, and the music—a soul-shifting blend of astral jazz—sounds influenced by other South African stalwarts: Hugh Masekela, Abdullah Ibrahim, and Johnny Dyani, to name a few. With Dialectic Soul, Gamedze unpacks the sordid history of colonialism and violence in his native land, using spoken word and tranquil arrangements to trek through the pain. That focus comes into sharpest view on "siyabulela," the album's gospel-focused second track. Amid funeral horns and faint drums, Gamedze pays tribute to those who fought for his country's liberation, looking back on their lives with joy, not sorrow. Still, Dialectic Soul isn't mournful; it's largely a joyous project that picks up steam as it plays and ends on a celebratory note. Overall though, Dialectic Soul is an exquisite protest album and one of the year's best records of any genre.
Read our Album of the Day on Dialectic Soul.
Merch for this release:
Compact Disc (CD), 2 x Vinyl LP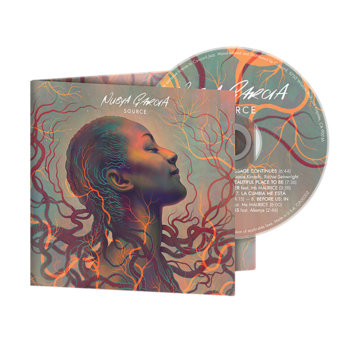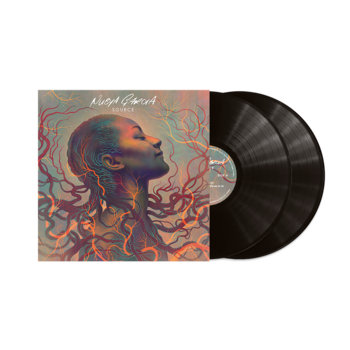 Over the past three years, Nubya Garcia had been a name in the liner notes and not on the album cover. But with Source, her excellent debut album, she stakes her claim as one of jazz music's preeminent bandleaders. Yet it isn't jazz in the traditional sense; instead, Garcia pulls from a myriad of sonic influences, including reggae, cumbia, hip-hop, and soul, to pay homage to her British-Caribbean roots. The title track veers between smooth jazz and reggae dub, using occasional drum breakdowns to switch between the two. On "Together Is A Beautiful Place To Be," Garcia opts for a soothing blend of airy saxophone wails and electric keys, resulting in the album's most romantic cut. No two songs are alike, and through its seamless mix of genres, Source urges listeners to chart their own path. In the end, that's what Garcia is all about: everyone coming together for an uplifting groove.
Read our interview with Nubya Garcia.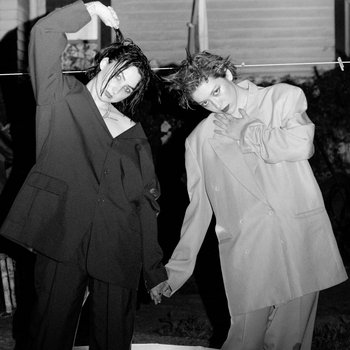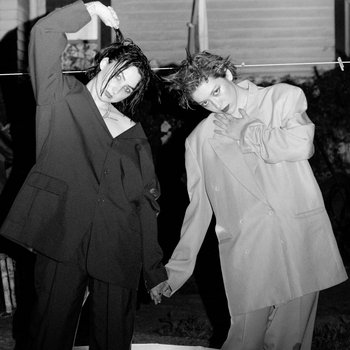 Merch for this release:
Compact Disc (CD), Cassette, Vinyl LP, T-Shirt/Apparel
Girl Friday prove themselves to be one of the more interesting guitar rock bands around on Adrogynous Mary, an indie-rock-in-name-only record that assembles something ambiguously formed yet unambiguously great from pieces of post-punk, indie pop, grunge, art-rock, noise, and even a little bit of surf. Like their Hardly Art label mates Chastity Belt, Girl Friday are unafraid to plumb the most uncomfortable emotional territory by refusing to go easy on themselves or the world, even while their songs sound effortless via the obviously tight chemistry the group enjoys. Yet for all the band's skill at using their pretty harmonies to lure in the listener, they're just as likely to interrupt their jams with squalls of chaotic noise. There's nothing comfortable about being a girl in this world, they seem to say, so why should you be?
Merch for this release:
Compact Disc (CD), Vinyl LP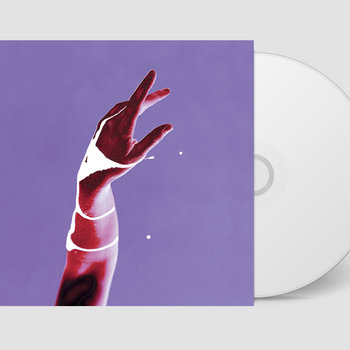 A lot of artists attempt the signature goth-gaze sounds of the '80s 4AD roster; most end up pale imitations rather than Pale Saints. (I'm sorry.) Not so with Melissa Guion, whose work as MJ Guider clearly utilizes the dense textures, minor-key shifts, and heavenly, layered vocal effects anyone familiar with this territory will recognize, but aims less to be nostalgia fodder than it does an intimate map of contemporary unease. There are uncanny moments of discordance, as on "Cherry Bell Blacktop," which has a pistoning industrial beat and in which Guion's voice pitches off of the expected spiral and becomes immediately very creepy, or on "Body Optics," which simmers with a tense and disturbing synth line that sounds a bit, when pushed far enough back in the mix, like the hum of fluorescent lighting in an empty parking garage. "Quiet Time" begins with gathering clouds of dark ambience that slowly shift to make room for a twitchy beat and Guion's vocals, which function more like an instrument of their own than carriers of any sort of lyrical message; the rhythm-driven "FM Secure" is probably the poppiest moment on the album, where Guion's voice comes into focus just enough to repeat mantras like "I used to live in silence/ But now I make some noise." This might all sound incredibly off-putting, but it's Guion's mastery of these details that makes her such a compelling artist, someone who's able to move beyond "strangely beautiful" aesthetics into work that is honest, real, and affecting.
Merch for this release:
Vinyl LP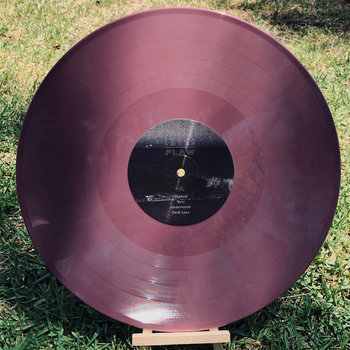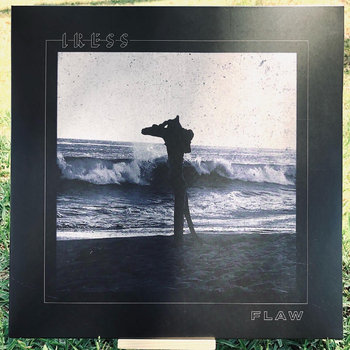 If there is such a thing as the aural equivalent of being buried alive—and I'm not confident that there is, but I'll get back to you—then the Los Angeles group Iress has found it. It's not that their gripping new record Flaw is suffocating; it's that it perfectly captures the feeling of sickening resignation, the moment you realize you're completely fucked, and nothing you can do will change your situation, so you instead choose to close your eyes and lean into the fear. (Sound familiar?) The album offers a chest-collapsing assortment of riffs that ride the line between doom metal and shoegaze—fans of Starflyer 59's first two records, take note—occasionally pausing for a somber, smoky ballad ("Nest") or a bit of grim, throbbing post-rock ("Shallow"). The band's divining rod is vocalist Michelle Malley, whose performance on this record will drop the jaw of anyone who hears it. Malley is not only a spectacularly gifted vocalist—the command she displays over her robust, purplish alto is breathtaking—she also knows that what the songs require is not emotional histrionics, but some elusive combination of blankness and bereftness, and she manages to nail it every damn time. About three minutes into "Shallow" she works a single syllable—"ah"—for forty-five seconds, going from hopeless to panicked to desperate to pissed-off. She manages to jam more raw human emotion into that one syllable than other artists manage over the course of an entire album.
Merch for this release:
2 x Vinyl LP, Cassette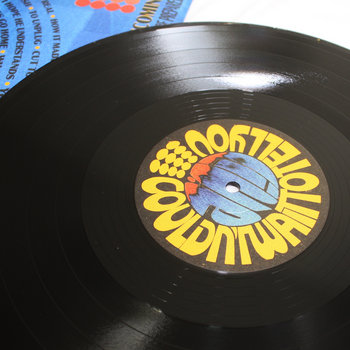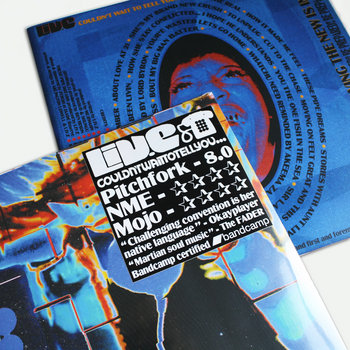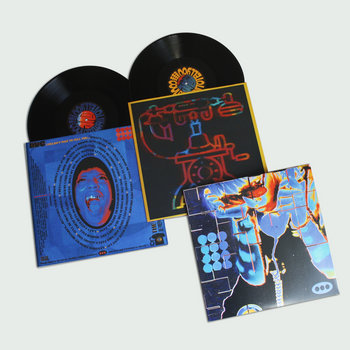 Couldn't Wait to Tell You is the perfect example of an album that could only have been made in a post-internet age. Though its songs draw on older forms—jazz, predominantly, but also soul and R&B—all of them are filtered through net-native genres like vaporwave (take the drowsy, pitched-down soul of "How She Stay Conflicted…I Hope He Understands," for example); the songs themselves pop up and vanish like push notifications, some blipping by in just 90 seconds, all of them peppering the listener with information—confessions, ruminations, poems, mantras, voice memos—before the next song elbows its way into view. There's a deliberate abruptness to the way the album is sequenced—no song ever fades, it's just interrupted by the next, the same way 15 text messages from different people might stack up, one atop the other, on your phone's lock screen. This constant onslaught of new information is one of the things that makes the album feel so visionary and bracing—it's the sound of 20 different ideas, all of them equally great, leaping over one another in a race to get out the door first. Artists have worked themselves to powder trying to make a Record That Reflects The Times, but Liv.(e)—aka Olivia Williams—has done them one better: she's made a record that actually sounds like them.
Read our interview with (Liv).e.
Merch for this release:
Vinyl LP, Compact Disc (CD)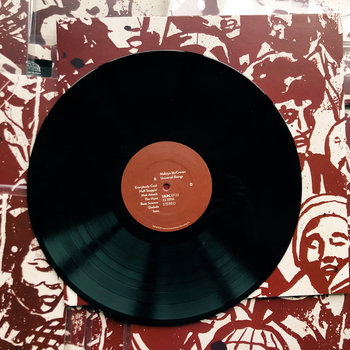 Universal Beings E&F Sides is the follow-up to the Chicago-based bandleader's critically acclaimed 2018 release Universal Beings. Universal Beings E&F Sides features a mix of new and reimagined tracks. The opener, "Everybody Cool" borrows from former album's "A Queen's Intro" before transforming into a smoother, groovier track with assists from Brandee Younger, Dezron Douglas, and Joel Ross. McCraven quickens the pace on the enchanting "Butterss Fly," the E&F updated version of the mellower "Butterss's." The fast moving "Kings and Queens" features Josh Johnson's blaring saxophone and Miguel Atwood-Ferguson on violin, Jeff Parker on guitar, Anna Butterss on double bass, and Carlos Niño on percussion. The fun of Universal Beings E&F Sides is listening for the connections to the previous album, making the experience like an extremely satisfying musical puzzle.
Read our Album of the Day on Universal Beings E&F Sides.
Long before Kendrick Lamar and Kamasi Washington made jazz popular in 2015, producer Georgia Anne Muldrow released jazz albums under the name Jyoti (a name given to her by family friend Alice Coltrane that means "light" in Sanskrit). On albums Ocotea and Denderah, she mixed free and spiritual jazz with thick bass and West African drums. The sound married West Coast hip-hop with older strains of jazz, funk, and soul. Mama, You Can Bet! is dedicated in part to Black single mothers who sacrifice their own happiness for the betterment of their children. "I wanted to make a song for when a daughter sees their mother as a woman, for when the child respects a mother's right to have passionate love in her life," Muldrow said of the title track. In turn, Mama walks casually through the annals of Black music as Muldrow, from her home studio in Las Vegas, creates sounds that imagine what it would be like to have Charles Mingus perform on her beats (on "Bemoanable Lady Geemix Fonk" and "Fabus Foo Gemix"). "Ra's Noise (Thukumbado)" honors cosmic jazz great Sun Ra, down to the shrieking saxophone and shouts to outer space. On Mama, Muldrow proves that she's light years ahead of the curve, and that no one is catching up to her any time soon.
Read our Album of the Day on Mama, You Can Bet!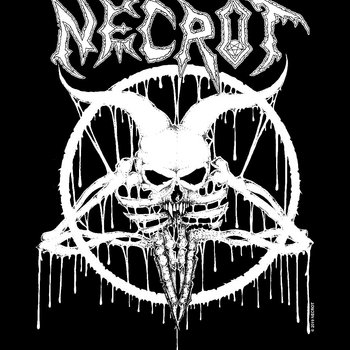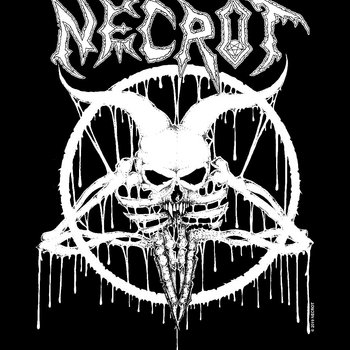 Merch for this release:
Vinyl LP, Cassette, Compact Disc (CD)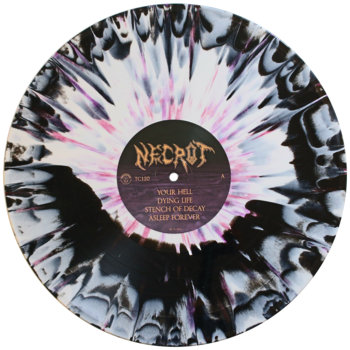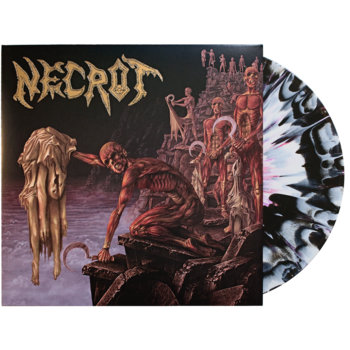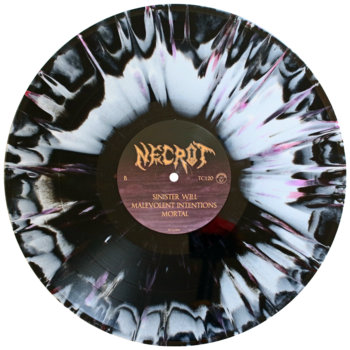 After achieving standard-bearers'-status practically overnight with 2017's debut, Blood Offerings, Oakland death metal band Necrot were in a prime position for a proper crossover album. But when it comes to death metal, best course of action is simply to take things steady: and that's exactly what the group did with Mortal, in a thrilling, thunderous manner befitting of their legendary live show. A fleeting assault recorded just prior to the Covid-19 lockdown, it makes several subtle-but-essential adjustments to Necrot's caveman racket, most notably in the riffs, the complexity and presentation of which has expanded significantly. By granting guitarist Sonny Reinhardt additional space to roam and experiment, while holding firm to the rhythmic weight that anchored their previous releases, the band are able to throw their dynamic and melodic weight around in fresh, exciting ways. That it's the same death metal goodness as ever, just more polished and punched up, only makes it all the more reliable: just like a good steak, Necrot's death metal is satisfying because it is raw, bloody, and devoid of garnish. Heavy music lovers would be foolish not to dig in.
Read our interview with Necrot.
Merch for this release:
Compact Disc (CD), Vinyl LP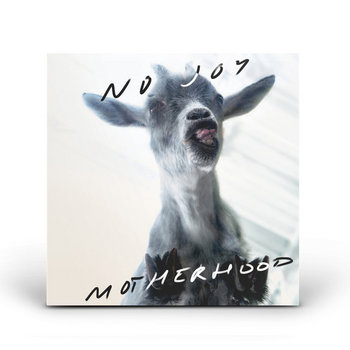 Think '90s revivalism can't sound fresh in 2020? If you said yes, it might be time to consider Motherhood. Rightly likened to "an alternate-universe-MAGNET-Magazine-sampler" in Jesse Locke's Album of the Day review, No Joy's fourth album succeeds where so many nostalgic outings fall short; Jasamine White-Glutz summons up past sounds and styles—nu metal, new age, teen pop, trip-hop, Norwegian black metal, you name it—just to shatter those associations in fun, strange ways. One minute, she's conjuring a dream-pop nightmare on "Dream Rats," juxtaposing ferocious vocals from White-Glutz's sister Alissa (of the death metal group Arch Enemy) with warm, gauzy synths typical of the Cocteau Twins; for the ensuing "Four," she dives deep into lush, sample-heavy trip-hop, soaking up slap-bass grooves, and samples of giggling babies ahead of a tempestuous shoegaze breakdown. Thanks to the well-rounded production and smartly-distributed hooks, one needn't be a '90s kid to appreciate this aural egg hunt, although it certainly amplifies the experience: the only thing better than a throwback is a throwback that throws you off your guard.
Read our Album of the Day on Motherhood.
Merch for this release:
Vinyl LP, Compact Disc (CD), Poster/Print, Cassette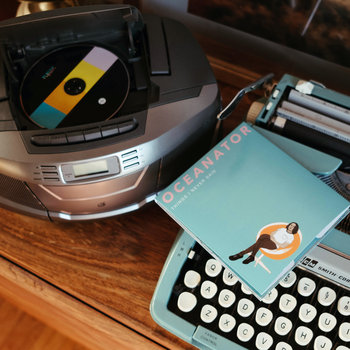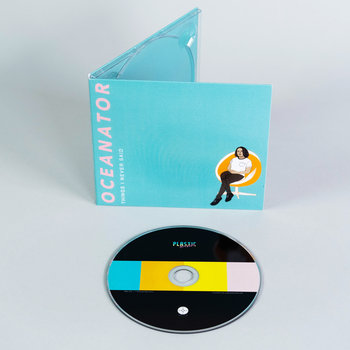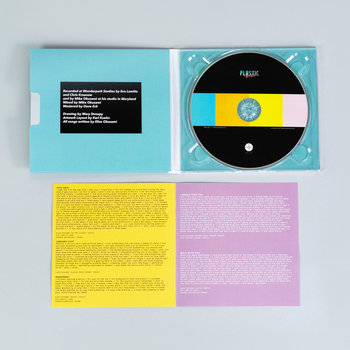 To an older punk like me, one of the things missing from a lot of contemporary indie rock is that it's missing a little bite. As "indie" has shifted over the decades from descriptor of practice and politics to marketing term, the aesthetics have also shifted. Elise Okusami, aka Oceanator, feels like a throwback in the best way—her debut LP, Things I Never Said, is punchy and adventurous, full of genuine grit. Okusami's songwriting is playful, wry, and tough (plus, she knows her way around a hook); as she notes, the album is about the end of the world, but it never feels resigned. "We try to invent things to keep ourselves sane," she sings on "Hide Away," an album highlight with an unexpected and delightful instrumental drop-out—even in the worst times, with as realistic an approach as possible, she hasn't totally given up. That persistence carries through on tracks like the sweet girl-group-inspired "Walk With You," about mutually holding one another up when it seems impossible to go forward, and on defiant closer "Sunshine," where it's just Okusami and her guitar declaring that she's "okay on [her] own." Because she's so talented and dedicated, it's clear she will be.
Read our interview with Oceanator.
Merch for this release:
2 x Vinyl LP, Compact Disc (CD)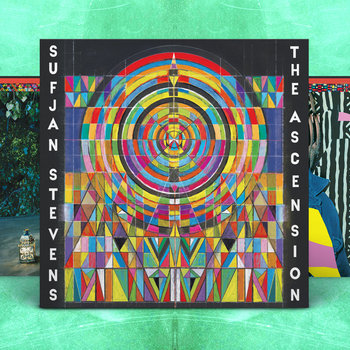 Sufjan Stevens' The Ascension is a confounding record from an artist best loved for pastoral indie folk, but no less stunning for its anachronistic place in his catalog. Created almost entirely out of heavily processed, synthesized sounds inspired by the rhythmic pop music of the 1980's with lyrics that are as much a litany of emotional resentment at the degradation of society as a liturgy of Stevens' own loss of faith in humanity, The Ascension is a sprawling and at times deeply judgmental trip through the inverted version of America that the artist so movingly portrayed in his earlier records. Stevens is in a confrontational mood, dishing out pointed phrases and quid pro quo's over songs that are by turns harsh and clanging or lush and shimmering. The record's final song, the swirling maximalist epic "America," Stevens' own protest against the country's decay, might draw the most attention but The Ascension's finest moment is the crystalline title track, where Stevens takes himself to task for mistaking selfishness for righteousness and leaves us with a single, haunting question: "What now?"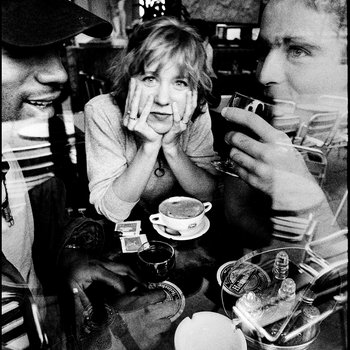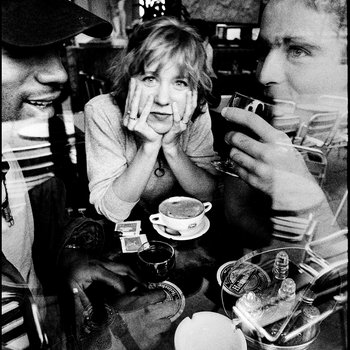 Merch for this release:
Compact Disc (CD), Bag, Vinyl LP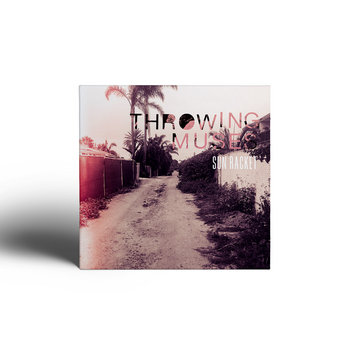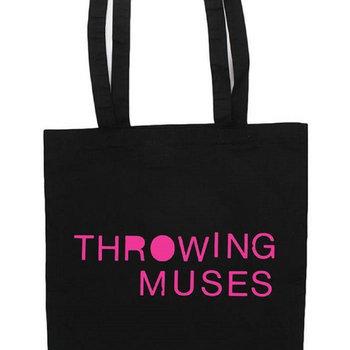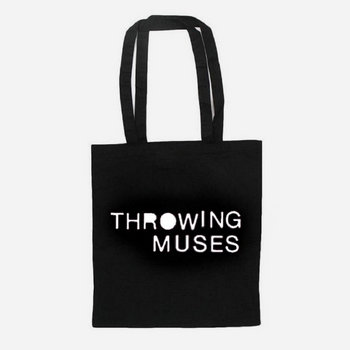 Throwing Muses have never made a bad record, and they're not about to do so after nearly four decades as a band. Sun Racket is a glorious mess of distorted guitar tones that are by turns scraping and visceral or nebulous and dream-like, mirroring the record's peculiar sense of being suspended between the material and immaterial worlds. Lead Muse Kristin Hersh's lyricism has become even more Cassandra-like over time and here she channels some of her most affecting imagery yet, from a goldfish swirling in the toilet to "sunshine holding your laugh in the air." The glorious Sun Racket is not only one of the strongest records in Throwing Muses' discography, it's one of the best rock records of 2020 from a band that never quite played rock music so much as refracted it into their own weirdo image.
Read our Album of the Day on Sun Racket.
Duval Timothy
Help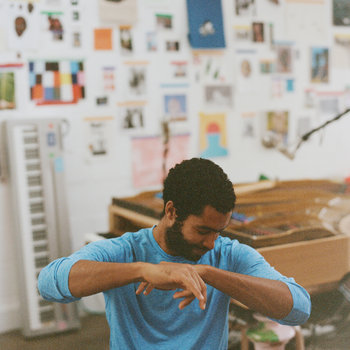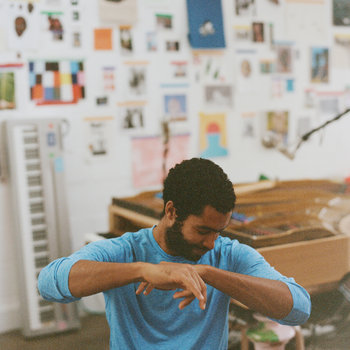 Merch for this release:
Compact Disc (CD), 2 x Vinyl LP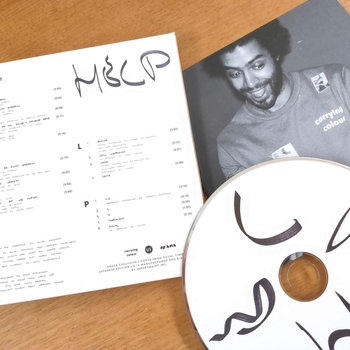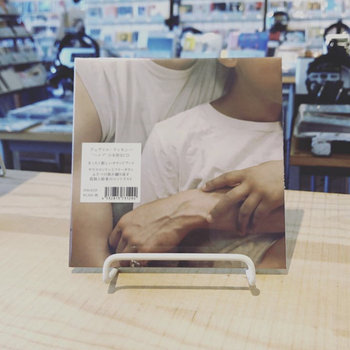 Help, the latest album from the London-based pianist and experimental artist Duval Timothy, is a deeply ruminative project that transverses themes from mental health to the dark side of the music industry. In the liner notes, Timothy mentions the importance of collaboration to his healing, and that spirit shows throughout the album. The opener, "Next Tomorrow" is drum & bass and jazz infusion that is both rapid and relaxing. "Slave" features Twin Shadow, and is anchored by a looped piano with clips of Pharrell discussing the process of buying back masters—making a direct point about the state of the music industry. The melancholy "Fall Again" features Lil Silva and Melanie Faye and the lyrics, "Settle down' til the saints all fall again/ Said it's you that made this way." The album closes with the synth-heavy instrumental "Pink" that serves as a send-off of sorts. Help is Timothy's most ambitious project yet, and deftly translates the themes of mental health and healing to listeners.
Read our Album of the Day on Help.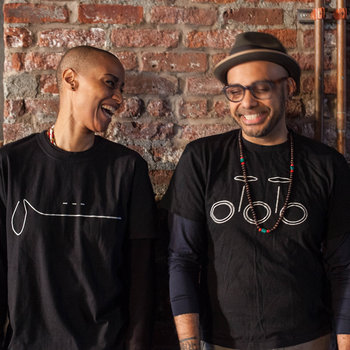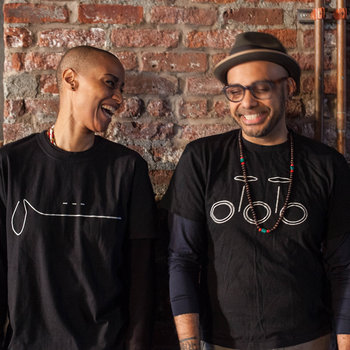 Merch for this release:
Vinyl LP, Compact Disc (CD)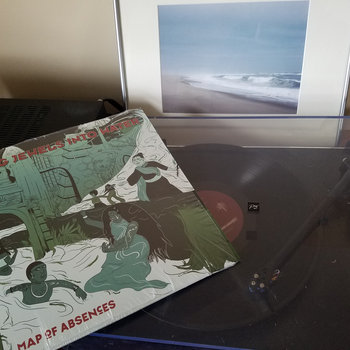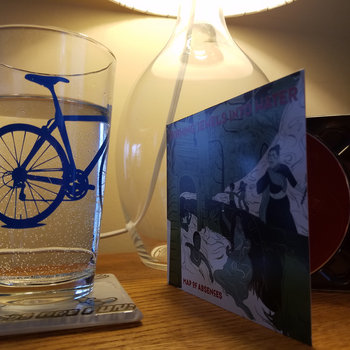 If there was an award for best album names, electronica duo Turning Jewels Into Water would surely top the list. Their titles always sound like epic novels and their latest, Our Reflection Adorned By Newly Formed Stars, is no different. Much like their sophomore album, Map of Absences, their latest is a musical amalgamation of Ravish Momin & Val Jeanty's cultures; combining Indian, West African, Middle Eastern, and Afro-Caribbean traditions. On the album opener "Swirl in the Waters," electro synths are wedded with a Persian daf, and on "Crushed Petals and Stones Fall on My Drum," classic Indian melodies are combined with rap and electronic beats. On the title track, erratic synths and electronic notes are interspersed with chants, making for an otherworldly listen. Momin and Jeanty already planned for remote contributions to be an integral part of this album in early 2020, before the pandemic-related shut-downs. With that, Iranian singer and daf player Kamyar Arsani and South African musician Mpho Molikeng contributed to Our Reflection Adorned By Newly Formed Stars, reinforcing the collaborative spirit of their self-identified "digital folk from nowhere."
Merch for this release:
2 x Vinyl LP, Compact Disc (CD)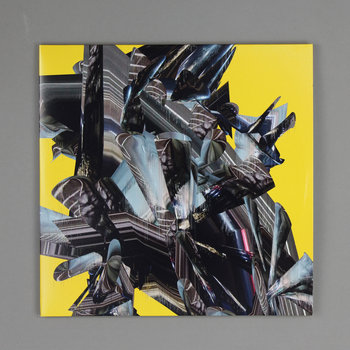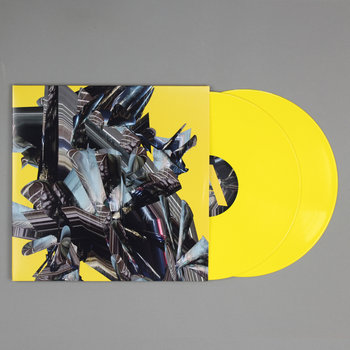 A notion I am tired of entertaining is the one that goes, "When do you think we will be able to go to clubs again?" There's no purpose to that question—the person being made to answer knows about as much as the person asking, so why bother asking in the first place? Those truly concerned can do what I did, which is to set up a news alert for "Covid vaccine" and click on the returns from reputable news sources. They can also buy Alterity, which is one of the best compilations of electronic music to be released in 2020, and which offers incontrovertible proof that the limits of the genre have yet to be reached—and also suggests that its inborn ability to mutate constantly means that there may not be any limits at all. How else do you explain the fact that the jittery, percussive work of the Kenyan producer Slikback and the grinding industrial music of the Iraq-born, Toronto-based E-Saggila can not only share space on the same record, but somehow make sense together? Alterity is evidence of not only electronic music's global reach—the number of countries represented across its 15 tracks is staggering—but also of its endless configurability. Every one of its songs is a new genre unto itself.