ALBUM OF THE DAY
Bully, "SUGAREGG"
By Mariana Timony · August 20, 2020
​
​
Merch for this release:
Vinyl LP, Compact Disc (CD), Cassette, T-Shirt/Apparel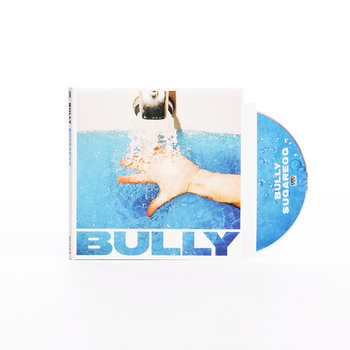 Earlier this year, to occupy her time when the first wave of Covid lockdowns put a stop to promotion and tour plans for Bully's upcoming record, Alicia Bognanno recorded a cover of Nirvana's "About A Girl," playing all of the instruments herself and tracking it in her living room. Released in March, the song found Bognanno crumpling up Kurt Cobain's most straightforward "pop" song into a chugging, down-tuned doppelgänger that nonetheless retained the hooky mellifluousness of the Beatles-inspired ode. It was awesome.
That same perfect balance between scraping and sweet is all over SUGAREGG, Bully's third full-length and best record to date. While her songwriting and guitar style remain as tattered and spiraling as ever, Bognanno's vision feels more focused now than it was on 2017's Losing, where the music never seemed to reach equilibrium, the guitars just a little too quiet and Bognanno's powerfully raspy, Kim Shattuck-esque vocals just a little too loud in comparison. Though one hesitates to chalk a woman's accomplishments up to a man's knob twiddling, perhaps turning over production duties to John Congleton (who has worked with St. Vincent and Sleater-Kinney, among others) allowed Bognanno—a talented producer and engineer in her own right, who helmed those duties on Bully's earlier releases—to relax into her own creative impulses, making the songs on SUGAREGG feel more carefree without losing the unapologetically guttural quality that makes Bully's music such a visceral thrill.
SUGAREGG is all up in your face from the moment the first ragged chords hit on opening track "Add It On" and only continues to build in intensity as Bognanno careens through songs exploring feelings of rage, angst, and defiance, blending her relentless guitar attacks and full-throated vocals into a potent, spiky wall of sound that never allows one element to overwhelm the other, even when she's doing the call-and-response thing with herself on mid-album highlight "Stuck In Your Head," which she introduces by playfully trilling, "I just wanted to pick up the tempo!" Grunge has always been the main ingredient in Bully's musical palette, and songs this dropped-down can sometimes veer into doominess; but Bognanno's spirit is bright as a sunbeam, suffusing even the darker songs with a sense of joy and conviviality. Where maybe she was once screaming at us, now she's screaming with us.