ALBUM OF THE DAY
Georgia Anne Muldrow (as Jyoti), "Mama, You Can Bet!"
By Dean Van Nguyen · August 31, 2020
​
​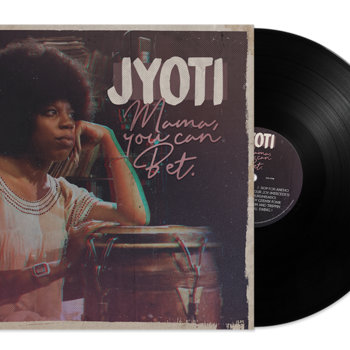 .
00:10 / 00:58
Merch for this release:
Vinyl LP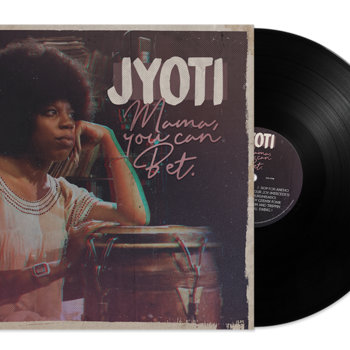 For her latest album, Georgia Anne Muldrow assumes the identity of Jyoti—a name said to have been given to her by the late Alice Coltrane—for an exercise in avant-garde soul-jazz. It's not unreasonable to believe that America's most complete soul artist could have been a bigger star had she not consistently yielded to her most experimental proclivities. Still, it would be a tragedy to temper the instincts that brought us an album like Mama, You Can Bet!, a boundary-testing collage of piano stool lounge music, electronica, jazz fusion, and hip-hop.
Some ears will need time to adjust to Muldrow's wildest experiments, but every track features some component worth investigating. The softly bumping "Zane, The Scribe" mixes soft percussion slaps with pulsing vibraphone. "Beamonable Lady Geemix" takes what could pass as a sad Tom & Jerry musical cue and screws it into cosmic hip-hop. The hard-edge funk of "Fabus Foo Geemix" counters the beautiful soul gospel of "Ancestral Duckets." On the latter, Muldrow rains down storms of bellows and yodels, using her voice to add a natural texture to the suite. There are pockets of lyrics throughout the album, though. If there's one thing that binds Muldrow's entire discography, it's messages of the revolution: "Maladjusted in this land/ The powers just/ Just can't end the plan," she sings over piano keys on "Orgone."
For newcomers seeking an entry point to Planet Muldrow, the Madlib-helmed Seeds or more pop-focused Overload are good places to start. But Mama, You Can Bet! is not just one of the singer's most ambitious freakouts; it's one of her best albums yet, another bolt securing Muldrow's underappreciated legacy.