BEST AMBIENT
The Best Ambient on Bandcamp: August 2023
By Ted Davis · September 11, 2023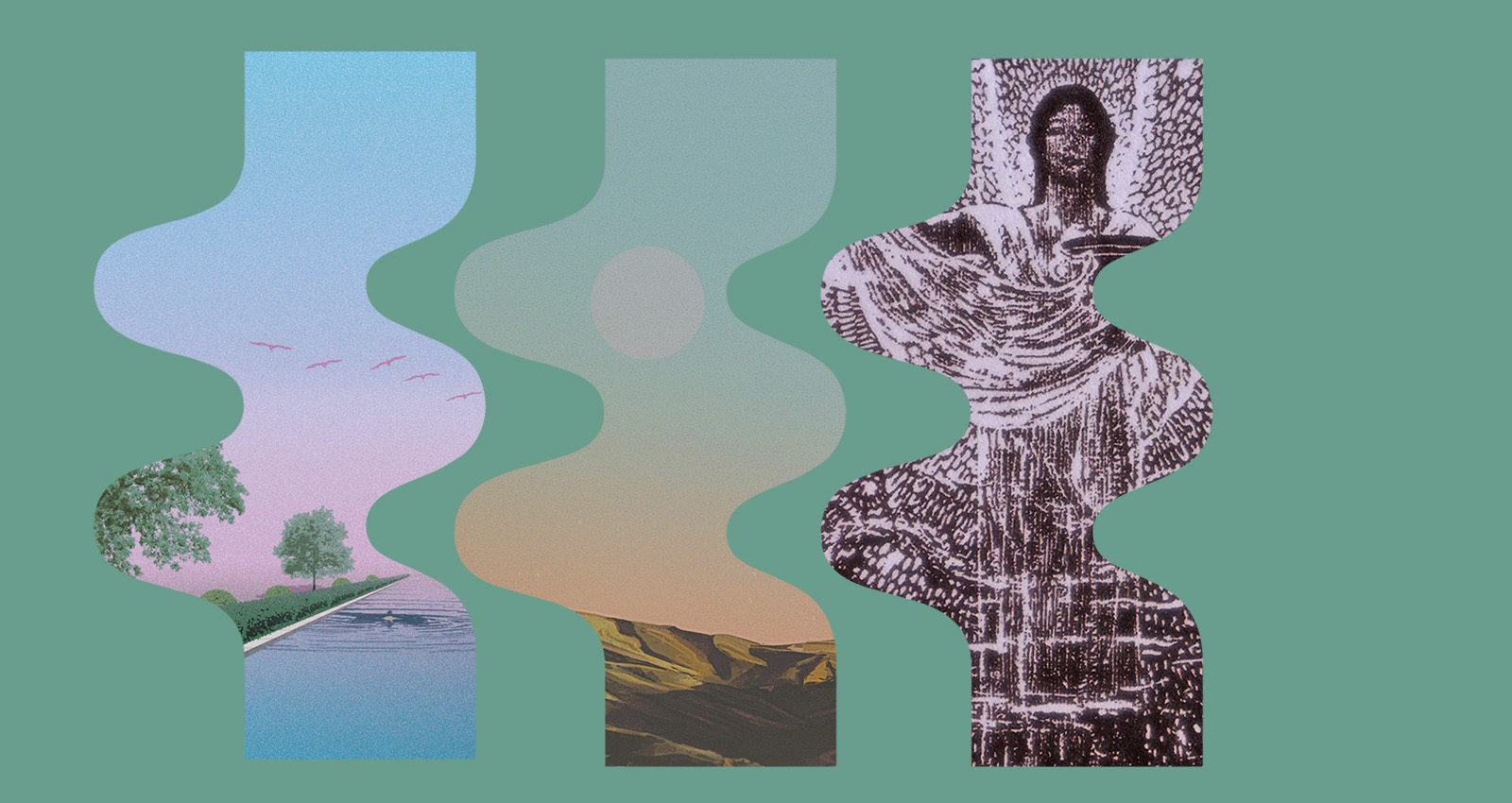 Earlier this month, I saw the movie Topology Of Sirens (2021) at the theater Spectacle here in Brooklyn. The film tells the story of a woman who finds a series of ambient microcassettes nestled in a hurdy-gurdy, which lead her on an esoteric journey around Southern California. The neo-noir thriller teems with Pynchon-esque energy, and pays wary homage to the process of experimental music discovery. While it isn't an ambient release on Bandcamp, I would urge anyone interested in this column to watch it. It absolutely rocks, and feels like a movie specifically geared towards people who love to dig for soundscapes on this site—Sarah Davachi even plays a key role. With that in mind, it was another stellar month for airy uploads. With releases from artists including Burial, Yu Su, Dustin Wong, and others, there are many treasures in this column to enjoy.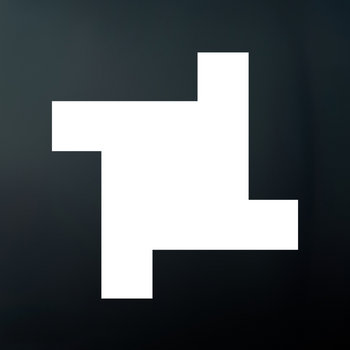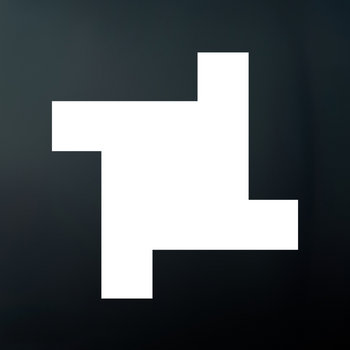 Merch for this release:
Vinyl
Kode9 and Burial are two of the most influential figures in UK electronic music. Since anonymously emerging in the early 2000s, Burial has pioneered a strain of muted, shuffling garage that seems to linger in the heart of a thick cloud. Kode9 crafts comparably aggressive grime and dubstep tracks, and also runs the label Hyperdub, which has put out masterpieces from artists including Laurel Halo and Loraine James. The long-standing friends have partnered for a 12-inch, "Infirmary" b/w "Unknown Summer," which arrives via the London nightclub fabric's Originals imprint.
The A-side, Kode9's "Infirmary," opens with jazzy piano playing, which ultimately gives way to delicate footwork drums, distant horns, and a stutter-y bass drop. It feels suited for the type of Boiler Room session that might have aired during the company's grittier 2010s heyday. Burial's contribution, the 10-minute "Unknown Summer," pushes back on the sound he explored on last year's barren EPs Antidawn and STREETLANDS. Carried by staticky four-on-the-floor percussion and a humming vocal sample, it lands in the same vein as cuts like "Moth." Occasionally, the beat cuts out to make room for a sparse teenage voice musing about nothingness and clear blue sky. Long story short, it's one of the most quintessentially "Burial" tracks he's put out in years. The split is an almost-ludicrously-on-brand collaboration between two artists and a dancefloor institution synonymous with dreary late night vibes.
The crew of artists that has popped up around ambient-dance legend Brian Leeds (aka Huerco S./Pendant) keeps nonchalantly challenging the well-adjusted background-music ethos that all-too-often gets pinned to ambient. Not All Who Wander Are Lost—the latest album from Leeds's West Mineral Ltd. imprint—arrives via the trio shinetiac, which is made up of Ben Bondy, Pontiac Streator, and Shiner. Built around cute, creaky samples, plaintive instrumentation, and barely-there grooves, it lands somewhere in between the stylings of last year's Mister Water Wet LP Significant Soil and uon's self-titled 2018 record. The back half of the album wanders into trip-hop and dub techno terrain, but even its most rhythmic moments feel like they're being beamed through a layer of gauze. As noted in this 2022 Pitchfork feature, West Mineral Ltd. releases have a tendency to be atmospheric, but kind of off-putting. Yet Not All Who Wander Are Lost lets hope bubble from the ether, conjuring a warm, rave-y world.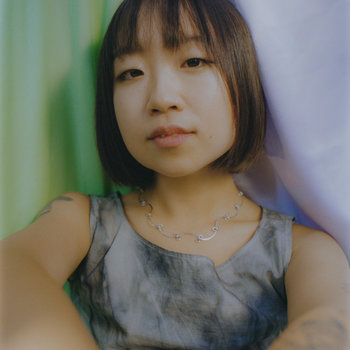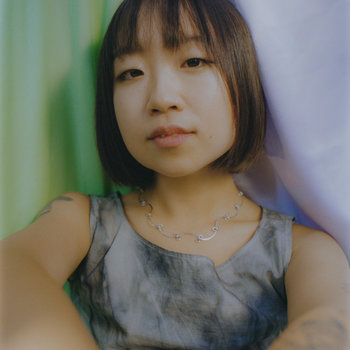 Yu Su's last album, 2021's Yellow River Blue, used krautrock-laced dance beats to pay homage to time spent in China. The Vancouver-based artist's new EP, I Want an Earth, is comparably withdrawn. The four tracks here are centered on gentle synths, and the percussion is elusive and featherweight. Occasionally, boisterous tones will swell from the haze, showcasing a dynamic new side of Yu Su's composition style. Over the years, Yu Su has become synonymous with the club scene, hosting an energetic NTS show and spinning alongside lauded selectors like Ben UFO. But I Want an Earth reinforces that her music is just as solid when it's stripped of the propulsion that often underlines it.
Merch for this release:
Compact Disc (CD)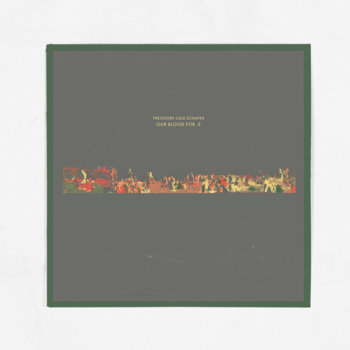 Theodore Cale Schafer has a knack for making earthy ambient tracks that thrum with cinematic desolation. The claire rousay and picnic collaborator's new record, Our Blood For .S, came to life remotely, in tandem with experimental artists Mari Maurice (aka more eaze), Matthew Sage, and purelink's Tommy Paslaski. While those musicians are known for their takes on hopeful psychedelia, Schafer's passion for sonic darkness seems to have rubbed off on them. With two of the four pieces exceeding the 10-minute mark, the album shifts between eerie lows and cathartic highs. The way that unease and beauty coexist here evokes taking in a lonely sunset over some foggy meadow. This body of work is dusky and calm, made up of droning sounds that could work equally within the context of a high-brow recital or a tastefully ominous video game.
Merch for this release:
Vinyl LP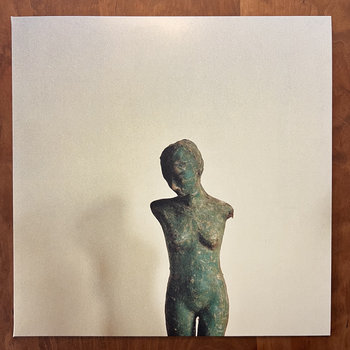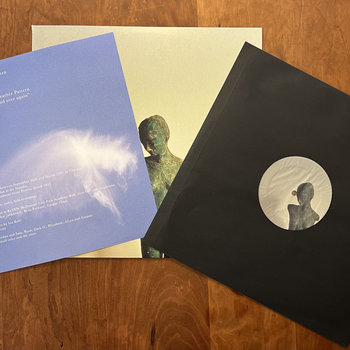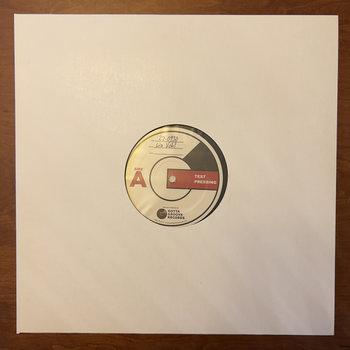 Listening to Lia Kohl's music, one might not immediately clock the timbre of the cello. The Chicago experimentalist warps the sound of the instrument into challenging chirrs and screeches. The latest release to her name, Too Small to be a Plain, is a reissue of her 2022 debut via New York label Florabelle. The updated version of the record was remastered by Taylor Deupree, who paints her sparse playing in a crisp sheen. Where Kohl's March release, The Ceiling Reposes, doused her playing in layers of strange noise, Too Small to be a Plain is comparably simple. Occasionally, Kohl will work synths, field recordings, and radio noises into the fold. But for the most part this music leaves ample room for off-kilter grace.
Merch for this release:
Cassette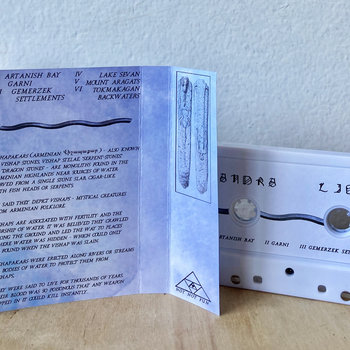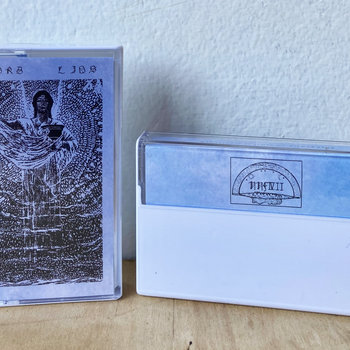 It takes little more than a glance at the cover of Andra Ljos's latest record, Megalithic Statues of Vishapakar, to glean the influence that ancient aesthetics have on her art. The album from the Lithuanian musician is named for a type of protective Armenian statue, and the tracks here thrum with arcane murkiness. Organs, synth strings, and flutes come together to present a dense, trippy take on neoclassical composition. It evokes artists like Kali Malone and Sarah Davachi, but the manageable runtimes lend these relatively concise tracks a comparable approachability.
Merch for this release:
Vinyl LP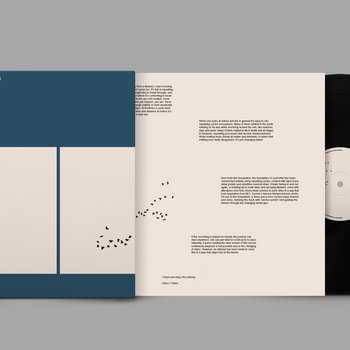 At almost 40 minutes long, Felbm's cycli infini is a full-blown musical odyssey. This composition from Netherlands-based artist Eelco Topper is clean. It's built on tape loops and a progression that toys with the circle of fifths, which are peppered with flute, bansuri, saxophone, bass trumpet, and pedal steel. The end result is captivating and adventurous, rapidly steering the listener through a series of peaceful aural corridors that seem to flow into and out of each other at random. Very long ambient tracks often have a tendency to lean into Éliane Radique-esque simplicity. But cycli infini genuinely succeeds at packing an album's worth of ideas into a single sprawling piece.
Merch for this release:
Cassette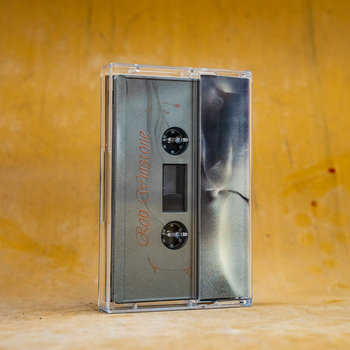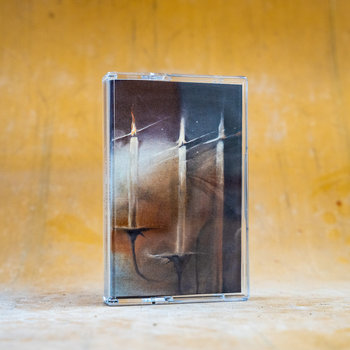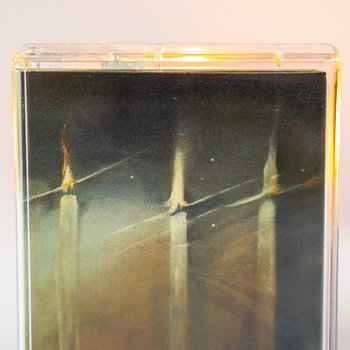 Rob Winstone's mappa-issued LP sifting through heaven is at once serene and challenging. It was shaped by a period of health difficulties and pensiveness for the artist. The record's mood fittingly seems to shift between hope and dejection, and the tracklist traverses peaks and valleys—field recordings, percussion, and melodies come together to recall the ups and downs of the human experience. At some points, the music is deep and grainy; at others, golden synth and string sounds conjure a sense of liberating catharsis. The journey ends neutrally on closer "…love finds a way," where a simplistic synth pad and rustling sound effects establish resolute finality. It's a fitting distillation of the album's realistic thesis.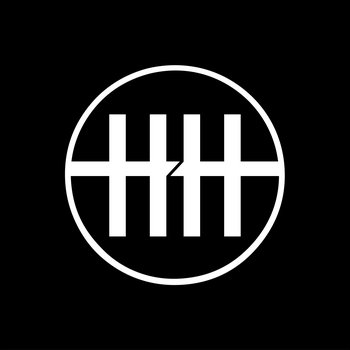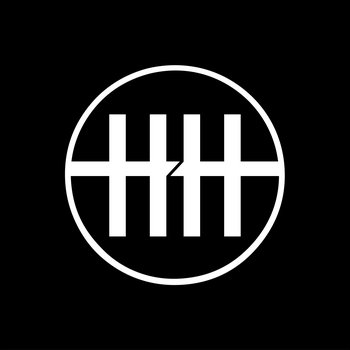 Merch for this release:
Cassette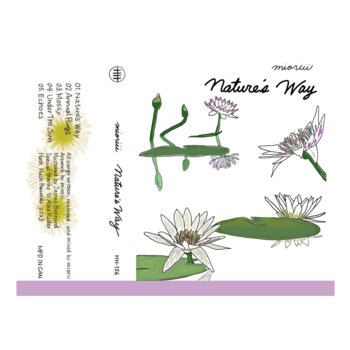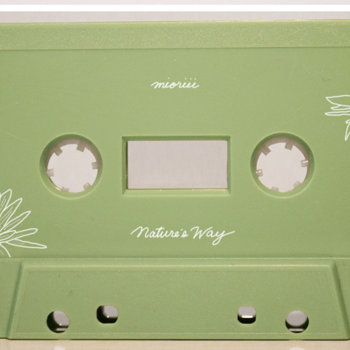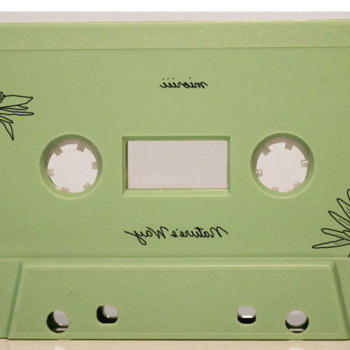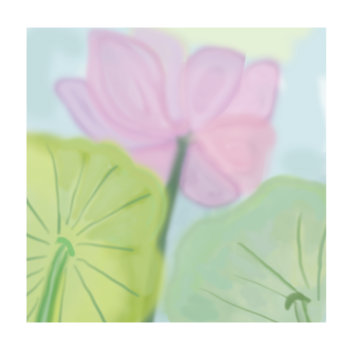 Mioriii's new EP for Seattle label Hush Hush, Nature's Way, draws from themes of recovery grounded in nature. The project came to life in the wake of the Japanese musician contracting a rare, mysterious illness and having to have subsequent surgery, finding comfort in walks outside. The music within is golden and positive, well-suited for its summer release date. Across five tracks, miroriii's indie pop roots shine through in the form of whimsical vocals, sparse downtempo grooves, and catchy lead lines. But it's all finished in a subdued, glassy sheen, which keeps the music misty even at its most straightforward. Reimagining traditional songwriting through the healing lens of the sound bath, Nature's Way is placid, yet full of poignance and verve.
Merch for this release:
Vinyl LP, Compact Disc (CD)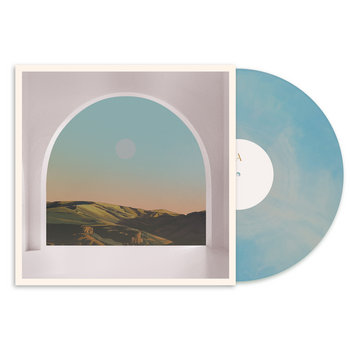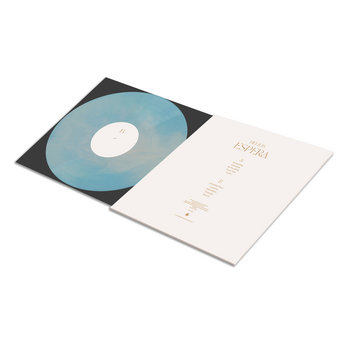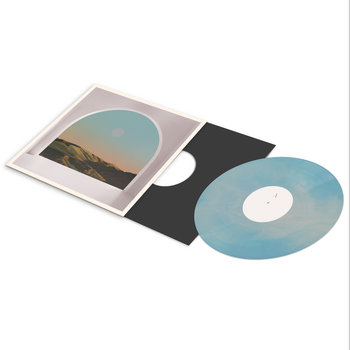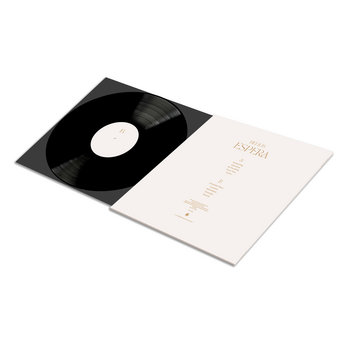 For a label that helped pioneer ambient music in the '90s, Ghostly International's recent releases have been stylistically unpredictable. Hot on the heels of a folk record from Julie Byrne and a club single from SUCHI, the imprint offers something of a return to form on the Helios record Espera. The new album from seasoned ambient musician and composer Keith Kenniff finds him cultivating downtempo, Balearic soundscapes out of cotton-y synth pads and gossamer instrumentation. It's balmy and cinematic, like what might happen if Angelo Badalamenti composed meditation music on some picturesque Mediterranean beach.
Merch for this release:
Vinyl LP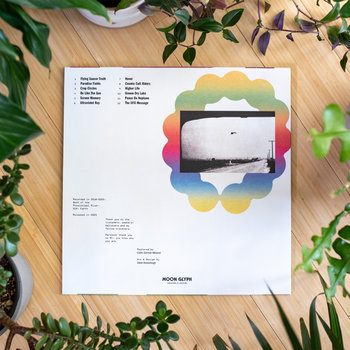 There couldn't be better timing for the release of UFOm's Aliens Are Real, which arrived into the world mere days after the United States government actually confirmed that UFOs are real. The mysterious record is out via Portland, Oregon label Moon Glyph, and was submitted as a demo from an artist who wishes to stay anonymous due to their involvement in a low-profile religious organization. The music is as esoteric and heady as one might expect given that background. Across 12 tracks with on-the-nose titles like "Crop Circles," "The UFO Message," and "Flying Saucer Truth," theremin-like synths rest atop pearly pads. The whole thing is cosmic and playfully conspiratorial. While it's underlined by an endearing chintziness, Aliens Are Real's cryptic origins keep it fascinating even at its goofiest.
Merch for this release:
Cassette, Hat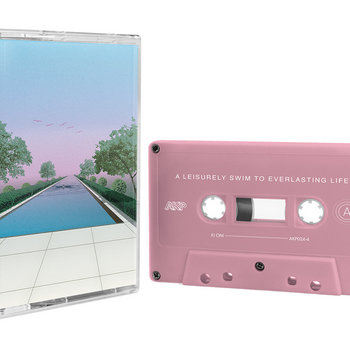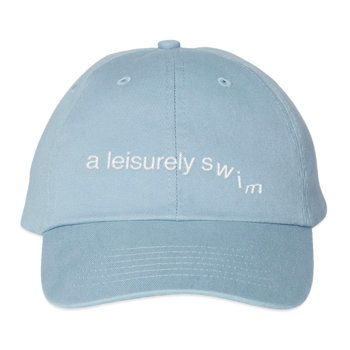 Chuck Soo Hoo's last full length under the moniker Ki Oni, June's An Evening Stroll to the Garden Party, was a 30-minute exploration of wistful romance. A pleasant listen, it highlighted an easygoing side of the Los Angeles musician and Dublab staple's formula. His new record, A Leisurely Swim To Everlasting Life, pushes back on that overt accessibility. It arrives via AKP Recordings, who have spent this year branching away from their penchant for sonic grit. Made up of five tracks that all exceed the 15-minute mark, the record is a rewarding deep listening experience that commands patience. Things are blissed-out and gossamer, centered on bell-like synth tones and lo-fi field recordings. It finds Soo Hoo pondering the death of his grandmother through the lens of the environment around him, and the end result could score a scene from a poetically oblique art film.
Merch for this release:
Cassette, Compact Disc (CD), T-Shirt/Shirt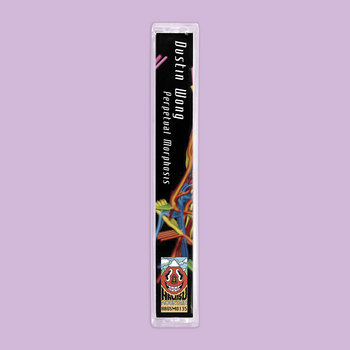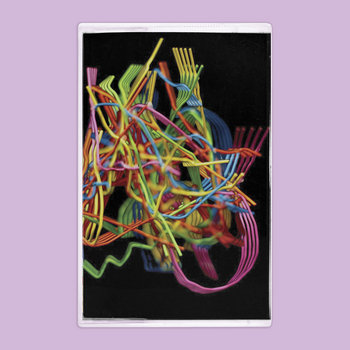 As a former member of Ponytail and Ecstatic Sunshine, Dustin Wong's roots in experimental music are somewhat rough-hewn and arty. But the Los Angeles-based musician and Dublab DJ seems to have mellowed out in recent years, embracing gentle textures in his solo work and collaborating with saxophonist Patrick Shiroishi on a recent 2023 standout LP. His new record, Perpetual Morphosis, is his second full-length for Hausu Mountain. It finds him constructing pleasant zones that land at the gentlest end of the label's skunky catalog. The album is carried by buzzy synths, mallet-like timbres, and intricate Fender Telecaster noodling. Complimented by Wong's burbling, manipulated vocals, it plays like a soundtrack to a picnic hosted by friendly robots.