BEST HIP-HOP
The Best Hip-Hop on Bandcamp: July 2021
By Phillip Mlynar · August 04, 2021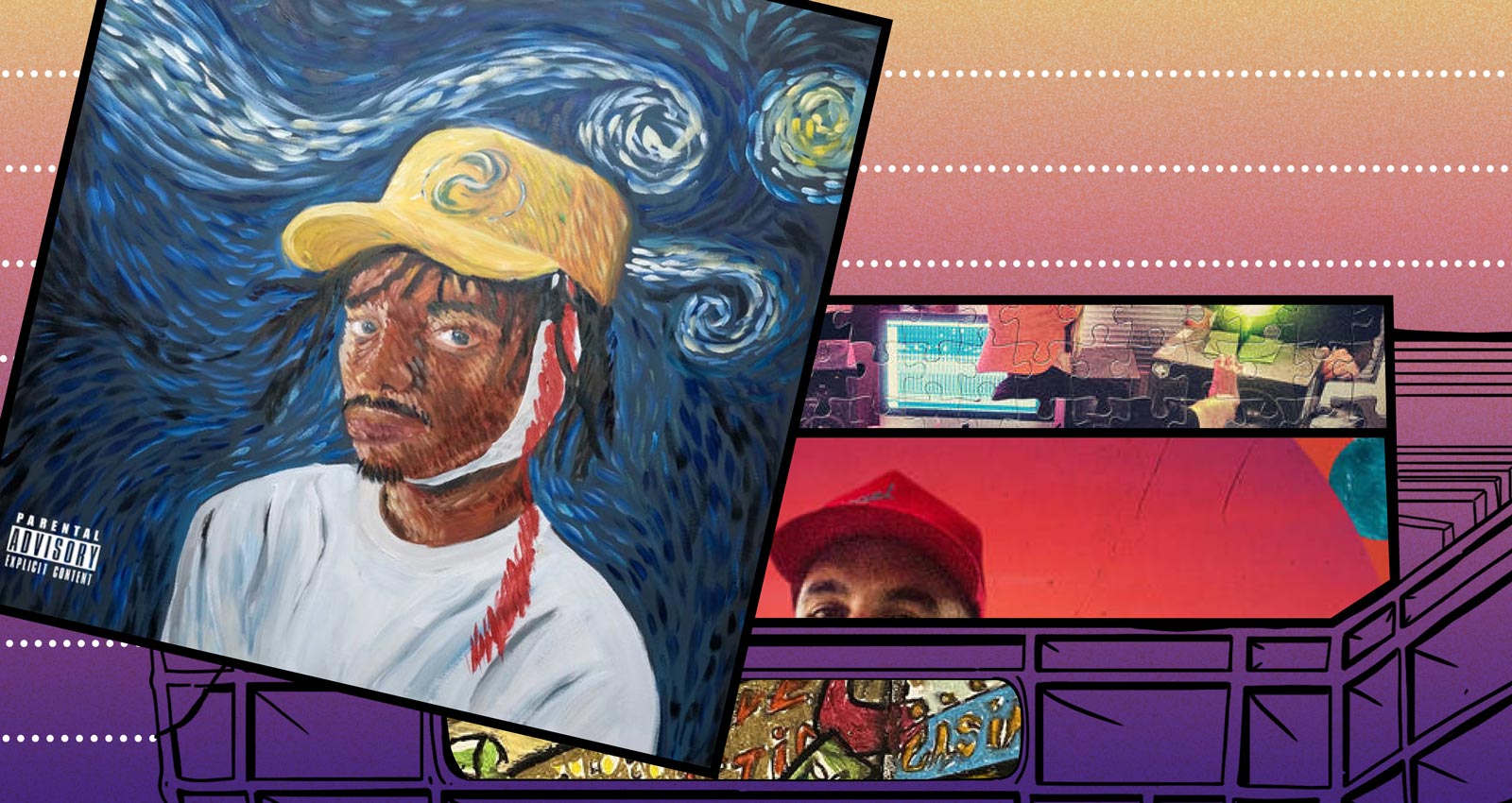 July's spotlight of the most essential new hip-hop releases to hit Bandcamp includes an album influenced by Salvador Dali's surrealist visions, a New Jersey MC's deep exploration of worldly chaos, and a DJ quartet's latest surgically sharp turntable workout. We also dig into a yacht rock-inspired summer soundtrack.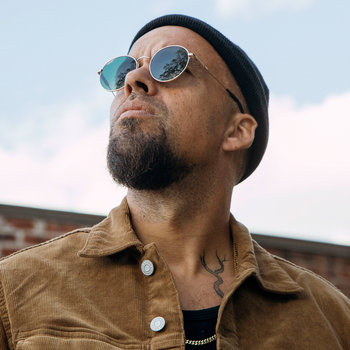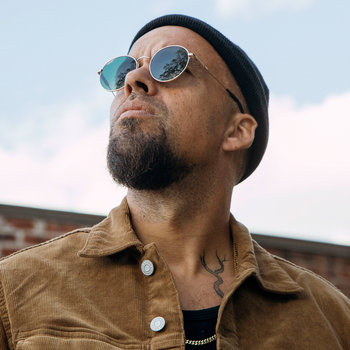 Charismatic Florida rapper Bernz recorded Yacht Club Vol. 1 as a soundtrack to carefree summer days fueled by cold drinks snatched out of a cooler. "Let this be the first thing I write before it becomes night/ And my second tequila melts into the ice," the MC breezily raps on introductory cut "The Biggest Start," his unhurried flow gliding over L.A. producer Induce's flip of an '80s anthem by the soft rock troupe Ambrosia. "I live an endless summer," he concludes. Across the project, Bernz skillfully balances similarly sun-kissed sentiments with nuggets of introspection and confessions of self-doubt—"I'm trying to learn to center my mind and kill pride," he raps over a lustrous, jittering loop on "LOL"—but Yacht Club Vol. 1's enduring appeal is the way it functions as relaxed mood music for the summer season.
D-Styles, Excess, Mike Boo, Pryvet Peepsho
545 WFH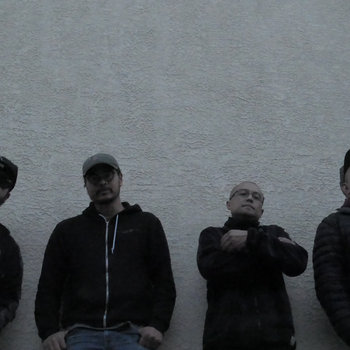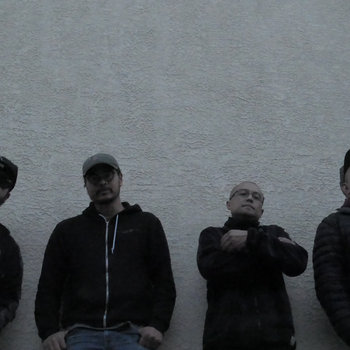 Merch for this release:
Vinyl LP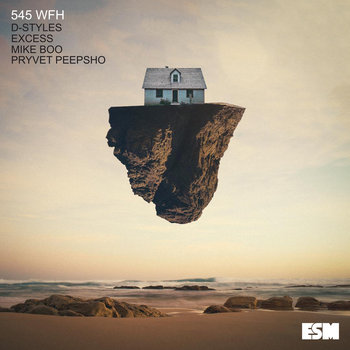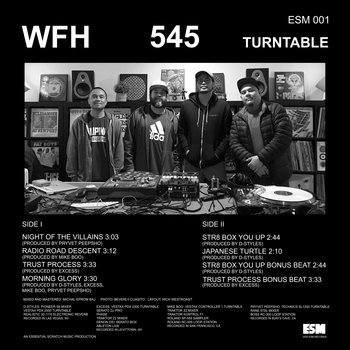 Armed with their faithful Vestax and Technics turntables, the deck-wrecking quartet of D-Styles, Excess, Mike Boo, and Pryvet Peepsho deliver ominously funky production spiked with precise scratch patterns on their latest project, 545 WFH. Pryvet Peepsho's introductory "Night Of The Villains" conjures an atmosphere of dusky dread, complete with coy snatches of cowbell, while Mike Boo's "Radio Road Descent" opts for exploratory interstellar vibes. Excess's "Trust Process" nods to moody '90s trip-hop by fusing craggy drums with sullen strings as the DJ cuts up a vocal sample that admits, "I just can't make it by myself." A couple of D-Styles productions, "Str8 Box You Up" and "Japanese Turtle," round out this accomplished project, with the former's forbidding funk leading into the latter's intoxicating blend of stuttering snares and squelching bass tones.
Since breaking through during the '90s indie rap revolution as one-third of Dilated Peoples, the Los Angeles-based Evidence has built up a sterling series of solo releases. Where previous projects, including 2011's Cats & Dogs and 2018's Weather Or Not, frequently invoked meteorological imagery, on Unlearning Vol. 1 the MC moves into a fresh stage of his career, delving into the artistic freedom of the modern musical age. "Found the hardest truth in life is that the truth ain't told/ Find myself between the lines of what I write and ain't fold," ponders Ev, over producer The Alchemist's lurching funk backdrop on opener "Better You." Across the album, Evidence supplements his own astute production contributions with an ensemble cast of heavyweight beatmakers headed up by Nottz, V Don, and Animoss, with the latter's evocatively sorrowful "Pardon Me" prompting Ev to explore the interrelationship between influence and originality. Putting faith in his trademark economical flow, Evidence's verbals are complemented by guest contributions from Boldy James, who appears on the brawny "All Of That Said," Conway The Machine, who blesses the off-kilter piano loop that runs through "Moving On Up," and Navy Blue, who invokes the album's soul-searching spirit on "Pray With An A" by confessing, "Most the shit I learn from suffering, giving it time."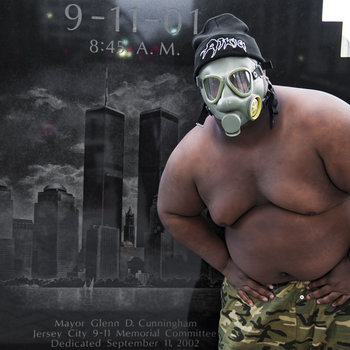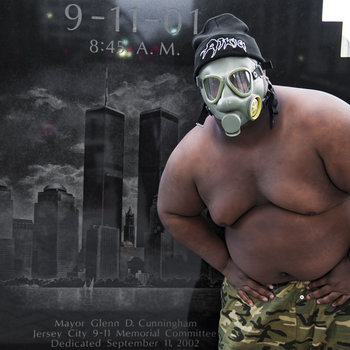 Broadcasting from New Jersey, MC Fatboi Sharif and beatmaker Roper Williams's Gandhi Loves Children balances depictions of worldly chaos with subtle moves towards a sense of inner serenity. Entirely produced by Williams, the album's tracks are sculpted out of voluminous low end tones, smartly minimalist drum patterns, and spectral melodies. Susurrant bass and flecks of static combine with a plaintive refrain on introductory track "Tragic," with Fatboi Sharif setting out his agenda, weaving together references to global epidemics, school shootings, and the afterlife in a commanding but conversational flow. Vocal assists across the project come via YL passing through the ruminative "Fly Pelican," the high-strung Pootie contributing to the string-saturated "White Noise," and L.I.F.E. Long bringing sci-fi gravitas to the palpably throbbing "The Cure For Amoxicillin." Successfully infusing the album with a transcendent tint, closing cut "Angels & Demons" subjects Fatboi Sharif's voice to off-kilter otherworldly processing effects as the rapper embraces a redemptive soul loop to depart on a midnight "spirit journey."
Kairo & Hoopaloop
Sabali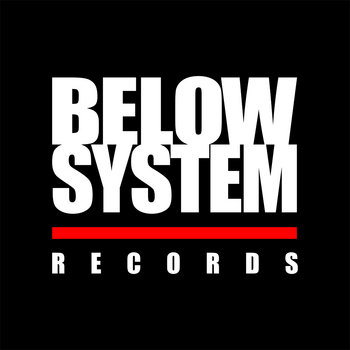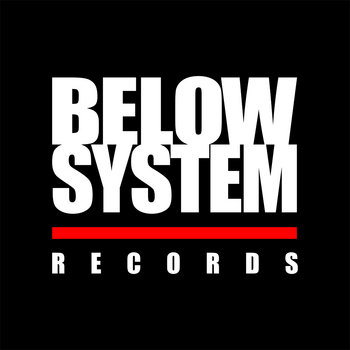 "Hard to explain what I see when I write/ The things I recite/ Searching for the meaning of life," relays Kairo on "Elevation," the opening song to the Winnipeg-based MC's six song team-up with producer Hoopaloop. Embracing a backdrop that blends an elegiac piano riff with hefty drums, Kairo casts himself as, "an optimist dreaming, despite the fact that the world we living isn't seeming as right as it's supposed to be"—and the idea of striving for positivity in a blighted society runs throughout the project. On the serene but pulsing "The Prophecy," the MC balances a sense of personal humility with wider visions of freedom; on the static-flecked "Nothing To Lose," Kairo delves into the dynamics of a warrior state of mind; and the taut and dramatic "Tell Me The Truth" ushers in a sense of history and perspective. "I'm grateful for anybody who listened/ Anyone that saw the truth in the youth and sharing the vision," raps Kairo on final cut "This I Know," refreshingly bringing a prevailing sense of gratitude to Sabali.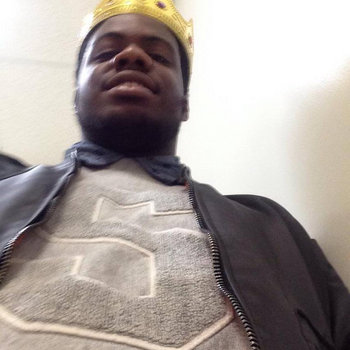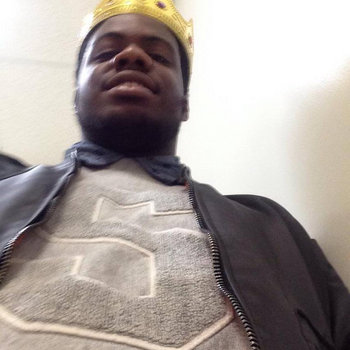 On "Disco!" MIKE dwells in his trademark territory, exploring feelings of loss and struggles with self-doubt over a soundtrack of bittersweet soul-centric loops crafted under his own dj blackpower guise. "The only teeth that know these thoughts?/ That'd be me and God's/ The only dreams that leave me lost?/ It be me with Mom," he reflects over a jazz-fusion backdrop on "Center City"; from there, he delivers references to religion and family, confessing, "My oldest secrets in these songs, so them demons loud." But out of this tumult emerges a sense of internal calm, with MIKE eventually vowing, "My hope for peace'll keep me stronger with a sweeter smile." There's an emotional heaviness that comes from the stark and introspective nature of MIKE's lyrics, but on "Disco!" the warm production conjures a sense of nostalgia that serves as a security blanket. Pain and sadness frequently emanate from MIKE's confessions, but "Disco!" also delivers flickers of hope, with the final track "Spiral/Disco (Outro)" showcasing the rapper discarding "dumb pride" to proclaim, "I learned to be the calm in the thunder—and sunrise."
Obijuan x Philanthrope
SAXRED GIN
Merch for this release:
Vinyl LP, T-Shirt/Apparel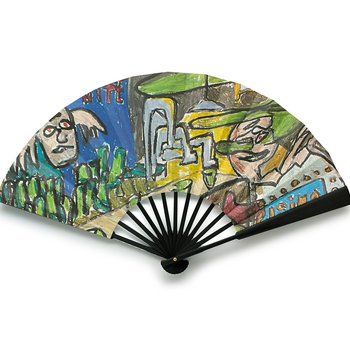 SAXRED GIN was recorded in an artistically militant fashion, with MC Obijuan and producer Philanthrope from the Netherlands-based Chillhop clique laying down tracks in a raw and uncompromising manner, meant to convey the sense of acute frustration they were feeling at the time. Released via Bad Taste, the same label that recently dropped YUNGMORPHEUS and ewonee's sonically verdant Thumbing Thru Foliage, there's a nervy feel that reverberates through the potent, six song SAXRED GIN. Opener "POISON IVY" suggests impending danger with its aggressively crackling drums and sneakily escalating strings. On mid-project cut "WATCH TOWER," the grainy-voiced Obijuan seeks out "the root of all evil" over a wavering gospel loop; "CYBERPACK" is sculpted from haunting bass and hovering atmospherics; and closer "CROOKED VISOR" channels sci-fi ambience by threading warped radio signals in and out of the mix. Clocking in at just under 10 minutes, SAXRED GIN is an intense and compelling introduction to two artists convincingly locked into the same wavelength.
Merch for this release:
Compact Disc (CD), Vinyl LP
On 2020's ShrapKnel, New York-based PremRock paired with fellow MC and Wrecking Crew member Curly Castro to craft an album bustling with dystopian sci-fi sentiments set to brutalist production. Back on a solo beat, Load Bearing Crow's Feet is a more tender and pensively-phrased project focused around the MC's reflections on how aging and accumulating experience has affected his life and art. Backed by a collection of dusky, low-key beats contributed by a roster including Denmark Vessey, Small Professor and Messiah Musik, the album's tracks are populated by barstool philosophers taking solace in late-night laments. "I rap for pool sharks and broken hearts," raps PremRock over a piano-helmed Willie Green production on "FRIENDS," while the subdued brass lines of "Soft Machinery" inspire the MC to sketch a sepia-hued scene: "Whiskey in his hand and I smell another diatribe/ A real 'Nighthawks at the Diner' vibe/ My kinda tribe." The funereal "Prairie Burn" captures the essence of an album that brims with bluesy hip-hop confessions and self-aware revelations, when PremRock asks one of the song's characters to describe his biggest personal weakness. Her response? "That's easy, you're an idealist; unrepentant."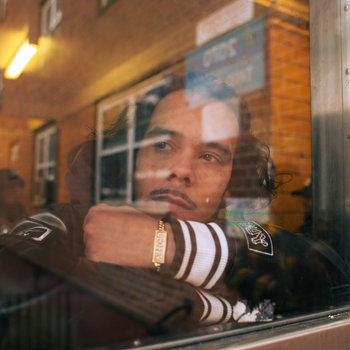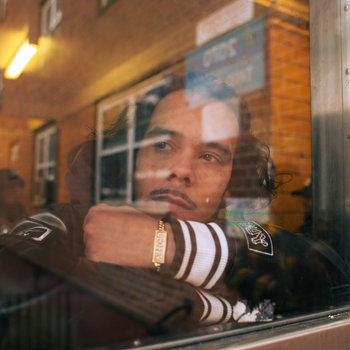 Merch for this release:
Vinyl LP, Compact Disc (CD), Vinyl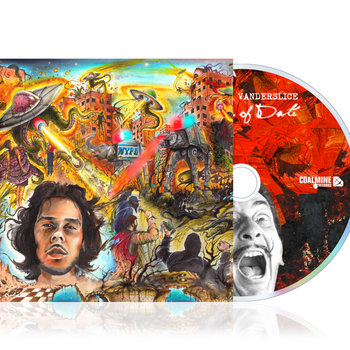 Harlem MC UFO Fev set out to invoke the imagery and experimentalist streak of iconic surrealist Salvador Dali on this compelling collaboration with Phoenixville producer Vanderslice. After the svelte, scene-setting, tropicalia-infused title track, Vanderslice serves up a series of forceful beats that combine boom-bap heft with smartly-chopped loops that swing between menacingly aggressive and sweetly melodic. The gravel-voiced Flee Lord guests on glowering early cut "Crack Shifts," while "Home Team" channels melancholy by laying syrupy vocals over airy drums; and "Scroll Music" weaves sinewy organ lines around kicks and snares that land with an undeniable thunk. "I'm painting like Salvador Dali/ John Galliano on my body," brags UFO Fev on "Scarlet Letters," the album's mournful penultimate cut. Then, the rapper issues a stark decree: "You ain't got no felonies to fight/ But you're cool with doing nothing with life?/ Shit ain't right."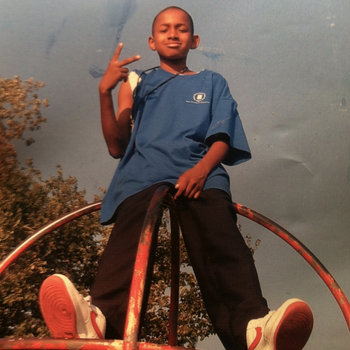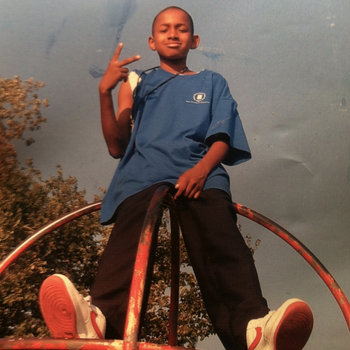 Danny Brown's Bruiser Brigade collective have been enjoying a bountiful 2021, dropping key albums from Fat Ray and Bruiser Wolf alongside the crucial TV62 label compilation. ZelooperZ's Van Gogh's Left Ear adds to the rude run of releases, presenting the Detroit denizen's angular, off-kilter flows over bass-helmed beats topped with freakish melody lines. Curt opener "Battery" is crafted by Dilip and Holy Rain and bends warped circus organ lines over clattering drums as the MC introduces himself: "High-key messed up, high-key smoking on titanium strong/ War in my pen when I write my wrongs." Crucial moments elsewhere on the absorbing album include Danny Brown lending his animated MC presence to the ominously kooky "Bash Bandicoon"; ZelooperZ bandying abstract imagery over Dilip's spacey backdrop for "Ticking Time Bomb"; and fellow rappers Quadie Diesel and RXNephew pooling resources to guest on the hyper hostile fight club track "Paranormal Snaptivity."