LISTS
A Guide to the Music of Musical Experimentalist Phew
By Peter Margasak · October 26, 2021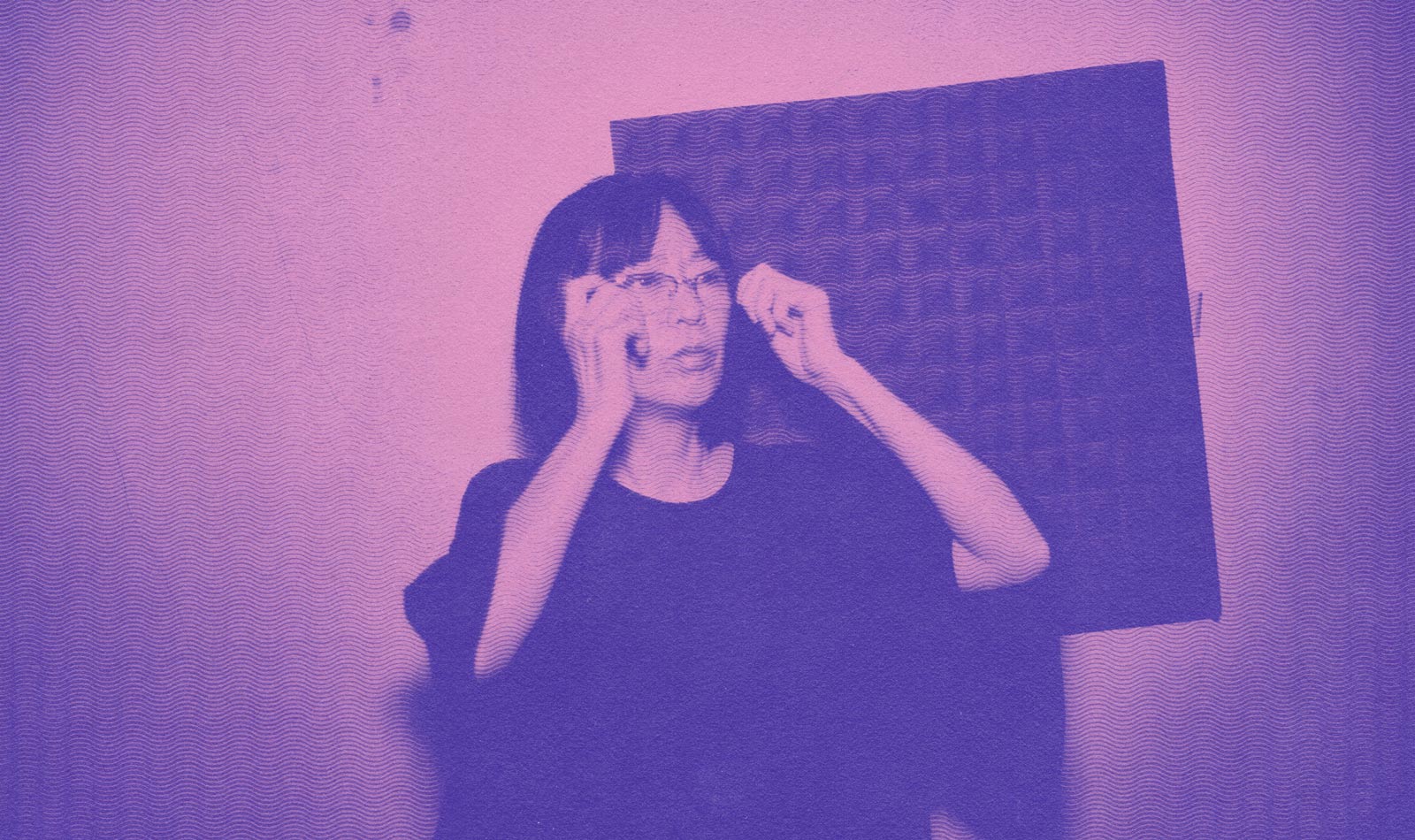 For nearly four-and-a-half decades the Japanese singer known as Phew (neé Hiromi Moritani) has blazed her own path, trusting instincts that she's stubbornly refused to temper. In a recent interview, she self-effacingly claims that, "It's been over 40 years, and I'm still making music the same way. I have not grown at all. I think this is a terrible thing." The truth is that she has changed, while remaining true to herself, operating at the fringe of her homeland's experimental music scene while also retreating for years at a time. She's a genuine autodidact, mostly developing and honing her practice on her own, while occasionally collaborating with an international cast of heavies including members of the legendary German band CAN, American experimentalist John Duncan, Raincoats member Ana da Silva, one-time Boredoms guitarist Seiichi Yamamoto, and musical polymath Jim O'Rourke. She's just released New Decade, a stunning solo album recorded in her home studio in the Tokyo suburb of Kawasaki during the pandemic. The album is simultaneously dystopian and oddly human—a transmission rooted firmly in the present with little concern for what will happen tomorrow. As she has said in the album's press materials, "Personally speaking, I've stopped being able to see a future that extends from the present."
She's always trusted her gut; in 1977, she flew to London to see the Sex Pistols live, because she wasn't content with experiencing them through recordings. As she told Biba Kopf in a 2003 feature published in The Wire, "I realized this was not something you were supposed to watch, it was something you were supposed to do." She returned home and started the art-punk band Aunt Sally, inaugurating a lengthy career in music defined by an enduring punk ethos. Ryuichi Sakamoto, who was still working with Yellow Magic Orchestra at the time, signed on to produce her first solo single "Finale" in 1980, which led her to visit Conny Plank's famous German studio where she made her largely improvised solo debut album with CAN's Holger Czukay and Jaki Liebezeit. That spontaneity has been a hallmark of her music ever since, which she's created in fits and starts over the last four decades, the last of which has seen her focus increasingly on home recording using only voice and electronics.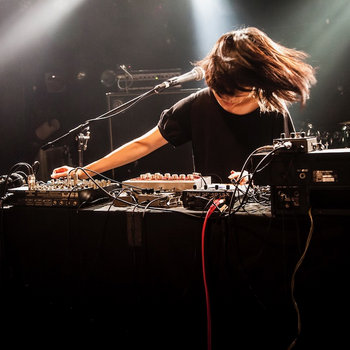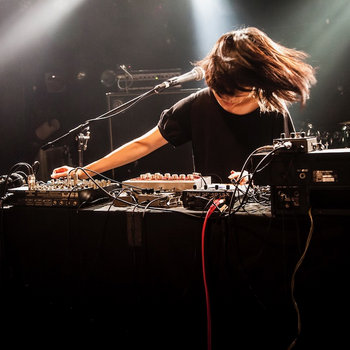 Merch for this release:
Compact Disc (CD), Vinyl LP
New Decade is her first new studio album in four years, although she's released a steady stream of archival material since her 2018 album Voice Hardcore, sharing several albums that compile material from CD-R releases she sold only at her performances. The new album's opening track "Snow and Pollen" was written in March of 2020, as the pandemic began its rapid spread around the globe. "When all my plans were cancelled due to the pandemic, I tried to make sounds in my room almost every day," she says. "By making it a habit, I was able to maintain a sense of routine through making sounds." She speak-sings descriptions of falling snow, which connected her to another cataclysmic event she lived through nine years earlier: the Fukushima earthquake and nuclear disaster.
"This song had a calming effect on me," she says of that first track. "As I was making it, I was remembering the news and weather reports I heard on the radio late at night after the earthquake and nuclear accident in March 2011. The announcer was reading the manuscript in an unhurried manner, and the voice tone was soothing. At that time, I could not feel any comfort or encouragement from any song or words, and even words of sympathy and compassion felt empty."
The album's six tunes feel both apocalyptic and intimate. The buried background vocals on "Into the Stream," jostled by juddering percussion from guest musician Hiroyuki Nagashima, convey a weird sweetness within an otherwise stark sonic landscape. "Days and Nights" percolates on a primitive drum machine, smothered by pulsing, atmospheric electronic tones, as Phew complements her feverish chants with wordless vocal curlicues that ricochet through the din like asteroids. This dichotomy often seems intentionally raw, bursting with immediacy. "Before the pandemic, I think I was trying to make something better and more complete," says Phew. "But I began to feel that it was hard to work for perfection in a confined situation, and I wanted to create and preserve an openness and an outlet in my tracks, which may mean that they were unfinished. As I mentioned earlier, I began to enjoy the process. New Decade is the result of this process."
Below is a survey of some entries in Phew's characteristically diverse output over the last few decades.
Merch for this release:
Vinyl LP, Compact Disc (CD)
This is where it all began for Phew, with a post-punk combo inspired by the original wave of English punk, released via the singular Japanese indie Vanity Records in 1979. The churn of Bikke's crudely textured electric guitar and weirdly playful counterpoint from keyboardist Mayu collide with the primitive rhythms pounded out by bassist Kataoka and drummer Takashi Maruyama, alongside Phew's angular, sometimes hectoring, sometimes plaintive singing, immediately struck a chord, including attracting the interest of Ryuichi Sakamoto who would soon produce her first solo single. But it would take years for the world at large to hear it: It was pressed in an edition of just 400.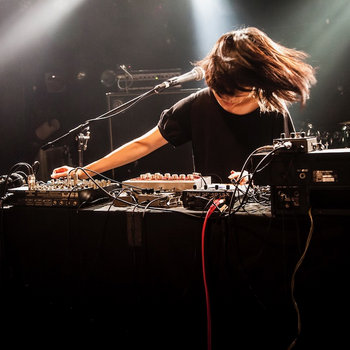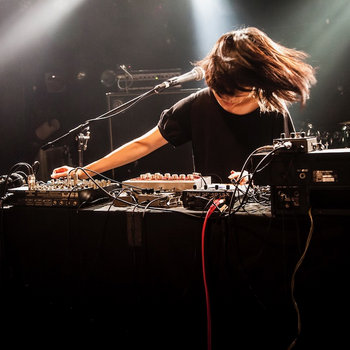 Merch for this release:
Vinyl LP, Compact Disc (CD)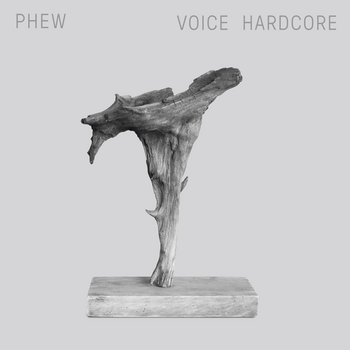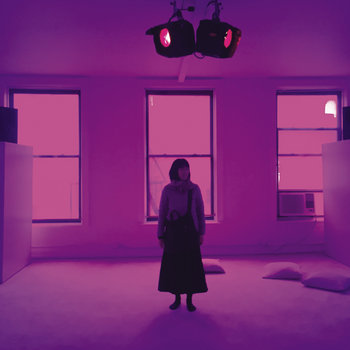 This 2017 album was Phew's first serious dive into making music using only her voice, treating it with electronic effects and layering both melody and abstraction through rigorous overdubbing. "When I dubbed my voice, a completely different world emerged that can't be described in the context of melody, harmony, rhythm, or acoustic technology," she says. "Simply put, it was nice to be able to do what I could not do before. And once I had acquired new skills, I would want to hone them. But I am not an athlete, I'm a musician, so I prevented myself from pursuing skills just for the sake of it—like I was just daring myself to make a funny and modulated vocal sound."
Merch for this release:
Vinyl LP, Compact Disc (CD)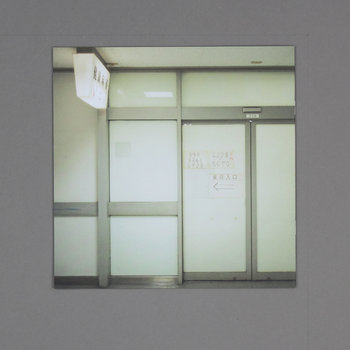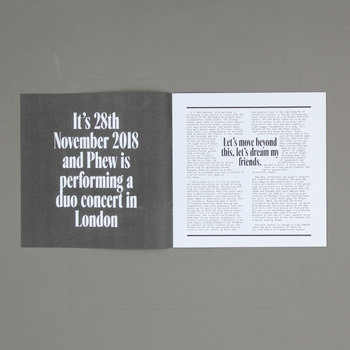 This astonishing 2020 album is one the compilations of disparate home recordings Phew made during the previous years and sold as CD-Rs at her live shows. Ordinarily, one might expect such collections to feel erratic; but the depth and range of this release is top-notch, presaging the harrowing vibe and otherworldly beauty of New Decade. "Let's Dance Let's Go" belies the sentiment of the title with an aqueous drone and numb chants, while "All That Vertigo" simmers over a primitive drum machine, babbled vocals, and ominous synth squiggles. The album also includes a juddering, hyper-minimalist cover of "The Void," a song from the debut album by the Raincoats.
Phew / John Duncan / Kondo Tatsuo
Backfire of Joy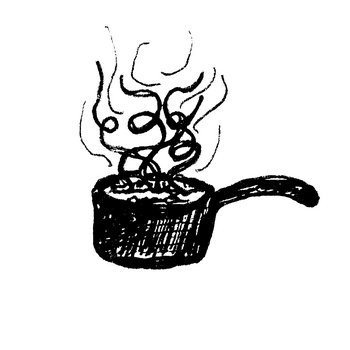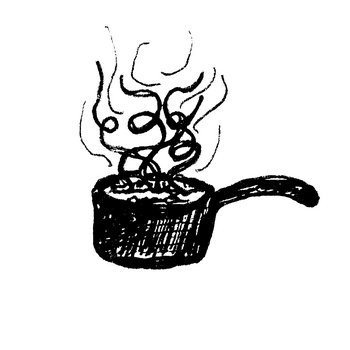 Merch for this release:
Vinyl
Phew is usually unflinchingly forward-looking, with little interest in past accomplishments. But during the pandemic she waded into her archives and listened to some of her early work with fresh ears, including this jarring live recording from 1982 with the American experimentalist John Duncan of Los Angeles Free Music Society fame using his customized shortwave radio set and Japanese musician Kondo Tatsuo on synthesizer and electronically treated piano. "In the late '70s and '80s I was clueless and had no choice," she says with typical modesty, as there's nothing clueless about her performance. "I just followed my instincts and did what I wanted to do."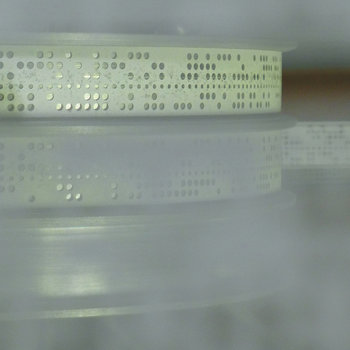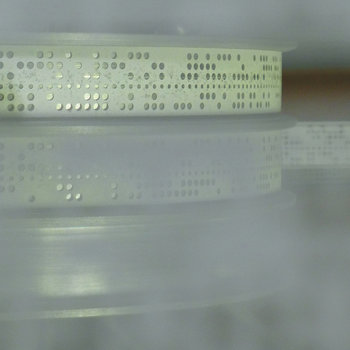 A gripping live performance from 2015 made with Oren Ambarchi and Jim O'Rourke, Patience Soup reinforces Phew's uncanny knack for collaboration, traversing a stark sonic landscape with a hushed presence that's totally riveting. Over Ambarchi's shimmering Leslie cabinet-warped guitar figurations and O'Rourke's shifting colors on piano and electronics, she's spellbinding with the leanest of material. Phew has that rare ability to get lost when she's onstage, channeling something ineffable that dissolves into the air once the performance ends. She says, "I had no memory of how I played, but I remember I had a physical feeling that it was a good performance afterwards."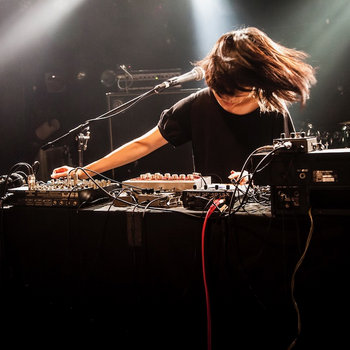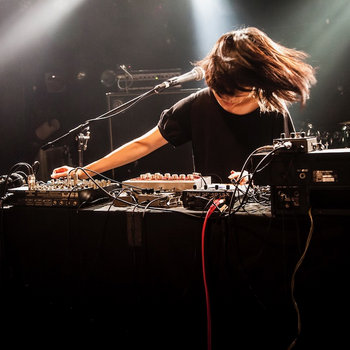 Merch for this release:
Compact Disc (CD), Vinyl LP
While Phew's masterful new album updates and perfects previous aesthetic accomplishments with heightened sonic depth and richness, there's also a palpable looseness, as she embraces her most experimental tendencies, without a whiff of second guessing. That mix of immediacy and instinct results in one of the strongest records of her long career. "In the past, I used to listen to the same track over and over again when mixing, deleting what was superfluous and adding what was missing, trying to complete the song, but I found the process hard at times," she says. "And I have come to believe that the process is more important than completing the song."