FEATURES
CAN's "Live in Stuttgart 1975" Exemplifies the Legendary German Group's Spontaneity and Impact
By Daniel Dylan Wray · June 11, 2021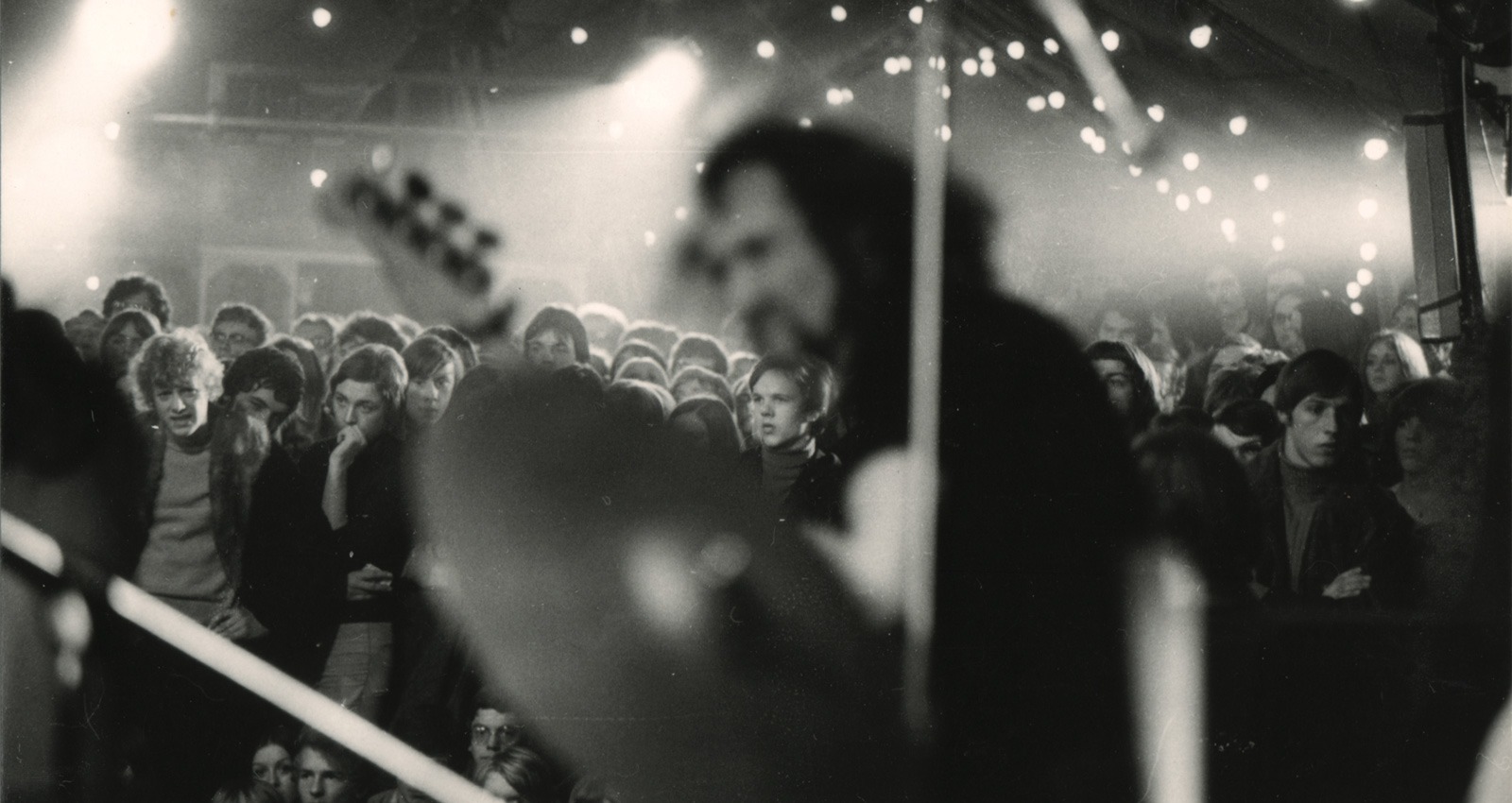 "With CAN there was always a certain sense of the unfinished, of being fragmentary and not perfectly polished, and that's especially so for the live shows," says Irmin Schmidt, the sole remaining founding member of the German experimental rock band.
Schmidt, 83, is reflecting on the band's legacy as a new series of live albums is released, the first being Live in Stuttgart 1975. Split into five tracks, with each varying in length from nine to 35 minutes, the album captures the band seven years into existence—having already been through two vocalists in Malcolm Mooney and Damo Suzuki, now operating as a fierce and hypnotic instrumental unit.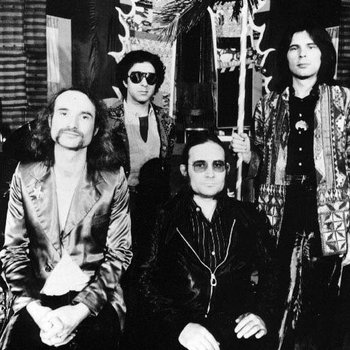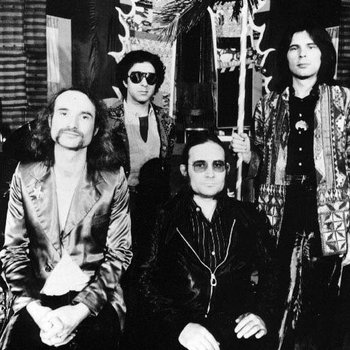 Merch for this release:
Compact Disc (CD)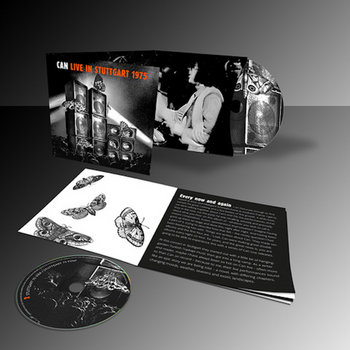 Marrying taut jazz rhythms with explosive psychedelic rock riffs and endlessly spiraling, unpredictable grooves, the band—who always performed improvised sets—manage to harness both chaos and cohesion on the album. "When I listen to old recordings, if it's good, I can listen to it as if it has been made by somebody else," says Schmidt. "There's no kind of sentimental, emotional nostalgia. Although if I listen to something which has not succeeded, and is not good, then there is an uncomfortableness about it because you think, 'Oh shit,' and sometimes if it's really bad there's a feeling of shame."
There's no shame to be found on Live in Stuttgart 1975, thankfully. It's a recorded document that perfectly captures the dichotomy that so potently characterized CAN, a band who could sound acutely precise or wildly expansive, often within the same breath. Hailing from Cologne and made up of the core quartet of Schmidt, Holger Czukay, Michael Karoli, and Jaki Liebezeit, the group had a wide range of backgrounds. Schmidt studied composition in Karlheinz Stockhausen's Cologne Courses for New Music at the Rheinische Musikschule, as did Czukay, whereas Liebezeit's background was in European free jazz and Karoli was a multi-instrumentalist who had played in an assortment of bands prior. "We were not just a gang of friends," says Schmidt. "Some of us didn't even know each other until the moment I got these people together. My idea for the group was that these members should come from different traditions. We wanted to make a group where all these parts could exist in their own right."
Merch for this release:
Compact Disc (CD)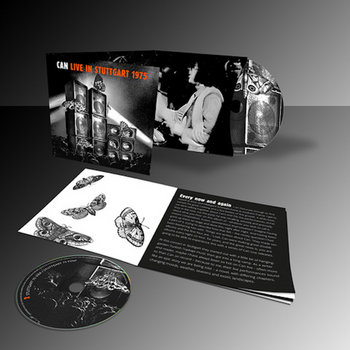 It wasn't just the diverse musical backgrounds that made CAN such a unique group at the beginning, but their approach. They took over an old cinema they named Inner Space Studio, and created their own world to disappear into. "Germany was already a little bit apart from the development of what was going on in places like Britain and America," Schmidt says. "So there was a sense of isolation, and also a certain sense of being isolated from other German groups because one [band] may be in Berlin, the other Hamburg, the other Munich. There was no capital like London where everybody in the scene knew everybody else. The effect this had was that we became hermit-like, and so it became something really very original. We weren't exposed to a daily influence of development in other fashions, and that was also conscious—we didn't want to follow any fashions." 
During the group's original run, between 1968 and 1979, they released 11 albums. While all possessed magical moments—from the epic 20 minute "Yoo Doo Right" (whittled down from a 6-hour improvisation) on their debut album, to an unexpected late period disco hit ("I Want More," from Flow Motion)—it was the four-album run of Tago Mago, Ege Bamyasi, Future Days, and Soon Over Babaluma that made them the blueprint for experimentation and innovation for many groups to follow. Often lumped in as being a Krautrock band, along with the likes of Neu! and Kraftwerk, these bands bore little resemblance to each other aside from an unwavering determination to break new sonic ground. CAN fused rock, jazz, avant-garde, and psychedelia, typically underpinned by sumptuous grooves, to create a sound that remains distinct to the point of being inimitable.
Despite the free-flowing, anything-goes approach of the band that set out to eschew convention, they married this open-mindedness with rigorous fortitude and a staunch work ethic, often rehearsing for 12 hours a day. "In the studio it was very spontaneous," recalls Schmidt. "Nobody came in and said: 'I have an idea for a song'. That didn't exist. But after some time a groove or a certain riff would appear, which became something that set up the rules for a piece. A certain riff can give you ideas for hundreds of possibilities, but it sets up a certain rule. So, when we played in the studio, we were after the perfection of these rules. Very often, it was just a certain groove that we perfected by playing it again and again, maybe for hours, maybe for days, until we had the feeling of 'This is it.'" 
Merch for this release:
Compact Disc (CD)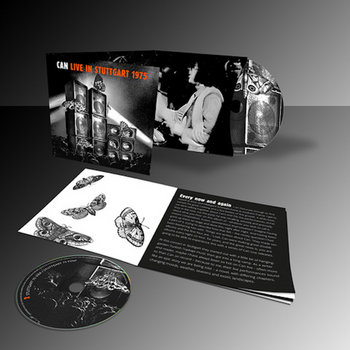 This process was the art itself as much as, if not more than, the end product, suggests Schmidt. "You can go on for years like this," he says. "One day you have to say: 'Okay, enough.' This was sometimes a discussion, because Jaki was always convinced we could get it better. He would want to go on. But in the process of getting better it would have become a totally different thing. You have to have the spirit of the process of creation in it. This is something very mysterious, like when I say it's not really finished in a way. The essence of this music we made is about how there are thousands of possibilities, and the way you decide to go is not to get a composed and perfected piece, it's about the process of it becoming a piece." 
This marriage of spontaneity with flush-tight playing, further combined with innovative tape editing to condense the recorded sessions, resulted in some of CAN's most arresting work. "Tracks like 'Future Days' or 'Halleluhwah' are really heavily edited from different hours of playing," Schmidt says. "Although initially Jaki felt you could destroy the groove by editing, Holger and I educated him on Stockhausen's techniques, who edited his pieces from thousands of little snippets. Jaki made his peace with editing, and we grew together as a band."  
Merch for this release:
Compact Disc (CD)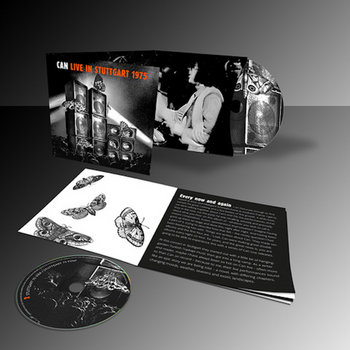 This sense of fluidity continued with the band onto the stage for their improvisatory shows. They would offer flavors or snippets of the audience's favorite songs, but bury them deep within the pulsing grooves and wild wig-outs. A greatest hits show was never on the cards and was seen almost as an absurd concept; rather, the live shows existed as an extension of the creative process. "Because we went on stage without prepared pieces and created music on the spot, that makes it full of uncertainties and fragments," Schmidt says. "That's the mystery of it, they were created in the moment of play. Of course, in that moment you can't be a perfectionist—spontaneity excludes being perfect. For me, this is an element of all great modern 20th century art—this kind of impending fatality which makes it unfinished in a way."
And would the crowd always tolerate live shows that went on for hours over two sets? "They all realized from the first moment that they were taking part in a spontaneous creation of something," says Schmidt. "This is only possible to achieve if the reaction from the public is to feel included. So most of the time, even if it didn't really work and we didn't really connect, they didn't act aggressive or boo. They tried to help the process. Even if our first set was terrible, they were always there for the second one." 
Merch for this release:
Compact Disc (CD)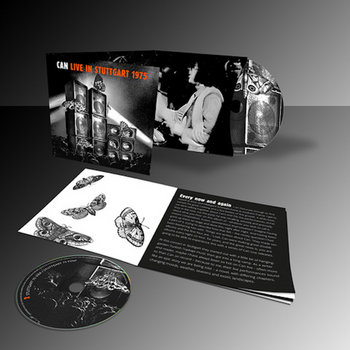 The legacy, impact and influence of CAN remains incalculable, shaping countless artists spanning multiple decades—from Brian Eno to The Fall, Primal Scream to LCD Soundsystem—but where does this sit with Schmidt? Is he proud? "Pride is not the right word," he says softly. "If you put some work of art into the world and it exists 50 years later, it's satisfying. It means that what you did was worth doing. On the other hand, there is some sense that this is normal, because I grew up with a classical education. From very early on I listened to music which was hundreds of years old. It should last. If it's good enough, it lasts."