LISTS
Elliott Sharp's Life at the Avant-Garde Edge
By George Grella · July 11, 2023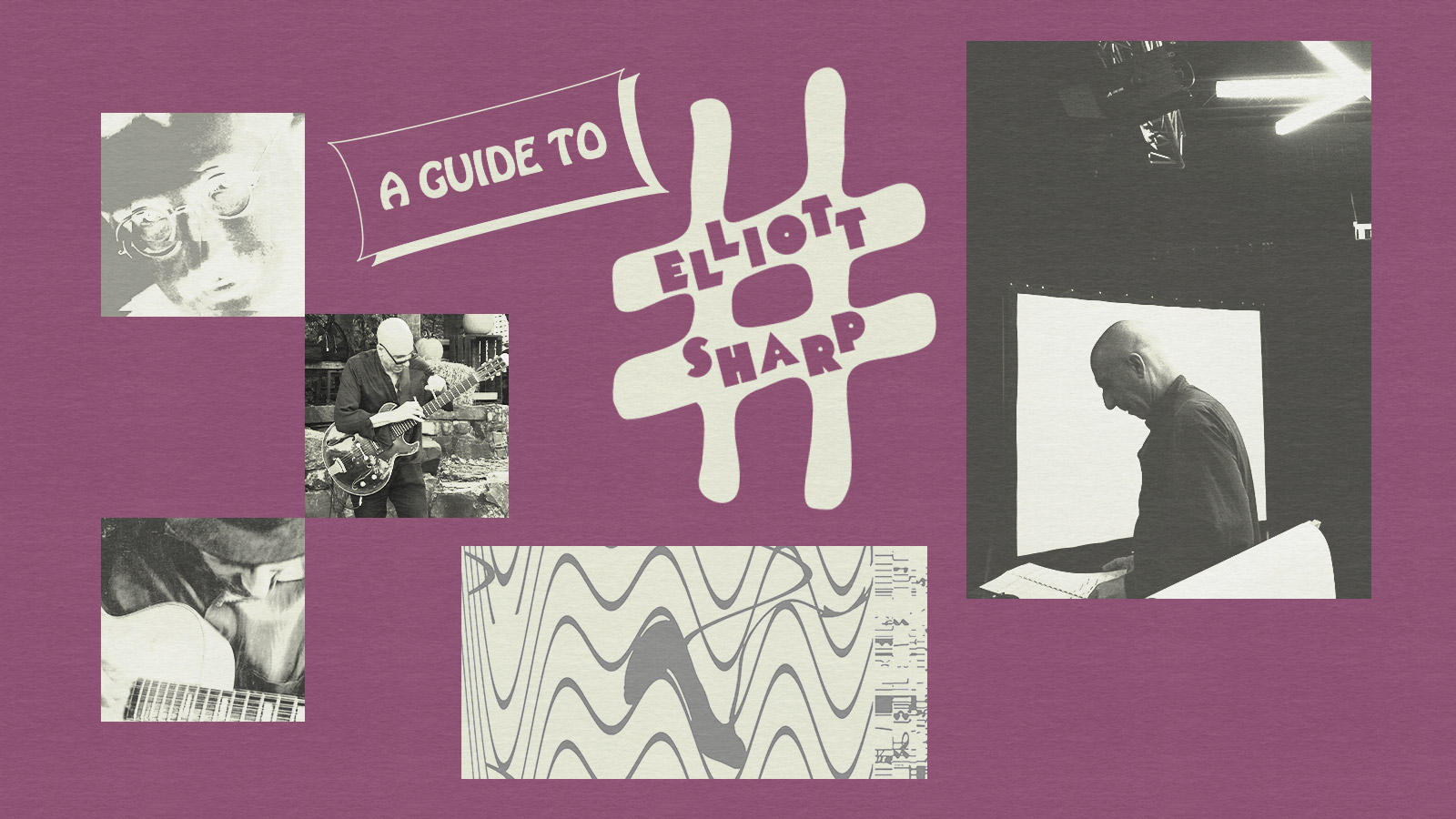 A "scene" is a complex concept. It's not so much a location—though it can orbit around a place or places where people get together to make the scene happen, especially if they do so regularly—and it's not primarily a concept or an ideology. A useful way to look at it is as a group of musicians who share similar values and gather together to find out what can be made out of them—less a style and more a process. Take the "Downtown" scene in New York City, starting sometime in the late 1970s (or, some have argued, a decade or two before) and continuing as a permanent rebalancing of elements of jazz, punk, funk, improvisation, post-WWII compositional innovations, technology, non-musical media—anything, really, that someone in the scene wanted to pull in and experiment with.
One of those people has been Elliott Sharp. The multi-instrumentalist and composer has been one of the main scene-makers since he made his way to New York after his student years at Cornell, Bard, and the University of Buffalo, where he studied with both Morton Feldman and Lejaren Hiller. That he came armed with a graduate degree, and an expansive background that included mathematics and physics, was only a part of what he brought to the scene, no more important than his love of the blues, his double-neck guitar, and a seeming interest in playing anything, with anyone, at any time. He's likely the only musician who's played in The Musts, the backing band for Michael Musto—famed journalist who wrote the essential "La Dolce Musto"column in the Village Voice—and won the Berlin Prize in Musical Composition (2015), while also leading the blues band Terraplane, playing saxophones in his Aggregat jazz group, writing songs for Debbie Harry, and so much more.
Look for his name and he turns up on dozens and dozens of recordings, including on John Zorn's Tzadik and Greg Ginn's SST labels, and especially his own zOaR Records, where he's been producing new records by himself and others and issuing archival material that goes back to his early years. "I started the label in 1977, and mostly what I was into was playing in punk bands, but mostly what I was doing was contemporary improvised music," Sharp says during a recent conversation in his studio, surrounded by guitars and other music gear. "I got some encouragement from Bob Hurwitz who was working with ECM at the time [Hurwitz would later go on to Nonesuch], but they weren't interested in releasing anything." Then in Buffalo, Sharp put out a couple records, then moved to New York in 1979.
Here is a sampling of his discography, told through his biography, using that move as a jumping off point.
---
"I jumped immediately feet first into the scene," he says. "One of the reasons I moved to New York was checking out the No New York record [the classic and hugely influential no wave compilation album issued by Antilles in 1978]. This was so much what I was doing," he says, with his own band, Human Error, in Northampton, Massachusetts. He describes it as "mixing noise and free jazz and rock and electronics."
He was also playing with musicians coming up from New York, both natives and fellow visitors including Pylon. "And I just said, 'These are my people, this is what I should be doing.' And I heard The Contortions tracks and I said, 'This is exactly what we're doing,'" he says.
A friend of mine had moved to New York, and she said I could stay with her. And I arrived from Northampton with a guitar and a horn, and a backpack. Like, probably 11 o'clock at night, she had a loft on John Street down in the financial district. And I go into the elevator, and there's this guy there with shades and a bass. Kind of grim looking, and I told him my name, and I said, 'Who are you?' And he told me, he was Dave Hofstra. And I asked him who he was playing with, and he said, 'The Contortions.' I said, 'Boom, I'm in the right place. And so then, as soon as I could, I tried to figure out how to continue putting out records.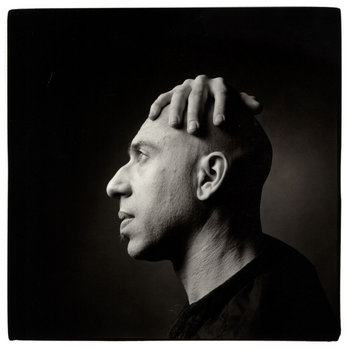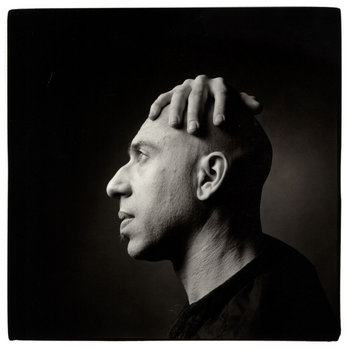 Sharp is mostly known for his guitar playing, but he's long played multiple instruments, and while he's self-deprecating about these skills, he's never less than capable and often excels, even at the start of his career. "I had no money, and I had no money for a recording studio," he says. "But the trombonist Art Baron used to come up to hang out with Roswell Rudd [a teacher of Sharp's] at Bard College when I was a student there and brought his tape recorder over, and I just recorded a bunch of solo tracks, and that came out as Rhythms and Blues. And that got my first notice in the Village Voice, which was great." And it led to the gig with Musto, wearing a pink jacket with black velvet trim, playing "fake Motown. I loved playing in The Musts because we had a real kind of showbiz crowd. We played big places like the original Peppermint Lounge, and that was a fun crowd."
Sharp's career is a testament to the power of basic gestures like asking and joining in. He made connections not just by playing with other musicians but just inquiring boldly if he could do things. "My first morning in New York when I woke up at my friend's, I called all the labels and Mark Kamins, who was at Island, actually answered his phone and said, 'Oh, man, I love that. Why don't you come in and let's talk.' That connection didn't lead to a record, but Sharp did record some tracks with Bill Laswell and Phillip Wilson that eventually turned into his album I/S/M. "[This] got my first real notice in the New York Times. So all of a sudden, I was getting noticed and began to sell a lot of records," he says. Getting paid for that was another story. "Yeah, it's kind of the price of doing business because it's still like an entry into a world where you get seen and heard and then get invited to festivals, and end up doing other record deals."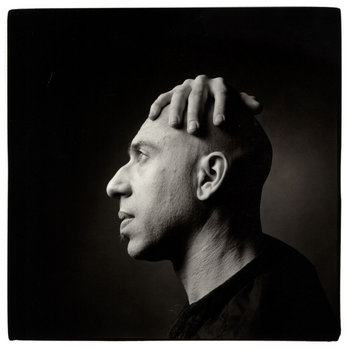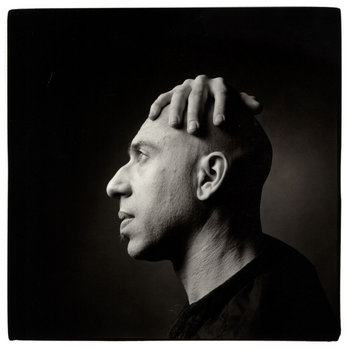 The first of his Yahoo Trilogy albums (which first appeared on SST), brings in the leading names from the scene, including Eugene Chadbourne, Christian Marclay, and Shelley Hirsch, and also actors and performers likes Steve Buscemi, Eric Bogosian, Eszter Balint, and Tracie Morris. Rants, raves, and songs about the state of America, it's as much theater as music.
Sharp stepped away from composing for a while. After Buffalo, he says, "I was so disgusted with the whole academic music scene and much more interested in playing in bands that I said, 'I don't really want to compose for other people.' I just want to play the music, you know, be a composer/performer. And that was the thing in the '80s, the composer/performer, with Glenn Branca and Rhys Chatham and myself."
But then a friend, flutist Barbara Held, commissioned him to write a piece. "And there was part of me saying, 'No, I don't write for other people," he says. "And here's Barbara, who I really liked and was offering me money. 'Okay, I'm a composer.' And that opened a door into thinking maybe this isn't so bad." He also had the opportunity to make a large-scale piece at The Kitchen, and Dave Soldier of the Soldier String Quartet asked him to write a piece.
"And I had started a relationship with SST records at that same time," Sharp adds, "[label head and Black Flag leader] Greg Ginn had gotten interested in weird music, so I said, 'Well, listen, I have a recording.'" Ginn put out both the Yahoos album and Sharp's first set of string quartets. Sharp says it "probably sold about 10,000 copies, which was unheard of for a contemporary string quartet at the time. I had a big argument with the new head of classical music at BMI who was saying, 'Well, we don't think you're a classical composer.' I said, 'I'm writing string quartets and writing orchestral pieces.' He said, 'But they're not played on classical radio.' I said, 'No contemporary music gets played on classical radio!' And finally they looked at some scores, and they finally agreed that I was a composer!"
Merch for this release:
Vinyl LP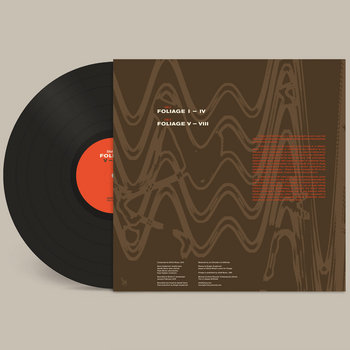 Sharp has now collected and reissued his string quartet recordings, and there's even more to his composing. He's been developing graphic scores for many years.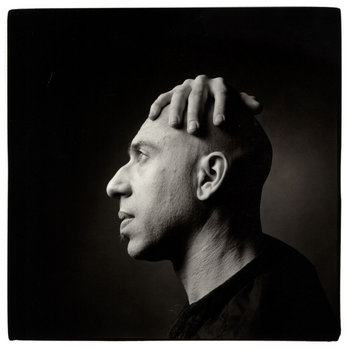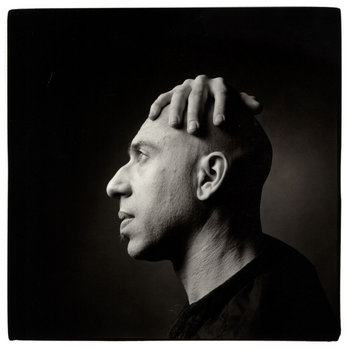 Merch for this release:
Compact Disc (CD)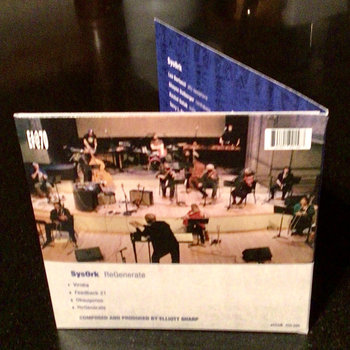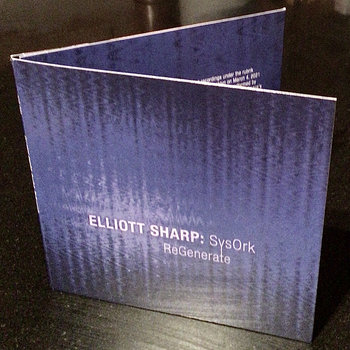 He's performed these with his own groups, like the SysOrk—this album was recorded live for a celebration of his 70th birthday at Roulette in 2021—and his large scale work Foliage, performed by Sharp and a group of European musicians and released by Moving Furniture Records.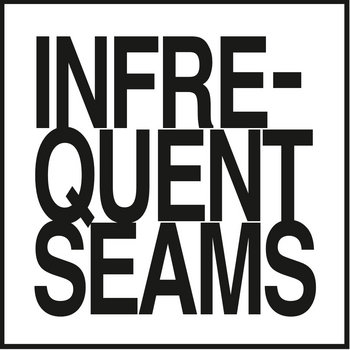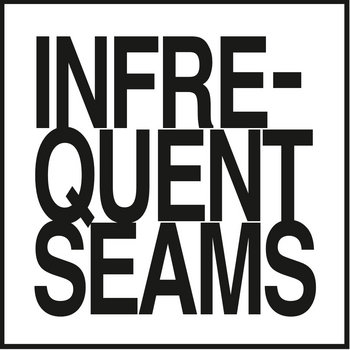 Merch for this release:
Compact Disc (CD)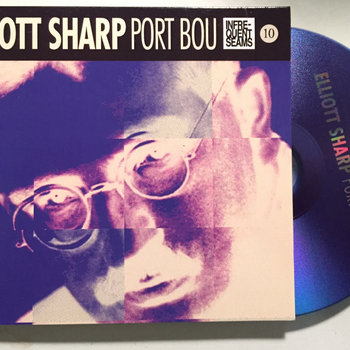 Sharp, always prolific and something of a workaholic, has also been composing operas, with two recent major ones released on the Infrequent Seams label. Port Bou is a deep, intense psychological exploration of the literal last moments in the life of Walter Benjamin, his possible last thoughts as he died in a hotel room, trying to escape Nazi occupied France.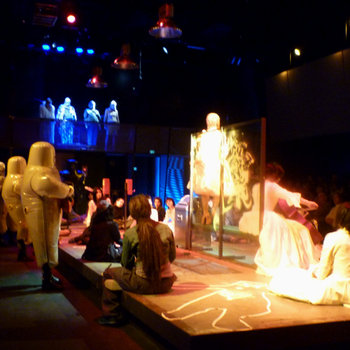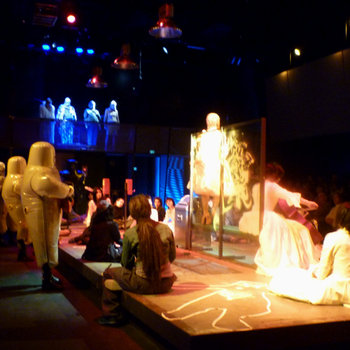 Merch for this release:
Compact Disc (CD)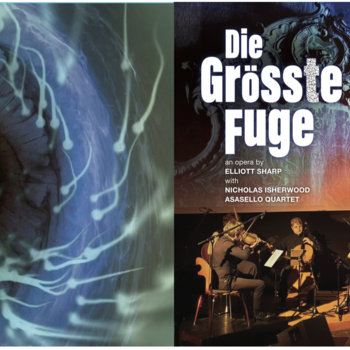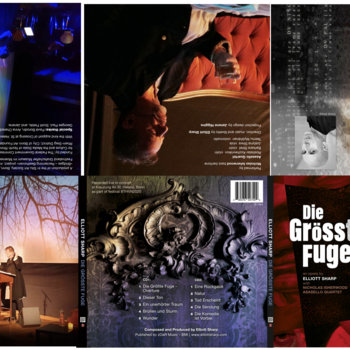 Die Gr​ö​ß​te Fugue is another interior work, which starts with Beethoven's deafness and imagines his inner life, trapped in silence, in music—a "fugue state" modeled after Beethoven's own titanic Größte Fugue.
Then there's the blues—not the music one necessarily expects to find coming out of the Downtown and avant-garde composition scenes. "I have always played blues," Sharp says.
I mean, the first stuff I did on guitar, even before I knew how to finger anything, I was absolutely gripped by country blues. The first time I heard it, I said 'This is the shit.' It just resonated so deeply, both the power of it, what they were singing, and also what was coded in there, what they were saying without words. Plus the incredible guitar playing. So I got a cheap guitar, had to do open tuning and use test tubes from my chemistry set. It was a way to play slide guitar in my lap. And then as I began to develop technique, it was the first stuff I wanted to play, always. I was with Jimi Hendrix, I put him in the same place as Coltrane and Ornette  and Cecil Taylor and Xenakis, and the roots of Hendrix [are] the blues.
Putting together Terraplane and putting the blues on record came later. "I would play blues at parties. Occasionally friends would say, 'Hey, can you just put musicians together?' I started putting together different versions of the Terraplane project. The first one, Terraplane, was released by Homestead in 1994. And that was almost all covers except for a couple of originals," he says.
That also had now old friend Dave Hofstra on bass, who has remained at the core of the band. Other albums bring in the late, great Hubert Sumlin as a guest, and Sharp has also produced and released a hard-hitting Sumlin album on zOaR.
Merch for this release:
Compact Disc (CD)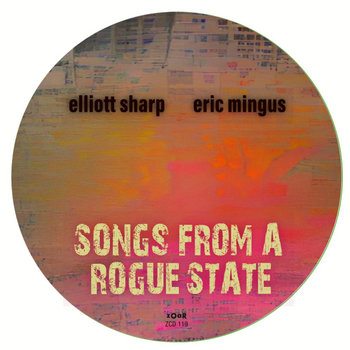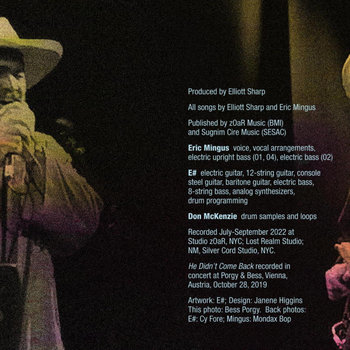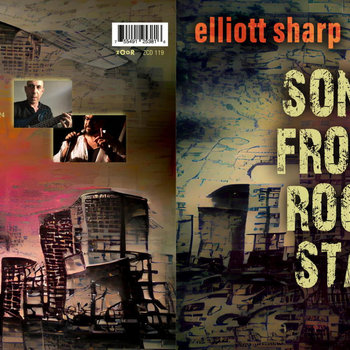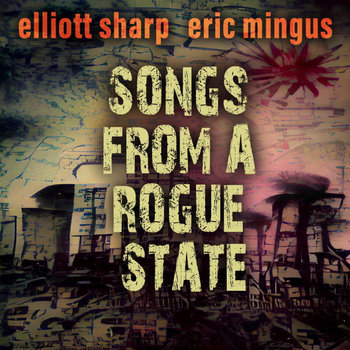 "I was involved with the early jungle scene, and blues has always used contemporary rhythms. So I said, I'm going to do a blues record with jungle rhythms. And that's what the Blues for Next release is," Sharp says. Poet and singer Eric Mingus, son of Charles, is one of the foundations of Terraplane, and in 2022 the two released an album (with drummer Don McKenzie), of not just the blues but a tough-minded mix of soul, punk, and political poetry.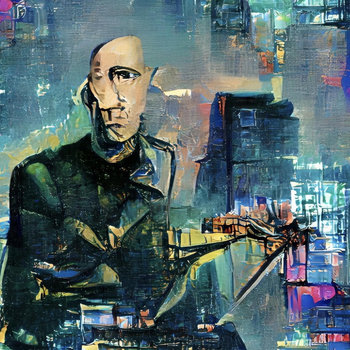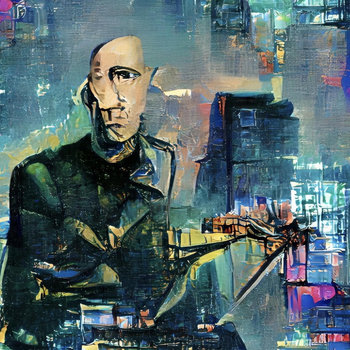 Sharp has released 16 soundtrack albums so far, and for an artist whose reach is so broad, handling different narrative themes sounds as if it's second nature to him—desert blues, Americana, noir miniatures.
The gestures of emotion and action each paint a specific picture while still sounding tightly integrated with all of Sharp's music making.
Check out Spectropia Suite for "This Time That Place," the ballad written for Debbie Harry.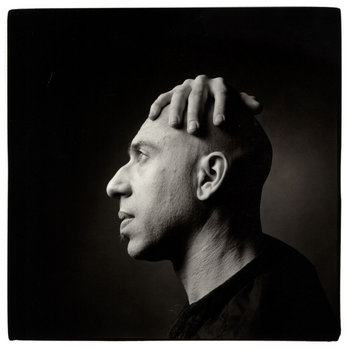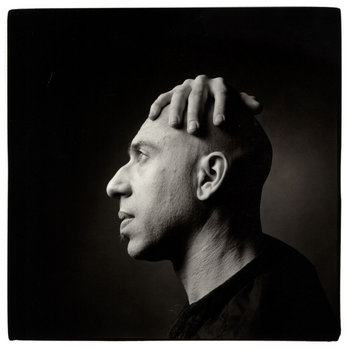 Christian Marclay & Elliott Sharp
97 is 97
Merch for this release:
Compact Disc (CD)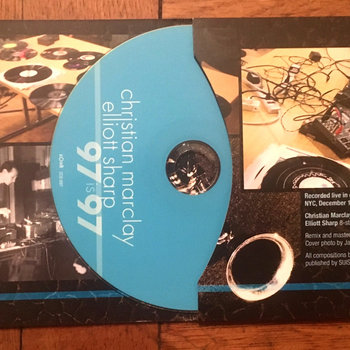 Merch for this release:
Compact Disc (CD)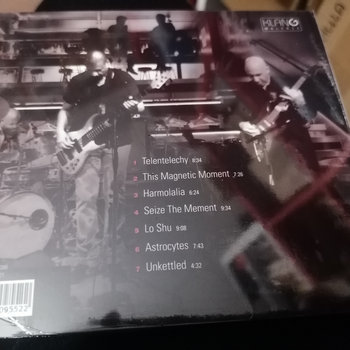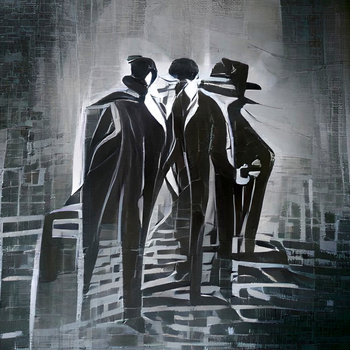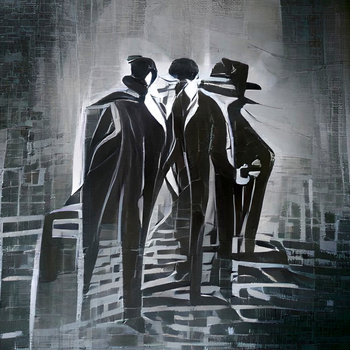 Talking about how the local audience in the eastern Czech Republic city of Ostrava was enthralled by a performance of his radically avant-garde string quartet piece The Boreal, Sharp says, "Well, I find that the people who don't have an agenda are more open. I love playing gigs where the audience doesn't know what to say." That might be the proper attitude to take with the whole of Sharp's work: don't think about what the album might be, just put it on and enjoy the surprise. That's an attitude, a value, that makes the listener part of the scene and brings everything above into a seamless hole, whether it's solo guitar etudes; duets with turntable/cut-up artist Christian Marclay; a free rock trio with bassist Melvin Gibbs and drummer Don McKenzie called BOOTSTRAPPERS; or the latest from what's closest to being his jazz group, Aggregat—no guitar, just woodwinds.
And the pace continues. Sharp is doing more mastering work; he says he thinks he hears better now than ever before. "I'm kind of a workaholic, [with] manic energy. When I'm not home, being a dad, you know, maybe I'm sensing mortality. I'm 72 now, and I just have a lot of shit I want to do," he says.
His teaching and lectures and gigs were canceled during the worst of the COVID-19 pandemic. "I was like, 'Fuck, how do I monetize my reality?' And I decided to revitalize zOaR through Bandcamp," he says. (Oh, and there's also his memoir, IrRational Music.)
There's more to come as he digs into older recordings, but as of now, all the work, all the music, adds up to one hell of a lifetime.