FEATURES
Madam Data and Savan DePaul Expand the Avant-Garde on "Slug/Savior"
By Alex Smith · May 11, 2020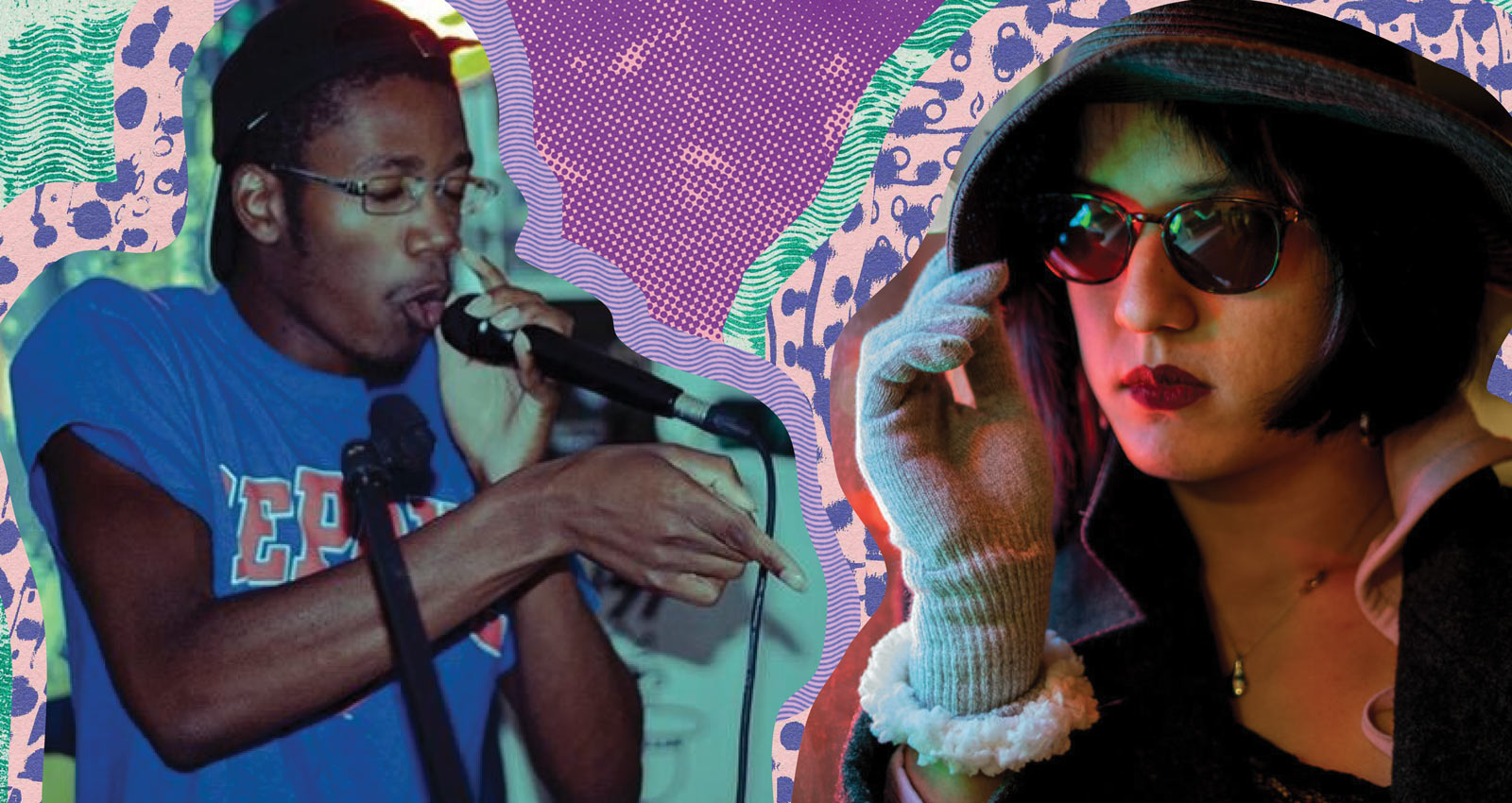 For years, avant-garde Black artists have walked a line between diving into the austere aesthetics of minimal composition and experimentation, and being connected to their African roots. Composers like Anthony Braxton lamented being boxed in by racial proxy, even among the radical, experimental music movements like the Art Ensemble-led AACM in late-'60s Chicago. Artists like Braxton wanted to be free to explore African cultural ideas as well as ideas from Europe and Asia.
.
00:10 / 00:58
In 2020, young musicians of color, across a wide sonic range, continue to push genre boundaries. The worlds they're building feel more liberating than ever, from the noise-rap futurism of Moor Mother and Moodie Black, to the chaotic, glam-rock tinged R&B of Yves Tumor. Add to those growing ranks of groundbreakers Philadelphia's ultra-prolific Savan DePaul—a composer, producer and rapper working with an artist collective of about nine African-American artists known as The Bad Apple Commune—and Madam Data, the inspired minimalist composer, jazz musician, and noise artist behind such projects as the art-damaged jazz/punk band Ooloi. With their new collaborative album Slug/Savior, DePaul and Madam Data have combined their cosmic forces to create a record worthy of Braxton's minimalist, algebraic compositions, while remaining rooted in dark, Antipop Consortium-styled, Def Jux-ian poeticisms.
"For me, being minimal (I would like to distinguish this from capital-M Minimalism, which refers to a particular group of American composers who I sometimes have issues with) is all about space and attention," Data explains via e-mail. "When I hear a voice or another sound, I want not to just hear lyrics or melody, but I want to hear its grain, its flow and breath and embodiedness. When I'm making music, often my urge is to make less sounds so those qualities can come through." Indeed, there is a graininess coating Slug/Savior that pricks at the skin, a nearly hookless grit that feels like a dusty experiment left on the cutting room floor of a jam session between John Zorn and Busdriver. Tracks like "Black Singapore," with its Detroit-inspired robotic dance beat, lend the album a distorted sci-fi vibe as DePaul shouts praise, with lines like "Snap the shackles gripping wards/ Dashing past the city court/ Snatching back civilian warmth."
"I'm constantly consuming sci-fi and dystopian fiction, so those influences always seep into my work," DePaul explains "But I wouldn't call this project futuristic—in fact, the issues Ada and I outline are squarely centered in the present. This album is more of an exploration of these current conditions and a statement that we will fight and survive regardless."
Data agrees: "I love that idea that we are writing from and for the now, and our speculation is a way of writing and manifesting a better future. Cos the idea is not to cause people terror and claustrophobia—it's to present those ideas in a way that suggests a way out, a transformation, and I think all music carries the divine gift of being able to hold a feeling and transmute it into healing, or action, or joy."
To create Slug/Savior, their process was born out of this kind of immediacy, with both artists desperate to see their vision for a more sustainable world come to fruition. The sparse, erratic nature of the music reflects that. "I'd pull up to Ada's crib with some lyrics and broad ideas, then we'd make some shit free improv-style," DePaul says. "Then tighten up some of the stuff that needed editing. We regularly chopped up, revised, came up with new lines, etc."
.
00:10 / 00:58
As a result, Slug/Savior has a little bit of a dizzying quality. On "Daybreak," the duo sounds like they're trying every machine, toy, and boom box at the last Radio Shack on earth all at once, while "A Morning Without Light" is a breathier, more sparse slow-burn of chimes, 909-bass stabs, and slow drones stretched over ten minutes. "Oligotrophy" is the banger, if any track here can be described as such, with lyrics like, "Raps strung with bits of light, black blood with schistocytes/ Mothertongue sliced out, discarded on the floor/ No biggie when my queer kin kick in the door." It's got jazzy loops sliding backwards over post-industrial heavy drums, and is completely entrancing. If these ideas seem like a collage of spaces both expanding and imploding, it's because, as Data puts it, "I wanted to finish it quickly, before impending mental health difficulties struck again. The things I am dealing with are cyclical, and a lot of the minimalism and repetition going on in this record is a direct outgrowth of a certain sense of desperation and fear of a return to depression."
There is an undeniable organic flow at the heart of Slug/Savior's political missives, from the duo's deconstructed approach to sound to their breathy lyrical delivery. There's a true sense of liberation, especially for queer folks of color, as pervasive as the pre-apocalyptic street reporting. "From a musical perspective my exposure to lots of different environments introduced me to various forms of expression, which I just merged with my own experiences," DePaul says. "With some of those spaces being highly reactionary, music was a form of escape and eventually a tool to combat that toxicity."