FEATURES
The Rich Legacy of Philadelphia Free Jazz
By John Morrison · November 22, 2021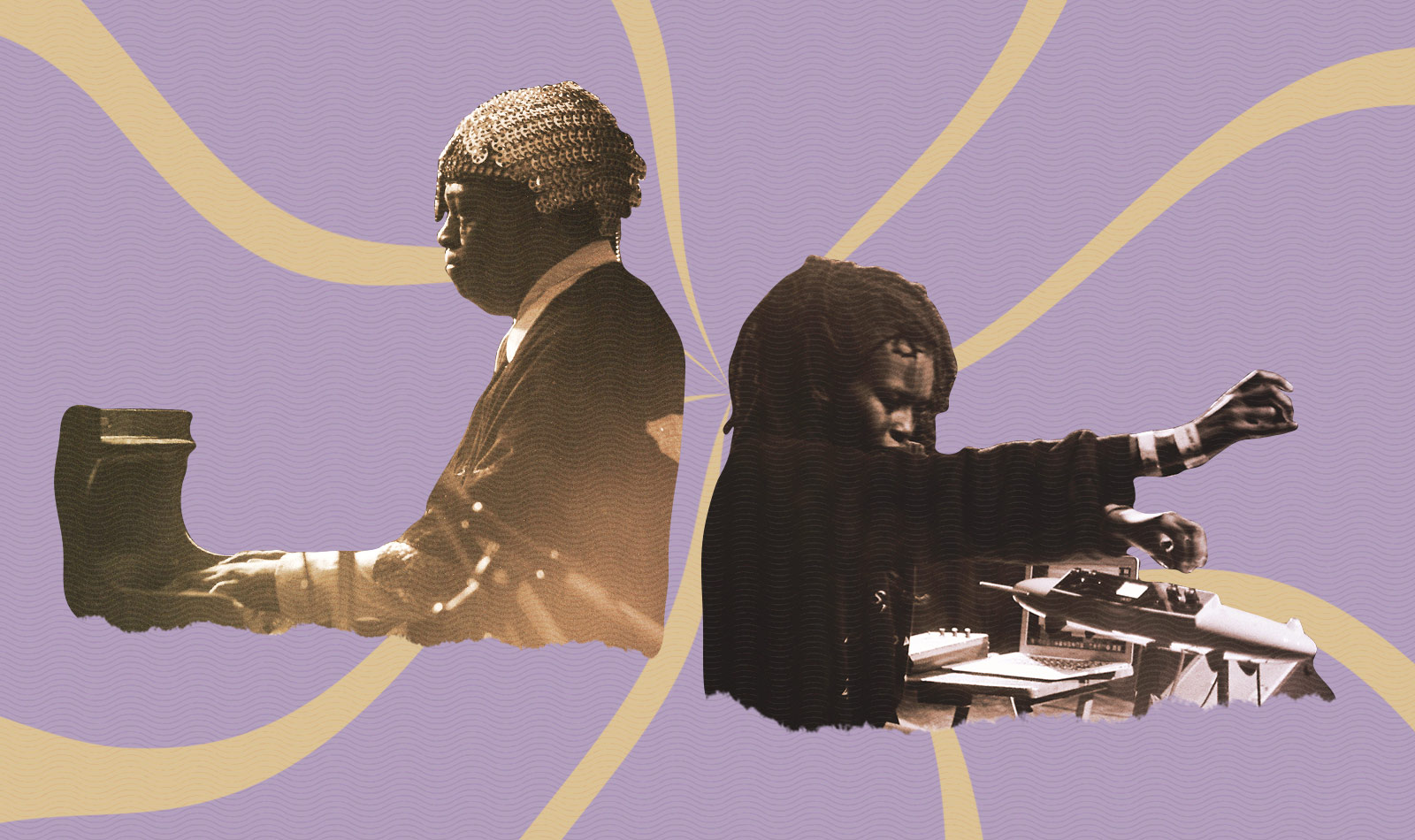 As the birthplace of great innovators like Billie Holiday, Lee Morgan, Trudy Pitts, McCoy Tyner, "Philly Joe" Jones, James Mtume, the Heath Brothers, and Bobby Timmons and home to John Coltrane, Dizzy Gillespie, Archie Shepp, and others, Philadelphia's contributions to jazz are well known. Despite the notoriety that Philly's bebop, hard-bop, and organ trio sound has enjoyed throughout the decades, the city's free-jazz and avant-garde contingent has been less well-documented.
In the 1960s, Philadelphia-born musicians like bassist Henry Grimes and drummer Rashied Ali played in some legendary ensembles led by progressive jazz giants like Albert Ayler and Coltrane. Coltrane, the creative fountainhead and spiritual avatar of the avant-garde, had also spent much of his life in the city before making his way to New York to play with Miles Davis. Much like it had been during the bebop and hard-bop eras, Philadelphia was home to many artists playing this new and revolutionary music. Though Philadelphia had musicians that were dedicated to this new approach to playing and composition, many found the city's music scene largely unsupportive of experimental musicians early on.
The 1970s saw the emergence of an explosive free jazz scene in Philly's Germantown section, a quiet green neighborhood that was a hub for Philly's post-'60s counterculture. Sun Ra and his Arkestra had already moved to their famous house on Morton St. in 1968, and major players like guitarists Monnette Sudler and Khan Jamal; saxophonist Byard Lancaster; and multi-instrumentalist Elliot Levin all lived and worked in the neighborhood.
Philadelphia also has a rich legacy of adventurous radio where listeners could hear the most forward-thinking jazz programming. In addition to shows like WKDU's The Black Experience and WXPN's Diaspar, Temple's public radio station WRTI 90.1 is where the most cutting-edge jazz could be heard. Founded in the winter of 1948 and outfitted with state of the art broadcast equipment of the day, WRTI's initial focus was talk programming, interviews with professors, and the occasional broadcast of organ recitals and scripted radio plays. In the wake of the protests and uprisings of the 1960s that were initiated by Philadelphia's Black students and working class, as well as demands from the North Philly community where Temple is located, WRTI recast itself as a jazz station, in an attempt to speak to the cultural temperament and legacy of Philadelphia's Black community. After a few years of some relatively conservative musical programming that limited WRTI's playlists to mostly bebop and hard-bop sounds, in 1979, a film student and radio jock named Steve Rowland was promoted to the role of the station's music director. Rowland was a passionate devotee of John Coltrane and avant-garde jazz. "My vision of music was very expansive, because I was a student of it all. We called ourselves culture workers, and we were student radicals who had a vision for a better world. The music was about higher consciousness. For Coltrane, jazz wasn't entertainment to be played in a nightclub, it was spiritual. For me, it was very clear that Black music and artists were paving a way that was based in this feeling of love and resilience that lived in the Black community," says Rowland.
Under Rowland's direction from 1979 to 1984, WRTI established a practice of broad-minded and adventurous musical programming that strengthened and enriched the city's jazz scene at a time when the record industry and music critics alike had all but proclaimed jazz to be a dead artform. Eager to fill open slots at the stations with knowledgeable DJs who could present and contextualize this adventurous music, Rowland recruited Homer Jackson and the late Rich Nichols, an electrical engineering student at Temple who later in life would serve as a longtime manager of The Roots.
Although we are decades removed from the heyday of WRTI and the closure of jazz-centric venues like the Foxhole, Pep's in South Philly, and the celebrated clubs that lined "the golden strip" on North Philly's Columbia Ave (now Cecil B. Moore Ave.), Philadelphia is still a jazz town with a small but fierce community of musicians, promoters, and supporters who are dedicated to the music's more progressive tendencies. The Sun Ra Arkestra still releases new music, tours the world, and sells out local shows while veteran players like Odean Pope, Bobby Zankel, and Elliot Levin are still on the scene playing challenging music. The Arkestra continues to function with a dynamic combination of elder and younger players while musicians like Moor Mother and James McKain continue to produce exciting music with unique approaches to free improvisation.
In recent years, the Ars Nova Workshop and the Philadelphia Jazz Project have had a hand in producing some of the most ambitious jazz programming in the country. In addition to producing books, and documentaries exploring Philly's rich jazz history, in 2017, the Philadelphia Jazz Project launched a massive eight-concert series entitled Satellites Are Spinning with local bands paying tribute to Sun Ra's legacy while Ars Nova regularly books local musicians and prominent touring acts like Matana Roberts, David Murray, John Zorn, and Roscoe Mitchell. Today, Philadelphia remains home to one of the best scenes for free improvisational jazz music in the world. Here are some of the best Philly free jazz and avant-garde releases on Bandcamp.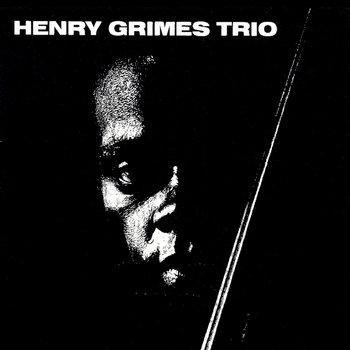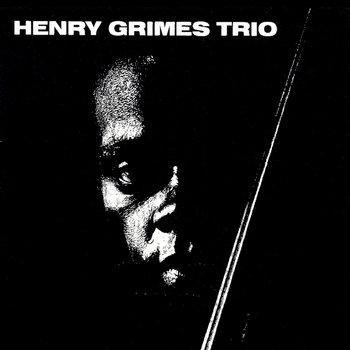 Merch for this release:
Vinyl LP, Compact Disc (CD)
Born in Philadelphia and formally trained at Juilliard, Henry Grimes was one of the most imaginative bassists to come out of the free jazz scene. The Call is a date that Grimes recorded in the winter of 1965 for the ESP label. Featuring Perry Robinson on clarinet and Tom Price on drums, this is free improvisation with a dynamic pulse. On "Fish Story," the trio comes out the gate swinging with Price's explosive polyrhythms propelling Grimes forward as his bass interlocks with Robinson's ecstatic playing. "For Django" opens on a soft, mournful note. Robinson and Grimes once again dovetail melodically here and Robinson's solo reveals him to be a player of great sensitivity and emotional sensibility.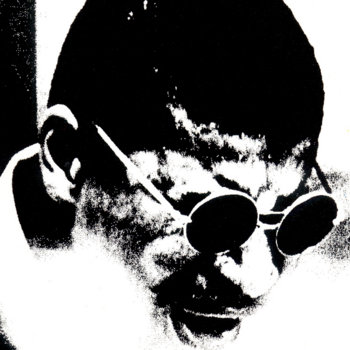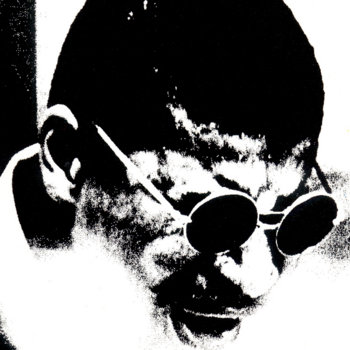 Merch for this release:
Compact Disc (CD)
Although he was born in Oklahoma and is best known for playing in New York-based ensembles with Cecil Taylor and Albert Ayler, Sunny Murray spent his youth in Philadelphia and is a key figure in the story of Philadelphia's avant-garde. A pioneer of free jazz drumming, Murray played and recorded with Philly free-jazz giants like Khan Jamal, Bill Lewis, and Byard Lancaster throughout his career. Recorded in 1966 for the ESP-Disk label, Sunny Murray provides a perfect snapshot of where the new music was in the mid-'60s. Leading a quintet featuring Lancaster, Alan Silva on bass, Jacques Coursil on trumpet, and Jack Graham on saxophone, the music is intentional but exploratory with a rhythmic drive propelled by Murray's dexterous drumming.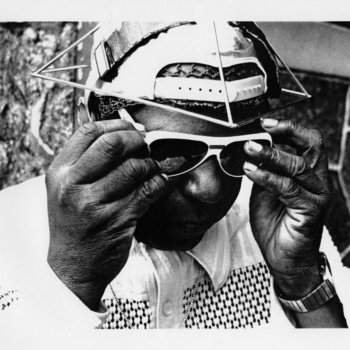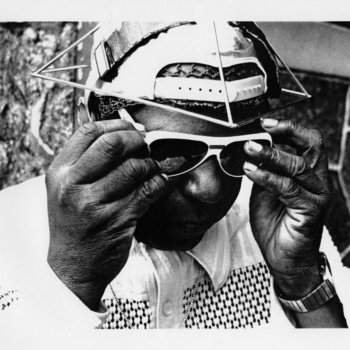 Merch for this release:
Vinyl LP, Compact Disc (CD)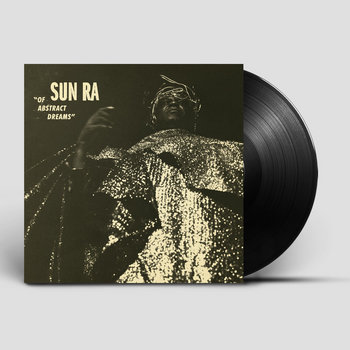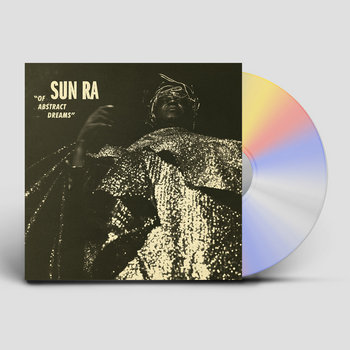 From 1974 to 1980, Sun Ra and his Arkestra recorded a series of sets at WXPN, the University of Pennsylvania's public radio station. Although the exact recording date of the session was lost, it is thought that Of Abstract Dreams was recorded at WXPN's studios sometime in the mid-'70s and rediscovered decades later. With Sun Ra on piano and Arkestra mainstays like John Gilmore on tenor saxophone; Marshall Allen on flute and alto; and Danny Ray Thompson on baritone sax and percussion, Of Abstract Dreams presents imaginative takes on some well-known tunes from the Arkestra's songbook. "Island in the Sun" opens with Ra playing a beautiful and strange passage without accompaniment. When the rest of the band kicks in, Allen's flute takes center stage, the lines and motifs that he plays are dreamy and light and substantial. "New Dawn" is a brilliant showcase of John Gilmore's gifts as a soloist. Not only does Gilmore deftly react to and complement the chords that Ra plays on piano, you can feel his big, bold tone practically bouncing off of the studio walls. The album closes with an expansive 14-minute version of "I'll Wait For You." With its unwavering groove, winding solos, and Ra's incantations, "I'll Wait For You" is a trip to outer space and beyond.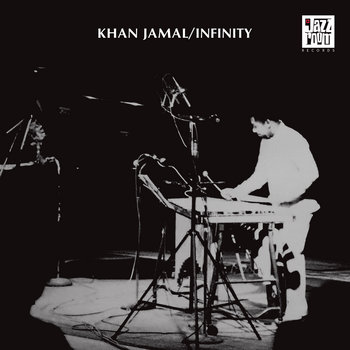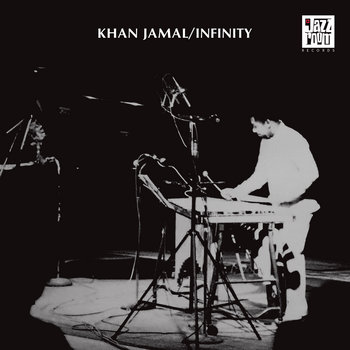 Merch for this release:
Vinyl LP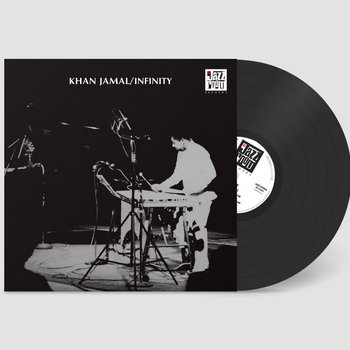 With his tenures playing with Byard Lancaster, the Sounds Of Liberation, and Sunny Murray, vibraphonist, Khan Jamal has been one of the most prominent figures in Philly's jazz scene since the 1960s. Infinity is Jamal's long out-of-print, self-released masterpiece from 1984. The opener "Nubian Queen" is a melodic tune that demonstrates that Jamal is just as adept at playing in a "straight-ahead" style as is at playing free music. While Jamal's entire band brings the heat on Infinity, Byard Lancaster's playing is masterful throughout. Whether it is his stunning flute passages on "Nubian Queen" or the alto sax solo on the title track, Lancaster nearly steals the show. Jamal's playing throughout the album is skillful and understated; he also wrote four of the album's five rich compositions.
Arpeggio Jazz Ensemble
Le-Le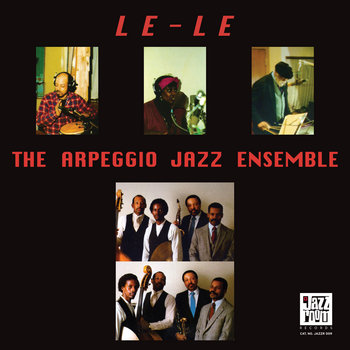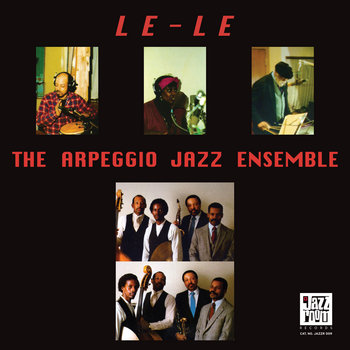 Merch for this release:
Vinyl LP, Vinyl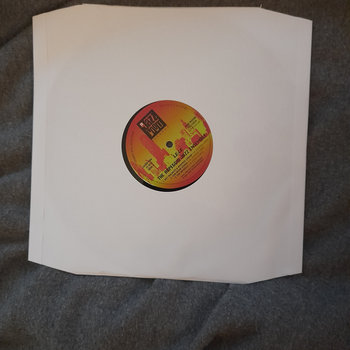 Combining free jazz with funk and Afro-Cuban rhythms, Le-Le is the 1987 debut of veteran Philly jazz band Arpeggio Jazz Ensemble. A classic among DJs and collectors, Le-Le was left out of print for decades before being reissued recently by Jazz Room Records. "Strauss" opens with a soaring sax melody before launching into a fiery, uptempo groove. The rhythm section here rests firmly within the bebop tradition, but the solos stretch into free territory. "You Left Me Your Smile" is a smoky ballad with Sherry Butler's subtle vocal taking center stage. "Wet Walnuts And Whipped Cream" is guided by Warren Oree's funky bassline, a regal brass melody, and Butler's great vocals.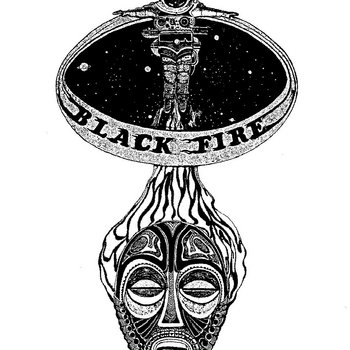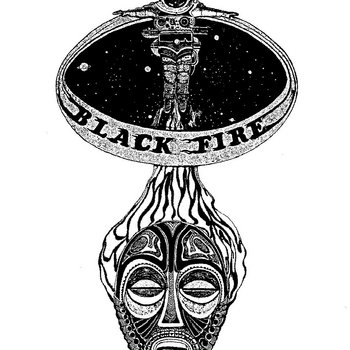 Merch for this release:
Vinyl LP, Compact Disc (CD)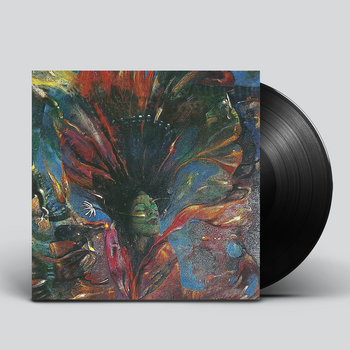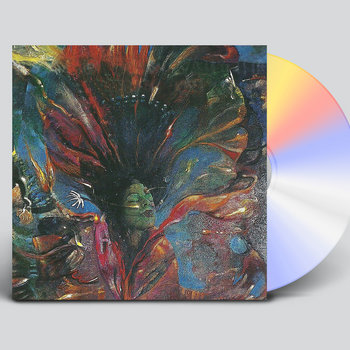 Byard Lancaster is without question one of the most accomplished and innovative musicians to come out of the Philly scene. Recorded in 1992 for D.C.'s Black Fire label, My Pure Joy displays that Lancaster and his peers were still creating forward-thinking jazz well into the 1990s. "Drummers From Ibadan" finds Lancaster and an ensemble of drummers led by Tunde Kuboye connecting with traditional Nigerian-style drumming. Lancaster adds a fresh dynamic to the drumming with some truly enrapturing flute. "Sweet Evil" is an epic piano-driven piece that builds patiently over the course of nine minutes while "Newest African Cities" incorporates funk and smooth, Afro-pop sounds. "Sax-o-phonics Space" and "Afro-Space" are solo pieces where Lancaster is allowed to showcase his virtuosity on saxophone without accompaniment.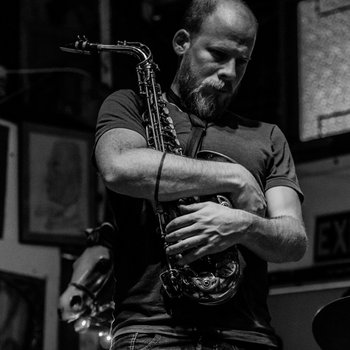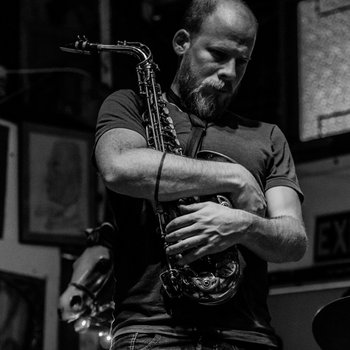 Merch for this release:
Vinyl LP, Compact Disc (CD)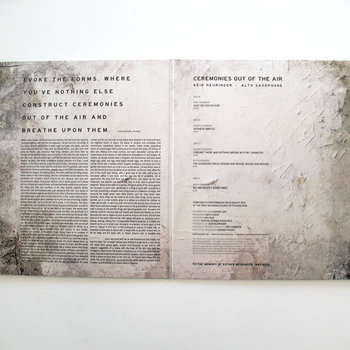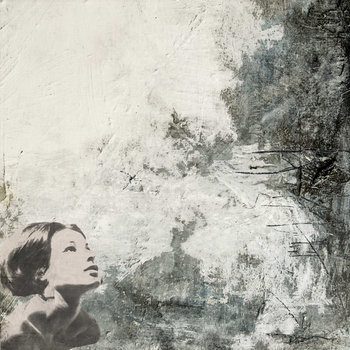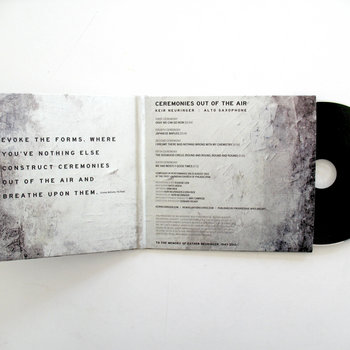 Holding down saxophone duties as a member of Irreversible Entanglements, Keir Neuringer's playing is capable of conjuring quiet, meditative spaces of sound as well as voluminous displays of force. Ceremonies Out Of The Air is a 79-minute performance composed in mourning for his mother and recorded on the spot at the First Unitarian Church in Philadelphia in the summer of 2013. Throughout the performance, Neuringer displays a capacity for playing long, extended patterns through the use of circular breathing techniques while the moments of delicacy and intimacy contrast the great physical force behind his playing.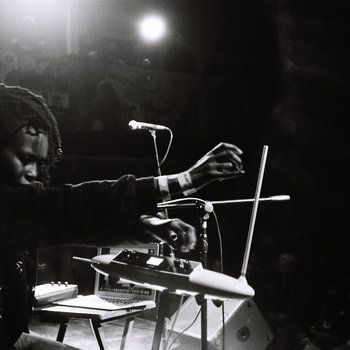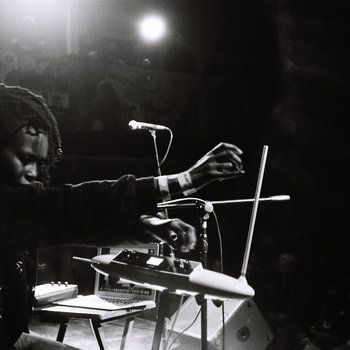 Merch for this release:
Vinyl LP, Compact Disc (CD), T-Shirt/Apparel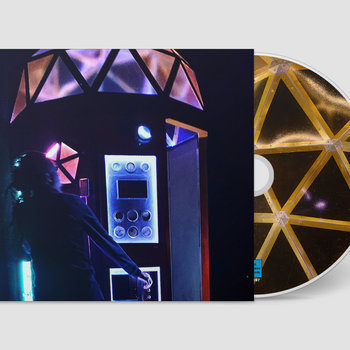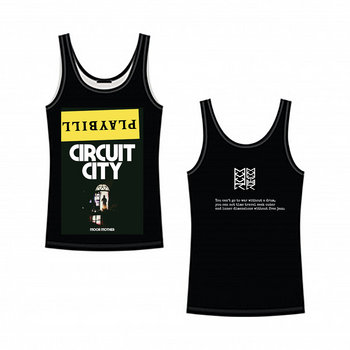 An ambitious jazz-theatrical work in the tradition of Amiri Baraka & Sun Ra's A Black Mass, Circuit City uses free improvisation as a vehicle for Moor Mother to travel through time and space, exploring humanity's relationship to technology, housing, and generations of trauma. With a stacked ensemble including Irreversible Entanglements, Steve Montenegro, madam data on electronics, and Elon Battle on vocals, the music here feels deeply connected and related to the free jazz of the past but with the experimental temperament of the present day. When Moor Mother says "I've got my mama's years, I've got my daddy's years all mixed up inside of me" as the ensemble constructs a burning whirlwind of sound around her, the sentiment is clear.