LISTS
Miles Davis: The Prestige Years
By Marcus J. Moore · November 02, 2021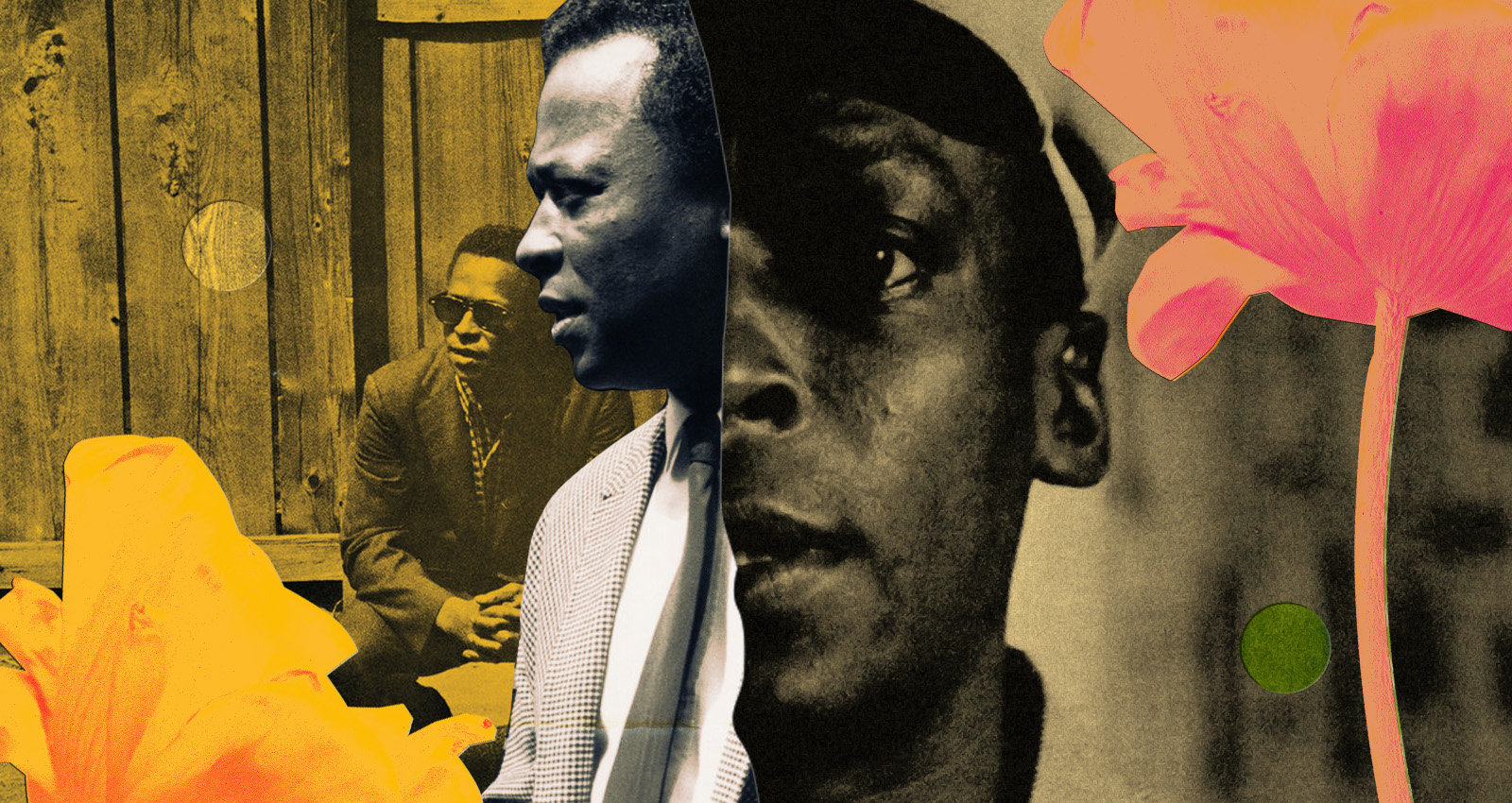 For certain jazz fans, a list of the genre's all-time greats begins and ends with Miles Davis. And who could blame them? He changed the direction of jazz at least three times: first in 1959 on Kind of Blue, where his modal approach allowed improvised melody atop scaled-down chord progressions; then again in '69 and '70 on In a Silent Way and Bitches Brew, respectively—the former marked the dawn of his electric period, the latter trekked through ambitious strains of pitch-black psychedelic funk and rock. Though Davis might be the biggest face on the Mount Rushmore of Jazz, it's easy to forget that he was once an upstart trying to eke out a living.
In the late '40s, he was mostly a sideman who played with other would-be legends like Max Roach, Charlie "Bird" Parker, and Charles Mingus. By 1948, he started paving the road toward his own work as a bandleader, rehearsing with a nonet that included the acclaimed pianist Gil Evans, with whom he'd create some of his most lauded recordings. A year later, Davis played the Paris International Jazz Festival with the Tadd Dameron Quintet and fell in love with the city. Like other Black musicians at the time, Davis moved there to escape the suffocating racism of the United States. "This was my first trip out of the country and it changed the way I looked at things forever," Davis said in his autobiography. "I loved being in Paris and loved the way I was treated…I had never felt that way in my life." Against the wishes of his then-girlfriend—the French actress Juliette Gréco—and drummer and collaborator Kenny Clarke, Davis moved back to the States in the summer of 1949 with a renewed sense of Black pride. He also developed a strong heroin addiction, and the gigs simply weren't coming in. Davis soon got a lifeline: Record producer Bob Weinstock had just launched a jazz label called Prestige Records and wanted Davis to make an album for him. He signed a one-year deal for $750 per album. "1950 was the worst year of my life," he continued in his book. "I figured there wasn't nowhere for me to go but up. I was already on the bottom."
Things started looking up for Davis. Around mid-January 1951, he assembled an all-star team for his first recording session for Prestige: saxophonist Sonny Rollins, bassist Percy Heath, drummer Roy Haynes, trombonist Benny Green, and pianist John Lewis. He remembered not playing that well; he'd started shooting heroin again, and his body wasn't in the best shape. For the next Prestige recording session in October, he knew he needed to play better, even if his drug habit still had the best of him. It would also be a revolutionary gig: Using a new technology called microgroove, Davis would be able to record tracks longer than three minutes, with extended solos—the way they were intended. With Prestige, Davis was given the space to explore the full breadth of his creative expression. Before then, during a short-lived deal with Capitol Records under the 78 RPM format, he wasn't allowed to improvise. Alongside Rollins, drummer Art Blakey, double-bassist Tommy Potter, pianist Walter Bishop, Jr., and saxophonist Jackie McLean, Davis sounded rejuvenated and turned in some of his best work. The resulting album, Dig, was his first step toward establishing his own sound. Over the next four years, Davis recorded a handful of albums for Prestige—albeit recklessly, given his drug dependence. He retreated to Detroit to finally kick his habit. He got sober, returned to New York City in 1954, and was asked to play the first-ever Newport Jazz Festival a year later. He played Thelonious Monk's "'Round Midnight" using a mute on his trumpet; the crowd gave him a long ovation, and producer George Avakian signed him to an exclusive contract at Columbia Records.
Davis's Columbia run was so groundbreaking that it's easy to minimize his run on Prestige. But you don't get classics like Sketches of Spain or Nefertiti without that period of growth, when the trumpeter's creative and physical existence dangled in the balance, and he was just another guy trying to survive. Creativity shines in perilous moments, and even the coolest man on the planet had to navigate struggle. "The records that I made helped me later in becoming a good bandleader," Davis once said, "helped me understand how records—good records—are made." Listening to the Prestige catalog today, one can hear very clear connections to the romantic balladry of Someday My Prince Will Come and Seven Steps to Heaven, which paved the way for more open-ended fare in the '70s. Jazz on its own is meant to evolve, pulling in different textures and ideologies, morphing into a completely new sound. Up until his death in 1991, Davis remained a master of evolution, keeping himself open to the concepts of younger players while forging his own path in a landscape of synthesized music. Much of Davis's Prestige catalog has been quietly uploaded to Bandcamp.
Here's a guide to an essential period in the icon's career.
Recorded in New York across two sessions—one in May 1953, the other in March 1954—this short album represents a breakthrough for Davis: The first side, featuring Mingus on piano on "Smooch," was the last studio session before Davis disappeared to kick his heroin habit for good. The second side finds Davis drug-free and playing with the same band he organized for a Blue Note session once he re-emerged on the scene. By his own admission, Davis booked the Blue Note date because he needed the money, and the Prestige contract hadn't gone into effect. Yet he didn't phone it in; instead, both the Blue Note and Quartet LPs were masterful records that featured Roach and Blakey on drums, Heath on bass, and a then-unknown musician named Horace Silver on piano. On "That Old Devil Moon," Davis and the band sounded especially agile: The bandleader's tone is warm, and Silver prods the melody with dark piano chords that give the arrangement an edge. On the concluding cut, "Blue Haze," the juxtaposition of Blakey's crashing drum cymbals and Davis's romantic tenor lets the track thrive in various settings.
Even though Davis helped usher in "cool" jazz—with its relaxed tone and leisurely pace—in the late '40s, he quickly stepped away from it, opting for hard bop's punchy rhythms and upbeat tempos. Dig exhibited a different kind of cool, the kind meant for swanky nightclubs and not moonlit promenades. It was one of the first recordings for Rollins, and the very first studio session for McLean, a noted "Bird" Parker fanatic, who stepped up and played even better when he saw his idol in the engineer's booth. In turn, you can almost feel his excitement on the title track, which he infused with sprightly horn wails, and on "Bluing," a sauntering swing with a midtempo groove. This album, like others from Davis's Prestige era, has become essential listening for those looking to know more about the legend. Yet when it was recorded, Dig was a proving ground on which new voices arose.
Featuring pianist Red Garland, bassist Oscar Pettiford, and drummer Philly Joe Jones, the quartet on Musings represented what came to be known as his First Great Quintet. Davis later replaced Pettiford with Paul Chambers on bass and brought in John Coltrane to play saxophone. This same crew went on to record the landmark 'Round About Midnight for Columbia in 1955. Historically, Musings has been remembered more for who played on it, rather than for what's on the album itself. Yet across the LP, on "Will You Still Be Mine?," "I Didn't," and "A Gal In Calico," Davis's trumpet sounds vibrant, with rich and energetic tones further confirming his resurgence. In those days, though, he sounded best when the mood was intimate, and on "I See Your Face Before Me," the horn simmered, which gave proper space to Garland's piano to emit deep sensuality. In the end, Musings epitomized a sea change for Davis, the moment just before his career broke open. While it doesn't have the jaw-dropping potency of his subsequent work, it's an important step toward what he'd soon become.
For Quintet / Sextet, Davis wanted a bebop sound, but drama during the album's recording session almost derailed his intention. He and McLean weren't on the same page, which led to blowups in the studio. Meanwhile, drummer Art Taylor had been having trouble playing the song "Bitty Ditty," "but I knew he'd get it," Davis wrote in his book. "Art is a sensitive kind of guy and you try not to come down too hard on him because he might take it to heart. All of a sudden, Jackie comes up to me…and says, 'Miles, what's happening here? You don't treat me like you do Art when I fuck up." Davis responded flippantly, prompting McLean to pack up his saxophone and leave the studio: "That's why he's only on two tunes on that album." Nonetheless, he sounds sharp on those cuts, "Dr. Jackle" and "Minor March," arising with extended solos that added vigor to the respective melodies. Milt Jackson added a new element to Davis's music; his lush vibraphone chords gave it even more bravado. Not that Davis ever had a problem with swagger.
This album compiles tracks from two studio sessions in June and December of 1954. But while it might come off like an early greatest hits record, the two takes of "Bags Groove" and "But Not For Me" showcase a band at its tightest; the arrangements allowed more room for improvisation. On the first take of "Bags Groove," each player has extended solos, leading to an 11-minute excursion where an all-star cast—including Thelonious Monk on piano—was able to stretch out a bit. "Doxy" had a distinctive strut to it: The tenor sax felt brash against the song's leisurely orchestration; Monk's piano chords, at first an accessory, take the lead near the end, punctuating the song's sophisticated essence.
Merch for this release:
Vinyl LP
For several years, there had been hearsay that Davis and Monk were beefing during this album's recording session. That's likely because they were the biggest names in jazz, and therefore the easiest to attach drama to. "Mostly it is bullshit and rumors that people just kept repeating until it has become fact," Davis wrote. "What did happen on that day was that we all played some great music." He asked Monk not to play behind him; in his opinion, the pianist knew how to back up saxophonists but not trumpeters. "I wanted to hear the rhythm section stroll without a piano sound," he continued. "I wanted to hear space in the music." Davis mentioned this to Monk and there wasn't an argument. Indeed, songs like "Swing Spring" and "Bemsha Swing" thrive because of the calm they exude—with just a trumpet, vibraphone and light drums, they come off quiet, if not deconstructed. The centerpiece cut is "'Round Midnight," a sultry ballad that reemerged in a different form on Davis's landmark 1957 album, 'Round About Midnight.
Two sessions in May and October 1956 produced four albums: Workin', Relaxin', Steamin', and Cookin', all considered high-water marks in hard bop. By the time Davis hit the studio to record these songs, he was ready to move from Prestige. Though he still created for the love of art, he also understood he needed to sell more records and operate at a bigger label. Columbia Records awaited. The idea was to capture the feeling of a live show; in the studio, he moved quickly from one song to the next to simulate the pace. In these sessions, he relied heavily on a muted style of play. Through this technique, Davis conveyed intense emotion, an understated timbre that cut through the din somehow. These albums marked the end of a remarkable era. With a bigger platform and an endless rolodex of collaborators, the world of jazz soon changed forever. His impact is still being felt.