FEATURES
A Guide to the Many Sun Ra Albums Now Available on Bandcamp
By Patrick Jarenwattananon · October 13, 2017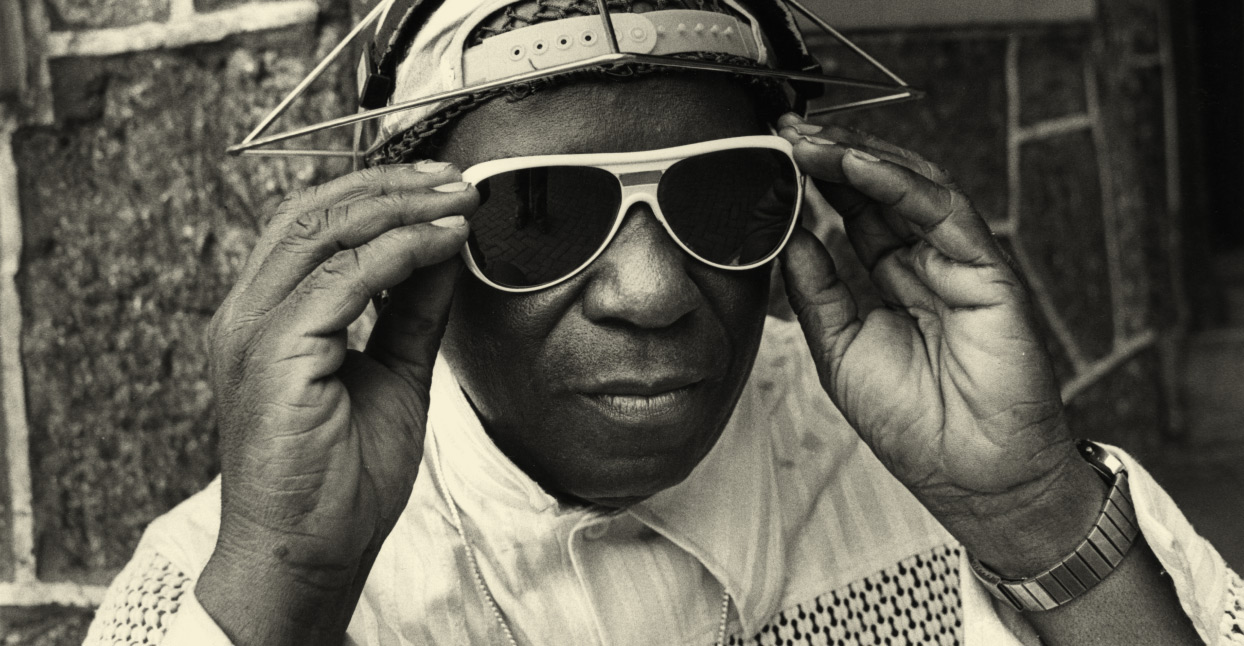 The thing about being an alien from outer space, sent to spread enlightenment and happiness through sound, is that some of the things you set out to do can't be accomplished on Earth. "Everything that's possible's been done by man," the composer, pianist, and bandleader Sun Ra told interviewer John Corbett in 1986. "I have to deal with the impossible. And when I deal with the impossible and am successful, it makes me feel good, because I know that I'm not bullshittin'."
The late Sun Ra enjoyed the paradox of accomplishing the impossible, a feat that extends to his very career path. It's rare enough for any Black artist having enough time, energy, and money to run a large jazz ensemble for 40-odd years, but Sun Ra did it while also operating a record label, which boasted countless releases tracking his band's transformation into a collectively-improvising "cosmo-drama" troupe he called the Arkestra. He did all of this while presenting himself as a costumed, Egyptology-citing, completely serious court jester from the planet Saturn. His work was informed by, and influential within, the greater jazz community, and yet somehow also stood apart from it—adjacent, outside, and beyond.
"He's not just some crazy guy, and he's not just some brilliant musician," says Irwin Chusid, the radio host and music writer who has become administrator of Sun Ra LLC. "He is an institution. He is a cosmic force. He is a genius. He's one of the great neglected composer-musicians of the 20th century. There's no question what this man created is singular. There's no one like Sun Ra."
Which brings us to the 66 Sun Ra titles recently uploaded to Bandcamp, with more on the way. They arrive via Sun Ra LLC, the lawful rights-holder of Sun Ra's music which, in recent years, has been working to digitally and legally (and finally!) restore the complete catalogue. Along with Michael D. Anderson, a former percussionist in the Arkestra who oversees Ra's tape archive, Chusid has been carefully transferring and remastering a major portion of Sun Ra's creative output.
Nearly all the recordings that Sun Ra made fall under his own name, and though he occasionally recorded for other record labels, much of his output came out under an imprint he co-founded in the 1950s (with his then-manager Alton Abraham): El Saturn Research, also known as Saturn Records. Ra documented a lot for Saturn, from polished products to marathon rehearsals. Taken together, they portray much of what made Sun Ra so great. There's driving swing, lyrical beauty, rigorous arrangements, experimental collective improvisation, group chants and spoken word, standards, originals, acoustic, electronic, live, studio, early, late and anything in between.
While that sounds like a lot to absorb at once, there are many easy entry points. "I think 75 percent of Sun Ra's sprawling catalogue is accessible," Chusid says. "Is it slick? No. Is it smooth? No. Is it mainstream? No. But it's fun. It's musical. It's engaging. It's adventurous. It's diverse. And a lot of it is jazz."
Sun Ra wasn't the best custodian of his own work. Albums were often stitched together from different recording sessions, and released years after they were recorded. Personnel and song title listings were often inaccurate. Audio quality varies vastly. Sometimes the mislabeling, scholars suggest, was wrong on purpose.
If, for example, you somehow managed to locate a limited-edition of the fine Saturn LP Angels and Demons at Play when it was released in 1965, you'd find that side A (recorded in 1960) is quite different in conception from side B (recorded with a different band in 1956), and that neither side resembles the collective improvisation that the Arkestra was recording and performing at the time. In his lifetime, tracking Sun Ra by collecting his recorded work was possible only for the most dedicated fans.
That makes this initial bulk release from the Saturn treasure chest a boon—at least from a more earthbound, temporal point of view. The sifting and sorting done by Chusid and Anderson—assisted by a network of "Ra scholars"—gives us recording dates, names of performers, sonic remastering from the original sources as available, liner notes, and generally the sort of context any fan would benefit from. Though Sun Ra LLC doesn't possess recordings or rights for every major item in the Sun Ra discography, this upload represents an enormous portion of his output—enough to keep any curious neophyte or dedicated student happy for a long time.
Here's how to begin navigating the spaceways.
Chicago Space Jazz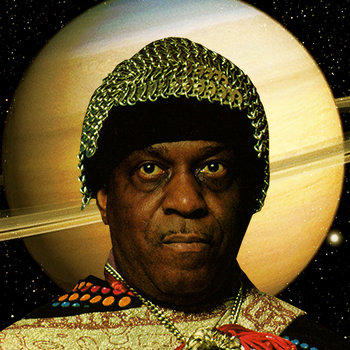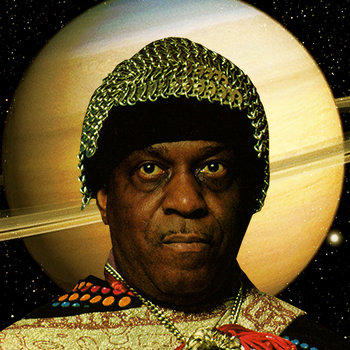 In early 1946, Herman "Sonny" Blount left his hometown of Birmingham, AL for Chicago—a premier destination for a working jazz musician. While he stayed busy with numerous gigs, he also bought himself enough time to put together the first incarnations of the Arkestra. In the mid-late 1950s, he began recording albums as Sun Ra. After 70-odd years, many of his recordings of this time period sound a lot like jazz with traditional forms, rich ensemble writing, and plenty of swing.
Already, though, Ra had been putting his own twists on most everything he touched: peculiar intervals and juxtapositions, the newly-developed electric piano, lots of percussion, extra baritone sax, group shouts, and so forth. He had been listening to exotica and mood music; he had been reading the Bible, occult philosophy, and cosmology; he dressed the band in costumes. He already had an off-kilter style of playing the piano. He was already calling his songs "Rocket Number Nine" and "Space Loneliness" and "Medicine For A Nightmare."
Jazz In Silhouette (recorded in 1958-59) is generally thought of as the desert island disc of this period. A medium-size group executes full, layered arrangements, and John Gilmore rips a number of solos on tenor sax, as on "Saturn." But there's also the odd loping gait/medium swing/cha-cha/harmonic tension of "Enlightenment," or the modal ostinatos, tom-tom and timpani, dueling flutes, dueling chants, and other droning delights of the nine-minute "Ancient Aethiopia." Sonic brethren—without the whole conceptual framework—might be Charles Mingus, George Russell, or even some of the impressionistic sides of Duke Ellington.
There's plenty more where that came from, of course. Supersonic Jazz and Jazz By Sun Ra (both recorded in 1956) were among the first to make it out to the general public; Sound Of Joy dates from back then, too. Sound Sun Pleasure and Holiday For Soul Dance are perhaps the most mainstream, largely comprised of standards and even featuring guest vocals. Other releases, in no particular order: Fate In A Pleasant Mood, The Nubians Of Plutonia, Angels And Demons At Play, Interstellar Low Ways, We Travel The Spaceways, Sun Ra and His Solar Arkestra Visits Planet Earth, and the compilation Transitions 1: Spaceship Bop (1955-57).
New York In The 1960s
Merch for this release:
Vinyl LP, Compact Disc (CD)
It wasn't the plan for a 47-year-old Sun Ra and his whole band to relocate to New York City in 1961, but there was a certain specific vibe to the city at the time, so they stuck around. Though work was scarce at first, the band members eventually found a Lower East Side dwelling where mostly everyone could live together, incidentally in close proximity to many major figures of the jazz avant-garde. They also found a dance studio called the Choreographers Workshop where they could rehearse and make home recordings—many of which were issued on Saturn—which resulted in this period of time being particularly well-documented.
It's here where the "space jazz" or quirky hard-bop of the Arkestra's Chicago days starts to morph, reflecting the new "free jazz" ideas being developed literally all around them by Albert Ayler, Ornette Coleman, John Coltrane, and others. Even heavier percussion, atonality, experiments with recording technology, and collective improvisation filter into the recordings of this time: Bad and Beautiful, Art Forms Of Dimensions Tomorrow, Secrets of the Sun, When Sun Comes Out, When Angels Speak Of Love, The Invisible Shield, Cosmic Tones for Mental Therapy, and Other Planes Of There all date back to this transitory 1961-64 period, and were all recorded at the Choreographers Workshop.
The radical changes in the Sun Ra Arkestra hit a milestone in 1965 with the recording of The Magic City, newly reissued in stereo. Its eponymous first half is a nearly 28-minute tone poem, collectively improvised under Ra's cues and direction, without preconceived themes; at times it is brooding and spare, at others it is full-on screeching saxophones. On the reverse side, only "Shadow World" has something resembling a written melody.
The following year, a new bar in their neighborhood called Slug's began hosting the band on Monday nights (from 9 p.m. to 4 a.m., remarkably). Even after many band members relocated to new communal living quarters in Philadelphia in 1968, Slug's remained an important performance venue for the Arkestra. Among other developments, it was here where the Arkestra could begin to realize their full potential for live performance ritual. I Roam The Cosmos, first issued just two years ago in 2015, captures a 1972 performance at Slug's where Ra and vocalist-dancer June Tyson enact a call-and-response oratory in front of the band as they improvise along a single languid groove. It lasts over 51 minutes.
Live And Late
With nearly all jazz, but especially with the spectacle that is the Sun Ra Arkestra, the recording is merely the weak simulacrum of the live performance. You can still see the Arkestra perform today, it should be noted—longtime saxophonist Marshall Allen still leads a version of the band in Ra's absence, and they still have the costumes, chants, marching, dancing, and wild freakouts; the tight ensemble embody the carnivalesque performance art experience. Short of that, you might want to check out a concert recording of the band, and this collection features several well-recorded examples.
Later in Ra's career, his enormous repertoire began to standardize a bit, and it began to feature the standards and big band charts that shaped a young Sonny Blount. So in Paris 1983, the introductory incantation "Along Came Ra" and one of his "greatest hits," "Nuclear War," abuts songs associated with the bandleader Fletcher Henderson (with whom Ra briefly apprenticed) like "Big John's Special" and "King Porter Stomp." Some other great recordings come from The Pit-Inn 8-8-88 from Japan, or Sunrise In Different Dimensions (recorded 1980) from Switzerland, or At Inter-Media Arts (1991) from Long Island, outside New York City. Elsewhere, Oblique Parallax and Beyond The Purple Star Zone aren't pristine tapes but they document a 1980 Detroit residency, and we also have more experimental recordings from New York's Squat Theater circa 1980: Dance Of Innocent Passion, Ra to the Rescue, and Voice Of The Eternal Tomorrow.
Sun Ra also tended to revisit older songs and styles on his later studio albums, making some of those releases more complete—or at least "accessible"—stylistic portraits. Somewhere Else and Purple Night are from the tail end of his career; A Fireside Chat With Lucifer and Celestial Love date from earlier in the '80s.
More Standouts
Though Sun Ra faced many who discredited or misunderstood him and his work, word about the band spread beyond the avant-garde artists of New York City. As the '60s became the '70s, the Arkestra began to tour around the U.S. and Europe; a short-lived but commercially impactful record deal with ABC/Impulse! put Sun Ra in more record stores with new releases like Astro Black (1972) and reissues of Saturn material. He was on his way to becoming the countercultural icon we consider him today.
Even so, his recorded output was so diverse and bounteous that many albums still stand out. Strange Strings (1966) places a variety of stringed instruments from around the world in front of the Arkestra, who didn't know how to "properly" play them, and relied on their leader to direct them in a collective improvisation. The two volumes of My Brother The Wind and The Night Of The Purple Moon (1969-70) feature early experiments with Moog synthesizers, among other electronic keyboard instruments which Ra associated with space. More conventional releases like the newly-remastered Cosmos (1976) are plentiful, too.
In fact, if there's anything to impress upon someone just discovering Sun Ra's enormous catalogue, it's that so much of his music is fun, even playful. Thinking of him as a noisy avant-garde innovator or an outsider folk hero who spoke in riddles can be true, and it can be limiting—there's nothing intimidating about how much he loved to make evocative sounds. In 1978, he created a singular entry in the album Lanquidity, his space-age take on the funk beats of the present age, highly conducive to head-nodding. As often as he told everyone that he was from another planet, he sought to spread enlightenment through earthy grooves, too.
-Patrick Jarenwattananon