BANDCAMP NAVIGATOR
Bandcamp Navigator, January 2022
By Robert Newsome · January 24, 2022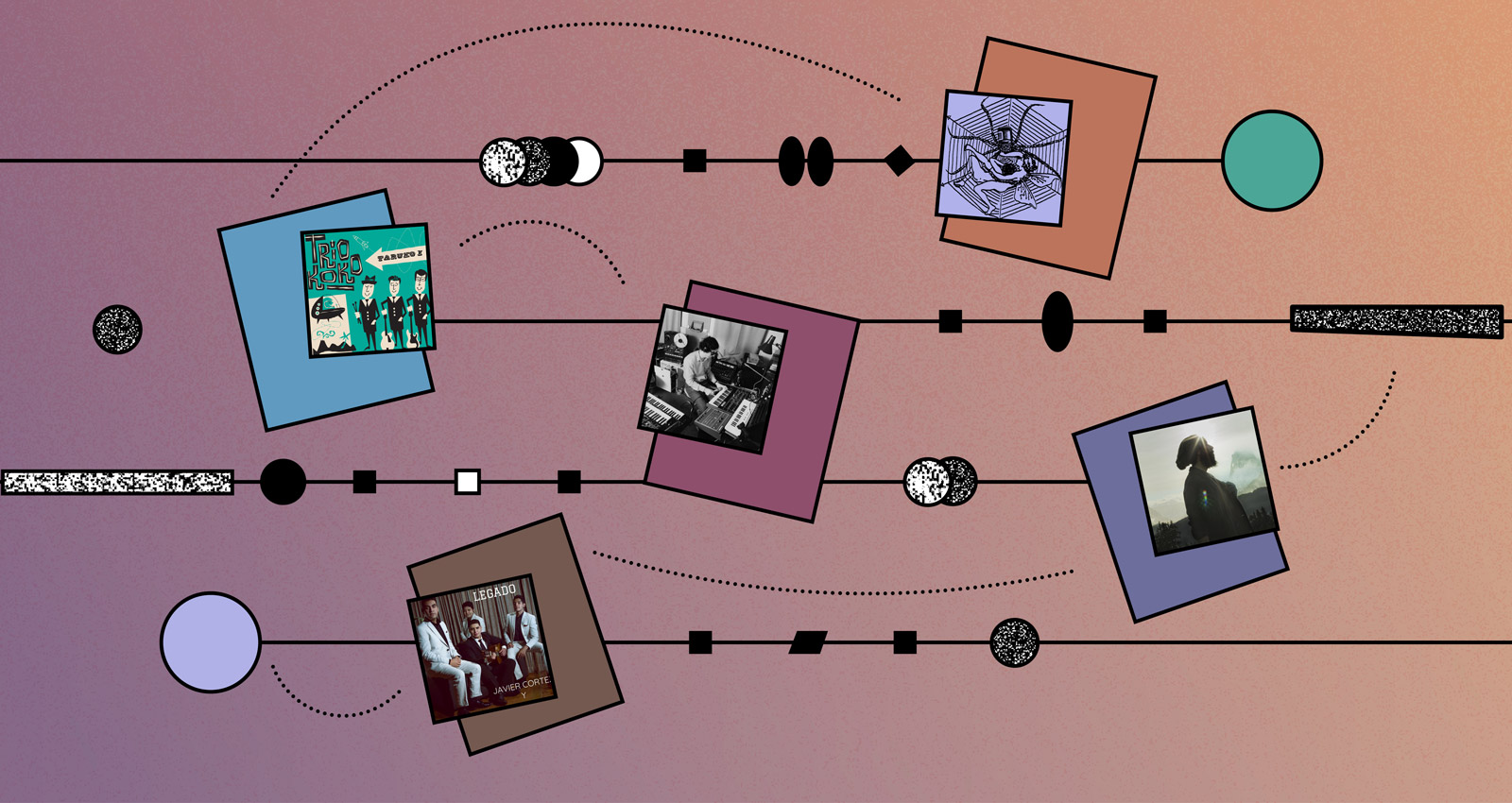 Bandcamp Navigator is a column dedicated to a fan favorite Bandcamp practice: tag-hopping.
You know how sometimes you find something—a book, or a new hobby, or a television show—that just shoves everything else out of the way for a little while? That was my experience when Bob Vylan's We Live Here first showed up. I wasn't an early adopter. It took some time for me to find it, but when I did, every other record had to wait for a little while. So, of course I'm going to open this journey through the tags with their new record. I think you'll like this one.
Merch for this release:
Vinyl LP, Cassette, Compact Disc (CD)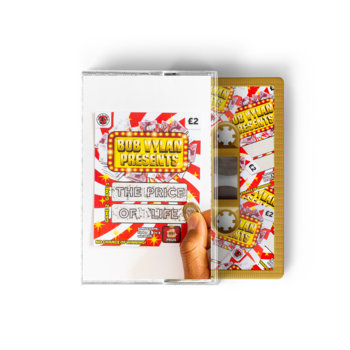 Bob Vylan's 2019 debut full-length was a hard punch to the face, a violent shock following the build-up of tracks and EPs they'd released in the past. Follow up The Price of Life is a body blow—deeper, heavier, packing more power. The group's unique cocktail of hardcore punk and grime is still the first order of business. But this time around, other elements creep in to broaden and fill out the group's sound. Witness the phenomenal "Take That," which turns the growling riff of 808 State's classic dancefloor filler "Cubik" into a tense, hyperactive loop. "Pretty Songs" employs a recurring acoustic motif, creating both a sense of calm and anxiety—you know the tranquility will be obliterated at any moment by some monster riffs. (Spoiler alert: That is precisely what happens). Bob Vylan have established themselves as a fresh, urgent, and crucial voice, and The Price of Life further cements that reputation.
Bob Vylan are from #London. Our next artist isn't from there (they're from about 50 kilometers northwest), but their archival material has been reissued by a London label.
Merch for this release:
Vinyl LP
Ian Glasper's The Day the Country Died, an essential oral history of the UK anarcho-punk scene in the late '70s and early '80s, calls Luton's Karma Sutra "an anarcho band of exceptional intelligence and tunefulness." Both qualities are evident on Be Cruel With Your Past, which collects the band's tracks from various compilations and early demos. The material from 1983 demo The New Economy Roast is rough around the edges, but still exhibits a craft and intention (in sound and in message) that's slightly more precise than many of their contemporaries. This rough sound is further refined on their 1987 demo Shoppers Paradise, which the album page calls "the best material Karma Sutra recorded." It's hard to disagree. Blending the piercing aggression of Crass, the full-throttle speed of Subhumans, and the post-punk/proto-goth sounds of Rudimentary Peni and Lack of Knowledge, this collection is an indispensable document of a fascinating, multi-faceted group.
The early '80s anarcho-punk movement had a profound influence on the style of music that came to be known as #post-punk. But as you know, that genre tag is packed full of all kinds of influences. Our next featured artist takes a more electronic approach to the style.
Merch for this release:
Cassette, Vinyl LP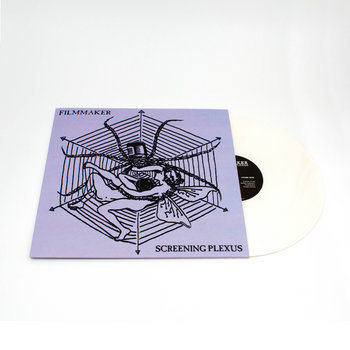 Colombian EBM/industrial artist Filmmaker returns with another excellent addition to a vast and ever-growing discography. This one was "recorded live on tape," which gives the music a heightened sense of immediacy and urgency. Filmmaker has proven adept at creating creepy, foreboding audio atmospheres, but here, there's almost a sense of claustrophobia to the tracks. It's easy to imagine these songs playing as the listener is pursued through shadowy hallways, just steps ahead of the leather-gloved adversary in frantic pursuit. While loyal to the sound of '80s/'90s EBM, Filmmaker is more than a tribute act. There's a nod to the foundations of the sound, sure; it's easy to hear elements of Die Krupps or Portion Control here; but on tracks like the minimalist "Masked Science" or the staccato "Forsaken Dreams," it's clear that Filmmaker is adding plenty of new ideas to the formula.
Although bombastic at times, Filmmaker is clearly influenced by #minimal synth. That influence doesn't always result in minimal music, but you can still feel it when it's there. We're going to continue down that path with our next artist.
There's a sense of tension in El Ojo y La Navaja's music, caused by the layering of spiky, brittle keyboard leads and trebly, thin snare sounds over deep, rich bass tones. It gives a sense of being pulled in opposite directions, keeping you on edge while at the same time drawing you in with repeated melodies and musical phrases. Check out the burbling, rolling intro to "Ominoso." It's eminently catchy even before the drums kick in; when they finally do, you get a brief, false sense of security before a startling and unsettling key change hits. It's a wild ride, thrilling even after multiple listens. That clever utilization of tension and release, of push and pull, pervades the album, and when the final breakneck drum machine beats of album closer "Tremens" fade out, you'll feel it. This is a welcome addition to the modern post-punk/minimal synth canon, and one that definitely demands attention.
Based in #Mexico, Extimidad provides a path from electronic music to more traditional Latin American styles.
Javier Cortez y Los Herederos del Bolero
Nuestro Legado
Originating in Cuba and spreading throughout Latin America in the early 20th century, bolero is a guitar-based style of music which—in the hands of skilled performers, as it is here—is absolutely beautiful. Recorded as a tribute to legendary trío romántico Los Panchos, this album presents 10 songs from that band's remarkably extensive discography (clocking in at well over 80 albums). It's certainly a daunting undertaking to record songs made famous by one of the most popular musical trios of all time, but Javier Cortez y Los Herederos del Bolero have absolutely nailed it here. Much of the success has to do with Cortez's voice. Smooth and expressive, it soars above the lush harmonies provided by the backing vocals of Los Herederos. "Heredero" translates to "inheritor" in English, and this heartfelt, reverent, and accomplished tribute to a classic trio comes from an artist that is absolutely worthy of that title.
If you're familiar even in passing with the Western songs of Marty Robbins or Johnny Cash, you can clearly see how Bolero influenced #country. We're going to use that tag to jump from Mexico to Tennessee for a different style of country.
Tennessee native Mose Wilson's self-titled debut covers a wide variety of styles that fall under the umbrella of "country." There's the Cajun-influenced album opener "Louisiana Two-Step"; the rollicking bluegrass of the man-on-the-run tale "Cornered"; the gentle romance of "This Time It's You," with weeping steel guitars and delicate vocal harmonies; the "outlaw"-style "I Don't Need You"; and so much more. Wilson and his frankly spectacular backing band make this array of influences work. Featured on this record are veteran steel guitarist Dan Dugmore—who's played on sessions with Ronnie Milsap, Kenny Rogers, and ZZ Top, among others—and bassist Dennis Crouch, whose work has appeared on records by Willie Nelson, Loretta Lynn, and Diana Krall. At the heart of it all though, are the voice and songwriting of Wilson. These are solid songs, expertly performed. They're obviously contemporary, but also feel well-worn and familiar. For an album showcasing so many different country sounds, it never induces any genre-switching whiplash. These styles are all a part of Mose Wilson's blend, and it's a blend that goes down smooth.
#Nashville is called "Music City" for a reason. Our next artist is Nashville-based, but works with experimental electronics and the manipulation of the human voice.
io de la osa
id lo
Layered, intimate, and at times unsettling, id lo consists of six short experimental tracks. Samples of wordless vocalizations are chopped, stacked, and recontextualized over throbbing drones, sweeping noises, tape hiss, plucked strings, and (as on "i [think of you] often") echoing drum machine beats. On "between (the rocks and racks of) dreams," a sweeping buzz pulses between the left and right channel, causing enough distraction that it makes the low bass tones on that track seem deeper. By making the artist's voice the central featured instrument, io de la osa recalls the work of contemporaries like Cruel Diagonals. Listening to the work on headphones is highly recommended; io de la osa creates vast sonic spaces—cavernous chambers of sound full of mysterious reverberations, rumbling, far-away chimes—and, at the center of it all, the human voice.
The #lunar tag under io de la osa's album may be a little obtuse, but it's there, and it's a road we've not taken before—so, of course, we should see where it leads.
Merch for this release:
Compact Disc (CD)
Languid and tranquil, listening to this release from Swiss singer/songwriter s e l e n n is an otherworldly experience. Lively string melodies sparkle above echoing washes of synth. Sounds emerge at the edges of the mix, inconspicuous and half-heard, but somehow embedding themselves in your memory. The cello-driven title track features effects-laden, vocoder-style backing vocals that merge seamlessly with the song's other electronic elements. By contrast, "Maelström"—the album's most forceful track—features an almost distorted electric guitar and a full-throated pipe organ that crescendos in and out of the mix, feeling like portents of an oncoming storm. Equinoxe is perfectly crafted to lull listeners into a dream state, its songs existing at the boundary of wakefulness and sleep.
#Lausanne is a city on the shores of Lake Geneva (Lac Léman) which lies between Switzerland and France. On our next stop, we'll explore a small part of that city's musical history.
Merch for this release:
2 x Vinyl LP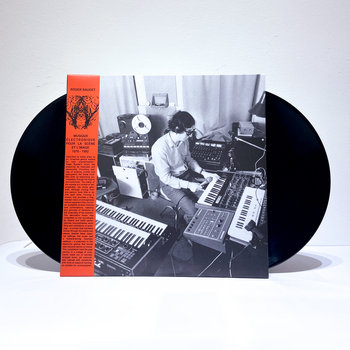 Roger Baudet's music combines literalism—melody, structure, and meter—with unexpected improvisational elements—warped vocal samples, screeching atonal strings, bursts of static, and the occasional rumble of thunder, like the one that opens "Anhamete (Ceremonial)." These pieces were often created as film soundtracks, or music to accompany dance performances, but even without those visual elements, each piece creates mental images. It's easy to pick up on Baudet's influences; you can hear echoes of the '60s work of pioneering electronic musicians like Jean-Jacques Perrey in many of his compositions. But you can also hear the influence of his contemporaries here. There are, for instance, elements of modern classical, Berlin School synth, new age, dub, and even a little Italo disco. Just as obvious, though, is Baudet's own influence on what was to follow. This collection is a great introduction to a pioneer in electronic music, the perfect inspiration for anyone with even a passing interest in the genre.
Baudet's music was often used as the #soundtrack for performances. Our final stop is an album that hasn't (to my knowledge) been used as a soundtrack, but which certainly feels like it'd be perfect for one.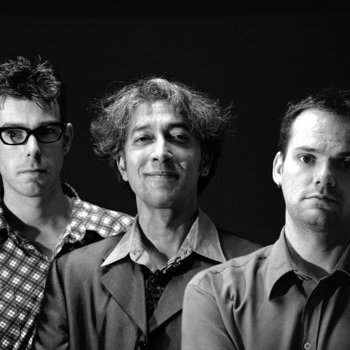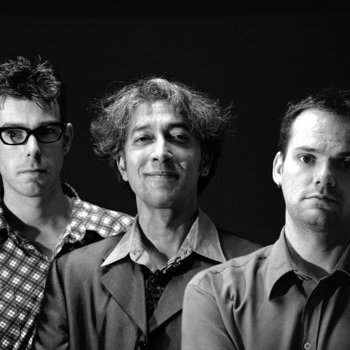 This collection of instrumental, guitar-focused tracks is full of joy. Although rooted in the sounds of surf and garage rock, it's not without other influences. Ron Smith's bellowing baritone guitar combines with elements of exotica (nature sounds and a deep-in-the-mix vibraphone) on the slithering "Nightfall." "Outer Space" is precisely what you would expect from a track with that title, featuring staccato guitars and cosmic organ melodies. "El Jugador" showcases the Hammond organ stylings of Govert van Der Kolm, adding depth and texture to a smooth, flowing guitar melody. The virtuosity of the musicians involved here, though obvious to anyone listening, takes a backseat to what the youth are calling "vibes." It's excellent music expertly played, sure, but more (maybe most) important, this album is one heck of a lot of fun.
We've come to the end of another journey. It feels remarkably repetitive to always end these voyages in awe of the sheer volume of excellent music that's out there, but that's a feeling that I come by honestly. There's just so much great stuff out there. We've got a lot of work to do if we're going to hear all of it.