LISTS
Crass Walks Us Through Their Entire Bandcamp Discography
By John Gentile · October 12, 2020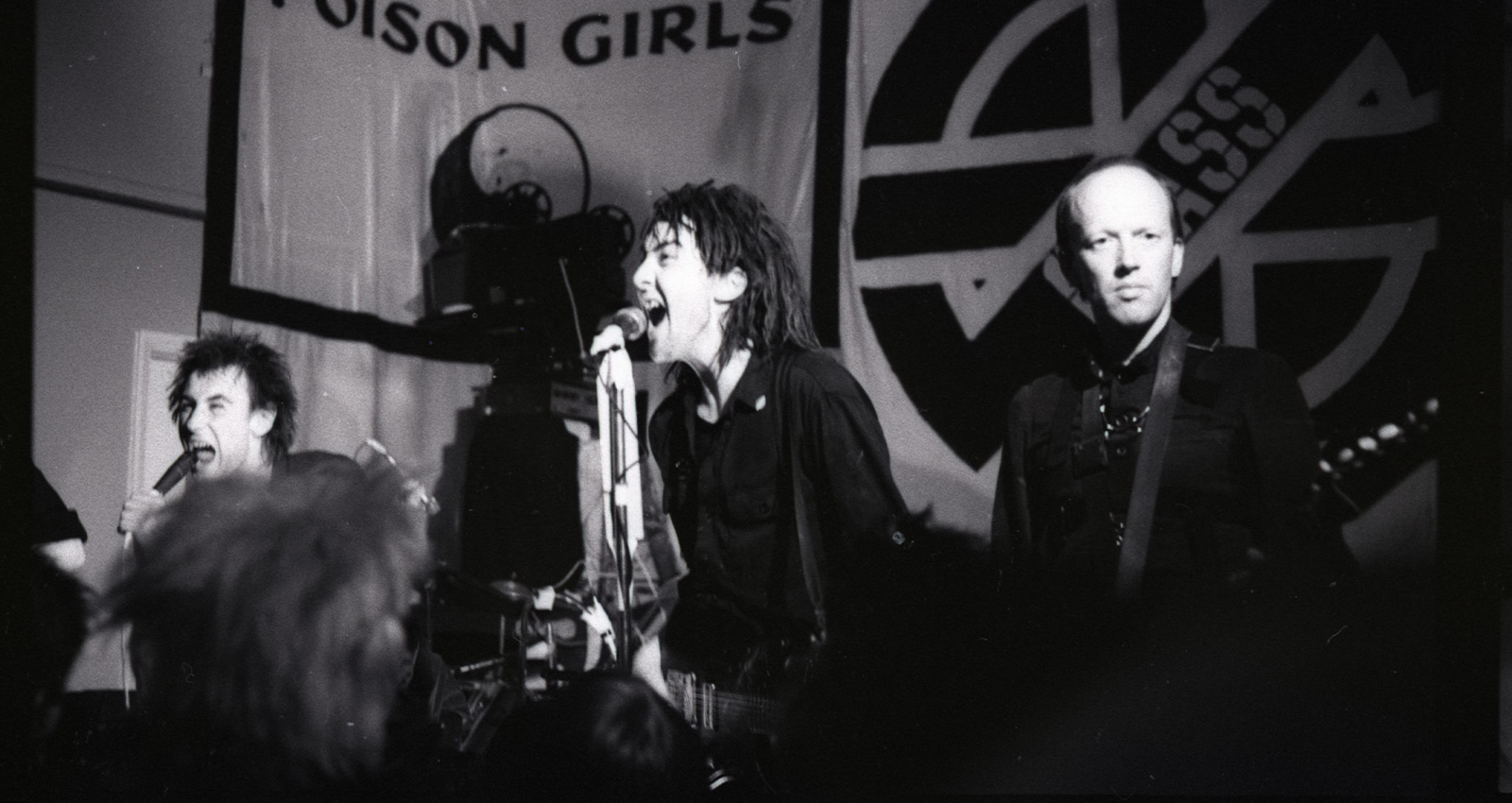 "We were two very pissed-off persons. Steve was a very young pissed off person, and I was a getting-old pissed-off person. We sort of met on the pissed-off-ness, really." Penny Rimbaud, drummer, producer, and co-founder of Crass, is talking about how he, along with vocalist Steve Ignorant, formed a group that is now considered one of the most influential punk bands of all time. Anarcho punk; peace punk; crust punk; black and white stencil art; dissing the Clash; being punx and being vegan; being punx and wearing all black—if you you can name it, you can probably trace it back to Crass. 
"At first, we didn't have any ambitions, and we certainly didn't think Crass would become what it did," he continues. Rimbaud is sitting at his beat-up old wooden desk in Dial House, the 16th century farm cottage in Essex, England which he has preserved as a sort of arts-free-space since the late '60s, and which served as Crass' home base from 1977 until the group disbanded in 1984
From his suburban home in Norfolk, Steve Ignorant adds, "I was working in a hospital and I went to see the Clash. At the gig, Joe Strummer said, 'If you think you can do better, then start you own band.' So, I said, 'Yeah, I will.'"
Ignorant decided to take a trip over to Dial house where he knew a former hippie who was engaged in what would now be called performance art. He found Rimbaud madly typing away on what would become Christ's Reality Asylum, a stridently political, blasphemous, totally wigged-out piece that would form the core identity of Crass. "I said, 'I'm thinking of starting a band,'" Ignorant remembers. "Penny said. 'I've got a drum kit. I'll play drums if you like.' And that's how it started."
And now things have come full circle. One Little Independent records is re-releasing the band's entire discography in two distinct versions. The first is essentially a re-release of their albums as they were originally released, untouched by the sands of time. The second, titled The Crassical Collection, could be considered the "Deluxe versions," which include loads of bonus tracks, remastered sound, archival pictures, and reflections from various band members. To that end, we asked Rimbaud, Ignorant, Gee Vaucher, and Eve Libertine to walk us through the band's six albums.
---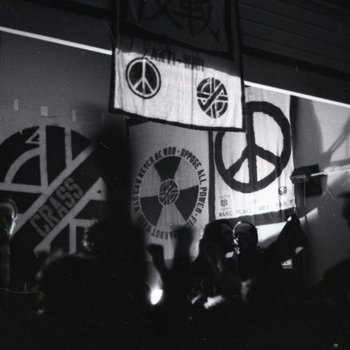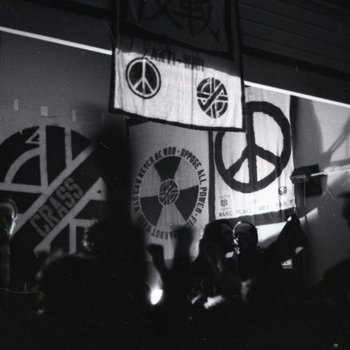 Merch for this release:
Vinyl LP, Compact Disc (CD), Cassette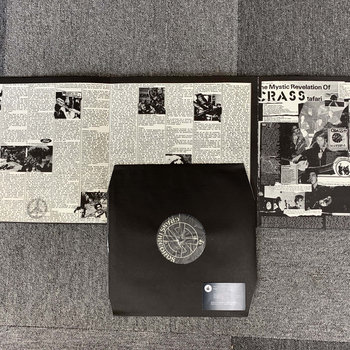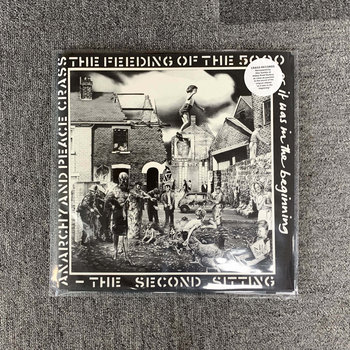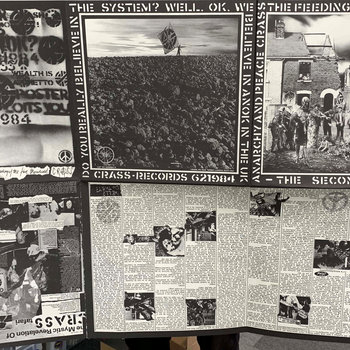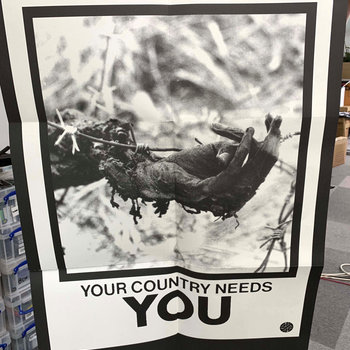 Crass' debut, The Feeding of the 5000, is an incendiary record. In fact, it's so freaky that the pressing plant workers who manufactured the first run (5000 copies—the minimum number allowed) refused to press the first track, "Asylum," adapted from Rimbaud's similarly named written work. The track, a sonic soundclash spoken word piece, features vocalist Libertine ranting off sacrilegious lines such as, "Down now from your cross! Down now from your papal heights, from that churlish suicide, petulant child!"
"At the time I found 'Asylum' harsh and ugly in its expression, but powerful for that," says Libertine. "It was saying something I felt needed saying about the repressive nature of religion, and how cruelly it has affected women's lives over the centuries."
In fact, the track struck such a chord that it caused the police to visit Dial House. As Ignorant recalls, "The police had come in because some kid got a copy of it and his mum heard it and said, 'This is disgusting!' But, when the police came, it was all very civilized. We gave them tea and sandwiches.  They were going through our record collection—'I bet you won't find any Tchaikovsky in here ha ha ha! … oh… um… here it is…"
And that was just the first track. Across the album's two sides Crass essentially created the concept of anarcho-punk. On "Do They Owe Us A Living," Ignorant details the ways a capitalist society seeks to destroy anything that doesn't fit into its rigid plan. On "They've Got Bomb," they address the very real danger of nuclear war, complete with a heart stopping 17 seconds of silence wedged in between the sonic bombast, representing atomic death. "Fight War, Not Wars" contains no other lyrics except for the title. On "Punk Is Dead," the band not only takes what might be the first ever we're-more-punk-than-you shots at the Sex Pistols and the Clash, they also explain that punk and anarchism can be so much more than tabloid fodder.
"We thought something was really happening when the Pistols and that crew started walking the walk, but they never started talking the talk, "Rimbaud says. "They might have had the odd political point, but at the core it was self-interest. It was very good rock and roll, there's no question about that. But they didn't have anything to follow through with. They were all contradicting themselves and not coming up with the promises. The Clash were saying DIY and then signing to CBS. Well, DIY doesn't actually spell CBS. So, we felt cheated. We thought, 'You can fuck people over but we're not. We're going to make promises and keep them."
To match the explosive music, Vaucher, Crass' artist, created the iconic black and white collage/stencil style that is still replicated across punk and hardcore today. Arguably, Crass was the first punk band to make the argument that the visual and informational aspect was as important as the sonic component. "Crass was always multimedia, using different approaches to communicate," Vaucher says. "The driving force behind how I work is to reach what is inside. I might have a vague idea for something, but I don't usually know what I'm trying to say a first—it's a feeling I'm aiming at. What I'm trying to express seems to appear much later."
---
Merch for this release:
2 x Vinyl LP, Compact Disc (CD)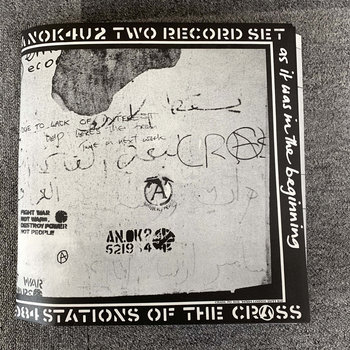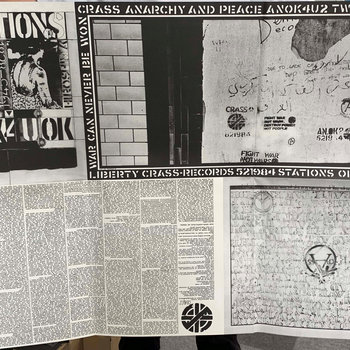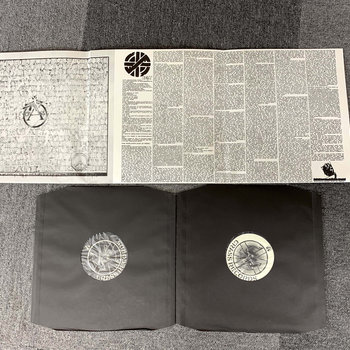 Due to the band's vicious sound and striking imagery, The Feeding of the 5,000 was a massive success, surprising everyone, including the band themselves. The first run sold out almost instantly. So, within months, the band started work on their follow up, which would become Stations of the Crass.
"We started a second album a little bit full of ourselves—'Our first record sold thousands, so this one's going to be a winner' sorta crap," Rimbaud says. "It's the only time that I lightly started falling for the whole rock 'n' roll bullshit. It didn't last long, maybe two or three months. The thing that blew it was that we were doing a gig, and I had just been to have a crap. I came out from the crapper and started to talk to these two potential groupies… which never became a thing at all in Crass, I can honestly say. But, I was doing the dude thing. I was chatting away, and they were coming on quite a bit and I looked down and there was a great dollop of turd on me boots! You can't sort of maintain your cool when you've got a lot of crap on your boots. It was sort of a karmic message: 'You're being an asshole, Penny! Get wise!' That may have been what persuaded me to get back on with it."
Recorded at a brisk pace less than a year after 5000, Stations of the Crass found the band doubling down on their message and increasing sonic experimentation. "I Ain't Thick It's Just a Trick" and "You've Got Big Hands" had choruses that were as catchy as football chants (and they also attack topics such trying to battle the capitalist system from within and confronting the expectations of traditional gender roles).
"Bless Pen, he would always get the names wrong," Ignorant says with a laugh, never missing an opportunity to jab his lifelong pal in the ribs. "Steve Cook and Paul Jones from the Sex Pistols…? Or, on 'I Ain't Thick,' Sarah Farrah Fawcett… Pen who the fuck is that?! So, I used to call Jean-Paul Sartre 'Jean-Paul Duvet' just to wind him up!"
Meanwhile, the band got freakier. "Walls (Fun in the Oven)" mixes a disco beat with violent guitar stabbings; "Fun Going On" had a mechanical start and stop with a robotic delivery from bassist Pete Wright.
"Halfway through Stations, we started taking ourselves seriously," Rimbaud says. "We realized it was not a game. When we started, we didn't realize anybody else was going to listen. The minute anyone else starts to listen, there's a responsibility. Fucking hell! You have to look at how things are perceived and translated. It might put people in danger and that became increasingly more difficult as the years wore on."
---
Merch for this release:
Vinyl LP, Compact Disc (CD)
Like 5000 before it, Stations of the Crass hit the right nerve of the punk community and increased the band's stock. An unexpected consequence of that was, thanks to fist-pumping, hard-as-hell rockers like "Banned from the Roxy" and "I Ain't Thick," the band started to attract more and more "boot boys." If we were to talk in modern terms, the band was gaining something of a "bro-punk" following.
Rimbaud says, "Our unpredictability was predictable. If we said yes today, we'd say no tomorrow. We weren't allowing people to box us in. But, what compounded it, is that with Stations, we were becoming to be thought of as a boot boy band. That wasn't what we were about. Although there were suggestions in Stations that we had a mellow side and that we were coming from a deep place of love, it wasn't always seen that way."
In order to combat the perceived hyper-masculinity of the band, Crass created Penis Envy, a record that didn't have any contributions from any of the male vocalists, but rather featured the three women in the band on vocals exclusively: Gee Vaucher, Eve Libertine, and Joy De Vivre. Ignorant, the band's co-founder who was asked to sit out the recording of Penis Envy adds, "That's the only Crass record that I played for my mother that she liked."
Libertine says, "We always did what wasn't expected, so it was a good opportunity to put out an album with feminist views to a predominantly male audience. But more than that, it was really about questioning relationships and what is often talked of as 'love' and the abuse therein."
To that end, at the time of Penis Envy, Crass pulled one of their greatest hijinks. The album closed with the saccharine, maudlin "Our Wedding," a track that stood in direct contrast to all the other tracks on the LP—the bulk of Penis Envy was a fierce attack challenging gender norms and the concept of love as it was presented in the mainstream, "Our Wedding" was a piss take attempt at a silly love song. The band then, under the guise of "Creative Recording And Sound Services" contacted  several teenage romance magazines offering to give the song away as a free flexi in an upcoming issue. Surely no one would fall for the gag…
"Loving Magazine fell for it immediately, and they were the top of that type magazine," Rimbaud says. "They wanted to run it as a special bridal issue. It was a total heist. Finally, some guy from Fleet Street got wind… I have a feeling he got wind because we rang up the papers and gave them the story when no one caught on. The press love being able to denigrate each other. So, it was exposed in the daily press as a joke—as a serious joke, though. In interviews, we were able to say how these types of magazines are culturally injurious and use the press in a positive feminist way."
The record was such a tactical strike that the state struck back. Copies of Penis Envy, along with the Dead Kennedys' Frankenchrist album were seized from a Manchester record shop, which resulted with Crass getting charged under the Obscene Publications act. In a way, Crass had caused the exact reaction they intended. The case ensnared Crass for years, costing them thousands and thousands of pounds. At first, they were found guilty, and then after an appeal, they beat the wrap with the exception of one of the album's strongest statements, "Bata Motel," which was deemed obscene.
"'Bata Motel' was prosecuted for being sadomasochistic, masochistic, and pornographic, but it was a parody of a desperation for male approval that I had on occasions observed," Libertine says. "It's really rather ridiculous when you see what's around, probably even more so now—wearing shoes so high that they distort the flow of the spine, cripple the feet, and disable you to run, if necessary. That to me is a state of fear of not being good enough, and that's victimhood. That's what 'Bata Motel' was about."
---
Merch for this release:
2 x Vinyl LP, Compact Disc (CD)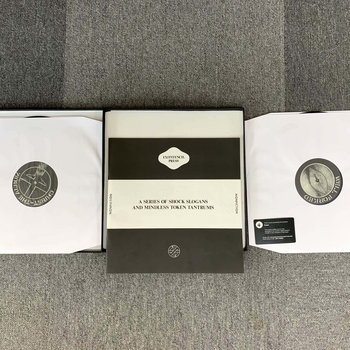 Having had three "hits" in a row, and having pulled numerous heists, as it were, Crass then decided to make their definitive artistic statement. They spent the better part of a year working on Christ – The Album, a beautifully designed box set that included an ambitious studio album, a live album, a giant Gee Vaucher poster, and a massive booklet that included numerous articles, including an extended version of Rimbaud's essay The Last of the Hippies, which told the tale of the suspicious death of Rimbaud's good friend (and Stonehenge Free Festival co-founder), Wally Hope.
In the eyes of many fans, Christ – The Album is the definitive Crass album. At its core is the classic Crass biting attack, all enraged, screamed lyrics, guitars that are used more as noise-makers than instruments, and Rimbaud's trademark pitta-patta-pitta-patta-pitta-patta-bapbapbap! drum beat. On top of that, the live disc, Well Forked – But Not Dead, isn't mixed like a traditional live LP, but rather is a collection of live tracks mixed with sound clips, demos, and other fragments that flow together like a collage. The massive information booklet included with the album would go on to serve for the blueprint for every punk band that would include progressive information in their booklets.
"I remember it taking ages," Ignorant says. "Pen at that time had really gotten his producer's hat on. I remember once it took all day to record a drum sound, which to me didn't sound any fucking different then when it started!"
In a way, the release was intended to be a victory statement, the studio side ending with a clip of EP Thomson's speech at a Campaign for Nuclear Disarmament rally: "Looking at you, I know one thing. We can win! We can win! I want you to sense your own strength!"
And then, just weeks before the album was scheduled to be released, the Falklands War erupted.
Ignorant says, "I think that was meant to be it—the ultimate Crass release. And then after that, the Falkland war starts! Just when I'm gonna get out, they get me back in!"
To a degree, the band was embarrassed that they hadn't addressed a major event like the Falklands War on a record they spent almost a year making. Rimbaud says, "I don't think we were ever complacent, but with Christ we were concentrating on creating a 'beautiful' album, and it was in a lovely box and was beautifully designed, but that was a luxury we couldn't afford. We realized that what Thatcher did was only a small taste of what would come over the next 20, 30, and 40 years and we have seen that occur under the guise of 'intervention,' which has become the classic American modus operandi. 'We can bomb fuck all out of where the fuck we like because we're bringing democracy to the world.'"
For their next release, Crass decided they had to be more immediate…
---
Merch for this release:
Compact Disc (CD), Vinyl LP, Cassette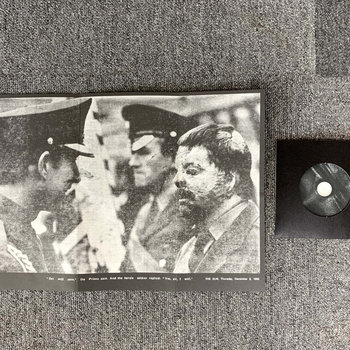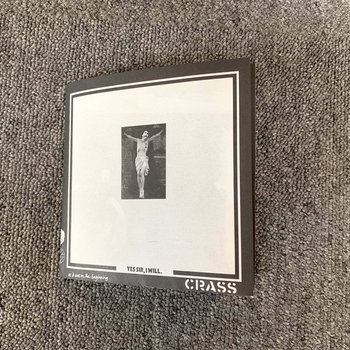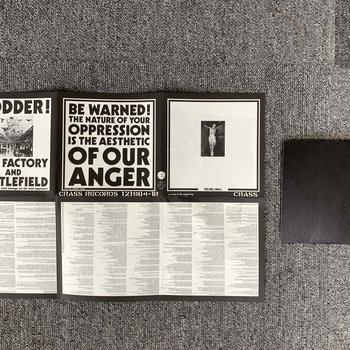 "Around then, we started getting classified information from grunts and sailors who were actually in the service… What the hell do you do with classified information?!" Rimbaud recalls. "That is a serious offense! Then, we pulled our greatest trick ever."
Using the classified information they had received, the band crafted a recording which appeared to be a conversation between Thatcher and Reagan discussing the sinking of The Sheffield and the General Belgrano, ships involved in the Falklands conflict. The band then sent the tapes to the British press anonymously, expecting chaos to ensue. Surely, such a hot item would be a major, stop-the-presses event…
"After we sent it to the press world, it completely disappeared and we heard nothing," Rimbaud says. "And then four or five months later it appeared in the Pentagon and was described by them as being a KGB operation to undermine American power. They were saying it could lead to World War 3! We could sit here and say we did a tape and now it's being put forward as this thing, which is very funny in one respect… but it's not very funny in another. So we were always in this ambiguity."
Eventually, someone informed the press that the culprits behind the scam were, indeed, Crass. To this day, the band doesn't know who leaked that info, though by this time, their phones were being tapped by the police and possibly other third-parties. The Observer got in touch with the band, and through a series of negotiations, Rimbaud agreed to admit that they created the tapes… if The Observer published the entire transcript of the tape on its front page. To Rimbaud's surprise, the paper did indeed publish the entire transcript, which included classified information previously only known to the British government. "Then, the shit really hit the fan," Rimbaud says. All sorts of people were getting in touch with us, including the KGB."
"The KGB were pretending that they were a magazine," Ignorant says. "It was funny. What did they think we were doing? We were a punk band. I thought it was a bit cute, really. Then, just before we went down to meet the KBG as a 'magazine,' CBS called us and asked if we wanted to do an interview. So, we gave them the address of the KGB."
Rimbaud continues, "We went to the KGB office and they were pretending they were a magazine. The moment we stepped inside, we could see it was no magazine. It was like a James Bond movie or a bad Hollywood movie. There were guys sitting outside 'reading' the newspaper. It was pathetic. We go inside, and a guy got out the vodka and tried to get us pissed… and actually, we did get quite pissed on the vodka. Talking to them, we realized that there were key words that would prick up their interest, so we were just fucking about. And then, we were halfway through the conversation and the doorbell rings and it was the CBS guys! We said, 'Come on in guys, come on in!'"
"We'd go into the Russian room and have the vodka," Ignorant says. "Then, back to the Americans a bit pissed off, just fucking around. Then, back and forth again. After a while, it was like, 'This is stupid, let's just all sit on the same room.' In the end, they were all taking with each other and I was like, 'I don't really like vodka, and they're not asking me any questions, and I'm bored of the questions,' so I popped off down to the pub."
Meanwhile, the band had decided that they needed to be more immediate in their dispatches. While Christ – The Album had been a colossal masterpiece that took nearly a year to complete, it came at the cost of relevance. To that end, on their next record, Yes Sir, I Will, Crass took the exact opposite approach, recording it in about 44 minutes.
Rimbaud reverted to his hippie improvisational days and had the band record the massive, chaotic, cacophonous album in one take with a great deal of the material being written during the recording. The result was Crass' most aggressive, and most polarizing release. While the previous Crass releases had more or less mostly adhered to the standard rock format, on Yes Sir, I Will the band recorded a single, massive, typhoon of a track split across two sides of a record that at times veered into classic era punk, but, for the most part, was frenzied, sonic destruction.
Rimbaud says, "Crass had gone through the stages of rock and roll, punk rock, this rock, that rock, and basically by then it was, 'this is how it actually is and we haven't got time to make a nice melody for you! Fuck off! Listen!' We're not going to be nice anymore. We're not gonna play this game. You make a war, we'll make a war, we'll match you. And actually that's exactly what happened. We sort of turned faced and became increasingly more involved in street actions."
Ignorant adds, "Yes Sir was very difficult for me because, at the time, I didn't know how to do it. But then I thought, 'Fuck it, we 're doing it for a reason, we're doing it for a statement.' I think what I was thinking is after Yes Sir, we'll go back to more 'Punk is Dead' style and I'll have more input. And actually, it weren't too bad. It was fucking about and sounding a bit weird. I knew I was never going to play it. Though, I did feel a bit guilty for all the people that thought it would be a bit more "Waaarggg!!" While Yes Sir, I Will wasn't the last Crass album record, it was the last Crass album recorded before the band broke up.
---
Merch for this release:
Compact Disc (CD), Vinyl LP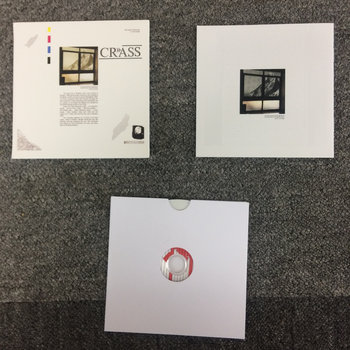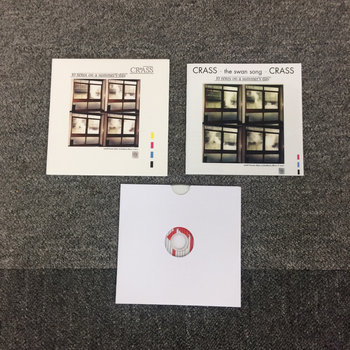 In 1984, Crass was on a drive back from a Welsh gig that benefitted striking miners, when things suddenly stopped. Ignorant says, "We were driving back from that benefit gig, having backed the van out and broken their light, and 20 minutes down the road Andy Palmer was like, 'I want out of the band. I want a relationship with me partner.' Everyone was like, 'No, no, Andy, don't quit!' And then another 20 minutes or so later, I think it was either me or Eve Libertine, who went, 'To tell the truth, Andy, if it hadn't been you, it probably would have been me.' I think it took him to say that for us all to say, 'We can stop this.'"
Libertine adds, "I think that it probably had come to its natural end. I felt that we were becoming increasingly negative in our songs and it didn't seem it was going anywhere, anymore."
Ignorant continues, "At that time, there had already been conversations in Dial house about how to jam police signals, how to fuck up the communication cables that run under the pavement with incendiary devices. Is that why I started a band? No, this has become something else now, and I'm not sure I want to be involved in that. That's going somewhere sort of college or university. On that level it was good that it stopped. "
"It was heartbreaking in a way," Rimbaud says. "But it was liberating in a way, too. I no longer have to be eight people all the time, I can be me. "
"I was worn out and unwell," Vaucher says. "But to be honest, as the dust began to settle we began to feel we had fucked up a generation. It was only over time that we began to understand that we had actually given so many people the courage to face life on their terms and grow. If I'm proud of anything, it's the fact that we changed so many lives. If we could have done better we would have, but we all gave one hundred percent every time we played, sang, wrote, painted or filmed. I personally would not have had it any different. I know so many people have run with whatever they got or are getting from Crass, in so many positive directions. They did that, not Crass. We were merely the stepping stone from which to leap from."
Yet, while Crass had broken up as a functional band, they didn't quite break up as a recording unit. From the end of 1984 through Summer 1985, Rimbaud worked on Crass' swan song, Ten Notes on a Summer's Day. The release was very much the sister recording of Yes Sir, I Will on a conceptual basis, and very much the polar opposite on a sonic basis. Like Yes Sir, Ten Notes was masterminded by Rimbaud and recorded in an experimental style. Instead of laying down the drums, then the guitars, then the bass, and finally vocals, Rimbaud had the band record their vocals first (albeit over a click track) and then synths, guitars, and bass were recorded, with the drums being recorded last. Ten Notes is a complex, multifaceted release, that arguably, can also be a very challenging record. But whereas Yes Sir was 44 minutes of frantic, chaotic, sonic collision, Ten Notes, with its heavy use of ominous synths, tape experiments, and sound collage, is unexpectedly cool, resembling what is now known as post-punk, and a times, even post-disco.
"It was a way of saying 'Bye, guys!'" Rimbaud explains. "A lot of it was self-referential—'The chimps brewing tea' were us. Maybe it was a bit sentimental, but I thought, 'No, we can't just disappear.' In that sense, I still regard it as a Crasfs album. Very few other people do."
Ignorant has a different opinion of Ten Notes. "That's not a record!" he says, "It's an affliction! The big mistake is that I went and did it. What else am I gonna do? Then I realize it shouldn't have been called Crass. It should have been called Penny Rimbaud with ex-members of Crass. I don't necessarily regret doing it, because it made me realize that I don't really like that sort of thing and didn't want to do it again… said Ignorant who then went and did Current 93!"
"The last lyrics of that song are 'at the sea's deepest point there is often a strange calm," Rimbaud adds. "It was sort of meant to mean that there is somewhere else to look. It's an attempt to comment on the messages that Crass offered, like 'There is no authority but yourself.' That means be yourself. Don't listen to me and don't listen to anyone. Listen to your own heart. That was the beginning of my own trajectory which continues to this day."
Rimbaud continues, "Certainly I've spent the last 40 years of my life looking for a new tactic—for the removal of governments, the creation of true liberation, true freedom, not just tokenism, not just reformation, but revolution. I remain as much committed to revolution as I did back in Crass days, but back in Crass day we believed that it might be possible to make the wall collapse with a degree of force by pushing through the wall. But, now, I've spent the last 40 years of my life making the wall collapse of its own accord and I'll keep doing it until I collapse of my own accord."