LIFETIME ACHIEVEMENT
A Spin Through One Be Lo's Prolific Career
By William E. Ketchum III · January 07, 2021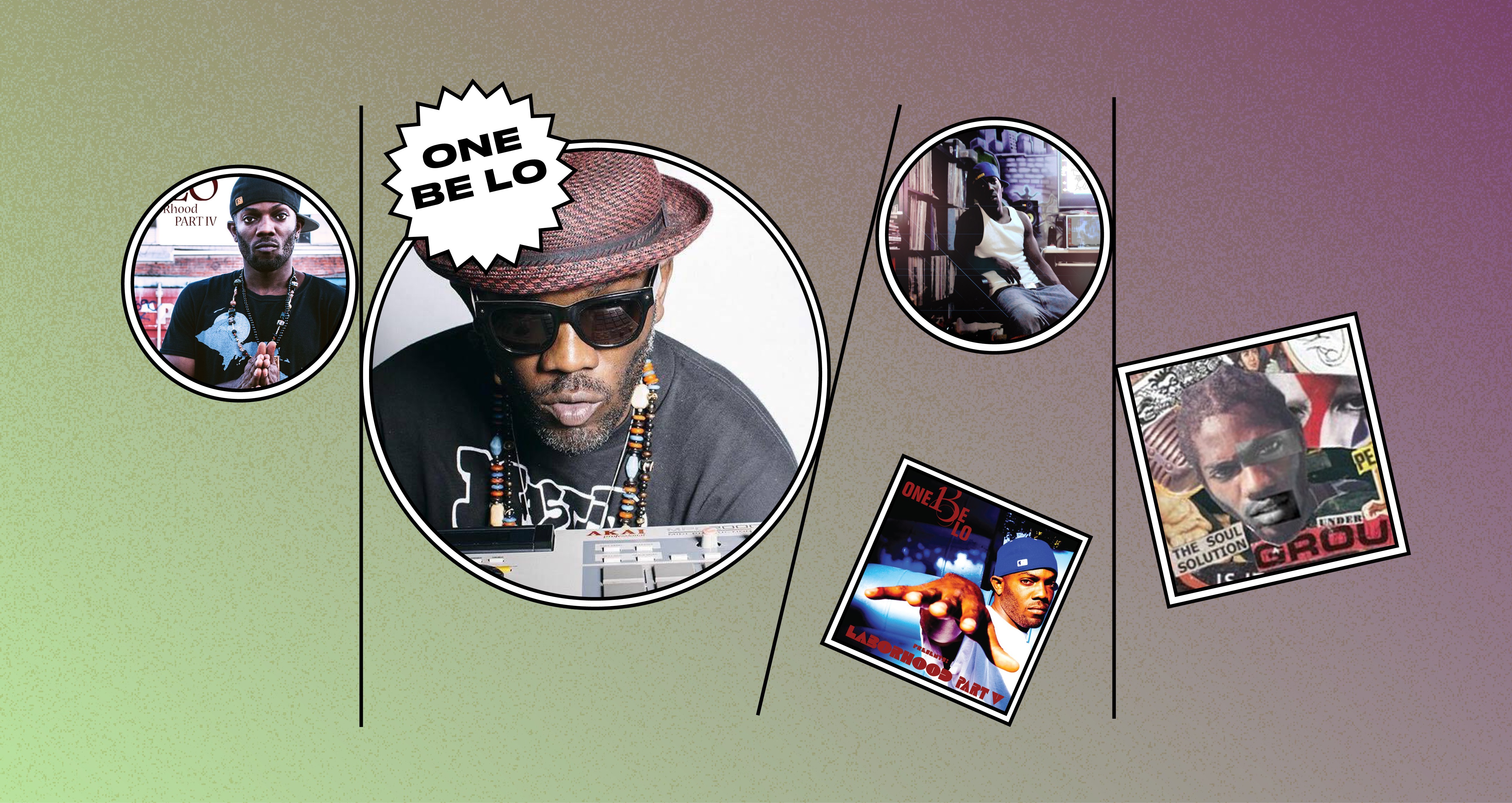 It's said that experience is the best teacher, and rapper One Be Lo has had a wide breadth of experience. Born Nahshid Sulaiman, he grew up in Pontiac, Michigan as the son of a beautician and a plant worker. His childhood consisted of scoring good grades at school and playing as the star captain of his school basketball team, while harboring dreams of playing professionally. After his parents divorced, things went downhill. He got caught up in the street life, and went to prison shortly after his 18th birthday.
That prison term would change his life: he converted from Christianity to Islam, and he formed the rap group Binary Star with fellow Pontiac rapper Senim Silla. When he emerged a free man two-and-a-half years later, he did so with purpose and focus: Binary Star and their collaborators put Pontiac on the map with the 1999 indie release Waterworld and its studio re-release Masters of the Universe in 2000, an underground rap classic.
In the 20 years that followed, One Be Lo continued his career as a solo act while establishing himself as one of rap's most creative, thoughtful lyricists, traveling and living all over the world. There are a seemingly infinite well of acronyms behind every one of his album titles, with each solo LP following the idea of conception, birth, and human life. He has a sincere adoration for hip-hop, and creates with a dogged dedication to craft. He flexes elite rhyme schemes and flows with the brash confidence we expect from B-boys, but he also brings balance: He covers socio-political themes while straddling the line between conviction and pragmatism—sharing unexpected perspectives as he strives for righteousness without falling into the preachiness that other "conscious" rappers and their fans can get lost in. He's always down to straddle different mediums: he raps, produces, breakdances with the Massive Monkees B-boy crew, and even draws. His illustrations serve as album art or live on his Instagram page. He now lives in Cairo, Egypt, where he moved several years ago.
One Be Lo has a flood of solo albums and mixtapes. Here's a rundown of some of his best work.
After completing his prison term, Nahshid was determined to make the most of his time. Going by the name The Anonymous (before later going by OneManArmy), he formed Binary Star with Senim Silla, who he had served prison time with. In astrophysics, a binary star is a system of two stars that revolve around a common center––a perfect description for what was the musical relationship between the two. They used a $500 budget to create Waterworld––a compilation that showcases the duo's skills and the breadth of talent from their hometown of Pontiac. The album was founded on a B-boy-friendly adoration for and dedication to hip-hop, with hyper-creative, philosophical rhymes. On "Glen Close," Lo narrates a Fatal Attraction-esque tale of a woman who will have him at all costs, "Indy 500" declares the group's refusal to fall for major label exploitation, the two-part "I Know Why The Caged Bird Sings" is a painful retelling of their time in prison, and the posse cut "The KGB" sees them spitting alongside other regional wordsmiths like Elzhi and Juice. After selling out of its initial run of copies, they rereleased and remixed the album as Masters of the Universe, which ended up becoming an underground classic.
While prepping for his first solo album (which was originally slated to be called L.I.F.E.), One Be Lo released a collection of unreleased B-sides that he didn't think were worthy of his debut album, but that he figured his die-hard fans would enjoy. He named it F.E.T.U.S.––both as an acronym for For Everybody That UnderStands, and to signal the start of a string of projects whose titles would metaphorically play on the concept of conception, birth, and life. While this project was simply a warmup, its highlights rival those of other rappers at their best. "Double Essay (S.S.A.) (Remix)" playfully raps words that begin with "s," "s," and "a," in sequence ("secret service agents, surely slowly aging, shooting suckas, amazing super soaker aiming," and on), and "Alphabet Soup" plays with letters in a similar way. With Lo's hyper-lyrical raps and jazzy, laid-back production, these B-sides clearly showed that he had many prosperous years ahead.
After priming his fan base with Project F.E.T.U.S., One Be Lo released S.O.N.O.G.R.A.M., his first solo album, with Fat Beats Records. The record is a lively, diverse display of his skills: he kicks social commentary about both domestic and international affairs, and offers braggadocio and detailed storytelling with complex rhyme schemes and creative song concepts. "enecS ehT nO kcaB" showcases old-fashioned rap shit-talking, "Propaganda" implores listeners be more critical of the messages they consume from media outlets, and "E.T." tells of a relationship with an alien. "Axis" laments violence in black communities, before contextualizing that behavior within the history of America and the world's treatment of Black people. "And some of y'all Black folks are still patriotic/ Dyin' in wars, so who you think make the profit?," he says. The album is 22 tracks long, but every moment is filled with purpose and conviction.
Merch for this release:
2 x Vinyl LP
The R.E.B.I.R.T.H. was released at a time of transition in One Be Lo's life. His young daughter had died tragically, his deal with Fat Beats Records was over, and he had just returned to the United States after a stint of living in Egypt. The album feels less like its title, and more like what it stands for: Real Emcees Bring Intelligent Rhymes To Hip-Hop––in short, exactly what One Be Lo had been doing so well for nearly a decade at the time of this album's release. "War" tells a nuanced story of a Muslim who plots a terrorist attack after he and his family were unfairly targeted by the government, "Hip Hop Heaven" finds euphoria in the act of creating music, and Lo calmly rides a jazzy sample on "Gray," inexplicably extracting beauty from descriptions of life at its grimmest as people in the inner city deal with poverty, corruption, and colorism. There's also a change in the production here: his previous works had sparse, skeletal soundbeds sculpted by himself and his Trackezoids crew; this time out, the production sounds fuller and more layered, thanks to his decision to enlist beats from the likes of Jake One, Bean One, D.L. Jones, and 14KT.
On LABOR, One Be Lo uses various animals and jobs as metaphors for song ideas—resulting in a collage of depth and seemingly infinite metaphorical creativity. "PIGS" addresses police brutality, but that's where the album's predictability ends: "The Ant (I Matter)" cleverly flips the insect's reputation for hard work and unity as a metaphor for his musical consistency, while "Wildebeest" continues his string of word-themed tracks by digging through a well of words that use "will"—Will Smith, wheelbarrow, William Shakespeare, pinwheel, Williamsburg, the list goes on. "Rabbit Food" uses wordplay associated with fruits and vegetables. "The G.O.A.T." honors, interrogates, and studies a higher power while speaking about people's relationship with religion. It's already a marvel that One Be Lo was able to come up with such creative song titles and ideas, but it means even more that he doesn't ever take a bar off: Every concept is deconstructed to granular details, without ever losing focus of the song's message, story, or sentiment.
Despite making history as Binary Star, the original duo of One Be Lo and Senim Silla was short-lived, and they went their separate ways after the release of Masters of the Universe in 2000. Multiple attempts at reunions over the years fell through, so in 2018, One Be Lo decided to continue with the Binary Star name for the two-part album LIGHT YEARS APART. "The whole concept behind it is, it's just different layers of Binary Star," he explained in an interview. "The two stars that revolve around each other, sometimes they appear as one." Lo refers to himself as the two-headed dragon, writing raps and producing beats––and the quality remains on both LIGHTY and EARS APART, even without his Binary Star groupmate on deck. "Big Dipper" laments the mistreatment of the environment, Lo relentlessly volleys battle rhymes on "Bruce Libra," and a variety of biblical references are flipped on "The Last Supper Nova." Lo doesn't have a teammate to share the ball with this time, but he doesn't have a problem putting up 40 points on the board himself. As he raps on "Galactica:" "Still in my prime, you ain't fucking with my Optimus/ Optimist."
The Looma (another acronym: The Legends Of One Man Army) sees One Be Lo taking a leap forward: It's a five-part audiobook that combines the stories, song and album titles, and lyrics from his previous work into an anthological sci-fi epic. Think Game of Thrones and Lovecraft Country fantasy vibes merging with abstract, spoken-word underground rap: civilizations, tribes, and dragons, combined in a universe of One Be Lo's catalog. It's a lot to keep up with, even for longtime fans who know his lyrics forward and backward, but don't worry: his artist page has lyrics and a glossary for listeners to read along.
One Be Lo's skill set can measure up to anyone's, but his albums are usually self-contained, with production and guest appearances courtesy only of his crew or from musicians he enlists for an entire project. Baby (Being A Black Youth) is different: it's his first album to really cash in on some of the underground rap star power that comes from a 20-year indie rap Rolodex. "Battle armor built young (Go Harder)" enlists fellow Michigan rap titans Black Milk and Guilty Simpson, "Be always beside you (IYWMTS)" uses a heavenly sample to harness relationship rhymes from Jean Grae and Phonte, and "Barbecues and back yards (Live at the BBQ)" glows with nostalgic summertime vibes courtesy of Devin The Dude, Zumba of Zion I, and Melanie Rutherford. Lo also gets even more granular with the acronyms, applying them to every song instead of just the album title. Production is handled by Lo and Seattle producer Eric G, with scratches by DJ Abilities, resulting in a solid assortment of sample-flipping boom bap that goes down easy.