LABEL PROFILE
How NC4K Brought Kyoto Club to the Masses
By Patrick St. Michel · January 10, 2023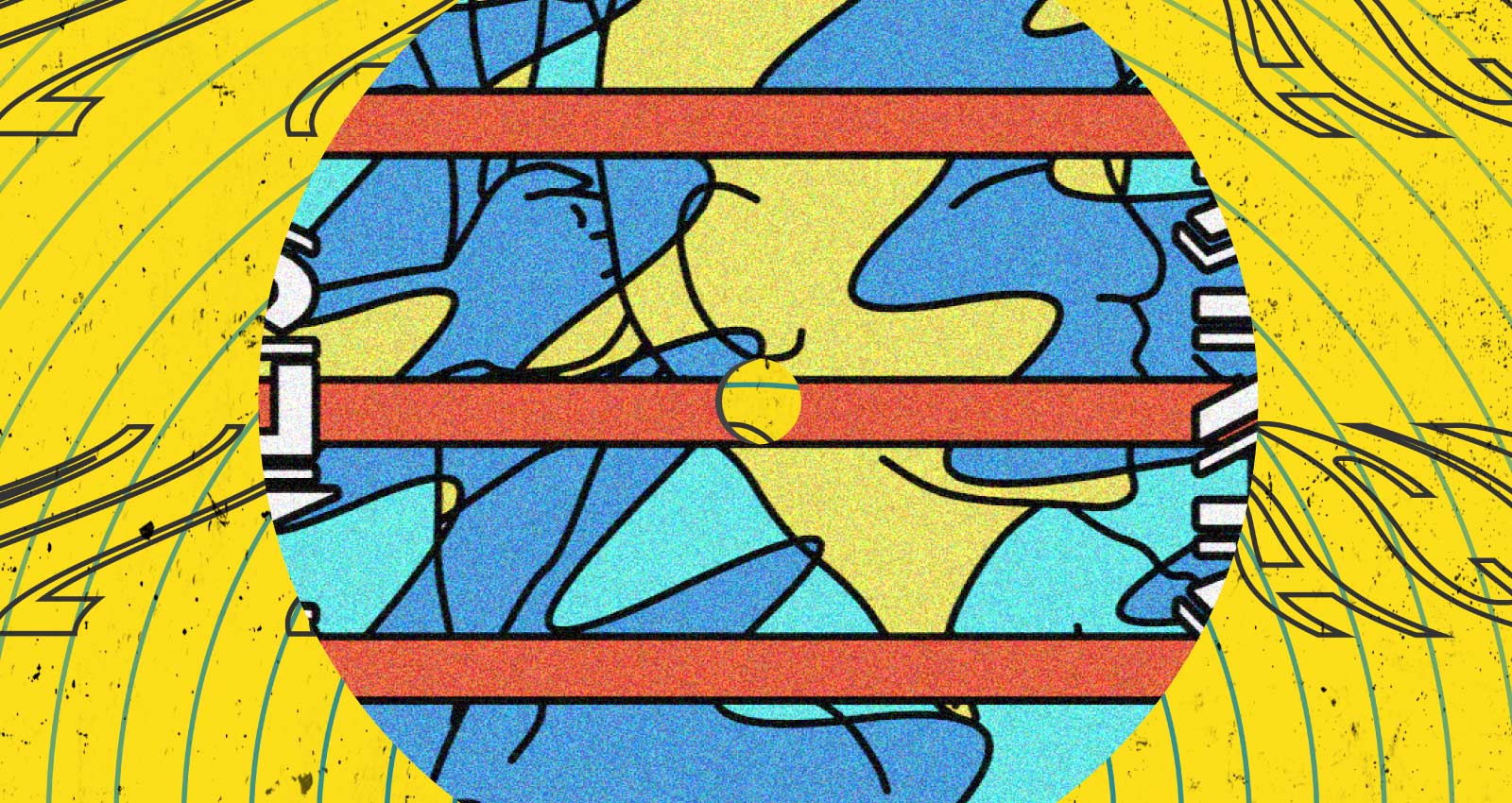 Few associate Kyoto with clubbing. Travel guides present Japan's capital city Tokyo as the place for all late-night revelry, with a seemingly endless sea of neon lighting cast over people moving between venues. The ancient capital, instead, offers room for reflection: temples, shrines, and rock gardens intended for meditation.
The founders of Kyoto dance label NC4K want the world to know about all the talented electronic artists creating club tracks in their hometown and the surrounding Kansai region. More importantly, they want to foster a community that can thrive independently.
"We want to prove we can sustainably create music without having to go to Tokyo," producer and co-founder Stones Taro tells Bandcamp Daily over Zoom from his Kyoto home. "We can still make a scene here, doing all the activities in this area."
Founded five years ago, NC4K ("No Collar 4 Kicks") highlights artists dashing between dance styles, with their catalog to date featuring house, jungle, UK garage, and much more, often intersecting across the course of a single release. Local producers Stones Taro, Lomax, Mori Jarriem, and Jomni (the final two making up the unit Pee.J Anderson) started the label as a way to experiment with styles that they might not have been able to do for other imprints with established sonic and aesthetic boundaries, drawing from their collected experience soaking in the history of house music.
"At the time we started, lo-fi house was mainstream in dance music, but we didn't feel like it was something we could 100 percent dance to," Lomax says. "But then we saw DJ Fumiya Tanaka starting to mix lo-fi house into his sets," he continues, referencing one of Japan's most prolific techno producers and a Kyoto native. "We felt new possibilities…maybe there's more we can do with mixing."
That's a creative mindset that mainly flourishes in Kansai and Kyoto specifically. The sprawl of Tokyo allows for myriad musical communities and parties to flourish, allowing anyone to find their own little nook to bury into. "But there, a house party only attracts people who love house music. Techno heads only go to techno parties, so on and so forth," Taro says.
Kyoto, on the other hand, is compact. NC4K's founding members think a constellation of bars make up the bulk of where they can play dance music, with two larger clubs catering to their tastes: Metro and NC4K's home base of West Harlem, a former cabaret transformed into an underground venue.
"At West Harlem, they have so many parties—techno, house, reggae just to name a few—but unlike Tokyo, people get along with other musical cultures and cross over with them, even if they aren't a part of those cultures," Taro says.
That creative openness has bled over to NC4K's recordings, which invite creators from across the country and beyond to contribute, further shaping the new sound of Kyoto. "I think they've marked a sea change in terms of what the predominant underground style is in Kansai," Andrés Claramunt, an Osaka-based electronic artist who has released through NC4K as Archipelago Soundsystem, says, believing that they helped shift Kyoto's signature dance sound. "They were a pivot away from the 2010s, of EDM and future bass and 'kawaii bass,' which were largely white American inventions, towards the Black American or British roots of dance music, or towards continental sounds like Kraftwerk," emphasizing how this offered him and like-minded listeners sanctuary.
The NC4K spirit is starting to spread. The founders themselves have shared tracks via other labels around the world and even landed collaborations with mainstream artists, such as Stones Taro remixing Japanese rock band D.A.N., and worked with ascendant hip-hop collective tokyovitamin. They've appeared at major Japanese festivals as well, along with dates across the country.
In conversation, though, they sound most proud of what they've done in their home. "We started NC4K as a label before a party, so we were recognized as a label first, which, when we put on events, meant not that many people," Taro says. Now, their label showcases and gigs around Kansai have taken on a life all their own, thanks to the same open-minded approach to dance music on display in their releases. "Nowadays, there are lots of people coming. They are staying around in the club until the early morning."
"West Harlem has got one of, if not the, best sound system in Kansai," Claramunt says of the label's go-to club. "NC4K always made it feel like home," pointing out a gender diversity sometimes lacking at other Japanese parties, slicker visual elements added over the years, and their ability to "protect the overall vibe" via the music selected. Even as NC4K grows, its base remains in Kyoto.
Below, some of the most notable releases from the label's history.
---
Stones Taro
Scarf
Merch for this release:

NC4K's founders met while attending university, a common way for creatives to come together in a city brimming with colleges. "Stones Taro was doing hardcore music, and Pee.J Anderson was doing like jazz and fusion," Jarriem says. "We were from totally different music cultures, but we became friends and got along." They all encountered Lomax at a party held at Osaka's BHANC soon after.
After graduation, the friends kept creating music independently and playing shows around the region. They decided to formalize their collaboration in 2017. The first official release "Move" by Jarriem and Jomi's Pee.J Anderson project, matched woozy synths with livelier percussion, while Osaka's Paperkraft turned fading samples into club shufflers on their first offering via the label. The most telling glimpse at where NC4K would go came via Stones Taro, whose Scarf explored new perspectives on lo-fi features. He melded wispy electronics with mellow funk on the title track, nudging it further towards the deep end on "Deep Camel." Early on, they were seeing what new possibilities an en vogue trend contained—and digging in.
The founders behind NC4K never envisioned it as a label reaching out to big-name strangers for marquee releases but rather a tight-knit group letting like-minded creators into the fold. "It has always been about making more friends and expanding…our friends increased naturally," Lomax says.
Less than a year after debuting, NC4K underlined their closeness and showed how their circle was growing on the label's first compilation. The founders each provided a song, but they also made space for fellow Kansai creators like Paperkraft and DJ heavyweight blackglassG. They also looked beyond their region, giving space to a rattling number from the producer Andrew (of Tokyo's Trekkie Trax), while also fielding demos from beyond Japan. "We even still listen to that compilation album a lot even though we've put out four total."
One of the benefits of working so closely with your friends is lower stress levels. "When we want to release from a label, we always have to think about the label's 'color,' like is it more house or techno, and we can't really express our music 100 percent," Jarriem says. "With NC4K…we are buddies. We don't have to think about that. We just want to create what we want to do."
The confines of their own label have aided duo Pee.J Anderson's various experiments over the years, with the members being able to point to highlights showcasing their house side (the euphoric "Earth Steps" off of the label's third compilation) and UK garage instincts (their remix of the song "Mirrorcode"). The pair's 2020 Hermitage—to date the only non-compilation full-length album released from NC4K—highlights the freewheeling creation the label allows, showcasing house, garage, breakbeat, and much more across its 11 tracks.
At first glance, Mirrorcode looks like NC4K nabbing a big outsider artist. Producer/DJ Sekitova is a common presence in Tokyo's club scene; isagen plays similar clubs in the capital, releasing albums via Tokyo-based labels like Trekkie Trax. This release, though, was more like a Kansai artist jamboree, as Sekitova and isagen both hail from the region. To celebrate, NC4K brought in an array of other area-related artists to remix the pair's ode to throwback breakbeats, including fellow breakbeat enthusiast RYOKO2000 and sample-slicing creator in the blue shirt. "It was like a Kansai community reunion…we had a party too," Jarriem says.
Merch for this release:
Vinyl LP
When discussing NC4K's most memorable releases, Seed Man's name always gets dropped. A large part of that universal recognition stems from its symbolic importance as "the boss," as hinted at in the description: the label's first-ever vinyl offering, it marks the culmination of its members' lifelong dreams as creators and curators.
Seed Man goes beyond just a good story, though. "It combines house, jungle, and breakbeats into one…it really captures the atmosphere of an NC4K party, and the label in general," Lomax says. "The song 'Magma Diver' is my favorite…he plays the vocal sample really fast, and that element is really reminiscent of ['90s jungle label] Moving Shadow."
The NC4K compilation albums tend to reflect the music playing at the label's parties, Stones Taro says. They're constantly in flux. "Right now, it is trance sounds and electro. More Italo disco vibes and breakbeats, of course. If you go to a club in Japan right now, you can hear all those sounds. We are reflecting that," Taro says.
The roster of artists on their latest label collection continues to spread beyond just their home region but also makes space for staples of the Kansai electronic scene, such as party-starter Pharakami Sanders and Osaka's Limited Toss. However, it's what NC4K is doing for the next generation that is even more important.
"I think with NC4K, it's the right people in the right ascendency doing the right thing, which is trying to lay the groundwork for future artists," Claramunt says, specifically bringing up a 2019 event held at influential Kyoto music bar Cafe La Siesta wherein Stones Taro, Lomax, and other local creators put on a sort of educational night teaching young creators everything about creating music on one's laptop, from track construction to file architecture.
NC4K has undoubtedly inspired a new generation of creators in Kansai, including artists gathered under the fledgling Kyoto dance collective Arkuda Label. The label's focus on the future helped inspire Claramunt to start his own label finestylewest, which spotlights creators exclusively from Kansai. "They were the spark…a big inspiration for many people."
As for the founders themselves, they still keep it tight. "Our bond has gotten stronger," Stones Taro says. "We started supporting one another more than when we first met. We know that as we get older, it's going to get hard to keep doing music, so we need to support one another to keep creating for a long time."