LABEL PROFILE
Trekkie Trax is On the Pulse of Tokyo's Electronic Underground
By Patrick St. Michel · April 16, 2018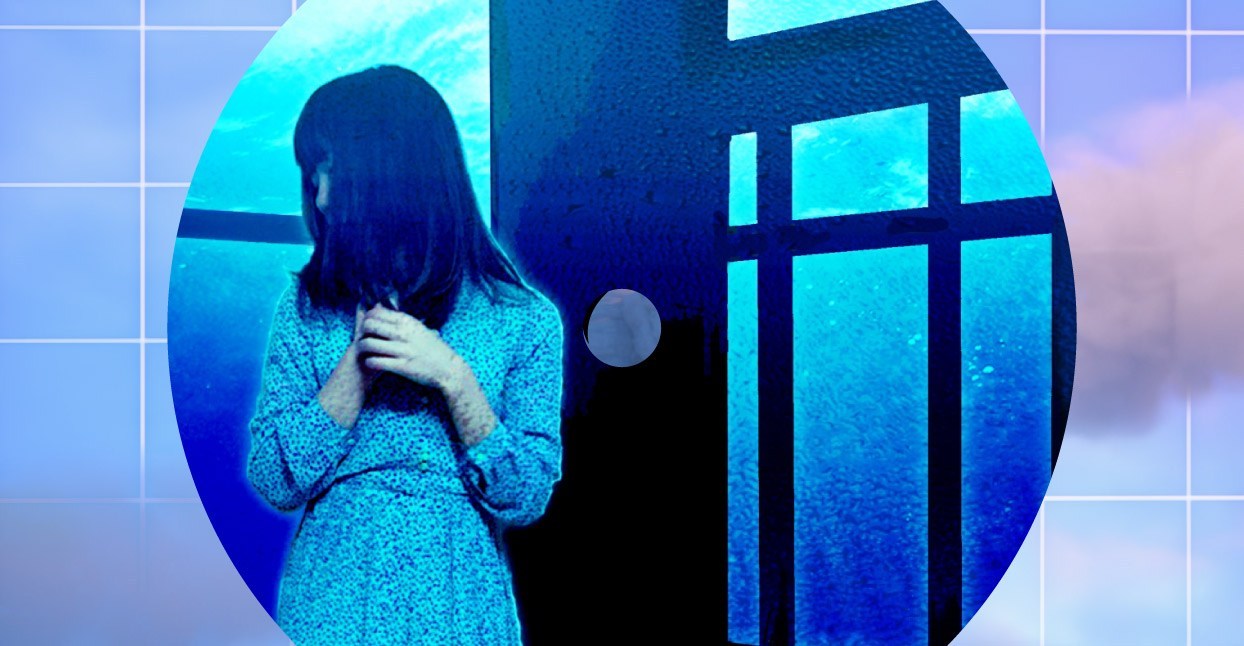 Japanese electronic music label Trekkie Trax came together because a group of adolescents wanted to spin tunes somewhere—really, anywhere—in Tokyo. "I still remember my brother Taimei, who records as Carpainter, searching Twitter, looking for anyone who needed teenage DJs. We didn't have any kind of musical connections," co-founder Seimei Kawai says, from a restaurant in the Shibuya neighborhood of Japan's capital.
That online sleuthing lead them to an event called Under 20 held in the Akihabara neighborhood, organized by an artist named DJ Bank. Though sparsely attended, it allowed Kawai and his brother to connect with two other like-minded artists, named Eiji Ando (who records as andrew) and Tomoki Yonezawa (Futatsuki). Under 20 ended after one year, due to the fact that venue closed, but the five producers continued to collaborate.
Trekkie Trax is currently celebrating its fifth anniversary as a label. In that time, it has become one of the nation's most visible and important internet-centric outposts. Domestically, they've given a new generation of artists and fans an online platform to celebrate the array of sounds they love, from festival-sized EDM to juke. They've also built connections internationally, releasing music from non-Japanese artists such as Ducky and Foxsky, while artists such as Masayoshi Iimori and Carpainter have caught the attention of creators such as Diplo, RL Grime, and Ryan Hemsworth.
Trekkie Trax, importantly, represents a generational shift in a long-running fixture of Japanese underground electronic music: the netlabel, a type of label where all activities primarily happen online, with music often given away as a free MP3 download. "At that moment, around the mid '00s to 2010, netlabels were a hot thing," Kawai says. The founders of Trekkie Trax admired the genre-free-for-all approach of netlabel pioneers such as Maltine Records and Sabacan Records.
"A lot of labels started appearing after Maltine, especially around 2010. These small netlabels were trying to put out music using a lot of samples from anime or idol music, like Maltine did," Kawai says. "We kind of got bored with that. We like it, and it's always surrounded us. And current Trekkie Trax stuff is very influenced by that…but to stand out from those labels, to compete with that, we should make something all our own."
Trekkie Trax's omnivorous approach to dance music tapped into a shift happening in Japan's music community as listeners started flocking to EDM. "Because of the EDM boom, a younger generation—and some older people, too—started listening to electronic music," Kawai says. He adds that the environment towards clubs has become more friendly in Japan too, after a dark period where police cracked down on parties.
"When I started DJing with Trekkie Trax, I was obsessed with Skream and Benga, dubstep from London. I would play a lot of that stuff—even Skrillex's stuff from that period. But people didn't know how to dance to 140 BPM. Within these three or four years, people know how to dance to those songs. And now you can hear trap music or dubstep in any club."
You can also hear it in recent J-pop—including songs produced by Trekkie Trax artists such as Carpainter. Trekkie Trax has grown beyond being a classic netlabel; its CDs now appear in physical stores in Japan, and the label has embraced music platforms such as Bandcamp ("I'm from a point in netlabel history where a lot of people thought you needed your very own homepage and service system to be a netlabel," Kawai says). Yet they stay true to themselves, and continue to find a balance between their roots, and something bigger.
"My interest in music is shifting towards bassline house or U.K. grime. Trekkie Trax is shifting, too," says Kawai. "Kind of going back underground and away from the festivals."
Below, Kawai takes us through the five releases he and the other co-founders of Trekkie Trax see as most important to the label so far.
"This is Masayoshi Iimori's debut EP on Trekkie Trax. This is one of the important starting points of his music career, and just as important in the history of Trekkie Trax. After getting support from Giraffage, Mr. Carmack, UZ, Carnage, and more, his life was changed. He went from a small town in Fukushima and through a small independent music label in Tokyo, to releasing with big names like Diplo's Mad Decent or A-Trak's Fool's Gold. I'm happy with all the music that comes from his studio."
"It's a compilation album that we also released as a CD. This is a guide to many of our early hits such as Cola Splash's 'Curry Drinker,' Lolica Tonica's 'Make Me Feel,' or Matra Magic's 'Synthetics.' One of the highlights is an early Snail's House song. This was the period in which people recognized us as a future bass label."
Merch for this release:
Compact Disc (CD), Vinyl LP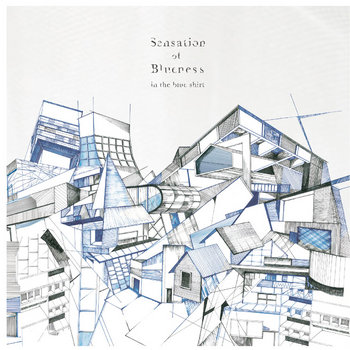 "Kyoto-based musician In The Blue Shirt is one of our best friends. I was so stoked when he decided to release an album on our label because we convinced him to do it. His sound is so original and distinctive, with well-organized and iconic chopped vocals. I can find some influence from the local Kyoto indie rock community, too."
Merch for this release:
Compact Disc (CD)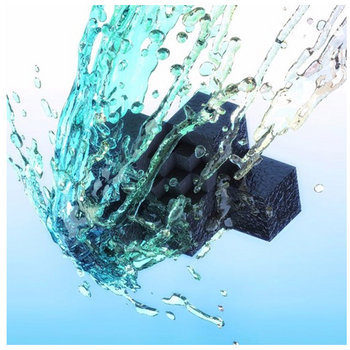 "This Maxo album we released in 2017 is one of the most popular releases on our Bandcamp. This album is important for us, since this was the first time we released a CD by a non-Japanese artist. Maxo wanted to release his album physically in Japan, so he sent us demo songs first. We're all happy that he chose Trekkie Trax because we've been huge fans of his style. I also like how Carpainter, my little brother, made a remix using his '90s happy hardcore background. It's unusual for him to make something like this, but this remix works well!"
Merch for this release:
Compact Disc (CD), Vinyl LP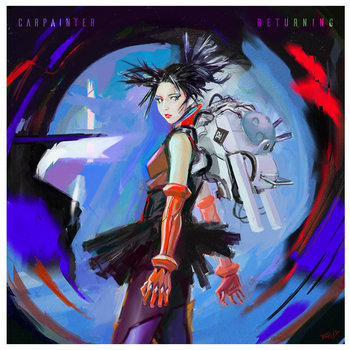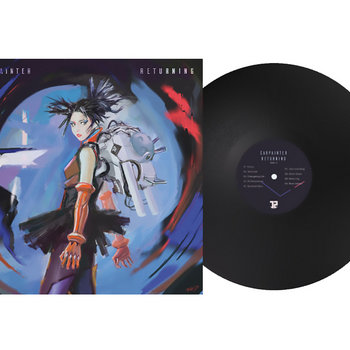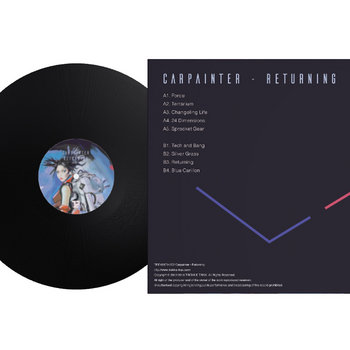 "Returning is Carpainter's latest album, which was out in late 2017. He has released many EPs and singles on Trekkie Trax, so it was tough work choosing just one. But as this is his latest release, you can find the most updated Carpainter, combining older European rave music styles with current American-type beats and bass music. However, I'd like to say Carpainter continues evolving still. He makes music literally everyday, and he is the core of Trekkie Trax."
-Patrick St. Michel