LABEL PROFILE
American Dreams Records Moves Beyond American Damage
By Erin Margaret Day · October 07, 2021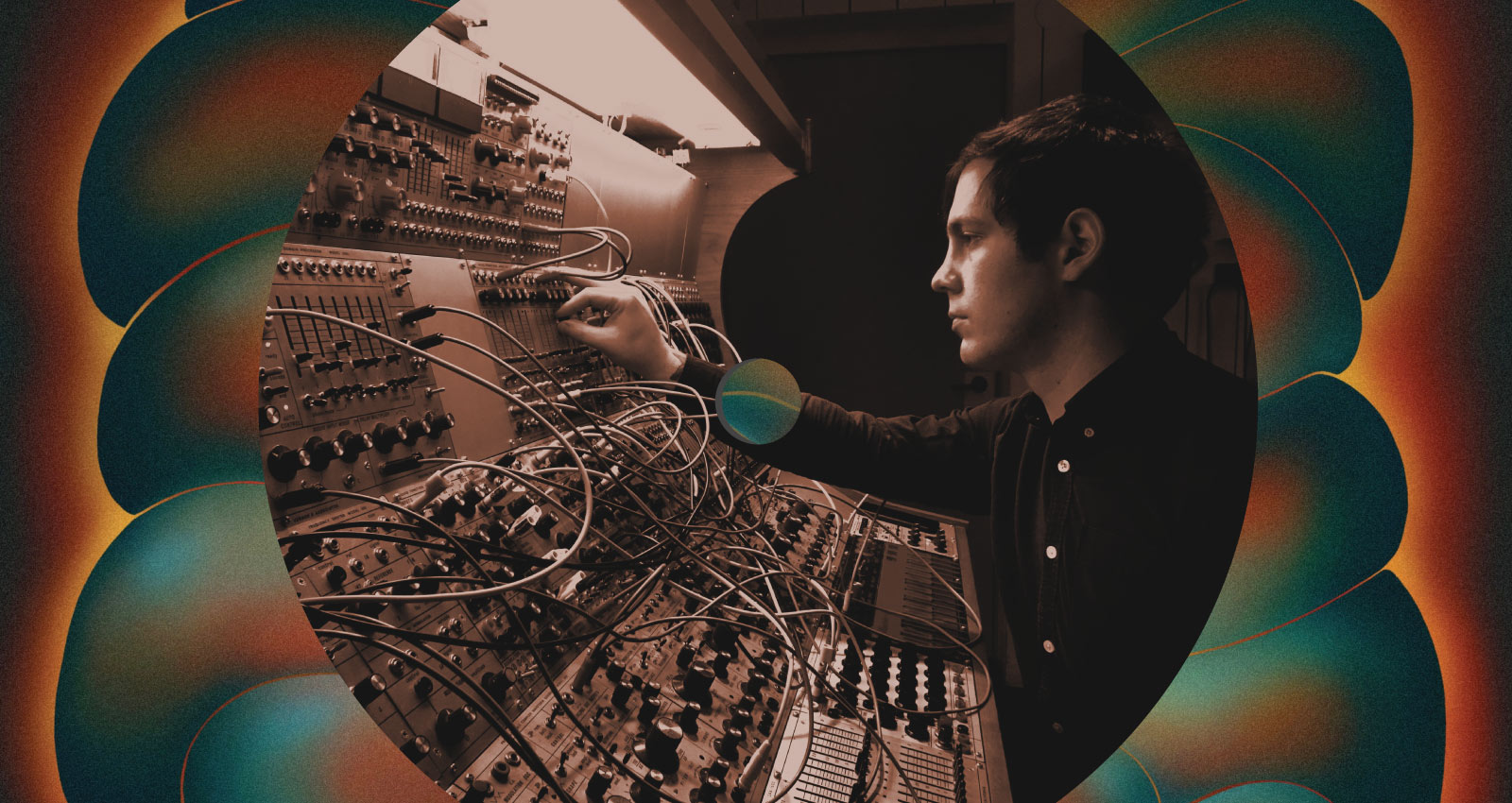 In the beginning, Jordan Reyes was working a day job in beverage distribution while working in the distribution of noise, industrial, and power electronics music on the side. That distro and tape label was called American Damage and it was centrally about the ugliness at the center of American history and society. "Everyone knows that the United States was built on violence, inequality, and an imperialist mindset," Reyes explains. While he never asked artists to detail what aspects of society they were critiquing in his curation of American Damage, most everything the label put out wrestled with violence and darkness, and all of it was created by U.S.-based artists. However, he wanted to focus more on what is inspiring despite the ugliness: that there is still beauty, that people still hope and endure, that we can move with intention rather than resignation—everything represented by the other side of the complicated American coin: dreams.
Tired of not being able to find a label who would commit to releasing his solo work and the work of the legendary Chicago avant-gospel band Ono, of which he is a member, Reyes decided the music was worthy of vinyl and that they did not need anyone's permission. He got a fair quote from Chicago record-pressing plant Smashed Plastic and let the dreams begin. Eventually he acknowledged he had too many eggs in disparate baskets and needed to concentrate on the label, so he sold the distro's entire stock to Blake Karlson (Chicago Research) to focus exclusively on American Dreams—a move which paid for the deposits on many of the records in their 2021 release schedule. The label has grown rapidly and now houses two additional imprints: American Decline, for heavier releases, and Mended Dreams, a new imprint run by Claire Rousay, largely to consolidate and reissue her back catalog. In addition to partnering up with Rousay, Reyes has also hired labelmates Eli Winter and Devin Shaffer to help run the label. Winter handles digital distro, in-house public relations, and the occasional writing of album bios, while Shaffer handles social media and art design.
Though Reyes, who occasionally contributes to Bandcamp Daily, was initially focused on putting out his own music and the music his friends were making, he's increasingly begun expanding the American Dreams roster by cold emailing people whose music he likes, or having artists reach out to him because they think they have something that connects well with the focus and ethos of the label. Often these collaborations have led to close friendships. "I can pretty much tell exactly how well our record is going to do based on how close of friends we become."
Despite serious record pressing slowdowns and shortages in the global supply chain, American Dreams has released an enormous volume of music in just about two years. Discussing the rejections he received from other labels and the lack of opportunities in the music industry which led him to start him to start American Dreams, Reyes is clear: "One thing people can't deny me is that I work hard as fuck." Reyes can be spotted all over Chicago, working tirelessly after dark on a weekly basis attending promotional events, working the merch table for artists on his label, and even occasionally playing a set of his own. While the success of the label has been an excellent surprise, selling a lot of records is a lot of work and means increased overhead expenses to order larger quantities, so Reyes is going to be releasing less and working on a better work/life balance in the coming year. This is fortunate for all of us, as we'll now have time to get caught up.
Here are ten releases which communicate this experimental label's commitment to inclusivity, community, storytelling, and cohabitation with the natural world.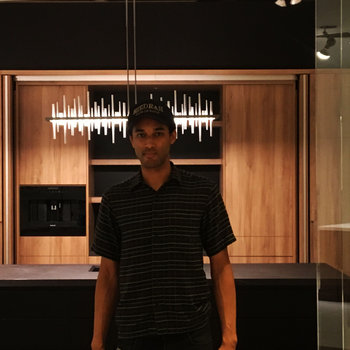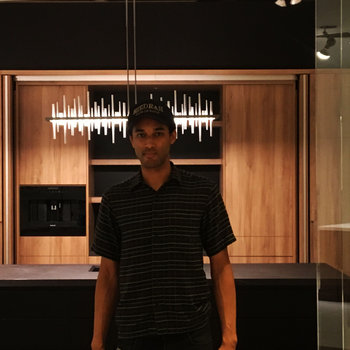 Merch for this release:
2 x Vinyl LP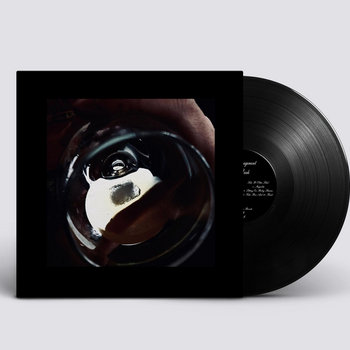 Putting out a double LP as a second release really felt like "putting your skin in the game," Reyes says of After Dark. Forest Management's John Daniel lived a block from Reyes in Rogers Park when American Dreams first started. Reyes had always loved Daniel's music and got a good vibe from him, so he told him that he would like to put out the next record. At the beginning, Reyes fancied the idea that every record he released would have to involve synths and all the album art would be made by outsider artists of his choosing—After Dark made it clear that neither rule was going to hold, and that artists should control their art.
Composed exclusively with sounds from a recording of Debussy's La Mer, Daniel utilized effects and edited sequences to create an album which very closely approximates what the sea might sound like in focused pieces which still manage to drift in and out of one another like waves. The album is inspired by the priority Debussy gave to feelings over thought in music, an idea which Daniel admires for having been quite avant-garde at the time. Since the entire album is made from a recording of the original Debussy on vinyl, complete with the pops and hisses of an older record many times rotated, those who listen to After Dark on wax may enjoy the sense of lineage between the two documents created through the medium as well as the music.
Merch for this release:
Compact Disc (CD), Vinyl LP, Vinyl,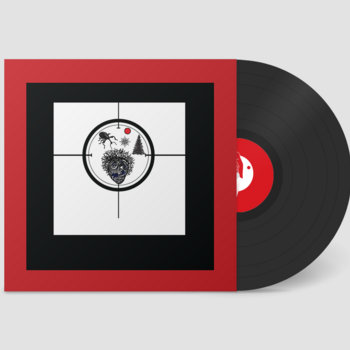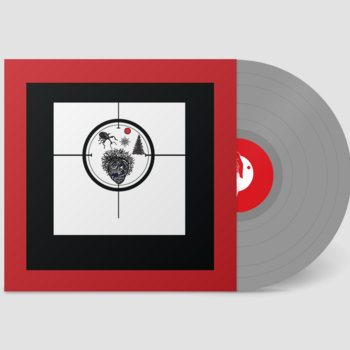 Ono have shocked and blessed Chicago and the rest of the world for over forty years with their commitment to "experimental performance, noise, and industrial poetry performance […] exploring gospel's darkest conflicts, tragedies, and premises." They began working on this record in 2015, but did not finish it for another three years. It was released in May of 2020, directly preceding the murder of George Floyd by Minneapolis Police, which catapulted the nation into a summer of civil rights protests, memorials, riots, and increasing police violence. Many statues of colonial figures, slave traders, and associated racists were destroyed in the United States as well as abroad, making it a powerful time for this album to finally arrive. While very informed by the past, both through historical documents ("20th August 1619") as well as constituent members's lived experiences ("I Dream of Sodomy"), Red Summer is ultimately an album which seeks to address the fact that racialized violence cannot be easily bookended and has never stopped. While this album is certainly angry, its anger is fundamentally humanistic—an address of enormous and continuous harm which doesn't answer any questions, but rather pushes us further into consideration and inquiry.
In addition to being a current member of Ono, usually only witnessed singing in the band, Reyes puts in a lot of recording production work in the studio; handles administrative and correspondence duties for the band; archives their output; and keeps it in circulation.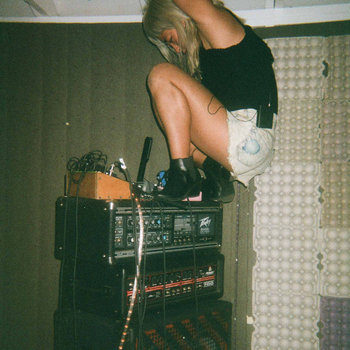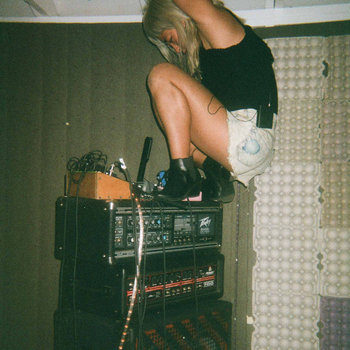 Merch for this release:
Vinyl LP, Vinyl, Compact Disc (CD)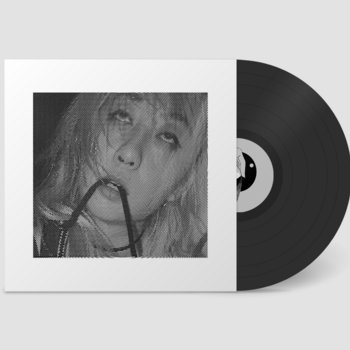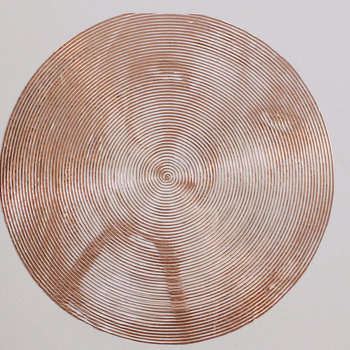 Evicshen, aka Victoria Shen, has been working with electronics as an experimental sound artist for over a decade. Her practice centers around testing (or eliminating?) the boundaries between aural, visual, and tactile art. "For Victoria, the concept comes first," Reyes explains.
Composed on Harvard's Buchla 100 and Serge modular systems, Hair Birth is a great choice for someone who might enjoy their harsh noise with more organic tones. The special-edition version of the record, in particular, speaks to how Shen bridges the gap between physical form and musical content. The artwork is overlaid with a continuous copper coil that connects to a standard amplifier, and by placing the LP in front of a magnet, the jacket becomes an active speaker membrane. The whole of Hair Birth comes alive in your hands as you listen.
Reyes went to Shen's lab at Harvard to help her produce copies of Hair Birth for a few days, but he estimates he spent about thirty hours assembling them, whereas Shen maybe spent two hundred. The process was very involved and, by the combined look/sound/feel of it, her work will only continue to push the boundaries of multimedia art.
Merch for this release:
Compact Disc (CD), Vinyl LP, T-Shirt/Apparel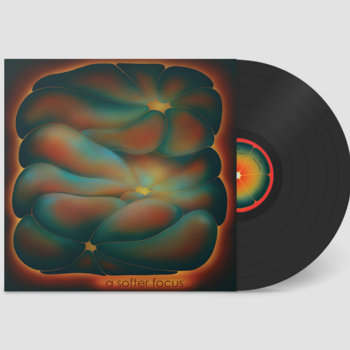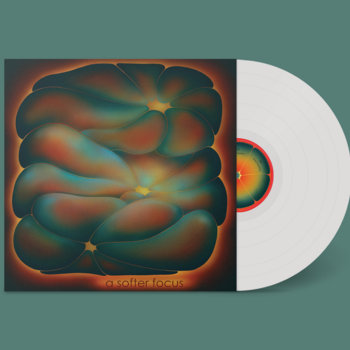 A softer focus has been widely described as Claire Rousay's "most accessible work yet," and we must acknowledge that—in this case—it is true. Whereas before, Rousay's oeuvre felt more abstract, almost random, and more akin to the music of composers like Sarah Hennies, a softer focus takes Rousay's musique concrète techniques in a much more melodic direction, closer to labelmate Devin Shaffer or apologist's dirt road tape on Full Spectrum. Reyes cold-emailed Rousay to ask if she would put something out on the label, only to have her essentially ask him what he wanted to hear. He told her there was some "melodic stuff happening in a heavenly touch" and that he would like to hear more of that. This record is a great example of how Reyes knows a record will be successful by how close of friends he becomes with its creator: it sold out of its first pressing very quickly, the two are now in constant communication, and Rousay has her own imprint at American Dreams which will better organize and secure her future work as a composer deeply worthy of our attention.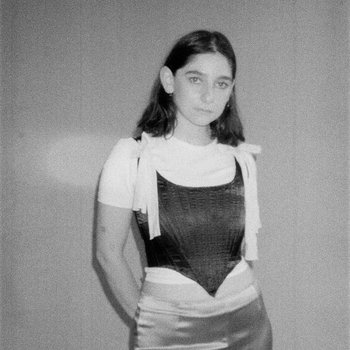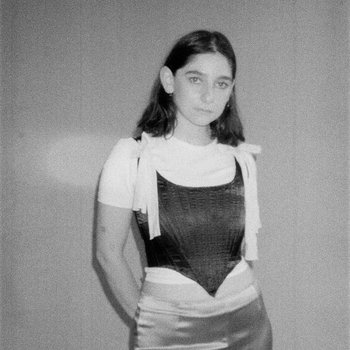 Merch for this release:
Compact Disc (CD), Vinyl LP, Bag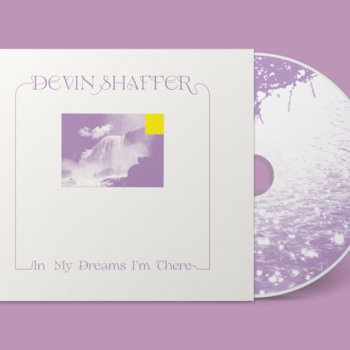 Originally, Devin Shaffer was supposed to release a tape on American Damage, but as American Dreams began to take shape, it became clear that it was the ideal environmental and intentional setting for this album, which is dreamy and beautiful in its combination of pop, folk, and experimental approaches and traditions—a record Reyes considers "emblematic" of what he is trying to go for with the label. One tenet of the American Dreams ethos is storytelling, and this is a record with a clear narrative arc, a movement from a space of fear and anxiety to one of acceptance of vulnerability and love, where fear fully acknowledged is conquered and lush dreams open up space for presence and desire.
Merch for this release:
Vinyl LP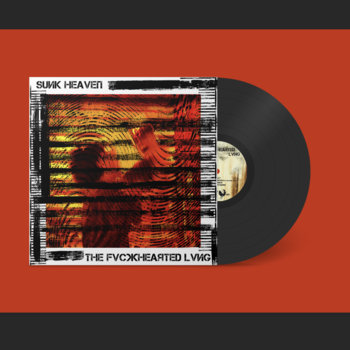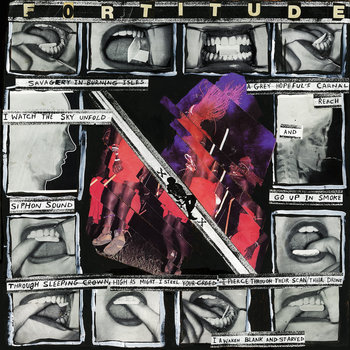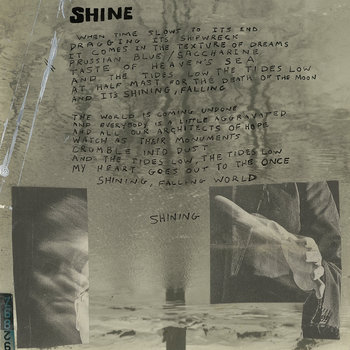 Reyes describes the work of Sunk Heaven, aka Austin Sley Julian, as "insane." "That's one of the craziest records on the label, I would say," Reyes says. "Austin is a genius who I don't think has really gotten his time of day, and some of that is because his music is just that radical, his artwork is uncompromising." He is also one of the best performers Reyes has ever witnessed live. On this record, industrial textures overlap with dubby ones and techno pulses; operatic vocals rise from strained, shouted ones; and harsh noise pans in and out. It's a noisy album, but it doesn't fit into most definitions of "noise," even by the irreverent standards of his no-wave pedigree (his mother is Cynthia Sley, of pioneering post-punk band Bush Tetras). This album feels closer to a lyrical epic than anything fitting squarely in either of those arenas. Centered in narratives about creatures which lie dormant before self-excavating from the Earth, this album seeks to understand the tension between survival and dormancy, how we stay alive without tuning out due to the endless onslaught of violence and brutality.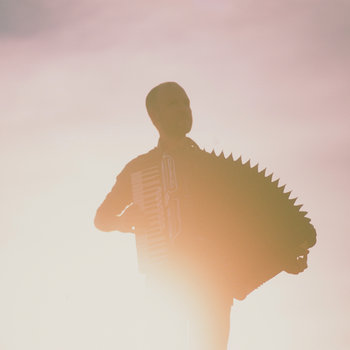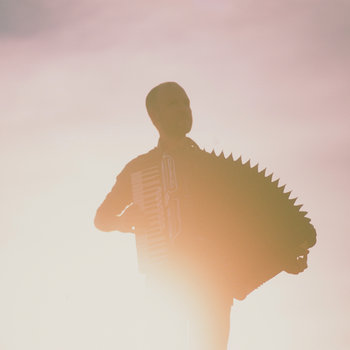 Merch for this release:
Compact Disc (CD), Vinyl LP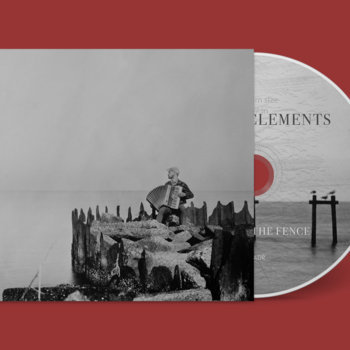 Walt McClements intended for this record to be about the threads connecting the sort of hidden worlds he has occupied throughout his life, naming "underground and punk communities, trainhopping, and gay cruising grounds" as examples—communities where adventure, joy, and ecstasy often exist alongside homelessness, addiction, and traumatic life experiences. And, indeed, each note here sounds as though it emanates from the exact point at which pleasure and pain intersect. Reyes points out that a lot of ambient music can be very "clinical," yet McClements manages to make it feel very of the world—the entire thing feels like it is a story being told in the open air, under the sky. Mixed and mastered by Don Godwin (Too Free, Clear Channel), this album is made almost entirely of accordion, minus organ on one track.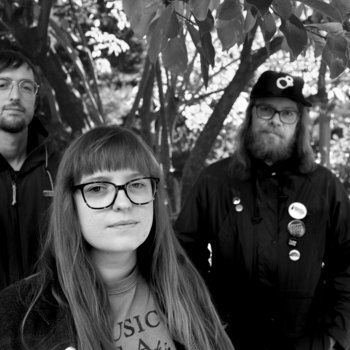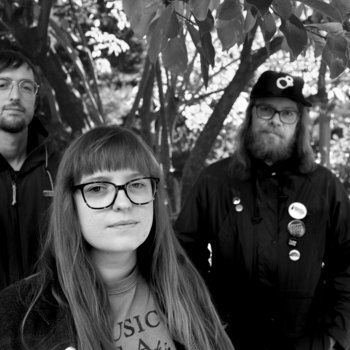 Merch for this release:
Compact Disc (CD), Vinyl LP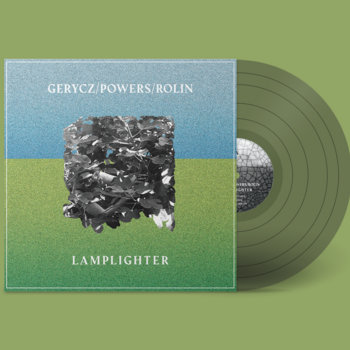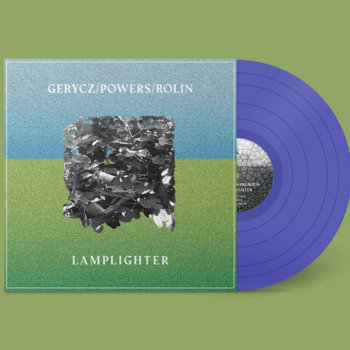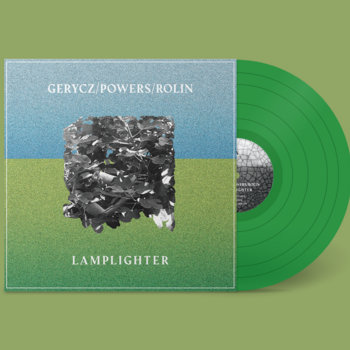 Working very improvisationally, this Ohio-based trio generated all of the compositions on this album after discussing them for a minute or less. The trio is an ecstatic collaborative effort between the Cleveland-based percussionist Jayson Gerycz (Cloud Nothings); the Columbus-based hammered dulcimer player Jen Powers; and fingerstyle guitarist Matthew Rolin, who also has a solo album dropping on American Dreams. It was recorded in Cleveland, in Gerycz's house, which is a compound that does triple duty as a recording studio, art studio, and shipping center. Paired down to five favorites from hours of recordings, it's a moment in the American Dreams catalog that "is what it is," Reyes says. "It isn't overly intellectual."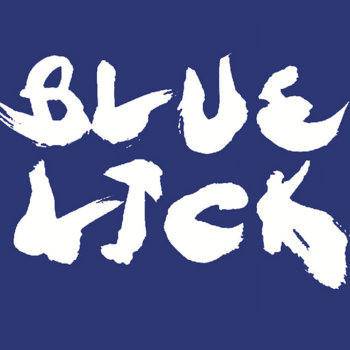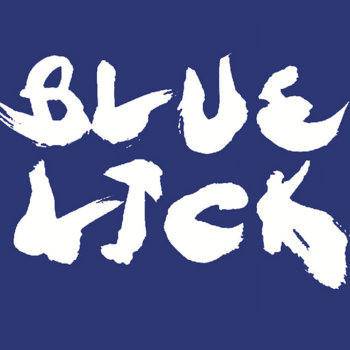 Merch for this release:
Compact Disc (CD), Vinyl LP, T-Shirt/Apparel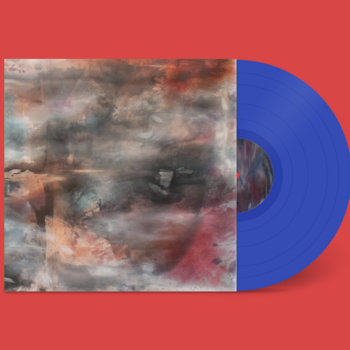 Blue Lick is a new Chicago duo comprised of Havadine Stone and multi-instrumentalist Ben Baker Billington. "It's like power electronics for smart people," Reyes says. Stone recorded a half hour or so of monologue in the dark of her closet, which she then handed over to Billington, who would listen to her vocals over and over and then make a synth patch to record on his custom modular synth made by Matthew Regula. Primarily concerned with love and beauty, this album insists on locating these things in hard and less obvious places, particularly the landscape of the Midwest, but also the reality that "what is now caressing your face was once farted out of a white woman's bleached asshole while she was calling the cops." Stone's monologue is compelling and often humorous poetic philosophy and Billington's synth work was clearly done with enormous attention to the power of Stone's voice and the meaning of its phrases.
Patrick Shiroishi
Hidemi
Merch for this release:
Compact Disc (CD), Vinyl LP
Patrick Shiroishi is the only artist to have releases on every American Dreams imprint. He used to buy both records and the Public Bath Press books Reyes would sell through American Damage, and the two of them got to talking about their mutual admiration of Japanese music. In 2020, they did a split release featuring their respective black metal projects. Early this year, Shiroishi sent Reyes this solo album, which is an extension of his work focused on the trauma of Japanese-American internment camps, as on his last album, Descension. Hidemi, however, is a much more personal narrative album, and takes its name from Shiroishi's grandfather. It is about his grandfather's experience after getting out of the camps, though he passed away before Shiroishi ever got to meet him. It is an album which represents American Dreams very well, centered as it is in the trauma fundamental to the United States and its history, but focused very much on perseverance and grace. Composed of many layers of Shiroishi playing alto, tenor, baritone, C melody, and soprano saxophones, it is the closest thing we have yet to experiencing a trio or quartet in which every member is Patrick Shiroishi.