FEATURES
FAUZIA is Poised to Conquer the World
By Sam Davies · May 24, 2022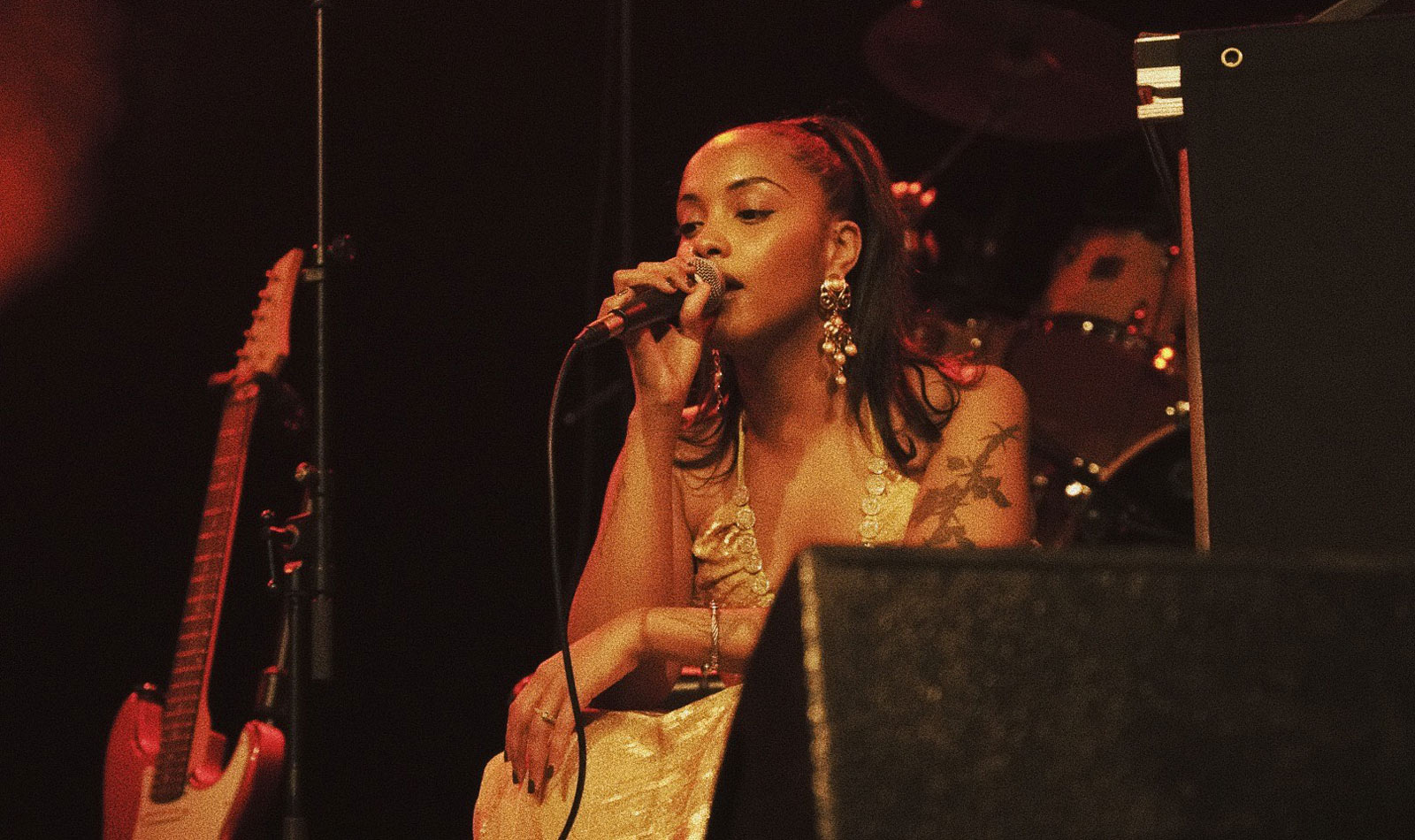 An hour into a recent mix in her monthly slot on NTS Radio, FAUZIA revealed she was doing a "water fast" and hadn't eaten anything for eight days. "Once you get to know me, you'll realize I do these really impulsive, intense things," she said. "It's just kind of part of my…um, brand."
She was taking the piss. I meet her at the Horniman Museum in South London and ask if she ever thinks seriously about her "brand." She laughs it off and says she's just being herself. It's genuine, but she happens to be a seriously charming pop star in waiting: fun, smart, independent, opinionated, quotable.
She's now 25 and grew up in East London with Somali parents. When she was 17 she fell out with them and got kicked out of her house. Since then she's used music as a long-term plan for self-preservation, working as an A&R at Young Turks after graduating from university, programming events at Yard Theatre in East London, DJing, producing, and now singing.
"Do I just say, like, 'I'm an artist?'" she says, affecting the voice of an American socialite. "I'm really struggling to define what I do now."
FAUZIA's not the only one. Her name started appearing on the internet in 2017 after she published her first mix to Soundcloud. She soon had a residency at NTS, which has been running since. They let her play whatever she wants, and she does: Andy Stott, Huerco S, Kate Bush, A Guy Called Gerald, Digga D, Beyonce, Netsky—that's just from one show—and occasionally something she's produced herself, plus endless obscurities from the depths of Bandcamp. Punctuating her selections is a comedic back and forth with FAUZIA reading out live comments as they appear on a Discord chat full of adoring listeners. At one point in her February transmission she read a message from a dismayed fan who recently saw her on Hinge. They didn't match.
She contributed tracks to compilations on R&S and Haus of Altr, then the buzz intensified in summer 2020 when she dropped three EPs that were as good as anything released that year: a mix of jungle, grime, house, techno, and R&B, influenced by Brandy and Monica and SKREAM. The unbelievable are you hoping for a miracle? even featured a rare vocal from Kelela.
.
00:10 / 00:58
Record labels started emailing, asking for demos. That's not how Fauzia does things. "It's like they want you to sell yourself to them," she says. "They want you to create a whole project, with no resources or support, to then hope you're gonna sign me? I was coming back like: 'I don't have demos to send you, so if you're not interested, that's fine.'"
And it was. Those first few releases were big enough that when the pandemic cut off all her DJ bookings she was still able to make a living. "It changed my life," she says. "I never knew you could make money from music." In early 2021 she dropped flashes in time, all but doing away with club beats and tagging the EP as "grunge" and "folk" on the Bandcamp page. She also used her own voice, singing wistful, breathy nothings through a prism of effects.
.
00:10 / 00:58
Merch for this release:
Cassette
By this time she had also gone viral on Twitter after publishing an emotive, since-deleted thread about so-called "bass music." "It's just a terrible term," she says. "It's racist as fuck, because it's a way of putting together all music that isn't like 'white techno,' usually jungle, dubstep, grime, so all the Black music lumped together. It's just a way of diminishing all this work."
She doubles down. "Ok, my hot take: I think music journalism is one of the worst things to happen to music." Well, this is awkward. But it's not easy to stick up for my profession these days, especially when FAUZIA mentions a review of one of her early releases where the writer got the name of the track wrong.
Since her last single "time" FAUZIA has been quiet for more than a year on the production front. "I'm pushing the date back again after listening back to the mixes," she told me last month over email, a week after promising to drop a mixtape, "just really trying to get this one right."
She's now in talks to sign with a label that she says gets exactly what she's doing, but plans to drop a final independent release this summer. It feels like a vital moment in her career, perhaps spelling the end of FAUZIA, the exciting up-and-comer—and the start of something bigger. I ask if she wants to be massive, like the next Grimes or FKA twigs.
"As an artist you don't really have a choice about what you become," she says. "It's an expression of self rather than 'I'm an artist' or 'I'm a brand' or 'I'm a pop star.' I've always seen myself as a businesswoman. I've always said I wanna make a million by 30. And I think it could happen."