LISTS
A Guide to the Discography of Dance Music Innovator A Guy Called Gerald
By Nadine Smith · March 18, 2021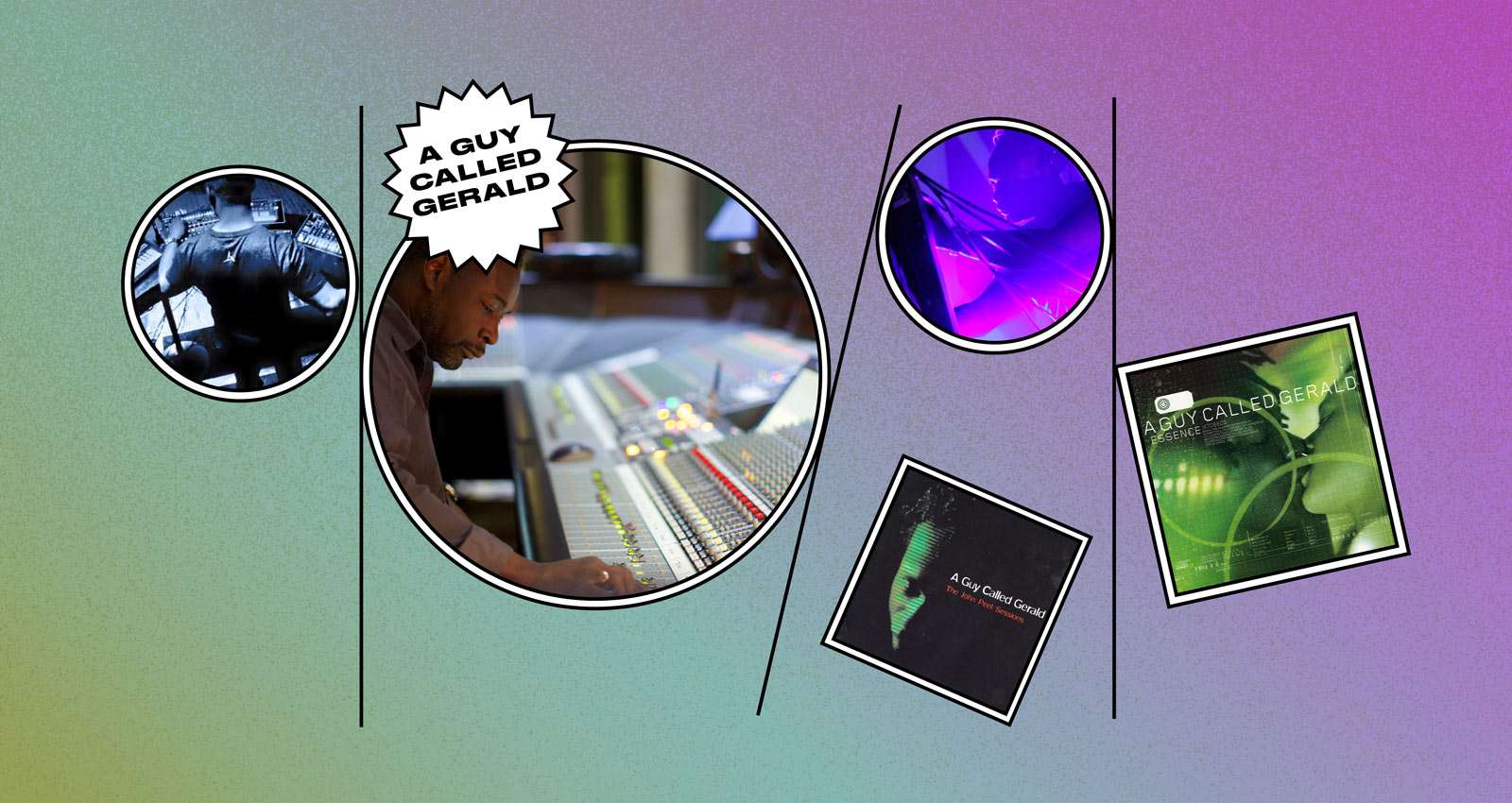 His artistic name is unassuming, modest even. But A Guy Called Gerald, government name Gerald Simpson, is one of the most formative selectors and innovators in dance music history, British or otherwise. Though a pivotal, long-lasting figure in the "Madchester" movement, Simpson has always been hesitant to celebrate himself or cash in on his influence; his music is warm and welcoming, but his prolificacy and dedication to the work is ruthless. Though the styles of dance music born and bred in Chicago and Detroit would of course find major reception in London, the most distinctly British version thereof developed in the North of England, that dreary industrial landscape paid homage to by The KLF's industrial dance track "It's Grim Up North." As recently documented by music journalist Matt Anniss on Join the Future: Bleep Techno and the Birth of British Bass Music, it was in Yorkshire—the county that includes Manchester, Sheffield, and Leeds—that American acid house, electro, and techno would be fused with dub and heady bass from the area's West Indian and Caribbean immigrant population.
Born in the Moss Side council estates of Manchester, Gerald's first experiences with music were, like many children of the era born to Jamaican parents, soundsystem parties on Saturday night and gospel music on Sunday morning. He demonstrated an early affinity for reverse engineering speakers and deconstructing instruments, but the cost and inaccessibility of drum machines and synthesizers led him to dancing as a musical outlet before production. Simpson's professional dance training inevitably informed the music he'd eventually make; as he put it in a 2015 interview with Sound on Sound, "The training made it easier for me because I wanted to make stuff that people would wanna dance to. It's almost like synesthesia where you see colours to music—you can see colours to a sound. While I'm making music I'm thinking of movements all the time." Simpson's tracks are constantly moving—not busy, overstuffed, or maximalist, but complicated and interlocking, like a cohesive ecosystem of many integrated parts. His music feels less improvised and more composed.
Simpson would eventually acquire the iconic instruments of acid house—the Roland TR-808 drum machine, a TB-303 bass synthesizer, two monophonic synths, and a four-track recorder—and would soon form the iconic English electronica outfit 808 State, alongside two Manchester DJs and party promoters, Andy Barker and Graham Massey, and the owner of local record store Eastern Bloc, Martin Price. 808 State's debut album Newbuild, named after a Manchester housing project, was recorded on tape the group retrieved from a dumpster behind the BBC's Manchester Studio, discarded because it had been cut and spliced so many times that it was no longer deemed fit for recording. That practice of scavenging, of finding value in what others have left behind, is central to Simpson's collage of sounds, which weave beautiful tapestries from a diverse auditory archive.
Simpson had begun work on 808 State's most well-known recording, "Pacific State," before striking out on his own in 1989—though not exactly on the best of terms, as Simpson claimed the remaining group members released the track without his permission. But as former bandmate Graham Massey put it, in conversation with Matt Anniss, "He didn't go solo because he was always solo. If you know Gerald, you know he was always autonomous." Though his style has evolved over time, what has remained consistent is Simpson's commitment to experimentation, and his fearless exploration of an entire universe of sound. In describing his own process, he says, "I have no particular production style. I start with sounds and sculpt and shape them. I try to stay away from things that have been or are popular, sound-wise and feeling-wise." You can call it rave, you can call it electronic music, you can call it jazz, but at the end of the day, you can only really call it Gerald.
Gerald's music for CBS, from around the end of the acid house era, appropriately has a more major label sheen to it, still suitable for the dancefloor but a little more pop-oriented and hook-based than his more underground work. His set on the radio show of legendary BBC 1 presenter and DJ, John Peel, fuses the big, bold beats of '80s house with the bubbling darkness and more rough-around-the-edges mentality that would come to define jungle, endowing Gerald's more mainstream-friendly style with the illicit spirit of dubplate, blues parties, and pirate radio. In chronicles of Gerald's career, it's usually said that he turned more toward vocals and overt melodies around the turn of the millennium, and while that's certainly true to an extent, the human voice has always been an essential element in his toolkit. Even during a live radio mix, gorgeous voices glide over the sparkling patterns of songs like "Emotions Electric" and "Satisfaction" is an upbeat pop number that could easily mix in with CeCe Peniston and Crystal Waters in a DJ set.
After the frustration and fallout of his brief major label days, Gerald swung back in the other direction with a musical middle finger. Inspired by fan-recorded mixtapes of DJ sets, the first third or so of 28 Gun Bad Boy is a straight-up mix of the subsequent tracks, channeling the raw, underground energy of "white label" 12-inch tracks that DJs would press and distribute themselves. Gerald began using the Akai MPC60 sequencer to sample and build drum tracks, which became more complex and integral to his sound as it tilted more toward ragga, breakbeat, and what would eventually become known as jungle and drum & bass. Given the British state's increasingly legalized and draconian persecution of dance music in the 1990s, jungle has always had a radical political tendency, but it's impossible to miss in the opening minutes of 28 Gun Bad Boy, as a voice chants, "Cops don't like me, I don't like cops."
Though his beats transform and evolve from track-to-track, there are still traces of euphoric, uplifting house, like "Forever Changing," which would have fit neatly onto an 808 State record: stabs of acid and laser-like synths, a whirlwind of percussion, voices of vastly different pitches floating in and out of the mix. "Disneyband," with its chirpy MIDI horns and waves of keys, feels like a glistening highway—listen close and you might even detect a Nile Rodgers-like bassline playing out, pointing toward Gerald's future fascination with soulful melody. The tape contains some of Gerald's most visible and recognizable samples, like the extended flip of Roy Ayers' "Everybody Loves the Sunshine" that provides the structure for closing track "Sunshine." 28 Gun Bad Boy effortlessly chops back and forth between the two sides of A Guy Called Gerald, the cutting edge and the open heart, the dark night of the rave and the warm light of the breaking sun.
For years, Black Secret Technology—often considered Simpson's opus—was only available in bootleg form, a washed-out and watered-down mix that offered only a vague outline of its sonic precision. Perhaps fitting, given the genre's origins in illicit parties, repurposed equipment, and bootleg samples, but hardly the quality such a paradigm-shifting record deserved. Even in its remastered form, Black Secret Technology still sounds underground and otherworldly, but its heady bass and polyrhythmic beats overwhelm the body just like they were always intended. Jungle is often characterized as ghostly, haunted, dystopian, and there's plenty of that here, like the electro flavor and Dalek-esque voices of "Cybergen." But just as frequently, Black Secret Technology is dreamy and euphoric, radiating with a radical Afrofuturist positivity. Gerald's music is jazz, it's soul, as classy as it is sweaty. Black Secret Technology proves jungle's potential as a symphonic, composed musical form, with producer as orchestra and conductor at once.
As jungle became bigger-budget and many of its innovative edges were sanded down, Simpson moved on to other styles, developing a more melodic, vocal-driven sound with a chilled-out trip-hop sheen. The soulful quality that was always under the surface of his music became more explicit, with vocalists like Louise Rhodes on the effortlessly poppy "Humanity" and Lady Miss Kier of Deee-Lite on "Hurry to Go Easy." The turn away from cold, secret technology to the warmth of the human voice speaks to Simpson's conception of his tracks as not solid recordings or stable objects but mutating organisms, evolving and ever-in-flux. A September 2000 interview with URB magazine outlines his biological philosophy of electronic music and explains the album's title: "[Simpson's] songs are actual living entities. Gerald Simpson furthers the Frankensteinian analogy of his technological creations by describing his tracks as 'bodies.' By this he means that the interplay between rhythm and melody, which in turn is built up from layer upon layer of textured sound, has enough complexity to trick the senses with the illusion that it possesses the 'essence' of life."
Like so many electronic music innovators, Gerald began to circulate around Berlin in the more recent years of the 21st century, absorbing and playing off the city and scene's knotwork minimalism. These sessions turn away from the soulful vocals of his prior albums, though they're still in some ways infused with a glittery, downtempo shimmer; it's truly back to the dancefloor for Gerald, but it's not a throwback to acid house either. Tracks like "Flutter" are seamless, lowkey, almost aquatic, with bubbling streams coming together into a larger flow. The drums are lighter, the bass a little less full-bodied, but the groove slowly eases into a hypnotic whirlpool.