BEST JAZZ
The Best Jazz on Bandcamp: May 2020
By Dave Sumner · June 19, 2020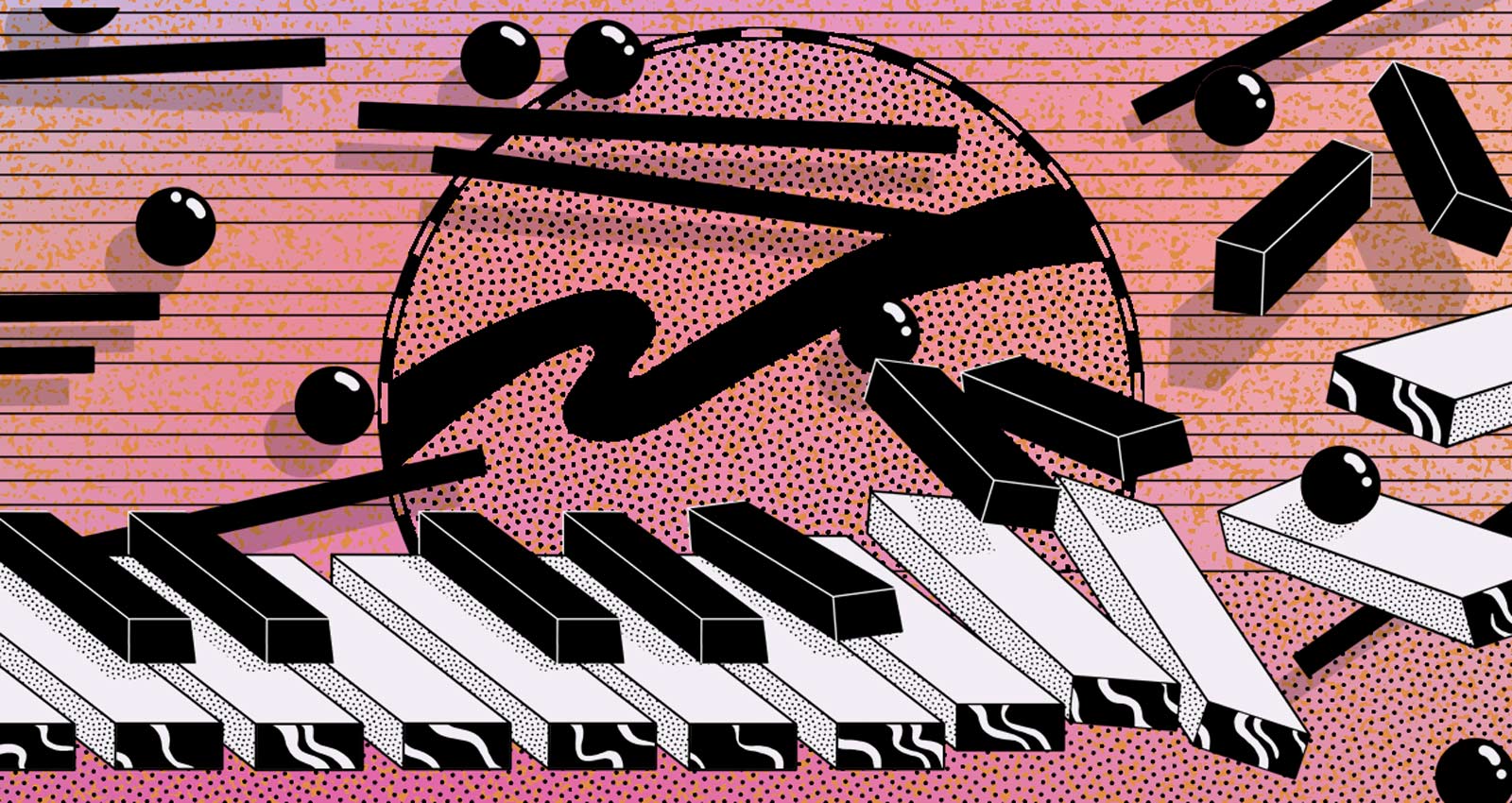 These intros are meant to be nothing more than my way of politely holding the door open, and guiding listeners inside to the music. Sometimes, I make mention of a trend or commonality shared by the recommendations. Sometimes, I provide a reminder of the essential nature of music in our lives. Sometimes, I try to slip in a joke. Ultimately, it doesn't matter; you're here for the music. But as important events continue to unfold in 2020, we're reminded that our words count, and that we should strive to give everything the meaning it deserves. So this is what I've got: this music is for you, and it will be whatever you need today, tomorrow, and every day to come. Some of this music will be your anthem to fight. Some of this music will be your refuge for peace. There is music here to remind us that creativity is humanity's redeeming quality. There is music here to take us back to better days. There is music here to vault us ahead with renewed strength. It'll be whatever you need. I hope, for each of you, it's all of these things.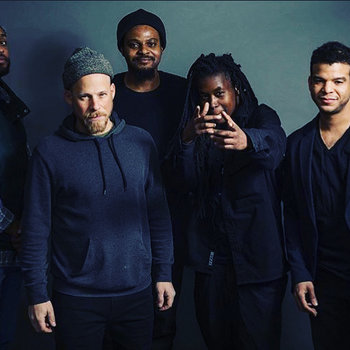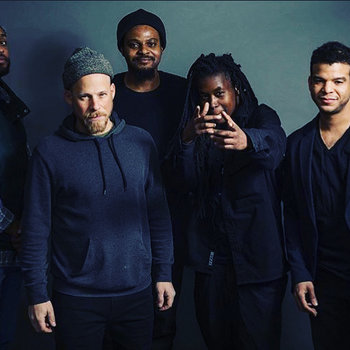 The end of live gigs due to the Covid-19 pandemic has caused musicians to dig through their archives in search of live performances to upload. This live set from Irreversible Entanglements couldn't be timelier: there are very few artists in modern jazz who shout in the face of power and shine a bright light on the root system of racism quite like poet Camae Ayewa (aka Moor Mother), alto saxophonist Keir Neuringer, trumpeter Aquiles Navarro, bassist Luke Stewart, and drummer Tcheser Holmes. The birth of this ensemble began with a performance at a Musicians Against Police Brutality event several years ago. They have never been more relevant—or necessary—than they are today.
Merch for this release:
Vinyl LP, Compact Disc (CD)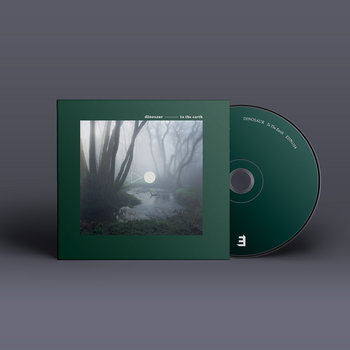 The latest from the quartet Dinosaur—trumpeter Laura Jurd, pianist Elliot Galvin, double bassist Conor Chaplin, and drummer Corrie Dick—is a reminder that the experimentalists of the modern jazz scene are a product of the jazz tradition. The electro-acoustic sound closely associated with Dinosaur is one where an ignition switch of effects instigates a spacebound fusion of earthy '70s cosmic jazz and modern-day electronica. But as the leisurely sighs of blues and chipper expressions of jazz on To the Earth demonstrate, this is a group whose evolution is shaped, in part, by the traditions of the art form.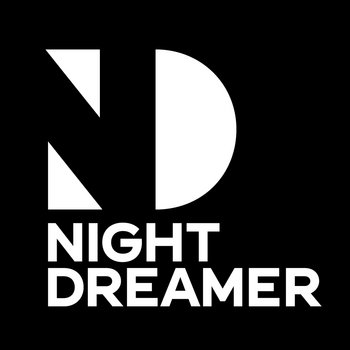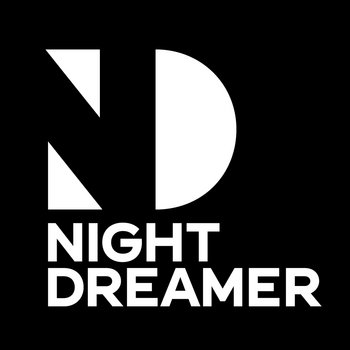 Merch for this release:
Vinyl LP, Cassette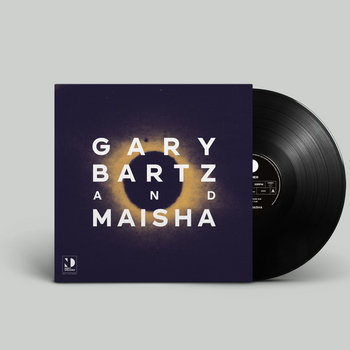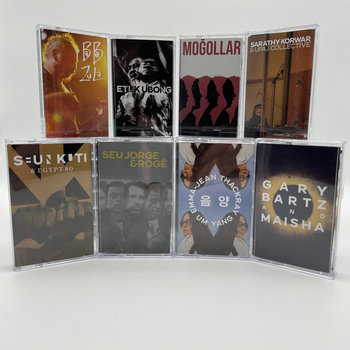 This collaboration between jazz legend Gary Bartz and new-school spiritual jazz group Maisha is a testament to jazz music's inherent tendency toward evolution. The spiritual jazz of today is not the spiritual jazz of 40 years ago. In the '70s, spiritual jazz was a movement in which artists traced the soul of their music back to its ancestral roots, while simultaneously searching ahead for a connection with beings outside the temporal plane. Today's spiritual jazz is more inclined to express itself as a celebration of the present moment here on Earth, often with deep, swinging grooves. That being the case, it's still no surprise that Gary Bartz, a veteran of ensembles with Miles, Blakey, Mingus, Roach, and Tyner, snaps right into place, as comfortable with new forms of expression as he was at every stage of jazz's changing landscape, which is marked by his footprints. There's no better example of this convergence of past and present than "Leta's Dance," a tune written by both parties on the fly, and whose rhythm is the combined heartbeat of all the music they've known.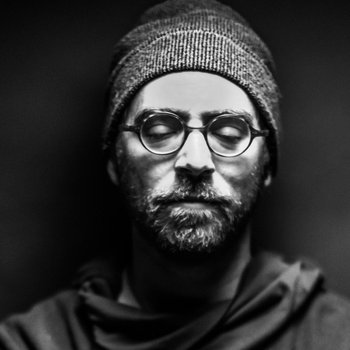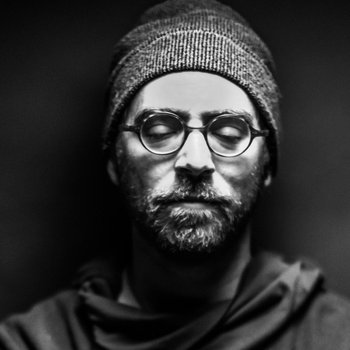 Merch for this release:
2 x Vinyl LP, Compact Disc (CD)
When Aaron Parks released Invisible Cinema back in 2008, it was a statement of vision—not just how the pianist saw his own personal creative future, but also the innovations that the new century would bring to modern piano jazz. The images inspired by the music became as important as the melodies that created them. Over a decade later, Parks' vision is one pursued by a great many jazz musicians and, as Dreams of a Mechanical Man illustrates so vividly, that vision has now fully manifested both for himself, and for the modern scene overall.
Merch for this release:
Compact Disc (CD), Vinyl LP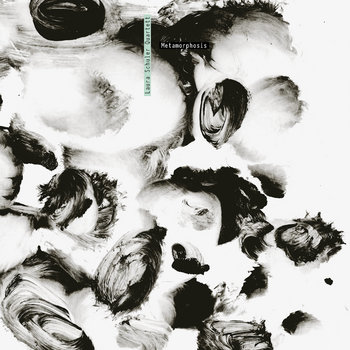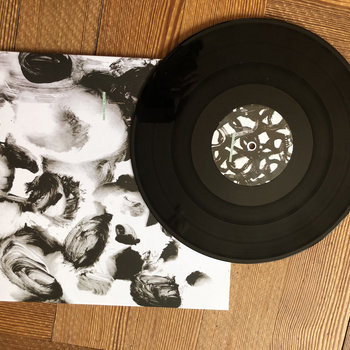 Much in the same way a thunderstorm has an inherent grace that borders on beauty, this quartet session from Laura Schuler revels in the choreography of chaos. Melodies are tossed about violently in a tumult of dissonance, their shapes either obliterated or launched upward with a sharper focus. Interludes of harmonic serenity tremble with uncertainty, knowing their time may be brief before a cataclysmic wave sweeps them away. The violinist is joined by tenor saxophonist Philipp Gropper, keyboardist Hanspeter Pfammatter, and drummer Lionel Friedli for one of the more compelling sessions of the year.
Sara Schoenbeck & Wayne Horvitz
Cell Walk
Merch for this release:
Compact Disc (CD)
Pianist Wayne Horvitz and bassoonist Sara Schoenbeck are half of the chamber jazz group Gravitas Quartet, and they bring the same fragile beauty and humble majesty to the mix on this riveting duo session. No piece better encapsulates the potent magnetism generated by this duo than their rendition of Horvitz's "American Bandstand," a work that flirts with diving deep into a heartbreaking melody and effecting its slow dissolution, without ever fully manifesting either state. It is beauty creating tension, creating beauty by way of proxy.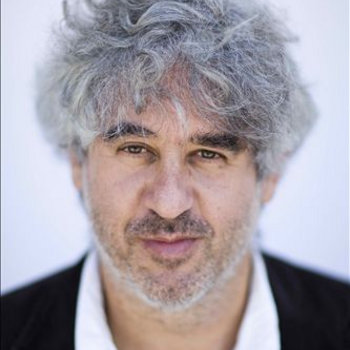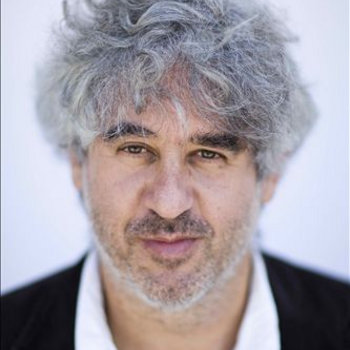 Musicians have been left scrambling by the pandemic shutdowns, both financially and creatively. One reaction, as mentioned above, has been to dig through the archives for previously unreleased material; the other is to record new music in isolation. Tim Berne's Bandcamp page reflects both approaches. To highlight just two of them: the new music on Sacred Vowels had been bouncing around in the saxophonist's head for some time, and being forced into solitude pushed Berne to finally record them. The old music on Cause and Reflect is from a 1998 live performance with cellist Hank Roberts, in which the saxophonist switches between alto and baritone sax. Both recordings are poignant reminders of Berne's captivating talent for making fully improvised music sound like the clockwork precision of a timepiece, and infusing highly composed music with a sense of wild abandon. There's also older and newer material from collaborations with Nasheet Waits, Matt Mitchell, Chris Speed, Dave King, and Reid Anderson (to name a few), as well as new mastering by David Torn. And since we're on the subject of Torn, here's your heads-up that a kind-of-new, kind-of-old session from Berne, Torn, and Ches Smith is due out in July.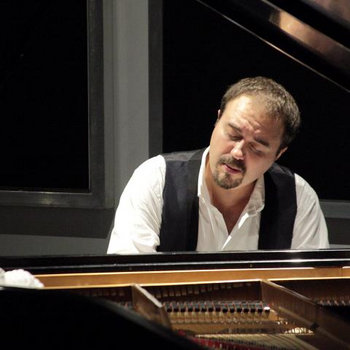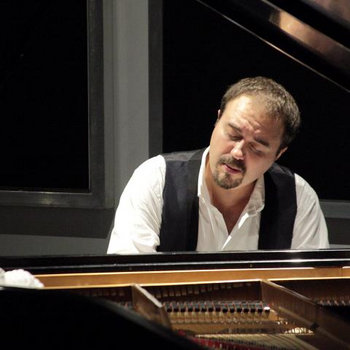 The 2020 release from Moisés P. Sánchez is a hyperkinetic explosion of expressionism that, paradoxically, results in an orderly procession of music. Tonal changes arrive without warning, but they dovetail splendidly into thick melodies, in the same way a rambling diatribe can end on a poignant note of wisdom. That balance between chaos and cohesion is the pianist's greatest success on There's Always Madness, but close behind is the simple truth that this is a very fun recording. The wildness is thrilling, equal parts laughter and terror—a balancing act whose final step is to land on a finely crafted melody.
Merch for this release:
Vinyl LP, Compact Disc (CD)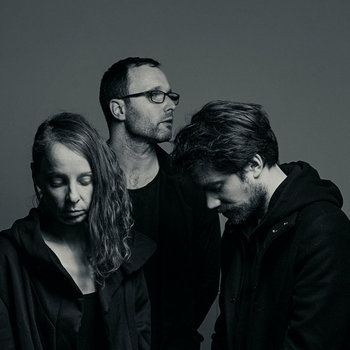 The way the melodies unfold in the music of Chris Montague are similar to the way slowly rising waves gradually lead to full immersion. It's never clear how all the fragments will lock into place until expressions that range from heartbreaking to brain-melting suddenly emerge. Montague's new trio recording with bassist Ruth Goller and pianist Kit Downes further establishes the guitarist's reputation for peculiarly seductive music as evidenced by works with Threads Orchestra, Monocled Man, Blue Touch Paper, and Troyka.
There's a churning cadence to the songs on Music for Humans. Melodies are a natural byproduct of this motion; that's why Elsa Nilsson's flute sometimes flutters like a butterfly, and sometimes sweeps across the surface like ice ripping through tufts of snow. On bass and drums, Bam Rodriguez, and Rodrigo Recabarren don't establish the pace so much as galvanize the rhythms to action. Long passages of contemplative thought lead to irrepressible antics, and that ebb and flow is why pieces that run as long as 30 minutes seem to fly by. Nilsson's Hindsight, released back in February, would be the next logical step if you wanted to continue exploring more of this music.
Merch for this release:
, Vinyl LP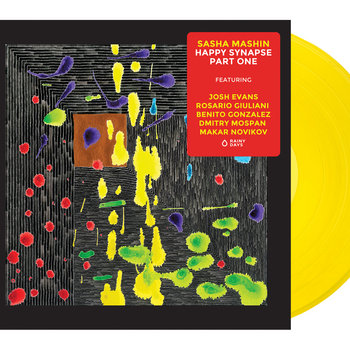 This album just doesn't let up. This straight-ahead set from Sasha Mashin is the heart of jazz, beating strong and feverish, hitting on all cylinders. The drummer's sextet includes trumpet and saxophones, which yield huge harmonic dividends while finding space for their melodic inspirations to flow through uninhibited and free. On piano, Benito Gonzalez is sometimes the impetus for those takeoffs, and sometimes he zips around and through the drums, bass, and wind instruments—a reminder that the depth of the melodic layering is as exciting as the speed with which it all goes down. Another nifty release on the St. Petersburg, Russia-based Rainy Day Records label. Also, it's a two-part recording; both are stellar.
Merch for this release:
Compact Disc (CD)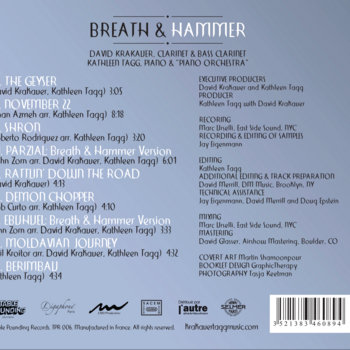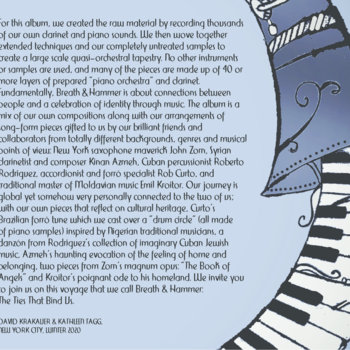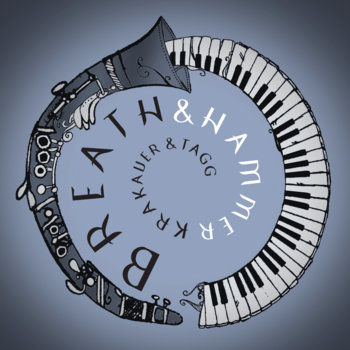 The most compelling thing about this project from clarinetist David Krakauer and pianist Kathleen Tagg is the way three different sources culminate in one convergence. The influences of klezmer, modern jazz, and classical find any number of meeting points, aided and abetted by the way the album was constructed: by recording Tagg and Krakauer sampling their instruments, editing them into little bits, then collaging them together to create something new. The compositional influence of a wide array of different musicians, as focused through the singular lens of Krakauer and Tagg, leads to new visions of older perspectives. For fans of John Zorn's Book of Angels series, the duo revisits two of the compositions from the Krakauer installment Pruflas: The Book of Angels Volume 18.
It would appear that Bill Frisell's days of creating strange and beautiful music with ingredients of string sections, low brass, electric keyboards, and a rich array of percussion are over. This session from fellow-guitarist Jannis Sicker shows, however, that the inclination to create music with a similarly beguiling nature is not specific to Frisell, nor limited to a narrow form of expressionism. This music is cut from the stuff of dreams, it echoes with shouts of the blues, and it guides jazz through a funhouse of mirrors.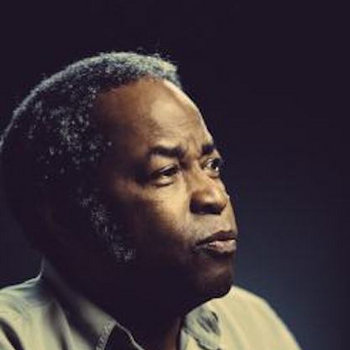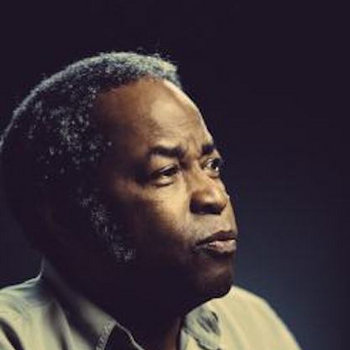 I don't typically highlight music that isn't a true new release, but Doug Hammond just created a Bandcamp page, and uploaded an outstanding cosmic soul jazz recording originally released on Detroit's Tribe Records label. In many ways, this ensemble's proclivity for genre-hopping on Reflections in the Sea of Nurnen was a precursor to the modern scene of today. Cosmic soul, some afrobeat, some string sections, some electro-acoustic fusion, and music that is both celebratory and introspective. Otis Harris on alto sax; Charles Burnham and Trevis Mickeel on violins; David Durra on piano, Fender Rhodes, Moog & Arp synthesizer; Charles Metcalf on bass; Doug Hammond with vocals, drums, melodica and Arp Synthesizer; and Fredrick Boon and Thomas (Turk) Trayler on percussion.