BANDCAMP NAVIGATOR
Bandcamp Navigator, March 2023
By Robert Newsome · Illustration by Jim Stoten · March 30, 2023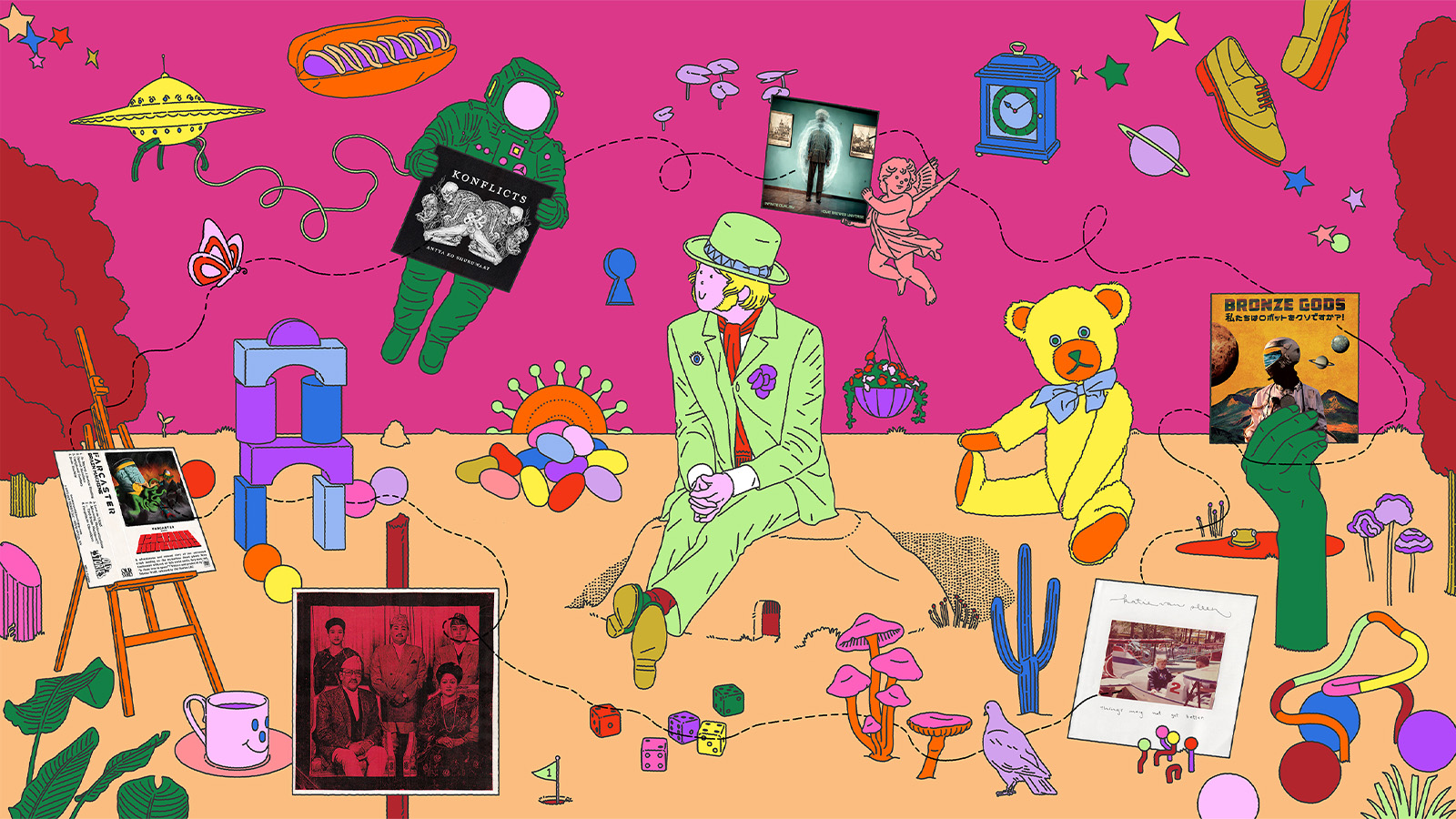 It's weird how popular culture doesn't really address the (still ongoing) COVID-19 pandemic, right? Not directly anyway. There are a few jokes about it here and there, and people on a TV show or movie might wear a face covering for a couple of scenes in service of a joke, but in 100 years, will anyone looking back at what's been produced really understand how life-altering the past three years have been?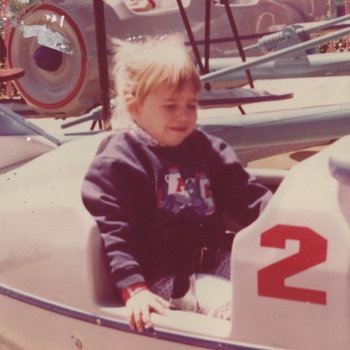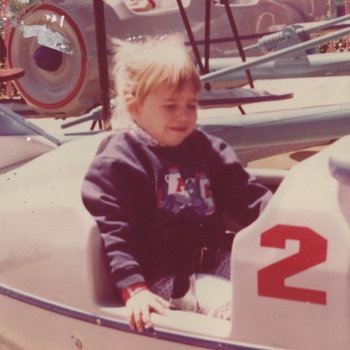 Merch for this release:
Compact Disc (CD), Cassette
On Things May Not Get Better, Salt Lake City folk-pop artist Katie Van Sleen tries to make sense of "these uncertain times," most explicitly in the album-closing "Quarantine Song (I Know How to Be Alone)." Throughout the album, though, the themes of loss, devastation, and uncertainty keep circling back around. It's not all as bleak as the title suggests though. Van Sleen's voice helps keep this record from being a full exercise in despair. It's gentle (almost a whisper at times), versatile (especially when they double-track their vocals to sing harmony with themself), and even though they're singing about some heavy situations, they still manage to convey a sense of hope. Things might not get better, but this kind of thoughtful, artistic attempt to process these "things" makes you think that it's maybe also possible that they will.
Van Sleen's use of the #indie tag immediately throws us into a wide open territory with probably millions of paths to take. It's sometimes nice to feel overwhelmed by choice; knowing that there's still so much unexplored territory out there is reassuring. But for the purposes of what we're doing here, we've got to choose one, and so, on we go.
Lines of Hour is the project of singer, songwriter, and producer Nana Aforo. Alphonso Mango is a beautiful document—deeply layered at times, deceptively simple at others. Aforo's voice is capable of conveying a full spectrum of emotion. There are the the smooth, full-throated runs on "A Rough Start" and the world-weary declarations of "A Rain From Above," with instrumentation reminiscent of late '90s Peter Gabriel over which Aforo sings "I'm so ready to step into my power / I'm bursting at the seams / I'm ready to be me." A true testament to the power Lines of Hour can convey, though, is that the instrumentals still pack a punch. "Violence Inherent in the System" uses archival recordings of President Clinton's remarks after the death of Matthew Shepard backed by ambient production; this builds into driving guitars and drums which score clips of talk radio and news broadcasts which serve as a (very) brief history of the struggle for gay rights in the 1990s. It's affecting and deeply moving, whether or not you were around to experience this time first hand. A stirring and passionate statement.
Based in #Minneapolis, Minnesota, Lines of Hour is a part of a rich, vibrant, and historically significant music scene. We're staying in the same place geographically, but moving sonically to a more electronic destination.
Merch for this release:
Cassette, Button/Pin/Patch
I love a concept album. Something about the unifying story or theme that links all the music together just makes a record a bit more appealing to me. When I saw "a lo-fi retro soundtrack for a horrible time in space" on Farcaster's page, I knew I had to at least check out their latest release. Luckily, it turned out to be really good. The immediate comparison I made was to Sasha Conda's phenomenal 2015 release Bronco; they're both terrific science fiction concept albums told through instrumental retro-futuristic synthesizer music. Farcaster's strength lies in the low-end here, as these eight tracks are anchored by a thick, rubbery bass synth that binds the other elements together. Check out the deep growls that kick off "Unexplored Territory" or the full-throated buzz that rumbles below the twinkling arpeggios of "… TWO Brain Machines??" Farcaster's decision to use drum machines relatively sparingly on these compositions really pays off as well. It's always a welcome surprise when a beat shows up and locks an amorphous synth nebula into a pattern for a while before eventually releasing it to float through space untethered again.
Farcaster are one of several artists exploring the concept of #retrofuturism, examining aspects of the future that were predicted but never came to be. It's 2023, and there's not a single domed city or Mars shuttle in sight. Still, there's value in these conceptual thought exercises, so we're going to continue on that road.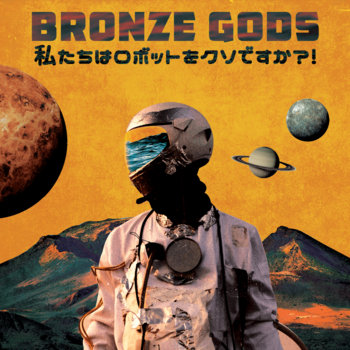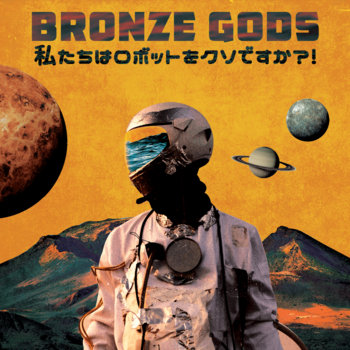 Collage-based cover art featuring a spaceman and some floating planets in the sky? An American artist with a title written in Japanese? Okay, let's check out this new vaporwave record…Surprise! Hiding inside this package is a bouncy, catchy, Britpop-influenced indie pop record. Since he's explicitly mentioned in the tags, I'll go ahead and say that the vocalist here (no musicians are credited by name) has definite similarities to Morrissey, right down to the mid-verse "la-di-da-di-daaaa" in "Here Comes the Moon." There's also a strong Police-era Sting influence evident in the vocals on the rocking "Human Race." But Bronze Gods are offering much more than mere impressions. Elements of prog creep into the edges of their solidly-constructed pop, making themselves known in the call-and-response guitar and bass conversation in the powerful "Motion Picture," the sinuous riff that opens "Starmen," and the jumpy rhythm section workout that ends album closer "Future Man." Occasionally, it's nice to have your expectations upended, and that certainly happened to me with this record; a fresh presentation of guitar pop that carefully takes elements of bands that have gone before and uses them to decorate a new and fascinating structure.
In our previous featured release, the elements of #progressive were just hints. Influences that flavored the music more than acting as its guiding principle. For our next stop, we're going deeper into modern prog sounds.
Combining ambient synth and a little '90s-style IDM with modern guitar-based prog, the latest from Hyderabad's Home Brewed Universe is a kinetic, slightly psychedelic experience. Lush synth washes bloom and fall as the album progresses, always supporting but never overpowering the guitar, drums, and tastefully utilized traditional Indian folk instruments. On "Euphoric Balance," bell-like synth tones ring out as delay-heavy guitar runs cascade. These slowly give way to an effect-free acoustic guitar, lending a clear, meditative air. On "Psychotropic Chaos," listeners familiar with the heavier side of modern prog will find somewhat familiar territory, with forceful drumming accompanying a bold, but not too aggressive electric guitar workout. "Hope for Adventure" features a playful, high-pitched guitar line accompanied by the occasional sitar that interweaves with a lower, slightly distorted guitar, creating a layered musical conversation. Beneath it all, though, that shimmering choral synth work remains constant. Infinite Dualism is another strong entry in Home Brewed Universe's catalog of deftly performed prog.
Based in Hyderabad in central #India, Infinite Dualism's use of that tag allows us to jump from intricately constructed progressive sounds to heavy grind.
Beginning with a slow, loping riff is one way Konflicts catches you off guard. "Saanglo" is thick and ominous. It looms, punishing with the threat of crushing rather than the act itself. Around one minute and 15 seconds in, a sharp guitar is added to the mix. Like '90s Floridian riffmasters Scrog, it's a prime example of a band building potential energy. When that energy is made kinetic about 45 seconds later, though, all comparisons to Scrog's sludgy, humid riffs are out the window. After winding the spring for a solid two minutes the remaining four (!) minutes of this EP are a whirlwind release of raw, blistering fury. Konflicts's technical grindcore contains just enough dissonance to make you feel like you're being pulled in at least two directions at once, but never enough that the noise overpowers the riffs. It's obvious that Konflicts have been studying the ancient texts of Swedish death metal, as well as the work of their contemporaries (Wormrot and Gridlink come immediately to mind) but there's no time to imitate. There are hundreds of ideas in these songs and Konflicts have only given themselves about six minutes to get them all on tape.
I'm not linguistically aware enough to know whether Konflicts's use of the #Nepali tag refers to the language used for their lyrics or to something else, but I'm making a note to take a solo side trip and try to figure that out. Regardless of the reason, that's the road we're taking, moving from noisy aggression to a recording that is a very different type of music, if it's even music at all.
Field recordings are a kind of magic. They take a moment and elevate it, creating a "thing" out of a moment that would otherwise have passed undocumented. It's somehow more magical when the recorded events are mundane, offering a window into someone else's daily life. Along with the standard time travel (all recorded sound is a time machine, after all) Aaron Dilloway moves through space (for most listeners), offering crystallized sonic documents of his experiences in Nepal in 2005. Of course you get the expected sounds from any populated area; children laughing, snippets of conversation, passing traffic, but some of these documents are more poignant. "Pro Democracy Demonstration: Asontol 4.1.05" provides a record of an exercise of the movement that would, one year later, lead to the 2006 Nepalese Revolution. Providing contrast to those literally earth-changing events are more pastoral recordings such as the peaceful "Cow Drinking from Public Water Tap: Larjung 3.05." The presentation of these recordings together gives equal weight to all of these sounds to create a lasting record of otherwise ephemeral moments.
Originally released on a multi-tape box set, it makes sense that Dilloway would use the #tape music tag for Sounds of Nepal. Our next featured album doesn't actually seem to be available on cassette, but we're going to assume that this refers to the way it was recorded rather than the way it's presented.
M.Molins
#1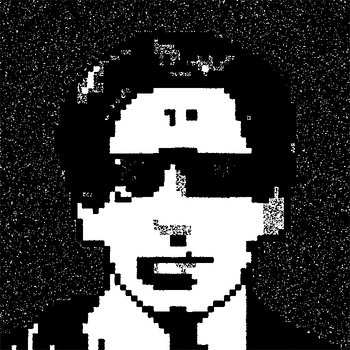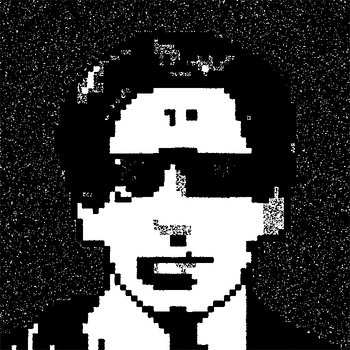 California's Paisley Underground scene of the 1980s was an update of the sounds of the late '60s, and what Argentina's M.Molins is doing is a continuation of that same aesthetic. The primary sources are here; a little Tommy James & the Shondells in album opener "Los amigos invisibles de Radiopibe," a little Out of the Grey-era Dream Syndicate on "A ciegas," as well as sprinkles of other forms of late 20th century "alternative" (specifically the "post-punk" kind, which doesn't really narrow things down a whole lot, I know). The bouncy acoustic riff that opens "Pulsos" provides a refreshing upbeat bounce on which Molins's nearly-whispered vocals float. #1 is, overall, a subdued affair, but it's not going to lull you to sleep. There are enough twists and turns (including an album closer, "El Complot," that sounds straight out of a universe where Twin Peaks was made for the first time in 2022) to keep you engaged. The person behind these songs truly knows their pop history and, most importantly, how to combine the raw elements of that history into something new and exciting.
I mentioned the Paisley Underground scene to kick off telling you about M.Molins's record, so from that point I'm sure you knew there was a good chance we'd see the #jangle pop tag hanging around at the bottom of the page. Sure enough, there it is.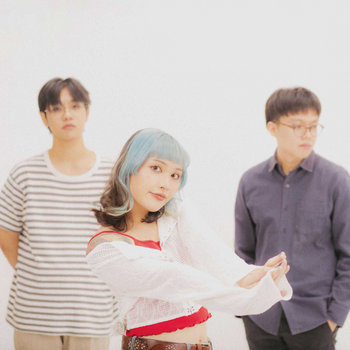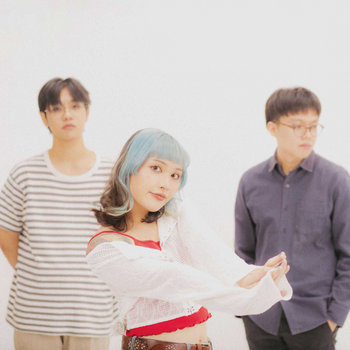 Merch for this release:
Compact Disc (CD), Vinyl LP, Cassette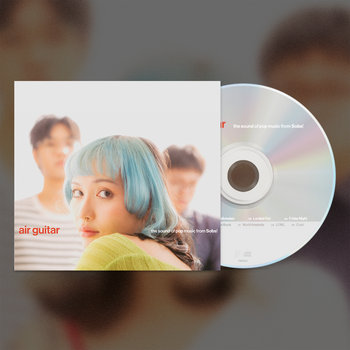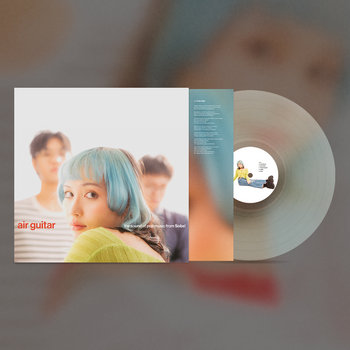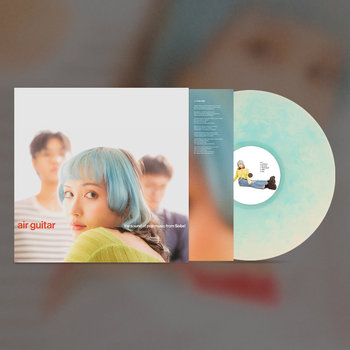 Genre is, at this point in music history, pretty much a fractal, with each delineation splintering into an infinite number of offshoots and sub-sub-sub scenes. Microaesthetics are so common that it's honestly a little shocking to hear something like this terrific album of sparkling, bright, shiny pop music. Taking a little influence from, as the radio tagline goes, the '80s, '90s, and today, Air Guitar is, as its name implies, a guitar pop album, but Sobs know their way around a synthesizer, and they use it masterfully, hanging synth ornaments on their indie rock framework but rarely overpowering the proceedings. Check out the quick stabs and wobbly counterpoints it provides in "Friday Night," tasteful backing away when the growling wall of guitars kicks in for the chorus and then, inexplicably showing up again with a vengeance for an extended drum & bass/chiptune outro. It's moments like that that are the true appeal of Air Guitar. Sure, you know what guitar-based indie pop sounds like. Guess what? Sobs do too—they know it well enough to find new ways to be playful with it. That sense of fun really stands out, making this a record that stands up to repeated listenings.
Originally the title given to a free compilation cassette that came with a 1986 issue of the magazine NME, #C86 has become a quick shorthand used to describe a specific style of indie pop. Our final stop is a band who is sustaining the spirit and sound of the bands featured on that compilation.
Merch for this release:
Compact Disc (CD)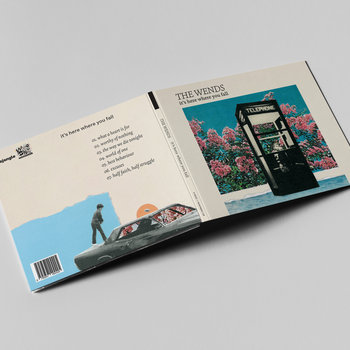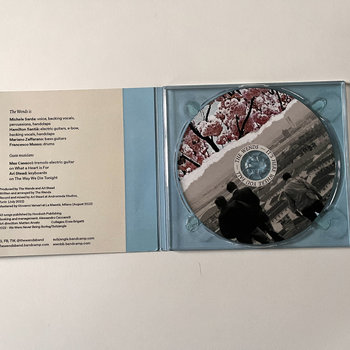 Starting with a gentle push from the jangly, bouncing "What a Heart is For," the latest from Turin, Italy's The Wends (previously known as Smile) slowly gains momentum, growing almost imperceptibly in intensity; you could be well into into the buzzing power pop of "Best Behavior," with its gigantic choruses and powerful drumming, before you notice. It's a pretty clever trick as well as a testament to the importance of good album sequencing. It keeps building from there until the driving, quick-paced album closer "Half Faith Half Struggle," showing the band at full force. Don't get me wrong here…The Wends aren't grindcore or anything. They definitely stay true to their indie pop roots. It's Here Where You Fall may be The Wends's first record with their new name, but you can tell this is a group who've been honing their skills for some time. Every now and then you need to hear a good, solid, uptempo guitar pop record, and The Wends have provided an excellent one.
Having moved from Utah to Italy by a very indirect route, this is where I'll leave you. I'm sure you've picked up some ideas on where you want to go next, but if you didn't, that's fine too. Just throw a (virtual) dart at the (sonic) map and see where you end up. I'm positive you'll find something you like.