TAPE LABEL REPORT
Tape Label Report, January 2022
By Bandcamp Daily Staff · January 31, 2022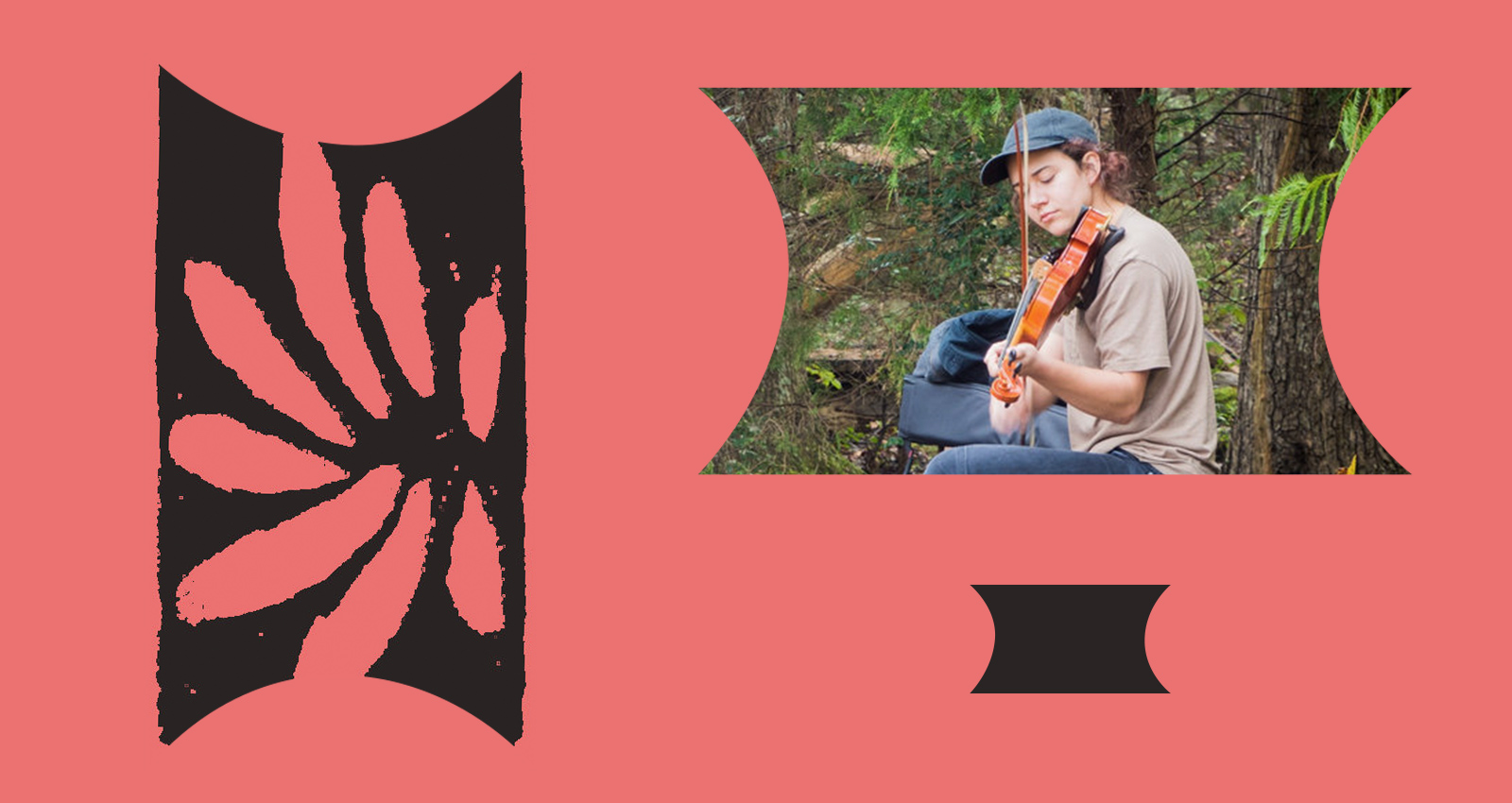 Welcome to The Tape Label Report, where we introduce you to five cassette-focused labels you should know about and highlight key releases from each.
---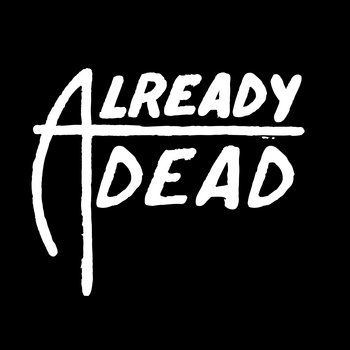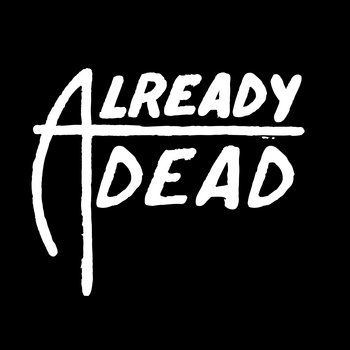 Merch for this release:
Cassette
Entering its 13th year and nearing its 400th release, Already Dead Tapes has traversed a lot of territory—literally. Joshua Tabbia, who co-founded the imprint with Sean Hartman in Michigan, has since lived in Illinois, New York, Georgia, and California, all while maintaining a schedule that has produced upwards of 50 releases a year. Running Already Dead himself for the past decade, Tabbia supports an impressive array of sounds and styles.
"The label was definitely experimental/lo-fi leaning when it started, but even then we were releasing noise, bedroom pop, electronica, free jazz, folk," he says. "As a listener I'm always all over the map, and with the label I've never wanted to be pigeon-holed to one genre or style of music."
What unites everything on Already Dead is the uncompromising nature of the music. The calisthenic post-punk of Complainer, crackling static of Dere Moans, and wistful songcraft of Jackson VanHorn have little in common stylistically, but they each bear a distinct vision that values creativity over commerce. There's a lot of fun to be had in the catalog too: take the frantic improvisations of Nancy Bigfoot, the goofball hardcore of Rat Punch, or the weirdo pop of BBJR + SLW.
That joyful spirit comes across in Already Dead's artwork, which is sometimes full of vivid colors, sometimes evocative of bygone eras, and sometimes as simple as a single object. It's always eye-catching, and often crafted by Tabbia himself. "I love designing art for the format," Tabbia says. "It's a fun, hand-held sized medium. I'm drawn to the physicality it brings back to releasing music. There's something intentional about putting on a tape that is lost with streaming."
Putting out tapes has also helped Tabbia connect with like-minded labels, fueling his enthusiasm for all the work he puts into Already Dead. "It has been encouraging to feel camaraderie with a lot of other cassette labels," he reflects. "There's a lot of resource sharing and support that makes it feel like we're in it together."
Release to Start With
Merch for this release:
, Cassette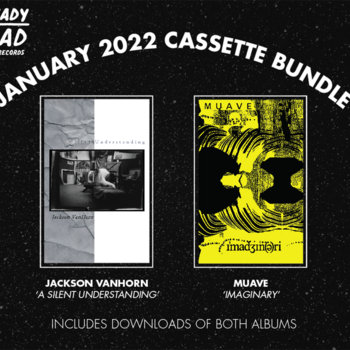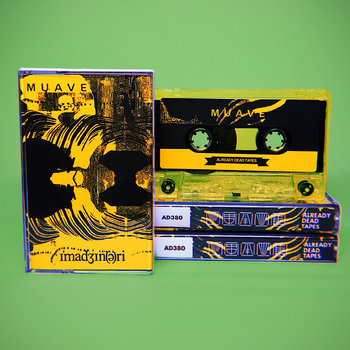 Mozambique producer Nandele Maguni, who had a solo release on Already Dead in 2020, returns with a trio offering bubbling, persistent electronic music. Imaginary was recorded live at a festival in Maguni's home country, and it courses with the immediate energy of performance while also bearing the precision of a well-crafted studio work. The album's standout piece, "Nalombo", threads drilling rhythms and bright accents into a swell of sonic activity that suggests Mauve could work this groove for days.
– Marc Masters
---
Merch for this release:
Cassette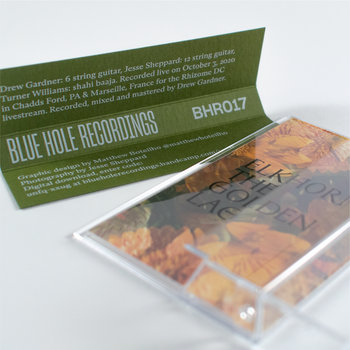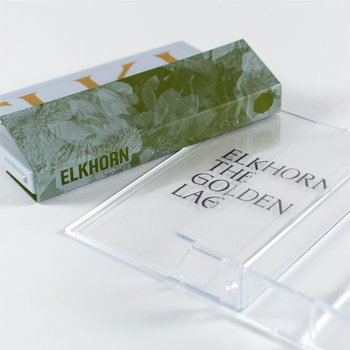 Blue Hole Recordings co-founders Will Csorba and Matthew Boteilho first met in person at a 2018 show in Houston by celebrated guitarist Daniel Bachman. Their separate journeys to that point, however, illustrate the underground network of experimental acoustic guitarists that stretched across the eastern United States and beyond in the 2010s.
Here's the short version: Boteilho is from Virginia, where he met Bachman at a Jack Rose show not long before Rose's death in 2009. In college, Boteilho studied design and fell head over heels into the world of bedroom cassette labels like Housecraft Recordings and Cabin Floor Esoterica that prioritized beautiful, hand-crafted design and packaging. Before long, he was designing artwork for tapes of his own psychedelic folk-blues project, Rag Lore, which released an album for the German label Dying For Bad Music in 2013. After graduation, Boteilho moved to Houston, where he sought out a local acoustic guitar adventurer, Will Csorba, at the suggestion of Marcus Obst, the owner of Dying for Bad Music.
Csorba had admired Boteilho's cassette design work from afar, but didn't make the connection that he was meeting the guy behind that work.
"It wasn't until after that that I realized, 'Holy shit, Matthew is Rag Lore,'" Csorba says. "When I saw those tapes he had made, I thought they were brilliant—not just the music, which was great, but the design and the way he had put them together. They were just incredible."
At the time, Csorba was playing as much as he could around Houston and befriending like-minded musicians who passed through. Pretty soon, he was "persistently bugging" Boteilho about starting their own tape label. In 2018, they launched Blue Hole with albums by genre-hopping guitarist Cameron Knowler, fingerstyle picker Evan Morgan and Csorba's string band The Fossil Lickers.
In the years since, Blue Hole has released far-out acoustic tunes, jams, and drones by relatively big names like Matthew J. Rolin, Padang Food Tigers, Sandy Ewen, Joseph Allred, Andrew Weathers, and Elkhorn. Along the way, the tape designs have evolved under the watchful eyes of Boteilho and Csorba, who still hand-cut some elements, hand-dub the cassettes and hand-assemble the final product. That's the fun part, they say.
"When you see your friends doing stuff like this – playing out, making tapes, releasing music through certain labels – it makes you want to join in," Boteilho says. "That's the thing I really enjoy about our age group of players is we all kind of know each other, so there's a connection with them through this stuff."
Release to Start With
Merch for this release:
Cassette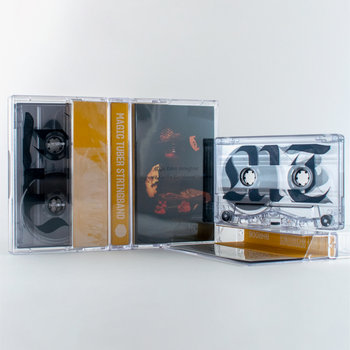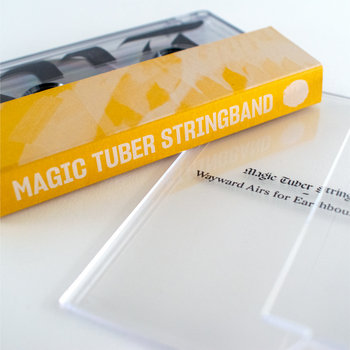 Csorba loves all Blue Hole releases, but if he's forced to pick one that he returns to more than any other, it'd be Wayward Airs for Earthbound Vagrants, the 2019 album from North Carolina's out-there old-time duo, Magic Tuber Stringband.
"Old-time music is a big passion of mine, and that's the core of what Magic Tuber does," Csorba says. "But it also has a foot in the world of experimental music. More than anything, I think they nail the aesthetic that I really love."
Boteilho says the duo behind Magic Tuber, Evan Morgan and Courtney Werner, are part of a group of players in North Carolina that are "really interesting" and creating their own little world of experimental acoustic sounds. "It's nice to see when people form little niches on their own," he says. "It feels promising for the future of this music."
– Ben Salmon
---
Merch for this release:
Cassette
According to founder Daniel Onufer, Halfshell Records was initially named for the punk house he lived in when he first moved to Seattle—the Halfshell Embassy—but its meaning has changed somewhat in the ten years since he started the label. "More recently, I sort of reflected on it and I feel like it kind of has to do with protecting your artistic spirit. Like having half your defense up, but still being open to sharing," he says, in what may be one of the most Seattle observations ever considering that city's famously frosty attitude towards outsiders.
Fortunately for global lovers of experimental guitar, Cascadia psych, indie surf, and every pinwheeling shade of pop eccentricity, Halfshell Records has been generously sharing Seattle's artistic spirit since 2012, when Onufer started it as a Bandcamp page with digital-only releases before slowly inching into physical media—and was happily surprised by its immediate success. "Even just from our first tape we put out, we got a really nice review in the local paper. Everyone seems to like it a lot," he remembers. "Just going from digital to a physical tape was a bit like, 'Whoa, this is actually a thing versus just a random Bandcamp page that no one will ever find.'"
Though the label's discography makes room for everything from the Sharif Ali's synthwave and Wet Fruit's loopy prog to the stony experimentalism of WEEED and the idiosyncratic baroque psych Joe Waine, Onufer says the unifying theme is the Seattle scene itself. "I would say its aesthetic is Pacific Northwest friendship," he says. "I wouldn't say there's a particularly strong musical style or anything like that. It's a group of people who pretty much all know each other."
That said, Halfshell is also home to Guadalajara-based psych bands Dorotheo and Uay, a connection that came about completely organically when "one of our friends who started this music festival in Seattle called Northwest Psych Fest. He actually went to Guadalajara on a random vacation and met a bunch of musicians and invited them to play. A lot of Halfshell artists played that festival, and since then, we've been throwing festivals between Seattle and Guadalajara pretty much every year, and kind of hosting each other when we come up and go down to play."
Halfshell already has a slate of releases lined up for 2022, including full-lengths from doomgazers Death Parade, a solo record from WEED's gabriel seaver, and a long-awaited new release from quirky surf band Baywitch, for whom Onufer plays drums.
Highlighted Release
Merch for this release:
Poster/Print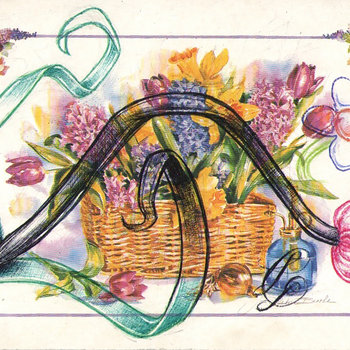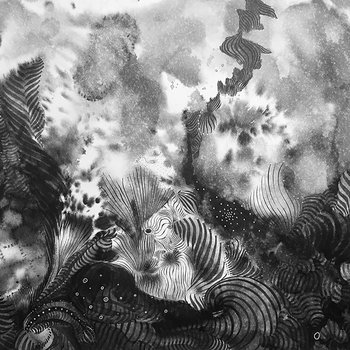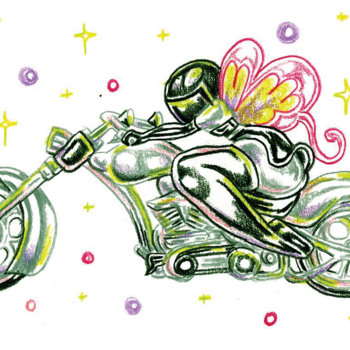 This hefty 32-track compilation featuring music from bands both in and outside of the Halfshell orbit was put together in response to the Black Lives Matter protests in the summer of 2020 with all proceeds going to various racial justice organizations. "We've done a couple of fundraising things for various causes in the past and we wanted to try to do that again, but on a bigger scale," says Onufer. "A lot of the artists on the label had music in the works, but were feeling like it wasn't the right time to release it, so they were really the catalyst for it."
"It was a lot of emailing to organize but I think it turned out really good. It definitely had a lot of support. I'm really proud of the mix. I feel like we didn't really get any necessarily huge names or anything, but they're all bands I've looked up to for a long time," he continues.
Onufer admits it's kind of a "cheat" to recommend Call and Response as a highlighted release, but if you're looking for the most comprehensive entry point to the weird and magical world of Halfshell, there's no better place to start than here.
– Mariana Timony
---
Merch for this release:
Poster/Print, Cassette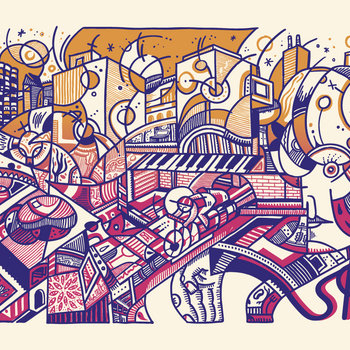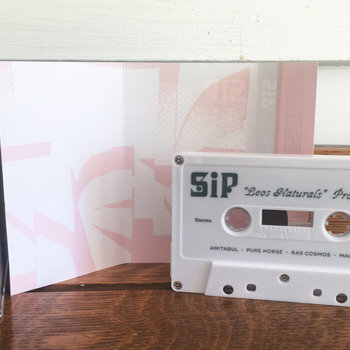 Not Not Fun Records began in 2004 when then-couple Britt Brown and Amanda Kramer were making "goofy lo-fi 4-track recordings to amuse ourselves." One day Kramer proposed they dub some tapes and call it a record label. While NNF was initially run by Brown, Kramer, and another friend, since 2014 it has been run by just Brown. From the very beginning, the label has trafficked in music that could be described as "a certain hazy strain of the underground: uncommercial but committed, esoteric but not alienating; valuing mood and vision over ability or ambition," says Brown.
Artists like Sun Araw, Inca Ore, Peaking Lights, and Pocahaunted—big names in the 2010s, when larger music blogs and publications still covered the more experimental side of indie/DIY music—all got an early start on NNF; some have since moved onto larger labels. Now that experimental, hazy sounds are once again on the rise, NNF continues releasing consistently fantastic music. Highlights include albums from kosmische organ/synth masters SiP and Golden Hallway Music, Les Halles's mysterious ambient sound baths, subtly pulsating electronic soundscapes from X.Y.R. that make you feel like you're traversing a newly discovered ancient civilization, and Andra Ljos's sonic world building that seem to emanate from an alien island in the depths of cosmos. Brown says he's had friends tell him "'There's no way one person could like everything you've released,' which, while factually not true for me, personally, is admittedly kind of the whole ethos."
Release To Start With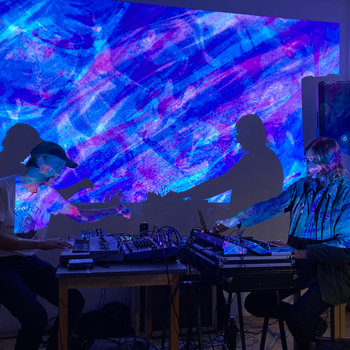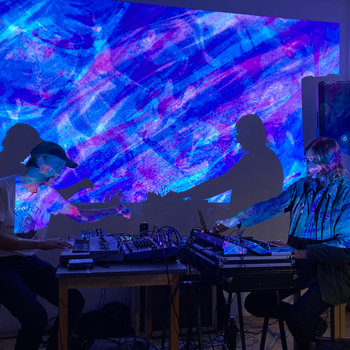 Skeppet play the krauty, circular, and pulsing brand of the psychedelia that NNF is known for. This tape is a collection of hard-to-find or out-of-print releases brought together for an hour of pure kosmische bliss. Hailing from Malmo, multi-instrumentalist Andreas Malm and Henrik Wallin weave manta-like jams with motorik beats, spaced out loops, and layers of guitars. Opening track "Saluto" is like Neu! and the more modern band Smoke Bellow mushed together without the vocals. It's all blissed out goodness here and a great, if underheard, intro to the Not Not Fun catalog.
– Joe Trainor
---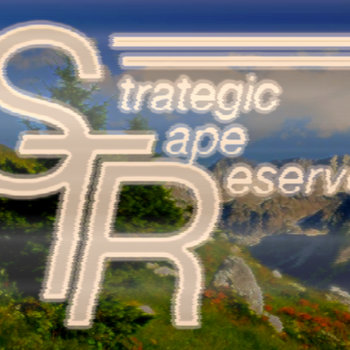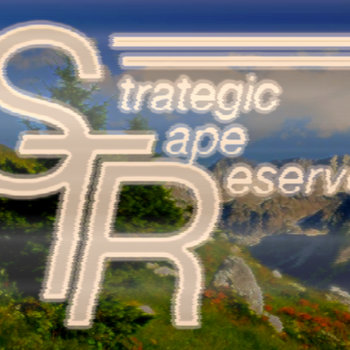 Merch for this release:
Cassette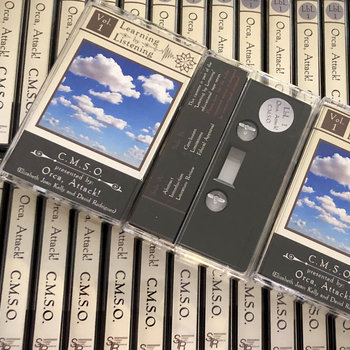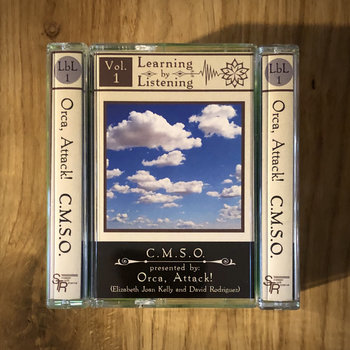 Scan Strategic Tape Reserve's discography and you might wonder exactly what's going on. Notice titles such as Efficient Processes for Synthetic Funk, Systems for Simulating Professional Music, Music for a Discovery Park of Miniature Supermarkets, all accompanied by diverse sounds whose relation to those names is unclear. "I like things that don't immediately make sense and take time to reveal what they are," says label owner Eamon Hamill. "For me, music is a wider experience than just what you hear."
A great example is STR's recent "instructional" series, Learning By Listening. Each volume addresses a specific subject, opening with explanatory spoken word followed by music. "The goal is…that if a person needs information about, say, Corsican geology, they can just go to their shelf of tapes and find the appropriate cassette," says Hammill. There are lessons on Management Optimization from Orca, Attack!, Occult Christian Science from bleed Air, and the table game Bangara-Rossa from Instituto Bangara-Rossa Internacional. "It's often more impressionistic and abstract rather than dryly factual," Hammill admits. "But the STR view is that this can help the listener to more fully engage with the topic."
Hamill, who grew up in New Jersey and has lived in Germany for 10 years, started STR in 2014. He wanted an outlet to release own work (under the names VLK and Emerging Industries of Wuppertal), and chose the cassette format after realizing how much music he liked was coming out on tape. The label quickly expanded to encompass artists he admired, such as Missouri's Whetmann Chelmets and London's Ergo Phizmiz. "I like artists who seem to be in their own world," he says. "Where some elements of what's going on might be familiar, but a lot of it makes you wonder how they got there."
That sense of wonder is evident in the glistening drones of Leaaves, the angled synths of Severino Pfifferling, and the outsider pop of Hammil's project Perkins & Fedewisch. Throughout the STR catalog, a sense of humor abounds, be it in the sounds, the titles, or the artwork. "I think taking a more serious, straightforward approach to the music and presentation would be pretty tedious and make it feel like a job," Hamill concludes. "That it stays fun is really crucial."
Release to Start With
Merch for this release:
Cassette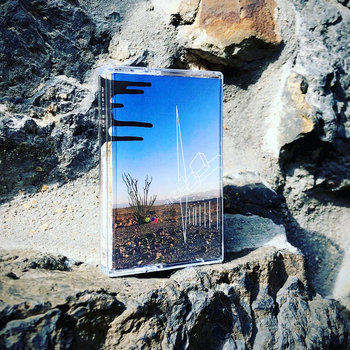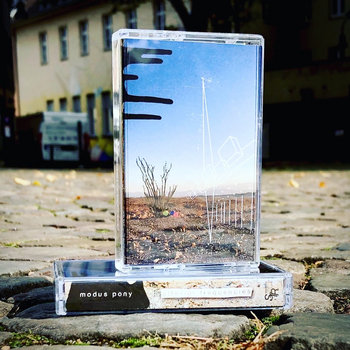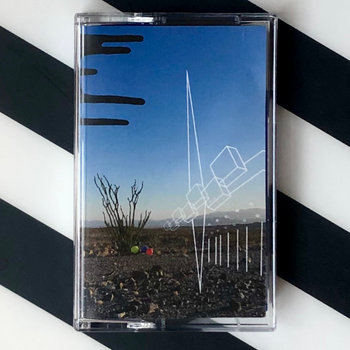 Los Angeles "bedroom musician" Matt Ackerman makes thoughtful subterranean pop songs under the name moduS ponY. His 2020 album Ulterior Frequencies is based on a notebook of ideas penned by a mysterious figure from LA's 1970's avant-garde art scene. Its 18 short tracks feel whimsical but also crafted, like fleeting thoughts shaped into miniature gems. Ackerman's small melodies and nervy rhythms are both retro and futuristic, stretching from the 70s far into the future.
– Marc Masters