SCENE REPORT
Scene Report: Rock in Cleveland, Ohio
By Michael Venutolo-Mantovani · September 22, 2016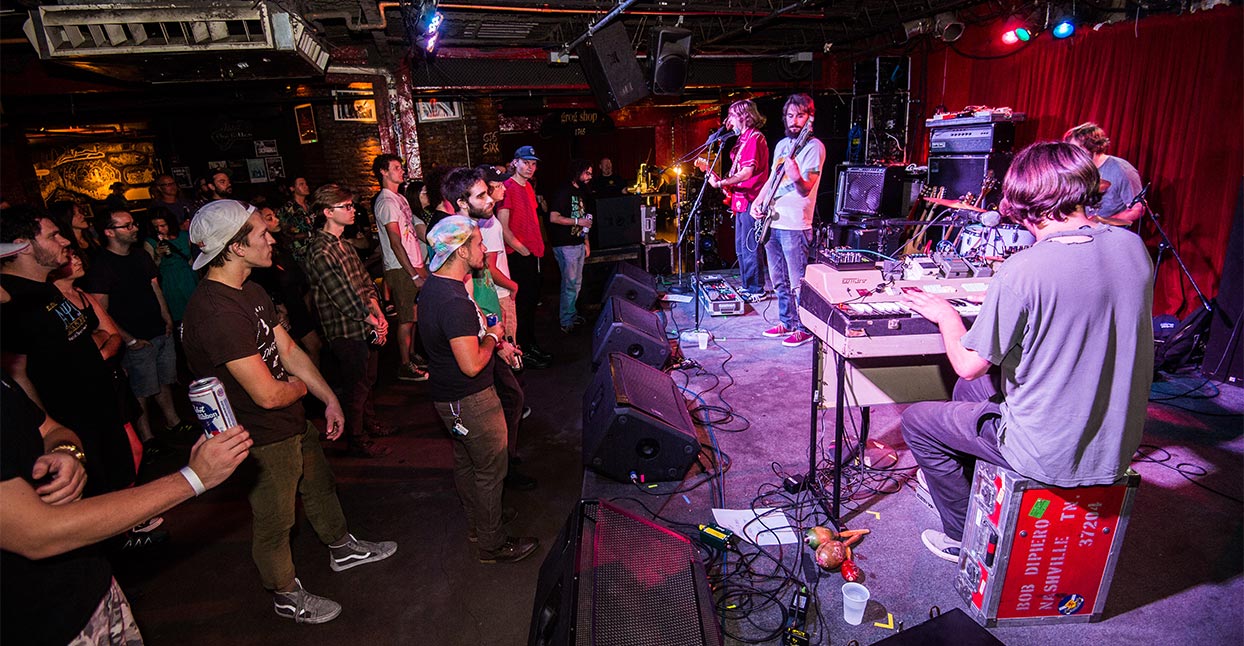 My introduction to the Cleveland rock scene came over hot dogs and cheap beer, and was shepherded by scene torchbearer Sean Kilbane. A true member of the rock 'n' roll proletariat, Kilbane was the kind of club owner who made sure that the bands who played his little hot dog restaurant/rock club—The Happy Dog—were fed, had enough to drink and, most importantly, got paid. Sean wanted bands to come through his town. He wanted his bar to become a destination for bands who weren't big enough to headline local flagships like The Grog Shop or Beachland Ballroom, but still wanted to get in the van and hit the road. He gave the broke and hungry a good reason to keep coming to Cleveland, and through him I found a rock scene that has been thriving under the radar, just off the frigid coast of Lake Eerie.
A recent article in Cleveland Scene bemoaned the fact that many bands have been foregoing a night in the historical mecca of rock for greener pastures in nearby cities that have stronger relationships with booking behemoths LiveNation and AEG. That idea, coupled with the proliferation of an indie touring circuit focused on major markets like New York, Chicago, Austin, Los Angeles and Seattle, means that certain cities that were once cornerstones of the national rock 'n' roll scene—Cleveland, Detroit, Boston—have been left by the wayside.
Nonetheless, the Forest City is full of endearing, genre-blending guitar bands. Coupled with prominent scenesters, bars and venues, record stores and the like, Cleveland in 2016 is as endearing a rock 'n' roll scene as any in the country.
The Bands
Dèche
.
00:10 / 00:58
One part X-Ray Spex, one part Brain F≠, White Lung meets Dead Kennedys, The Cramps on amphetamines— that's the best way to describe the indescribable Déche (pronounced "desh"), who play some of the most aggressive, violent, heartfelt HC-tinged punk rock to come around in a long, long time. The band takes the glorious elements of the uncool, turns them on their head, and emerges with outsider rock of a quintessential order. Eschewing fashion and style for speed, substance and volume, Déche holds fast to the spirit of the bygone days of hardcore. With most songs clocking in under two minutes, Déche somehow packs a host of meaning into every moment, making their new EP feel as dense as a long player while retaining the sense of urgency on which hardcore punk rock was built.
Despite this being her first experience in a band, Meag Cockley—aka Diva—commands attention, delivering her vocals at a frenetic pace. She's almost talk-singing, piling words upon phrases while somehow remaining articulate enough to deliver her message. Her rapid-fire vocal slinging is made all the more possible thanks to the economical rhythm section of Vegantron on bass and Wedge on the drums (who formerly held it down for Cleveland HC legends 9 Shocks Terror). When juxtaposed against Diva's vocal, they offer a heightened feeling of urgency. And as is the case with most punk-rock bands, the guitar-wielding, perpetually topless French Titties acts almost as an ancillary member of the rhythm section, coloring the spaces in with waves of distorted power and squealing highs. Without her waves of thick power chordage, Deche might feel hollow. Luckily they're about as dense as can be, while still retaining purpose and positive direction.
Lawton Brothers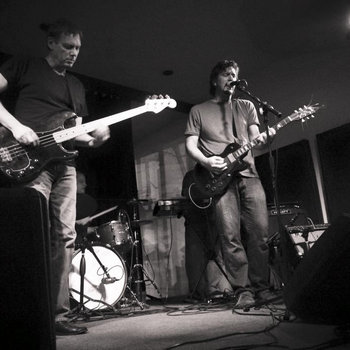 .
00:10 / 00:58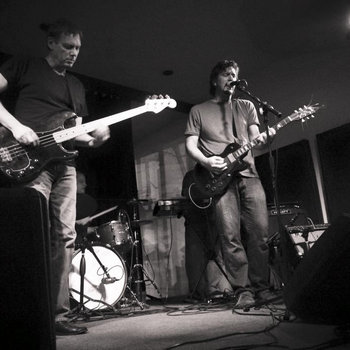 Slightly further down the spectrum, on the "far less aggressive" side, you'll find Cleveland lifers Lawton Brothers, who are an ensemble firmly ensconced in the tradition of tunefully shambolic guitar bands like R.E.M., Cobra Verde, and Buffalo Tom.
Lead by band-constants Andy Stibora on vocals and guitar, and Elliott Hoffman on drums, Lawton Brothers craft tunes with a workman's blue-collar sensibility. Their no-frills, no-fills style paints them as a band who come to 'work' every night with cans of light beer instead of coffee and sandwiches, ready to make their rehearsal an honest one, then head home to the family. Economic yet ebullient—not playing five notes when four (or less) will do—Lawton Brothers find the heart of their tunes at the intersection of bedrock rhythm and resoundingly comforting melody, and seem to focus their energies on writing a damn fine song rather than showing off how well they can play.
Here the barre chord is king, followed the kind subtle, yet hugely effective minimal lead riff perfected by Joey Santiago and Ira Kaplan, allowing the interplay between the vocals and the rhythm section to weave a beautiful tune without being overtly obvious.
Shitbox Jimmy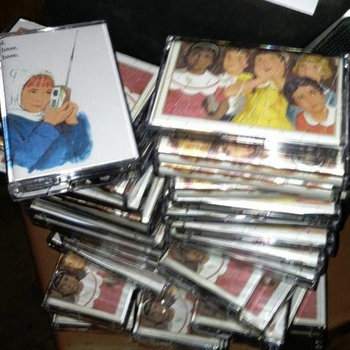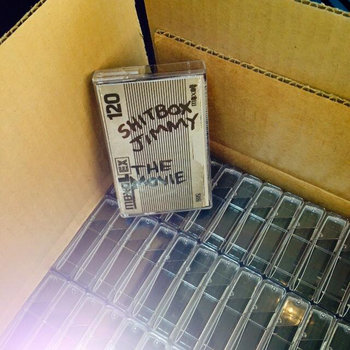 .
00:10 / 00:58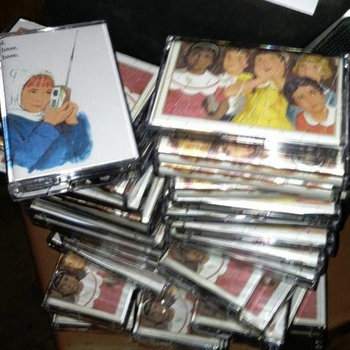 Merch for this release:
Vinyl LP, Cassette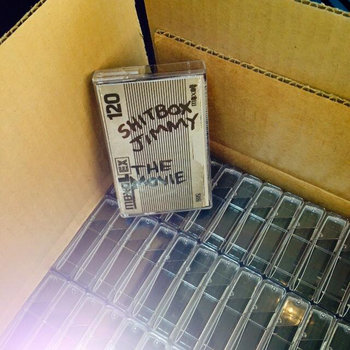 Direct descendants of both the Mice and Guided by Voices in their semi-sweet yet fierce delivery, Shitbox Jimmy represent the quintessential Ohio guitar band. They proficiently and emphatically employ all of the tropes we've come to expect of bands of their lineage while, in true garage rock fashion, continuing to feel refreshingly singular.
They're a band that should be mentioned in the same breath as Ty Segall, Jay Reatard and any of Greg Cartwright's million vehicles, with fierce production value which finds the needles and EQs tacked well in the red.
Taking the same classic rock and roll melodies that made The Oblivians quasi-legends and washing them in waves of high-end gives Shitbox Jimmy's albums a rare liveliness.
Of course, all that style wouldn't mean a damn thing without the rock solid songwriting chops, which Shitbox has in spades.  Wash away the grime, slow down the tempos, and it wouldn't be much of a stretch to think you're listening to a Roy Orbison song.
"Hunnie," "When It's All Done" and "I Ruined You" are so arrestingly familiar they could just as easily be confused for covers of rock classics. But "Kristy Alley" and "Damage Control," mix cues from the classic rock lexicon with neo-indie rock oddities, making them undeniably Shitbox.
Herzog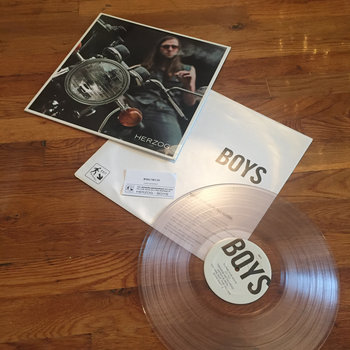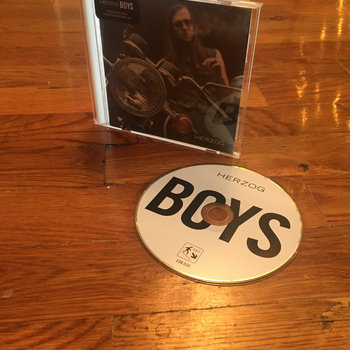 .
00:10 / 00:58
Merch for this release:
Vinyl LP, Compact Disc (CD)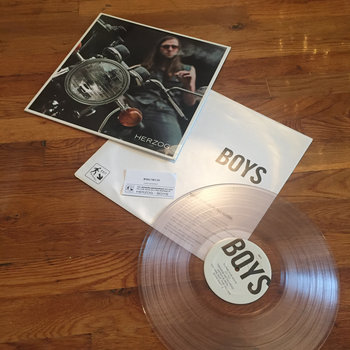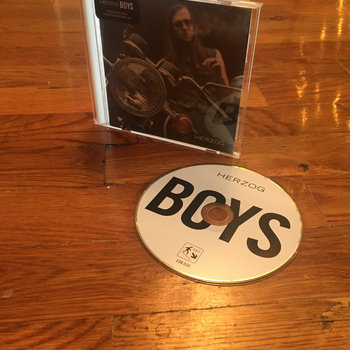 With song titles like "Full Stick," "Saint Scrapyard," "Teenage Metalhead," and "Satan Is Real," you wouldn't be totally off base in assuming that Herzog were a capital "C" cock-rock band. But the chasm between what Herzog produces and what their aesthetic suggests is massive; the band is closer in lineage to Sloan, golden-era Weezer, Hum or a harder-rocking Rilo Kiley than anything that descended from 10cc or Mountain.
More contemporarily, Herzog could easily be considered the Midwestern cousin of Bay Area ultra-scribe Tony Molina. They are the bespectacled, polite MFA student who doesn't try too hard, but is effortlessly successful.
Blending a classic, "I've heard this song before" melodic sensibility with a masterful sense of polyrhythm and the anti-orthodox song structure of peak indie rock, Herzog transcend the simple idea of what a power pop band can be, sounding hugely refreshing and comfortably familiar.
The band's songs contain multitudes: from the early '00s shout-signing on "Bicycle Girls" to the barroom sing-along verses on "You Are Not The Villian" to Bright Eyes-indebted album closer "Boys Part 2." Herzog aren't afraid to tread paths well worn, but they do so without feeling stale, derivative or unoriginal.  In today's crowded musical landscape, Herzog are not a band to be taken lightly.
Ma Holos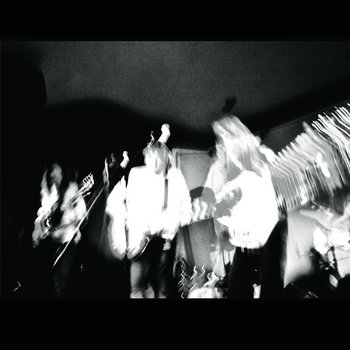 .
00:10 / 00:58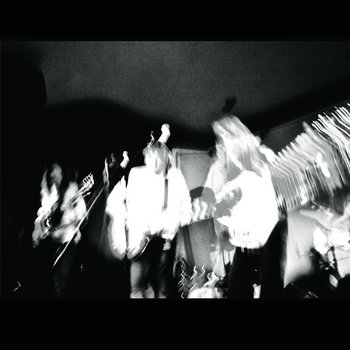 Like many other bands working today, Ma Holos exist at the center of a Venn diagram consisting of the fearsome garage snarl of Thee Oh Sees, the staid indie rock cerebralism of Parquet Courts, the beer-stained laissez faire of Mac DeMarco, and the hyperactive shape-shifting of White Mystery.
This type of genre non-commitment is a driving force in today's independent underground, as bands increasingly fiddle with musical boundaries.  This grey area is Ma Holos bread and butter, a sweet spot which gives them a valid claim to being the illegitimate offspring of The Velvet Underground.
When the guitars aren't awash in fuzz, they're as wobby as a drunkard making his way down a late night alley, the band staunchly adhering to the Lou Reed dictum, "Why use three chords when two will do?"
Goldmines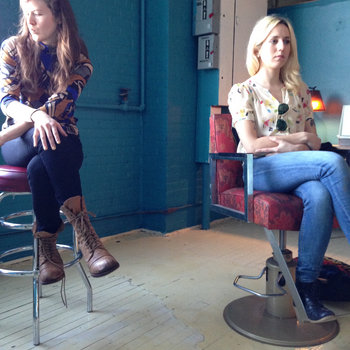 .
00:10 / 00:58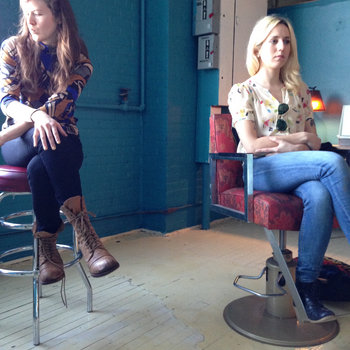 Spinning rock yarns that sound more like something out of southern California than northeast Ohio, Goldmines are the bastard daughters of (good-era) Hole, Strange Boys, Broken Social Scene, Oxford Collapse and Pants Yell!
Where such a vast range of influences might leave lesser band directionless, Goldmines are almost sneakily vicious, drawing you in with stoner psych and Far East-influenced guitars, only to immediately kick you directly in the teeth with sudden ferocity. Vocals are often doubled and soaked in reverb as they float astride the band's pounding guitars and rhythm section.  Their songs are endearing, exciting, insightful—and fun as hell.
The Venues
Since the turn of the 21st century Beachland Ballroom has been to Cleveland what Bowery Ballroom is to New York City, The Troubadour is to LA and Empty Bottle is to Chicago.  In short, it's the best place in town to see some of the world's most exciting bands in rooms that, despite their notoriety still feel intimate. Hosting globetrotting acts like Unknown Mortal Orchestra, Swans, Delta Rae, of Montreal, Frightened Rabbit and Nada Surf in the 500-capacity "Ballroom," as well as scene faves like White Lung, Wussy, Obnox, Richard Buckner, Low Cut Connie and Seratones in the far more intimate "Tavern," Beachland cuts a wide swath in booking, their calendar reading like a genre encyclopedia, while still maintaining a sense of tasteful curation.
If Beachland is Cleveland's Bowery, then Grog Shop has to be its Maxwell's—a nearby venue with similar spirit but a more intimate setting.  Playing host to both established bands like Guided By Voices, Big Business, Built To Spill and The Bronx (their list of bands who've played there reads like an indie rock hall of fame) and up and comers such as All Them Witches, Two Cow Garage and Hollis Brown while peppering in plenty of love for local Cleveland acts, Grog Shop is one of those neighborhood city staples that's as important to the health of the scene as that bands that inhabit it.
About 30 minutes west of Grog Shop, in the suburb of Lakewood, you'll find Mahall's 20 Lanes, a bowling-alley-slash-rock-club that hosts an eclectic mix of bands who are poised to break onto the national stage, or who've found a very happy home just outside of the mainstream.  From politico punks Downtown Boys to indie rock stalwarts Woods, from Atlanta's brutally badass Coathangers to the critically-lauded Merchandise, Mahall's might be the best place to see a band in a small room while you still have the chance.  Steeped in the classic tradition of vintage greaser-cum-bowling chic, Mahall's has more than enough grimey style to compliment their ahead-of-the-curve bookings.
No scene worth its weight in leather jackets would be complete without a tried-and-true punkfuckingrock bar/club/hang/fort/clubhouse/whatever you wanna call it, and for Cleveland, that clubhouse is Now That's Class.  A true hole-in-the wall (in the best sense of the phrase) complete with indoor skate ramp, vintage arcade games, functional 8-track player, world-class jukebox and a stellar sound system that punches way above its weight, Now That's Class attracts marquee names in the punk and garage worlds—bands like OBN IIIs, PUP, World Inferno Friendship Society and Milemarker—along with hordes of road-dogging punks from around the country and the world.  But what separates Now That's Class from most other punk dives is the fact that they also provide a variety of "homemade, mostly local and organic, 100% vegan" food for their patrons.  Come for the punk rock, stay for the kickass menu.  Or the other way around.  Whichever.
The Hotspots
A lot of people—this writer included—strongly believe that niche record stores are the future, that as time goes on we'll see less and less of the monolithic CD/DVD/tee-shirt/tchotchke/poster retailers and more little outposts catering to and curating for a very specific—and, not coincidentally, very loyal—slice of the market. Bent Crayon is exactly that type of store. It focuses on experimental, ambient, electronic music, and any of their overlapping subgenres.
A quick glance at their catalog listing boasts releases from tastemaking labels like Feeding Tube, !K7, Ba Da Bing and Kompakt. This is not the store to visit to grab the new fare from Father John Misty, Vampire Weekend or The National. Bent Crayon is the 21st century's version of a crate digger's haven.
So deep are some of these jams that the only thing like a "marquee artist" in their catalog is the new EP from Aphex Twin. If you're shopping here, you'd better have a willingness to step way outside of your comfort zone and explore some new musical horizons. But isn't that what record stores are for? Isn't discovering new and mind altering new music the reason we go there in the first place? And for that adventurous impulse, there's no better place in Cleveland than Bent Crayon.
Of course, if Father John Misty, Vampire Weekend and The National are what you're looking for, you should head straight to Cleveland's outpost of indie, Music Saves. One look at their best-sellers list from last year (Sufjan, Beach House, Sleater-Kinney and Tame Impala) proves that this store is the type of outpost that any thriving scene needs to survive.
Trading in classic reissues and contemporary indie rock, Music Saves is your typical American record shop—quirky, fun, welcome, and boisterous. Working with limited square footage, their stock is well curated, and their general vibe is finely-tuned, carrying those albums that you simply need to own. To borrow a familiar adage: Music Saves is all killer, no filler.
You might not normally consider a manufacturing plant as a key part of a music scene, but Gotta Groove is no ordinary manufacturing plant. Not only was it the first record plant to open in the United States in decades, it has also become the first vertically-integrated vinyl plant in the world—meaning that every step of the record-making process, from cutting lacquers and plating, to pressing the actual LPs, printing jackets, sleeves and labels, and hosting downloads is all provided by a single company.
It's thanks to this one-stop shop approach the self-proclaimed "artist-preferred record pressing plant" Gotta Groove has attracted bands like Hop Along, Acid Mothers Temple, Frank Black, Zola Jesus, Afghan Whigs and a host of others to cut their wax.
Just as important as their national reach, Gotta Groove funnels money directly back into the local scene via employment. The company's VP of Sales, Matt Earley, says that nearly half of the staff, if not more, plays in or has played in, local and national touring bands.
Gotta Groove provides what is likely the most cost-effective way for small local bands and labels to get their music out into the world; shipping costs are generally non-existent for locals, who can simply pick up their many boxes of vinyl. It may seem like a minor detail, but when you're a band or label working on a shoestring budget (or less), every cent counts.
Just stone's throw from The Happy Dog, in one of the hipper parts of town, is Tina's, an unassuming, low-slung, legendary Cleveland dive known for its cheap beer, no-frills atmosphere and constant karaoke.
But if you're searching for a spot to channel your inner Beyonce, Tina's isn't it. Their legendary karaoke machine hasn't been updated since sometime in the mid '90s—possibly even earlier. It's modern nostalgia at its beer-soaked finest, and is home to throng of Clevelanders looking to get drunk and kick out the jams.
At first glance, Tina's seems like it's not for the faint of heart. Its exterior is cold and uninviting, and its interior is old and grungy. But once you get a round of the absurdly cheap drinks inside you, you'll find that, like most other neighborhood dives, it's a place where people from all walks of life can happily commingle, raise some drinks, and sing some damn karaoke. Every scene needs its clubhouse, a place everyone can call their home away from home. It's a spot to meet before a show, or to hit on those rare nights when there isn't one. When it comes to Cleveland, Tina's is it.
The Players
Roseanna Safos
Every scene has one: that person you see almost every night, at every show, watching every band, the undeniable torchbearer—the cultural philanthropist who might do pretty well in a civic election if all the young punks exercised their right to vote.
For Cleveland, that person might very well be lifelong area resident Roseanna Safos. In addition to playing in a litany of local bands including, but not limited to, Goldmines, Part Time Lover, Sister Smirk, Cheap Clone, "and sometimes Obnox," as she told me, Safos also has a very healthy schedule of booking bands from outside the area to play at spots like Happy Dog, Now That's Class, and Mahall Lanes.
Safos says that while Cleveland's lack of national recognition means its affordable, and therefore, "the perfect place to be in a band," she does yearn for the city to get the attention it deserves—if only so that some of that attention trickles down to deserving local bands. But whatever happens, Safos says, she never wants "Cleveland to forget it's Cleveland."
She credits contemporaries like Heather Gmucs and Sarah Baker of Gotta Groove and Wax Mage Records, Rickey Hamilton of Quailty Time Records and Jae Kristoff and "all the guys involved in the creation of the Lottery League" and Pat Hanych of Pat's In The Flats for their investment in the Cleveland scene and recognizes her admiration for their work. When asked why she thinks Cleveland is such a tight-knit musical environment, Safos shrugs off the question, saying, "We support each other as often and as much as possible. We just like to play."
Matt Jauch
Having been burning his wick in the Cleveland scene since 1993, Matt Jauch is currently on hiatus from playing in an active band. His rock C.V. includes bands like Chalkline, Solo Flyer, Boatzz, Stimulus Package and Ragers. Part and parcel of his rock lacuna is booking shows, as Matt generally only books when he's playing in bands as booking is, "one of the hardest, most stressful and most thankless jobs ever." Anyone who has ever booked shows generally agrees. Luckily for Cleveland, Matt's sabbatical hasn't stopped him from being as involved as ever, via his rock and roll softball league.
From 2003 to 2008 Matt and his friends hosted a causal pickup softball-game-slash-cookout, where a core group of 20 or 30 musicians, artists and their close associates regularly take to the the diamond. In 2009, the crew decided to get official: create teams, land sponsors and turn the ragtag meetup into an organized league. Cleveland Softball was born.
The league has grown in time to 14 teams, and over 300 players. And while the league may have expanded far beyond its core, it's still populated mainly by creative types of all sorts. The league often hosts rock and roll fundraisers to cover all costs, which are usually shows with bands made up of league players.
Asked about some of the other players he admires in the Cleveland scene, Matt lists Jae Kristoff and the staff of the Lottery League – a local draft-style band lottery, Tony Erba of the band Fuck You Pay Me, Grog Shop proprietors Kathy Simkoff and John Neely, Cindy Barber and Mark Leddy of Beachland Ballroom, Lamont "Bim" Thomas aka Obnox, and local husband and wife psychedelic two piece Mr. Gnome.
Describing the intricacies of the Clevaland scene, Matt says, "It is tight-knit and people are very real in a way that Midwesterners know and appreciate. We can smell bullshit a mile away. People support as much as they can. The vibe is definitely 'Cleveland vs. the world' when it comes to most things here, and the music scene is no exception. There are many great bands and artists here who could get national acclaim with the right push."
Sean Kilbane
Sean Kilbane, or SPK as he was locally known, was a scene staple like few others. He was someone who went out of his way to make sure bands left town satisfied, that they would want to return, and that they would tell their friends about all of the fantastic shit shaking down in Cleveland.
Sadly, Sean passed away suddenly a few years ago, the victim of a freak accident. His absence is felt to this day, but his spirit is regularly celebrated by a handful of locals who go so far as to carry a beyond-life-sized cut out cartoon of Sean during Cleveland's famed Dyngus Day Parade—a yearly celebration of Polish heritage that SPK helped christen and develop.
Every time you're within the confines of the Happy Dog, you feel Sean's spirit is alive and well. Whether it's the immaculately maintained pinball machines, the "Kilbane Ave" street sign behind the bar, the jovial and inviting crowds, or the touring bands the bar is happily paying a whole lot of money— and whose lonesome bellies they're filling with their endless variety of hot dogs—Sean's legacy lives on, Despite his untimely death, SPK is still helping the Cleveland scene thrive, as vibrant and as lively as ever.
—Michael Venutolo-Mantovani