LISTS
Esplendor Geométrico Celebrates 40 Years of Experimentalism
By Andi Harriman · March 16, 2022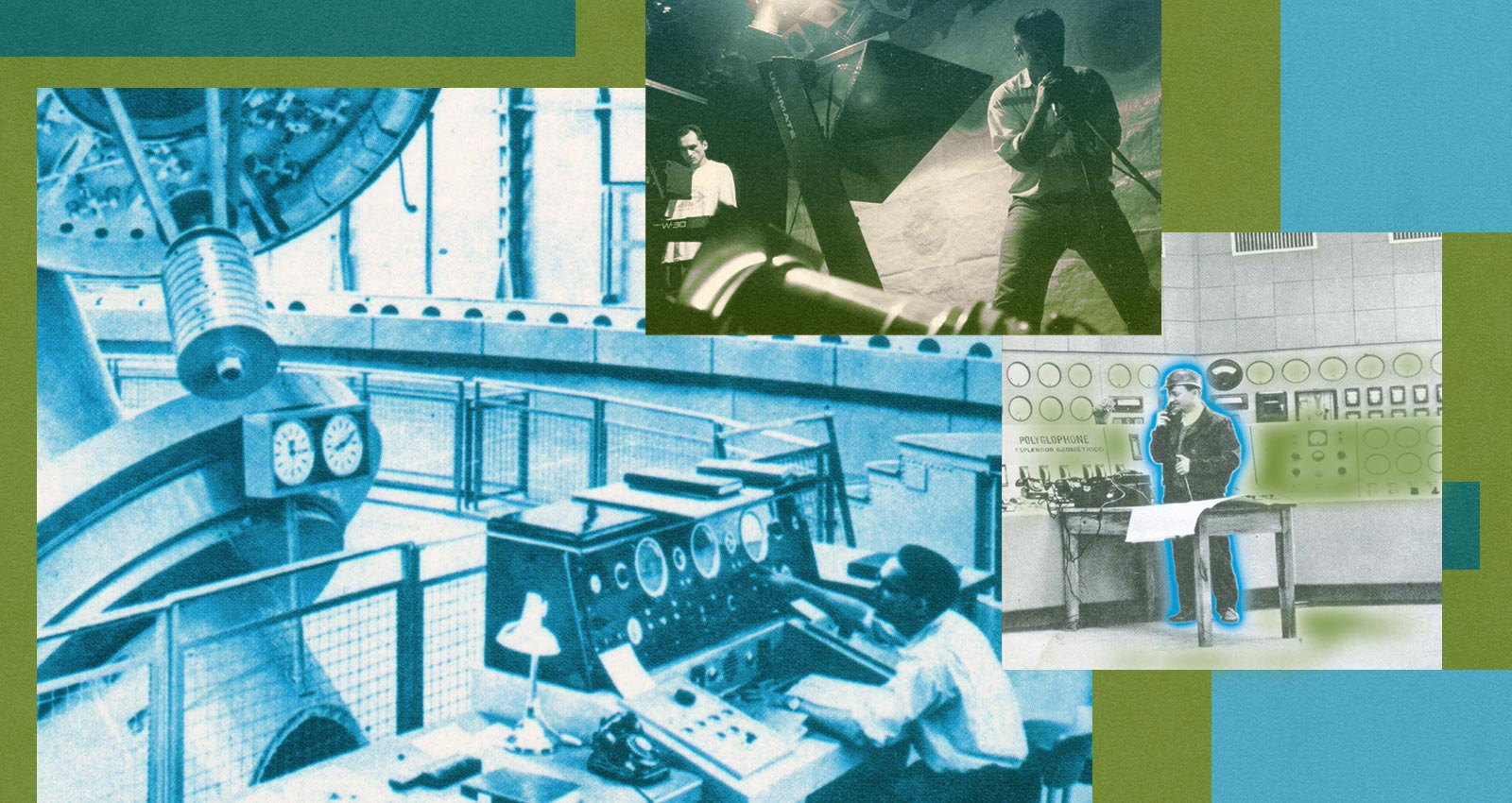 The Spanish band Esplendor Geométrico has come a long way since 1980. Their 40-year catalog of work is vast—boasting 23 albums, not counting singles and compilations—but their approach has always remained the same: "The intention when making [our] themes has not changed. Our intention is to have fun with what we do without further consideration," says Arturo Lanz, the band's only consistent member.
Esplendor Geométrico—which originally included Lanz, Gabriel Riaza, and Juan Carlos Sastre—sought out territory on the fringes of experimental industrial music after they broke off from their techno-pop band, Aviador Dro. Because the members began with the early futurist wave of electronic music at the turn of the '80s, Esplendor Geométrico's catchy initial song, "Moscú Está Helado," retained their pop background (it gained newfound recognition in 2010 thanks to Minimal Wave Tapes Vol. 1). But their first self-released 7-inch single, "Necrosis En La Poya" (1981), with its lack of melody and insistent analog beat, blazed its own path away from the trends of Madrid's burgeoning underground music scene.
They've always been outsiders and wanted it that way. "Electronic primitivism," Esplendor Geométrico's self-proclaimed genre, sits within the ethos of those who sought out extremes in early industrial music, namely Throbbing Gristle in the late 1970s. But while some of their industrial peers morphed into other iterations—Cabaret Voltaire with a focus on a house-y, funky groove, and SPK towards edgy synth-pop—Esplendor Geométrico have stuck steadfastly to their initial concepts. (However, Lanz is quick to note they're not industrial—"I think the only industrial band was Throbbing Gristle.")
Technology's progress has also been an imperative aspect of the project, emphasized by the addition of Saverio Evangelista in the early 1990s (currently the only other active member). As an analog project turned digital, the duo now prefers to work with computers and iPads over drum machines or synths, which, Lanz notes, "also meant a change and opened up many possibilities that we continue to explore." It was an important development to the band during that time, but, as he states, "Esplendor Geométrico's sound was still 100 percent recognizable."
Fearless in their approach over the years, they've forged headlong into raw explorations of their tools. And by challenging themselves through processes of sampling, pedal effects, and the overexertion of analog gear, they unearthed radical methods of producing noise. These excavations can create ear-splitting compositions in their discography; however, there are also instances of rhythmic noise and techno, even bits of rowdy gabber or electro.
With the new release of 40 Años Nos Iluminan Vol. 1 and Vol. 2, Esplendor Geométrico celebrate decades of their own genre-defying and ever-progressing conceptual explorations into sound. Below are just a few of their most notable albums that possess one connecting factor: an emphasis on the incessant heartbeat of the machine.
---
As a compilation album of Esplendor Geométrico's early cassette releases, demos, and live performances, 1980-81 best introduces the young band's self-produced and distributed works. Mostly aggressive and, at times, intentionally unapproachable, the collection exemplifies the band's gritty exploration to untether the very rudimentary depths of their analog gear. This release, most of all, proves that the process is more important than the result: "In the '80s," says Lanz, "most of the songs, if not all, were done in one take, and we would change little once recorded." There are unpolished nuggets that hint at what the band would morph into—such as "Unidad de Control" with its distinguishable beat and detuned discomfort—but some tracks, especially the cyclonic frenzy of "El Expreso de Tistutin," stand on their own.
The 1988 release Mekano-Turbo abandoned the band's former lo-fi cassette crudeness but kept all its severity. Here, their proto-techno repetition of rhythm is emphasized with cataclysmic sounds that have the impact of a car crash. This is found in the obtrusive EBM groove of "Rotor" (which found its way into dance music consciousness with a Broken English Club remix in 2016) and "Ven a Jugar," which is jarring and frenetic—but is ultimately contained, purposeful chaos. "When I start to compose a song, concentration and mindfulness is essential," Lanz says. "In critical moments, the music merges with the self, and a single entity is formed in which intuition intervenes and [I let] go of preconceived ideas."
The late '80s minimalist LP Sheikh Aljama wields its muscle through subtlety rather than a straightforward noise assault. But simplicity does not imply calmness—the sounds of structures seem to crumble, machines squeal under pressure, a thick black smoke pilfers the air—and mania is constrained only by the determined spring of the beat. With "Introspección," an undercurrent of looped Arabic chants has a hypnotically spiritual effect that swells behind the track's thick, sappy bassline.
Briefly hinted at on Mekano-Turbo, the presence of Arabic music and rhythms dominate the sound of Sheikh Aljama, largely because of the band's fascination with those cultures at the time. "I love to use voices and bring them into the songs as if they were instruments or rhythm parts. In Sheikh Aljama, the biggest [samples] are Arabic voices and sounds of voices coming from North African radios," Lanz explains. "Gabriel Riaza lived in Melilla, and I was studying Arabic, and it was a time of [those] influences."
Veritatis Splendor marked a new chapter for the group in 1994. Most importantly (and primarily influenced by Saviero Evangelista's newfound presence), Esplendor Geométrico welcomed digital instruments as a means of making music, but it was not an easy transition: "We had to learn how to use [the new technology], and that implied more intellectual work," says Lanz. "We had to let some time pass before we could feel comfortable with them." The album focuses on trance-like, pulsating spasms of energy that are smooth rather than jagged. However, they remain impactful, as proven by the domineering snare in "Poder de Ruptura" that reverberates like steel on steel.
Merch for this release:
2 x Vinyl LP
The 2009 album Pulsion represents the unstoppable thumping of the machine—the whirrs and the scrapes of industry. Movement, much like the wheels of a factory, is ceaseless here. Lanz's chanting in "Japo" is unsettling—alongside the mechanical repetition of the track's rhythm, his vocals create a dreamlike effect. The mysticism of Pulsion is culled from a sustained stream of consciousness: "When I compose," says Lanz. "I don't think about making a structure that leads to an ending. Esplendor Geométrico songs don't have a beginning or an end; it's a continuum, like life itself, which always goes around and never ends."
On their most techno-oriented record to date, Esplendor Geométrico sacrifices themselves to dancefloor abandon. Lanz's vocal performance prevails on "Ólo," where grandiose, apocalyptic drums keep a relentless beat underneath his wraith-like screams. "Our music is totally primitive because it is based on physical impulses, and no other message is proposed than that of physically feeling the rhythms and noises," Lanz explains. Those feral instincts—the body's motion in time to the beat—remain integral, despite the sophistication of their digital tools.
Lanz's favorite record to date, 40 Años Nos Iluminan Vol. 1, took inspiration from the entirety of their own back catalog. With collaborations from Atom TM and Pragma (of ClockDVA), they've found new ways to develop their musical concepts: "Due to changes in technology, we can now get closer to the sound we want," says Lanz. The album's hysteria recalls the dystopic desolation of their early analog collages and, somehow, feels comforting next to the world's tumult. With these grinding, bombastic slabs of sound, Esplendor Geométrico devours the shrapnel fed through the conveyor belt and savagely spits it back out, especially on the cacophonous litter of "Brain Fungus."