LISTS
Deeper Listening: An Introduction to Drone Composition
By Vanessa Ague · May 17, 2021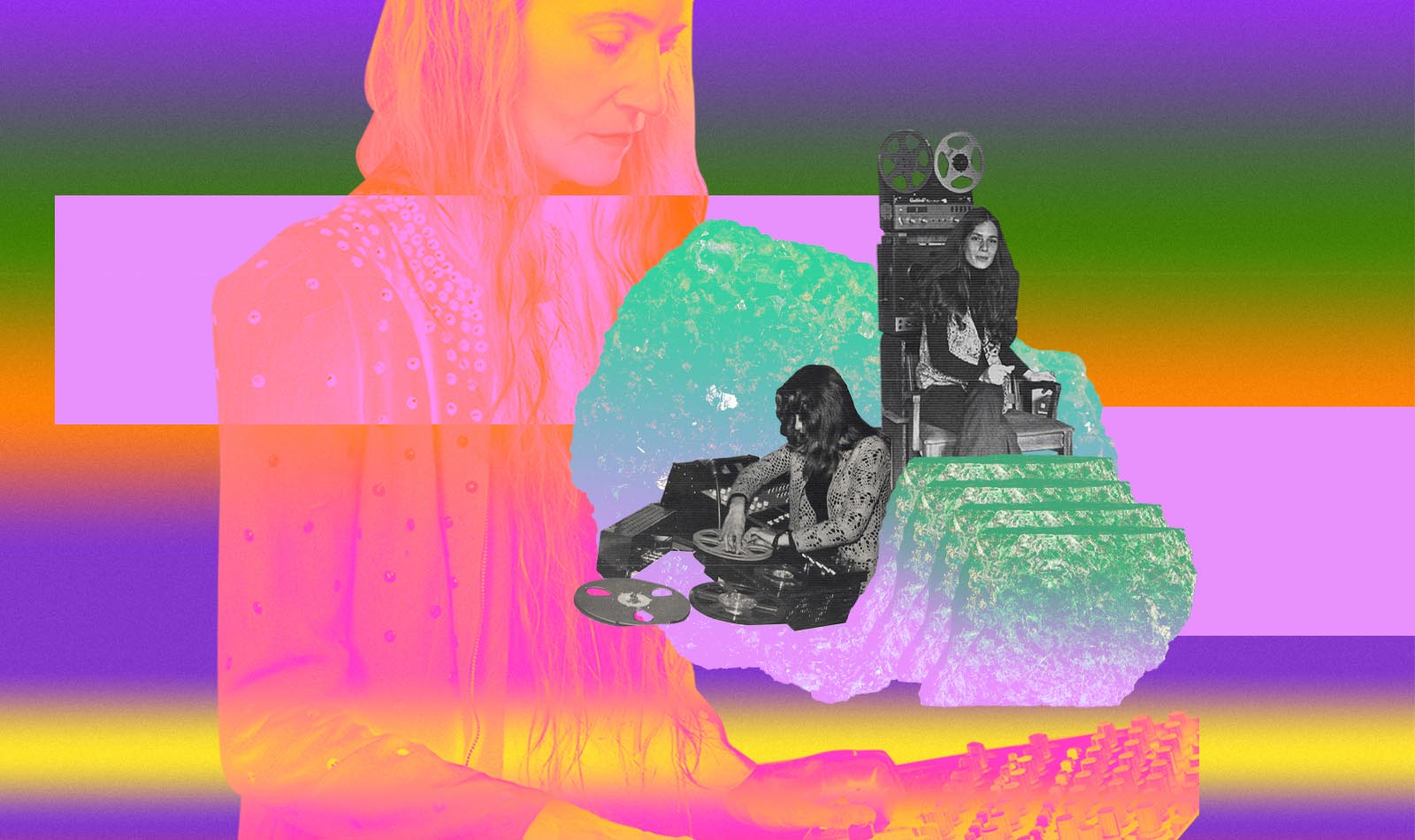 Drone composition encompasses a variety of music, all of which use long, slow-moving pitches as a vehicle for questioning how we perceive sound. Composers create these transfixing pieces by manipulating tape, layering acoustic instruments, and even inventing whole new instruments; but regardless of the nuts-and-bolts of their creation, the aim of drone composition is have us reconsider the role of sound in our day-to-day lives.
The genre is garnering new attention thanks to the documentary Sisters With Transistors (2020), which sheds light on the work of female electronic musicians, many of whom were pioneers in the field of drone composition. Books like Jennie Gottschalk's Experimental Music Since 1970, published in 2016, have further codified our understanding of sonic perception by illuminating the different ways Western classical composers have built their own musical universes. Although today the field encompasses everything from ambient music to sound baths, drone composition first began attracting attention through the work of Pauline Oliveros, whose album, Deep Listening, and subsequent "deep listening" philosophy, became a touchstone for the genre.
Before coining the term "deep listening," Oliveros had been working in electronic music for many years, experimenting with tape manipulation and complex tools such as signal processing. But she also started to find inspiration in simpler settings: humming in a circle with other people, walking alone along a path, and concentrating on the act of breathing. In her 1974 series, Sonic Meditations, instructions like "Take a walk at night / Walk so silently that the bottoms of your feet become ears," took the place of standard musical notation.
The natural motion of sound quickly became Oliveros' muse. Listening to lengthy tones, she was intrigued by the way sound moved on its own, and how those subtle motions affected her the way she felt. In what now feels like folklore, Oliveros descended into the Dan Harpole Cistern on the tip of the Olympic Peninsula in Washington State, alongside trombonist and composer Stuart Dempster and musician Panaiotis, to record their revered album, Deep Listening, released in 1989. It was in this barren tank that the trio explored the natural motion of seemingly never-ending sound, uniting all of these ideas into one ideological package called "deep listening." Deep listening, to Oliveros, was "listening in every possible way to everything possible to hear no matter what one is doing."
Centering the ways we perceive sound and exploring its immersive possibilities extends beyond deep listening and into different compositional styles as well. While Oliveros worked on Sonic Meditations and Deep Listening in California, East Coast electronic composer Maryanne Amacher made musical installations that gave visitors a firsthand experience with psychoacoustic phenomena, questioning whether what we heard was real, imagined, or an echo of the past. In the '60s and '70s, French electronic composer Éliane Radigue created meandering sonic explorations that shed light on the ways natural overtones and resonance interplay with the sounds we register. She first explored electronic music while working with the tape composition trailblazer Pierre Schaeffer at France's Studio d'Essai, widely considered to be the birthplace of musique concrète.
The influence of these early pioneers can be heard today in the work of improvisers like Maria Chavez and Sandy Ewen, who began collaborating through the Houston-based Pauline Oliveros Foundation Ensemble. Their music, which was recently featured at Brooklyn's Roulette Intermedium, continues to find inspiration in deep listening. Subtle, metallic scrapes are played at a barely audible whir, demanding our utmost attention in order to hear every minute detail.
In her Sonic Meditations, Oliveros asks: "What constitutes your musical universe?" The following list of albums provide an introduction to the pioneering contemporary classical musicians who sought to create a musical universe, inspiring us to listen with our fullest attention with their compositions.
---
Merch for this release:
Compact Disc (CD)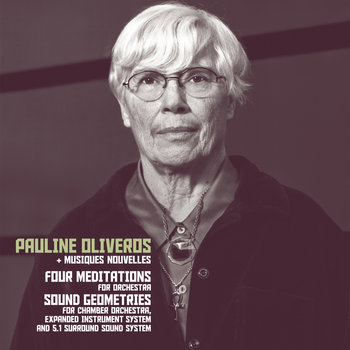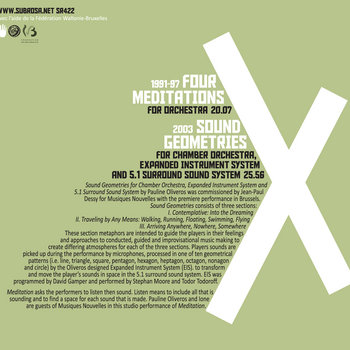 Four Meditations / Sound Geometries demonstrates two crucial components of Pauline Oliveros' music: Her musical scores, which leave elements up to interpretation, and her penchant for longform, meandering exploration. Each piece on this album provides a glimpse into how Oliveros uses listening as the primary vehicle for making and experiencing music. On Four Meditations, orchestral musicians listen to each other, rather than focusing on notes on a page, choosing what notes to play based on what they hear. Sound Geometries brings in her experience with electronics, using surround sound speakers to move the music around the room, creating a fuller trance.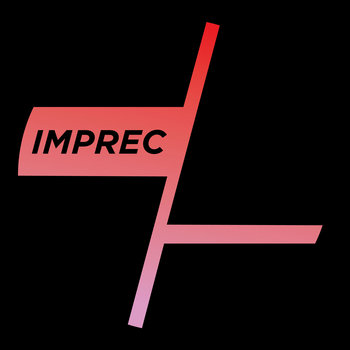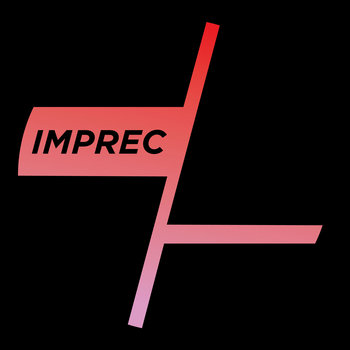 When she first began exploring tape music in the 1950s, Éliane Radigue worked alongside Pierre Schaeffer and Pierre Henry at Studio d'Essai, which was a European home for magnetic tape music. It was here she learned the tools of musique concrète, a type of electronic music involving manual tape manipulation of recorded sounds. She gained a particular interest in the possibilities of feedback between two tape recorders to make music. Her 1970 album, Vice versa, etc., uses this feedback-oriented approach to drone music. It shows how feedback itself can create longform, slow-motion music that delicately unfolds over time. Vice versa, etc. glimmers through subtly oscillating motion, steadily wavering across its 40 minutes of glistening sound.
Merch for this release:
Vinyl Box Set, Compact Disc (CD)
Laurie Spiegel is known for her work in computer music, an early example of working with algorithmic patterns to make music. She's also known for playing the Buchla synthesizer, but on The Expanding Universe, she uses the GROOVE system to create a series of brilliant, radiant melodies that envelop the ear and body. The goal of the piece is to use repetition and continuing patterns to encourage us to listen in detail, uncovering the slight differences that lie beneath the music's shimmering surface.
After attending a New Music America festival in 1980, Ellen Fullman found a community of artists she felt drawn to, which included Pauline Oliveros and her deep listening band. It was during the '80s, too, that Fullman began her more than 40-year, career-defining project: The Long String Instrument. The Long String Instrument is a 40-string, 45-foot-long installation that Fullman plays by walking among the strings, grasping them with fingertips coated in chalk-like rosin. The sound that results is a steady, nasally drone that illuminates the small shifts in sound that naturally occur as the strings resonate. Her 1985 album, The Long String Instrument, is the instrument's recorded debut.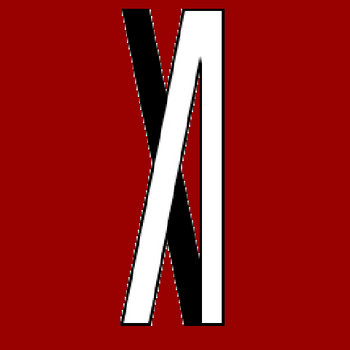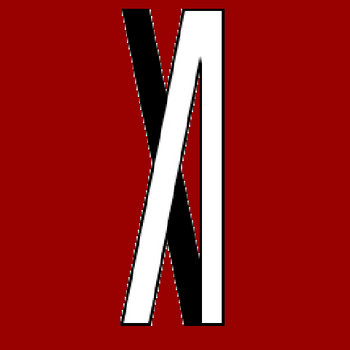 Merch for this release:
Compact Disc (CD)
A veteran of the downtown New York avant-garde scene, Phill Niblock's compositions encourage listening through near-static motion. Four Full Flutes, written for multiple tracks of alto flute, flute, and bass flute, hums with a continual resonance. Dissonant tones appear among the never-ending sound, creating an undulation between pleasing consonance and tense dissonance. The longer you listen, the more the flutes feel as if they melt into one; eventually, you may forget what you're hearing is a flute entirely. Instead, the music becomes pure sound. In addition to his work as a composer, he's known for directing New York's Experimental Intermedia, a downtown organization dedicated to supporting experimental artists working across mediums.
Maryanne Amacher
Petra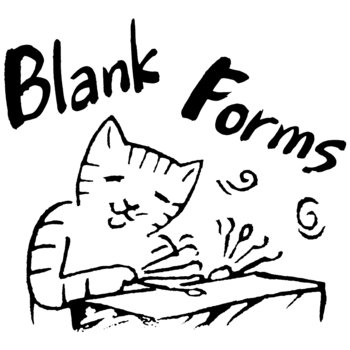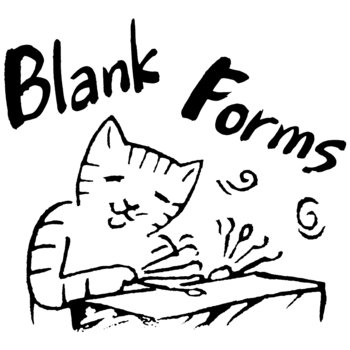 Merch for this release:
Vinyl LP, Compact Disc (CD)
Maryanne Amacher has been receiving newfound attention as labels like Brooklyn's Blank Forms have sought to unearth her compositions, many of which had been lost to time. Amacher spent her life transforming physical spaces into large-scale musical experiments that questioned the ways we perceive sound, inviting us to wonder if the music we heard around us really was around us, or if it was just a figment of our imagination. She'd spend hours listening to electronic tones, unraveling how they lived in the mind long after they finished ringing. Petra is an example of one of her improvisatory works, which shows how her echoing, electronic psychoacoustics translate to two pianos in conversation.