LISTS
A Guide to Eternal Hip-Hop Experimentalists Dӓlek
By Saby Reyes-Kulkarni · May 17, 2022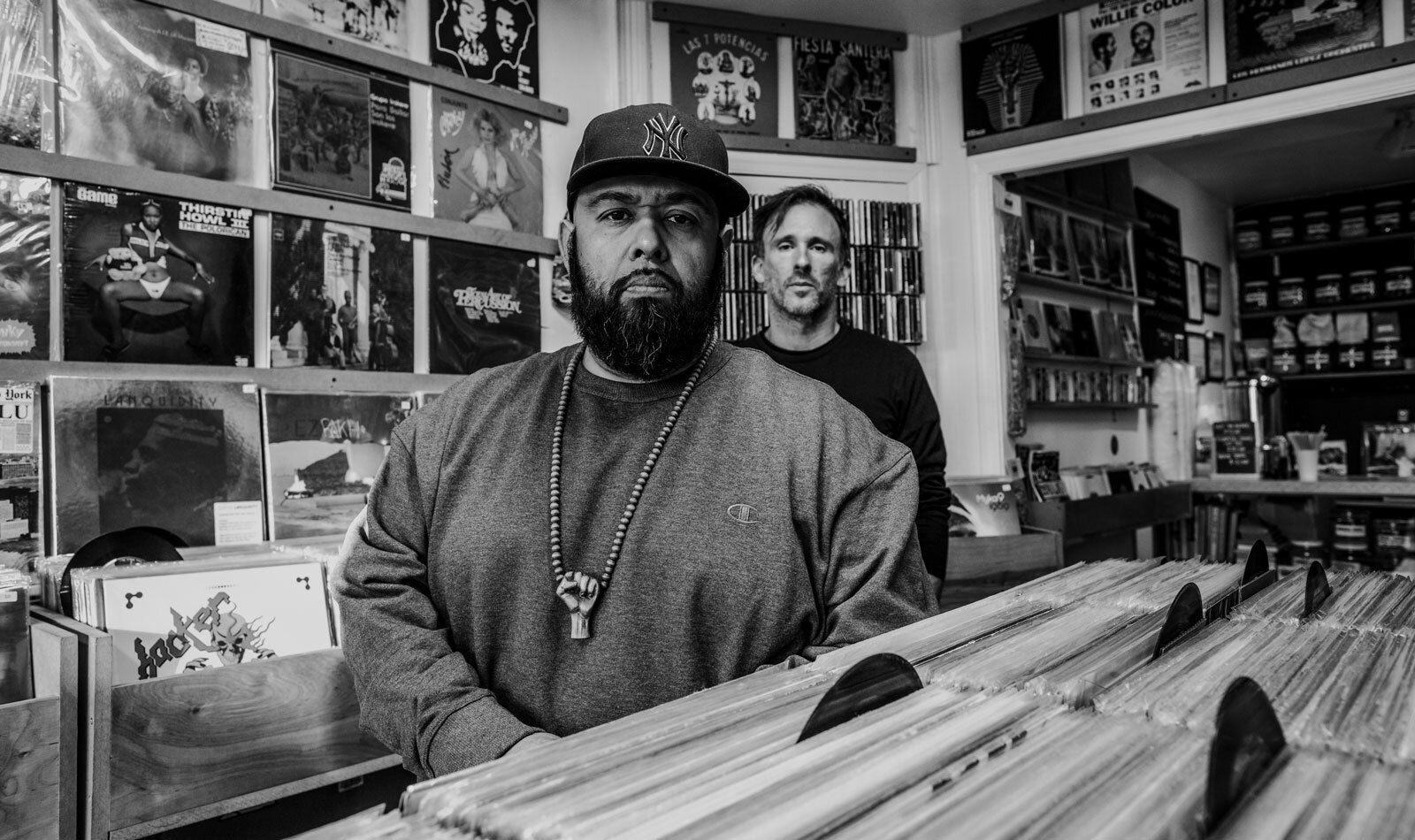 Dӓlek frontman/MC/producer Will Brooks remembers the first time he heard My Bloody Valentine's Loveless as a college student, at the urging of his then-future bandmates Alap Momin and Joshua Booth. "Everything changed," he recalls. Brooks, who had already developed an eclectic taste in music, immediately responded to the textural qualities he heard in the album's production. In a sense, Dӓlek was born that minute. Brooks (MC Dӓlek), producer/multi-instrumentalist Momin (Oktopus) and Booth (of the group All Natural Lemon & Lime Flavors) would soon marry their appreciation for texture to the foundational structure of classic rap music, setting out on one of the most innovative paths in hip-hop history. 
Relating to one another as the children of immigrants, Brooks and Momin charged their work with a trenchant socio-political message. (Brooks's family emigrated from Honduras, while Momin's parents left their native India due to friction they faced as a Hindu-Muslim married couple.) As Dӓlek's creative core, the pair developed a sound that owed as much to groups like Faust, Einstürzende Neubauten, Throbbing Gristle, and Godflesh as it did to first-wave hip-hop giants like Public Enemy, Eric B. & Rakim, and Ultramagnetic MCs. Momin and Brooks reverse-engineered Public Enemy's musique conrète sound collage early on, but theirs was an organic variation that became more pliable in their hands, portending their future as consummate sound sculptors. 
Over the years, Dӓlek have created a remarkable body of work that straddles alternative hip-hop, noise, industrial, shoegaze, krautrock, jazz, and the avant-garde—effectively paving the way for the likes of Death Grips, clipping., and Ho99o9. Equally comfortable appearing on hip-hop bills as they are gracing jazz festivals and sharing stages with metal bands, Dӓlek's boundless flexibility is counterbalanced by an unwavering sense of where their roots are. "We can go as far left as we want," Brooks stresses, "and it'll always be anchored in hip-hop." 
After breaking up in 2011, Brooks rebooted the band with longtime live guitarist Mike Manteca, who stepped into the role previously occupied by Momin. (For more on the hilarious story of how Manteca fell into the group's orbit and his instrumental role in Dӓlek's reformation, check out our 2017 feature.)
Ahead of Dӓlek's new album Precipice, we sat down with Brooks to discuss the group's discography.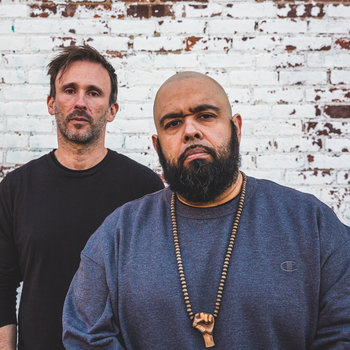 .
00:10 / 00:58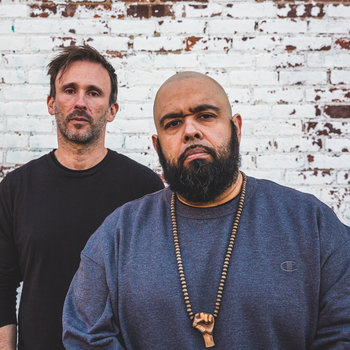 Dӓlek's 1998 debut Negro Necro Nekros hinted at, but didn't quite convey, the wall-of-noise approach that co-founders Brooks, Momin, and Booth had already captured in their live show. By contrast, 2002's sophomore full-length From Filthy Tongue of Gods and Griots solidifies Dӓlek's sonic template in no uncertain terms at the 12-second mark of album opener "Spiritual Healing." A delicate strip of classical/jazz-inflected piano gets swallowed by a maelstrom of wailing sirens and subsonic bass, over a classic hip-hop drum pattern while the groove advances like a Sherman Tank during an air raid. 
While the Public Enemy/Bomb Squad influence screams through the speakers, "Spiritual Healing" also cements what would soon become one of the most distinctive production styles in hip-hop history. "You can listen to 'Classical Homicide' and 'Spiritual Healing," Brooks offers, "and it's like 'Okay, this is what we are.' You can also hear the beginnings of where we went on the next album." The 12-minute "Black Smoke Rises" ranks as one of the group's most uncompromising excursions into free-form noise, while tracks like "Voices of the Ether" and "Speak Volumes" showcase Dӓlek's penchant for creating the atmosphere and space that would grow increasingly prominent in their sound over time. 
Becoming a full-time touring act in support of Filthy Tongue significantly broadened Brooks's understanding of socio-economic disparity, which he channeled into the relentlessly (and irresistibly) dread-filled Absence. While "Culture for Dollars," for example, tackles the erosion of hip-hop's integrity as a street-level artform, "Asylum (Permanent Underclass)" couches Brooks's observations about the inner city within the larger machinations of war, geopolitics, and global finance. Arguably the densest and hardest-hitting album in the Dӓlek catalog, Absence also leaves the listener haunted by a feeling of tragedy that the music exudes. 
"We went to all these places I'd never been before," Brooks recalls. "That definitely changed my perspective on the world—it changed everything. These places weren't abstract anymore. World issues were no longer just news items for me because now I had concern for people I actually knew. And travel also influenced the direction of the music—lyrics, and everything. I feel like people in America don't know what poverty really is. You need to travel the world to see the absolute horror that some people have to live in. And I've seen that shit first-hand. The valley between rich and poor is so vast it's horrifying. And I feel like, if we're not careful, that's basically where this country's headed." 
.
00:10 / 00:58
With their fourth full-length Abandoned Language, Dӓlek peeled back the noise and diffused the density they'd achieved on Absence, revealing the layers of finesse that had been there all along. Older material had delved into delicate forms of jazz and classical Indian drone, but Dӓlek definitively displays their airier side on Abandoned Language. On tunes like "Bricks Crumble," "Starved for Truth," and "Stagnant Waters," the driving beats that had once propelled their music recede, leaving behind ghostly remnants of rhythm along with plenty of room for melody. 
Believe it or not, there had always been a harmonic logic underlying the abrasion in the group's music—Abandoned Language was just the first album to reveal it in full. "Okto and Josh," says Brooks, "were adding layers of melody to the core ideas I'd come up with. It got intricate, man! It was a huge undertaking. I mean, it was more stripped-down, but it was also more out-there than anything we'd done before. It wasn't so much about the noise this time. We were getting this really atmospheric drone-y quality that was just gorgeous, which on that album specifically I credit to Josh." 
.
00:10 / 00:58
Hydra Head's first-ever hip-hop release, this collection of standalone tracks, instrumentals, and remixes of songs by the likes of Kid 606, Enon, and Velma commemorates the group's first decade. "That rarities set," says Brooks, "covers a lot of the 12-inches we'd been releasing between albums. And even though it was a collection of individual tracks, we still wanted it to work from top to bottom. From the beginning, Okto and I always listened to everything as an album." 
.
00:10 / 00:58
Though not released until 2010, this live album documents Dӓlek in a specially commissioned performance alongside the influential Swiss avant-industrial trio The Young Gods at the 2007 edition of the Eurockéennes Festival. As pioneers of a distinct approach to sampling in the mid-'80s, The Young Gods indirectly helped pave the way for renegade groups like Dӓlek. With much common ground between the two bands, they made for a suitable pairing as the conjoined groups re-worked their respective songs from scratch. 
Brooks explains: "I was using vocals from Abandoned Language, and Franz [Treichler, Young Gods frontman] was using vocals from [throughout their catalog]. Because of the time constraints, it was nuts to pull it off. It was a pretty big group of musicians—all of Young Gods, myself, Alap, Josh, and Mike. To wrangle all those players into something worth being on a stage at this huge festival was a crazy undertaking. I'm still in shock that we pulled it off. I've watched the performance pretty recently, and I was like, 'Man, how the fuck did we do that?' I remember walking out on that stage and being nervous as fuck."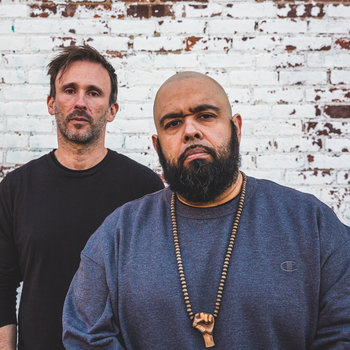 .
00:10 / 00:58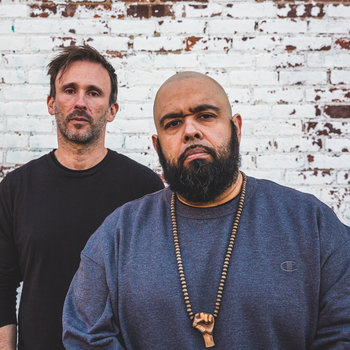 Simultaneously abstract and structured, Gutter Tactics returns the group to a funkier, more beat-driven approach, while Brooks swerves between pointed commentary and freeform stream of consciousness lyrics, describing the album's subject matter as "more overtly socio-political." That's evident from the intro track, "Blessed Are Those Who Bash Your Children's Heads Against a Rock," a searing indictment of the civilian death toll wrought by the United States in its military actions around the globe. (The track samples Reverend Jeremiah Wright's infamous post-9/11 sermon, which generated a swirl of controversy during Obama's election campaign when the speech re-surfaced in 2008, the same year Dӓlek were working on the album.)
"I wouldn't say I was well-versed in American foreign policy growing up," says Brooks, "but I knew that something wasn't right. Then you start reading a little bit and seeing these patterns. In order for the U.S. to be where it's at, these resources have to come from somewhere. It's like, 'Who the fuck do we think we are?' And I say 'we' because I'm conscious of the fact that I'm from here too." 
As usual, Gutter Tactics contains moments of sparkling brightness ("Street Diction," "We Lost Sight," "Los Macheteros/Spear of a Nation," "A Collection of Miserable Thoughts Laced With Wit") that showcase the emotional ambiguity—a near-constant juxtaposition between lyrics and music—that makes Dӓlek's music so alluring. The first album to bear the stamp of Manteca on guitar, Gutter Tactics is also the last proper Dӓlek album before Momin's departure, which precipitated the group's breakup in 2011.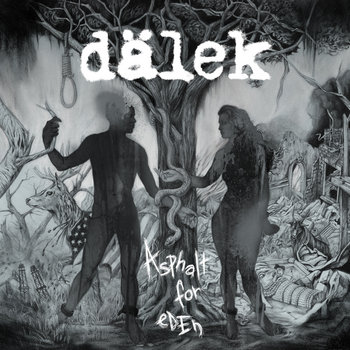 .
00:10 / 00:58
Merch for this release:
Compact Disc (CD)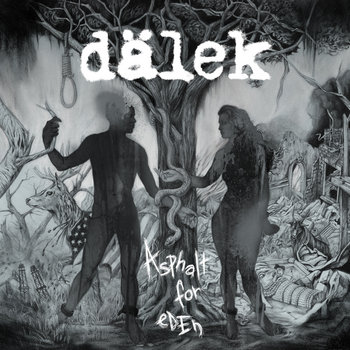 After concentrating on his more straight-ahead hip-hop trio iconAclass for the better part of a half-decade, Brooks "started to miss the noise" and got the urge to revive Dӓlek. When Momin declined but gave Brooks his blessing, it "made perfect sense" to reconvene with Manteca and upgrade his role from guitarist to fellow producer/programmer, building the sound back up around him and Brooks as the new creative nucleus. (Booth and original DJ Rudy Chicata aka DJ rEk returned to contribute as well.) Remarkably, Asphalt for Eden re-captures Dӓlek's singular essence while also taking a great leap forward. The noise element is still present, but it's less harsh, as if Brooks and Manteca vaporized their arsenal of sound effects into a fine mist. 
"That album," says Brooks, "was kind of an experiment, like 'Can we do this?' How do you re-start a group that's been gone for like five years? But Okto understood that I wanted to do this. I remember telling him, 'I'm not gonna put out some bullshit.' I wasn't going to do it out of ego. That was kind of my promise to him. And then it was a matter of figuring out if I could live up to that. 'Mass Laughter' was the song that put me at ease. Mike and I wrote that, and the way it happened was just so natural. It just flowed. It sounded like Dӓlek, but it was a brand new sound. And as we worked on more songs, the album just came together beautifully."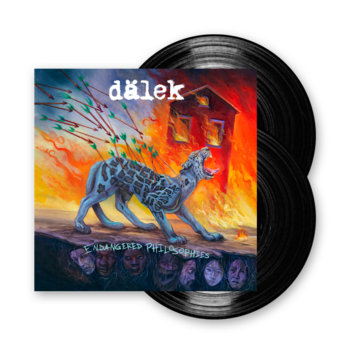 .
00:10 / 00:58
Merch for this release:
Compact Disc (CD), 2 x Vinyl LP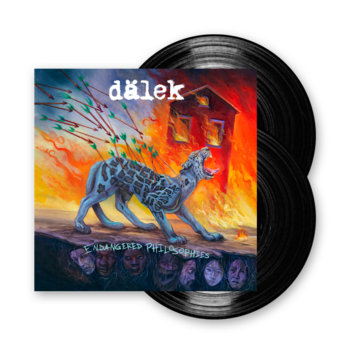 Brooks sees Dӓlek's growth following Asphalt for Eden along the same lines as the progression from Filthy Tongue to Absence. "Endangered Philosophies," he says, "feels more focused, where the whole record has a feel to it. We were definitely more sure of ourselves after touring on Asphalt. Touring as a trio as much as we did, we were like a well-oiled machine. Mike and I were feeling really good about the way we work together, and then rEk was coming in and killin' it with the cuts. Top to bottom, I'm very proud of that album." 
Grittier than its predecessor, the album sees Brooks and Manteca shrugging-off the constraints of verse-chorus song structure, with some tracks ("Weapons," "Echoes Of…," etc.) humming in essentially the same gear, the dynamics rising and falling as much or as little as the pair sees fit. Perhaps more than any of the band's proper albums, Endangered Philosophies reflects the subtlety of the band's onstage interplay. To think of Dӓlek as beatmakers in the purest sense is to miss the fact that there's a great deal of flexibility in their programming—in a sense, they actually play noise like it's an instrument. And in its sense of openness, the three-piece lineup on Endangered Philosophies played off one another with the kind of musical sensitivity of a jazz trio. 
Anguish (Self-titled Collaboration)
Merch for this release:
Vinyl LP, Compact Disc (CD)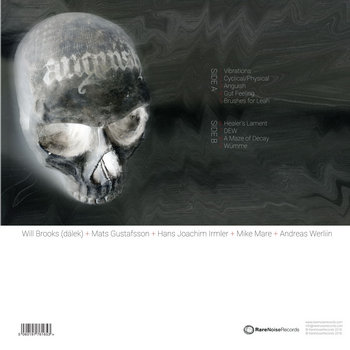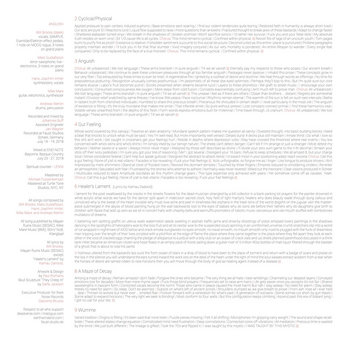 Though not billed as a formal Dӓlek release, the group project Anguish features Brooks and Manteca alongside saxophonist Mats Gustafsson and drummer Andreas Werliin of Fire! Orchestra—essentially Dӓlek meets Fire! Orchestra under the studio guidance of Faust co-founder Hans Joachim Irmler, whom Brooks refers to as "our musical father." As mainstays of Scandinavia's highly fertile experimental jazz scene, Gustaffson and Werliin make suitable foils for Brooks and Manteca, whose soundcraft draws from freeform improvisation far more than Dӓlek's albums might indicate. 
Meanwhile, according to Brooks, Irmler played the role of host/facilitator to a tee. "Joachim," chuckles Brooks, "was cooking food the whole time. The way his studio's set up is genius because the kitchen is right off of the live room. You can see him while you track, and he has speakers set up in the kitchen so he can listen. He'd be in the kitchen cooking, and he'd just wander in when he felt like he needed to add something. It was ridiculous because he'd just sprinkle the music with a couple of keyboard lines that he'd start fuckin' around with, or a drone, and it would be completely what the music needed."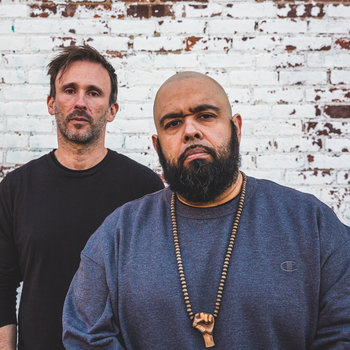 .
00:10 / 00:58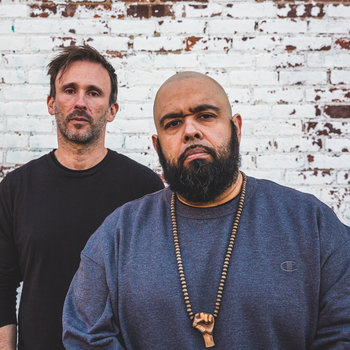 Dӓlek have never shied away from melody or ambiance. Since their earliest work, they've always been willing to give their music a delicate touch. But Respect to the Authors shows just how masterful the group has gotten at suffusing atonality with a beauty of its own. On this EP, a layer of mournfulness hangs like a lace curtain behind the blasts of (seemingly) inorganic digital effects we've come to expect from Manteca and Brooks. Strip away the sandpapery outer layer of tunes like "With These Mics," "Defiant," and the title track—which, make no mistake, are tunes in the truest sense—and the music reveals a delicate electronic framework that wouldn't sound out of place on records by Boards Of Canada, Teebs, or Prefuse 73. Naturally, these qualities, along with Brooks and Manteca's broader production acumen, shine through even more on the EP's instrumental version. 
DOOLHOF (Self-titled Live Improvisation)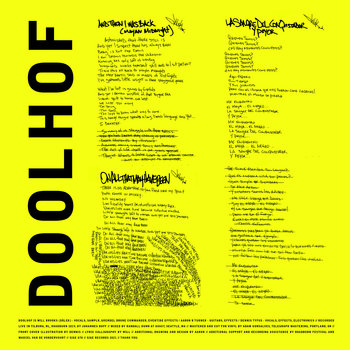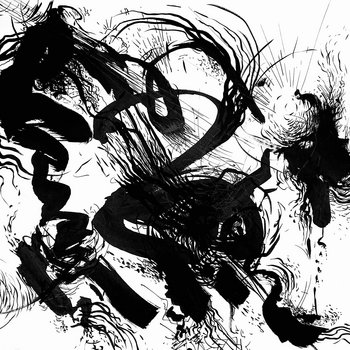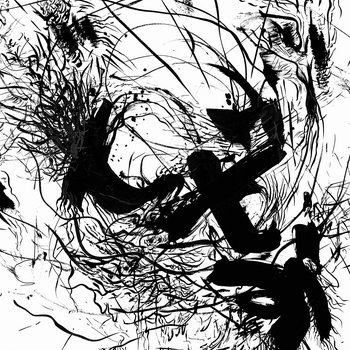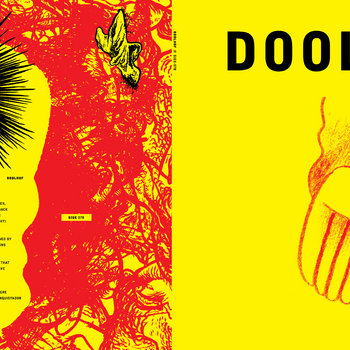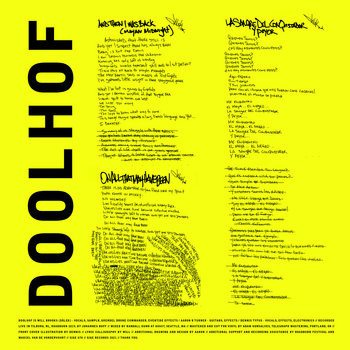 .
00:10 / 00:58
Merch for this release:
2 x Vinyl LP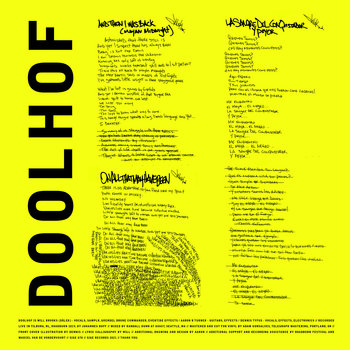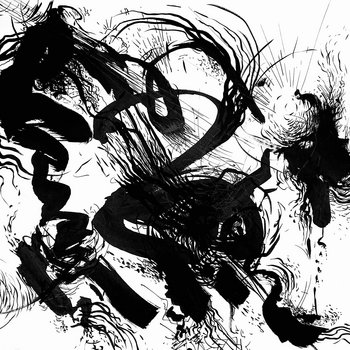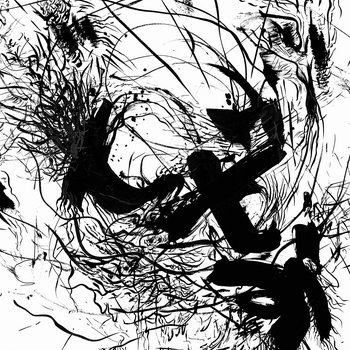 Another collaborative festival performance, DOOLHOF consists of a live improvisation by Brooks, Aaron Turner (ISIS, Sumac, Hydra Head records founder), and Belgian visual artist/musician (and Ultra Eczema label founder) Dennis Tyfus, recorded live at the 2019 edition of Roadburn. "I guess because I'd been able to pull-off Griots & Gods, I was more confident about projects like that. This one was even crazier. There was no rehearsal. There were just three emails sent back and forth—not even with music. We met backstage ten minutes before showtime and then just played. We had no idea if we were going to be able to make it work or not. It's akin to tightrope walking with no safety net. I mean, that one was easier in a sense because it was more experimental and out-there, but something like that still has to make sense and vibe with people."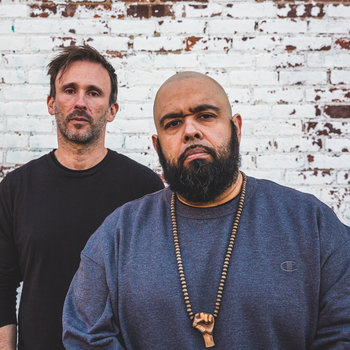 .
00:10 / 00:58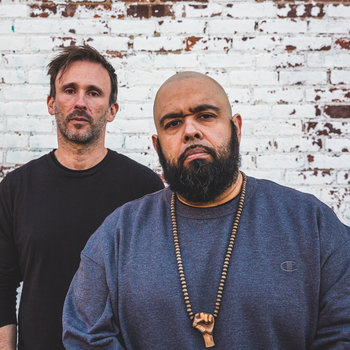 Brooks had been live-streaming DJ sets for a few years before the pandemic. "My boy rEk," he explains, "hipped me to Twitch." Stuck at home at the height of the lockdowns in 2020, Brooks brought some equipment home from his studio and decided to livestream himself, creating beats from scratch on his iPad in his home office. Much to his surprise, a couple of listeners asked, "Where can I buy that?" (Answer: on Bandcamp, of course!) Brooks did some post-production on his session, which ultimately surfaced for sale as Live from Deadverse Studios in Exile: Meditations No. 1. 
Heartened by the response, he kept going, pushing himself to finish material in one-month increments to coincide with Bandcamp Fridays. "It gave me something to focus on," says Brooks, "which was so important at that point. And that immediacy was really different than the way I usually work. Dӓlek records usually take 2-3 years to make. But here, I was able to speak on things that were happening around me as they were happening. It was cathartic. And the more I did it, the more involved it got. Some of them have brand new, full Dӓlek songs, but it helped me be less precious about my process. And it was so great that Bandcamp did that. I think that changed a lot of shit for a lot of artists. It was a beautiful thing." 
Merch for this release:
2 x Vinyl LP, Compact Disc (CD)
Now operating as a duo, Brooks and Manteca once again draw on their familiar vocabulary of swirling sound effects. But they also take more chances on Precipice, which is perhaps their most challenging work to date. Where every album from Absence onward announced its sonic identity at the outset, Precipice isn't so easy to gauge on first listen, with music that ranges from the billowing instrumental ambiance of album opener "Lest We Forget" to the mechanical, vaguely Eastern drone of "Boycott" to the Killing Joke-meets-The Roots temperament of "Good." On "A Heretic's Influence," Tool guitarist Adam Jones contributes guitar, which Manteca and Brooks summarily turn on its head. 
Much of the album crawls at a snail's pace, but Brooks sees the new material as the ultimate marriage of music and message. "In the past," he explains, "We always wanted to do the whole shoegaze thing and bury the vocals in order to have the music be as impactful as we'd envisioned it. But we're finding a nicer balance now. On Precipice, the vocals are louder than they've ever been, but I like the way everything is sitting. Part of that is due to technology, but it might also be that I'm learning how to mix better."