LIFETIME ACHIEVEMENT
Six Essential Flying Lotus Albums on Bandcamp
By Max Bell · February 04, 2021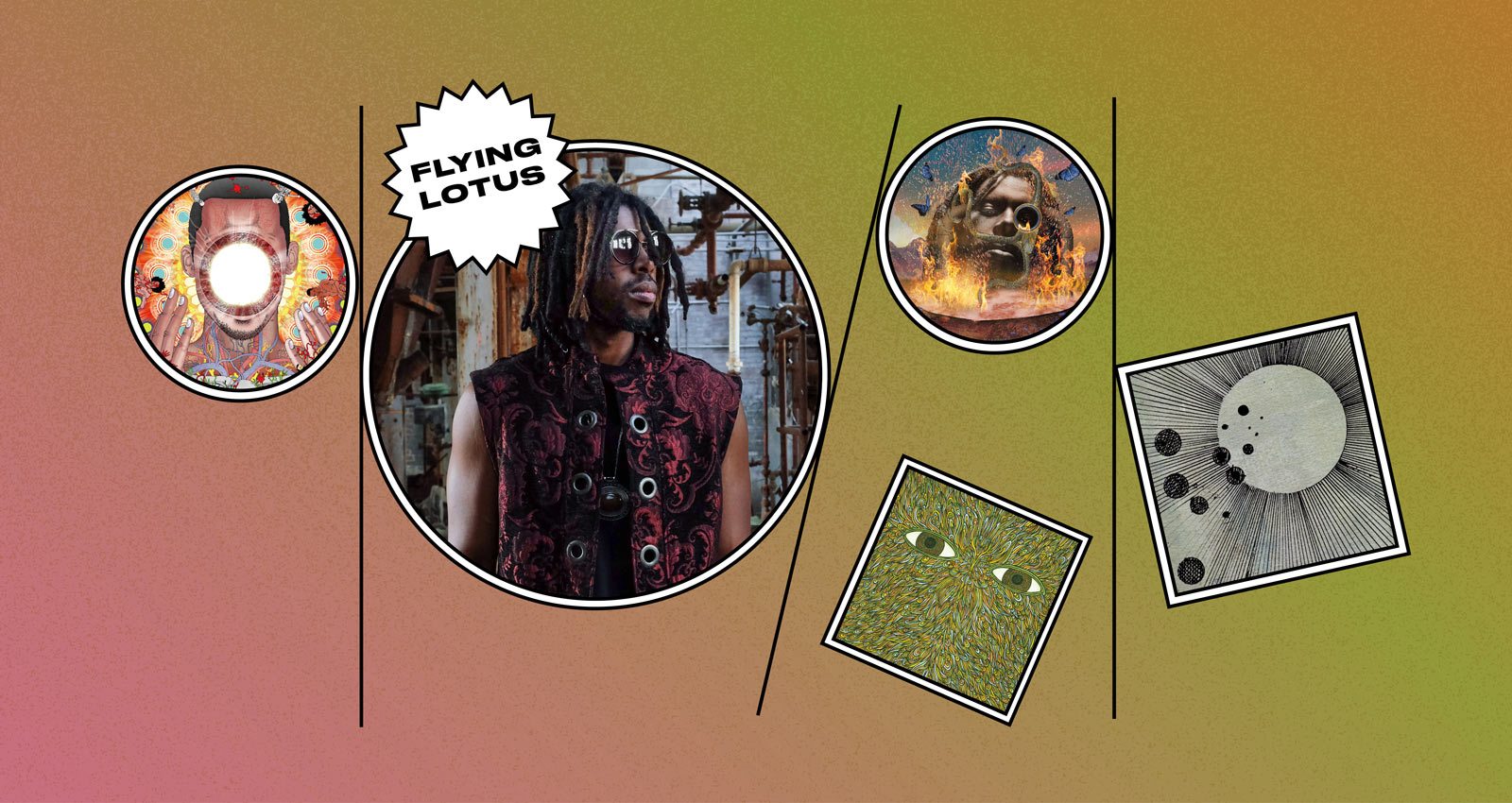 BBC DJ Mary Anne Hobbs once christened Flying Lotus the Jimi Hendrix of electronic music. Daddy Kev, the sonic guru who's mastered many FlyLo albums, likened him to Neo from The Matrix: "The One." On a 2021 episode of the WTF with Marc Maron, Thundercat, arguably Lotus's closest collaborator, called him, "the sound of Los Angeles."
The 37-year-old Los Angeles native, born Steve Ellison, deserves each honorific. If you've seen Lotus live, you've watched as he used inert electronic equipment to create portals to a psychedelic world of sound. In that world, beat-centric hip-hop, chest-caving electronic music, spiritual free jazz, and spaced-out strains of funk fracture and fuse. Live and on record, Alice Coltrane's grand-nephew is a synthesist bending and breaking all genre definitions, ultimately revealing that the definitions never really existed. He may have released his second album—the era-defining Los Angeles—on revered UK electronic label Warp, but the title of that album nods to how much his birthplace has shaped him. In the mid-'00s, when he was submitting beats to Adult Swim, Lotus interned at Stones Throw, the L.A. label responsible for releasing instrumental Rosetta Stones from J Dilla and Madlib. He spent nights at Sketchbook and Low End Theory. Foundational hubs of the city's then-burgeoning beat scene, these were places where Dabrye and DJ Shadow instrumentals bled into British dubstep. "We're trying to chase the perfect beat together," Lotus said in Gus Sutherland's beat scene documentary All Ears (2013).
Since his salad days, Lotus has absorbed the sounds of the city as much as he's shaped it. Outside of performing and recording mind-altering music, he founded Brainfeeder to further his search for the perfect beat. It is one of the labels chiefly responsible for bringing the "sound of Los Angeles" to the world. In addition to releasing albums from beat scene paragons like Teebs, Daedelus, and the late Ras G, Brainfeeder has been home to Thundercat and Kamasi Washington. The jazz renaissance in Los Angeles and beyond would not exist without Lotus's Brainfeeder. This is all to say nothing of his successful stint as once-anonymous rapper Captain Murphy, or his influence on/contribution to Kendrick Lamar's To Pimp a Butterfly.
This year, after six progressively forward-thinking albums, several EPs, and countless accolades, Lotus has been nominated for a 2021 Grammy for Producer Of The Year, Non-Classical. The list of records below should elucidate why he's deserved that honor many times over.
With Los Angeles, Lotus incorporated the prominent influences (e.g., Dilla) of his debut (1983) into a new, singular voice. Occasionally aided by equally progressive L.A. beatmakers like Samiyam and Matthewdavid, he fuses hip-hop, dub, IDM, and more. His second album oozes and pops with organic and electronic textures, the warmth of dusty vinyl and the spacey atmosphere of computerized glitches and blips. That hybrid texture coats cavernous drums and angular-yet-swinging rhythms like smog does Angeleno skin. Every beat pulses and breathes. Lotus transmutes dub to match the frenetic throb of stop-and-go traffic ("Riot") and creates astral breakbeats on "Parisian Goldfish." On the jangling, thumping "Camel" and the softly knocking, harp-driven "Auntie's Harp," you can hear currents of the city's spiritual side that extends from Leimert Park to the ashram Alice Coltrane founded in Agoura. Somehow, Lotus captures the sound of the city and the beat scene while divining the latter's cosmic future.
Los Angeles explores the celestial, but it often touches down to Earth. Cosmogramma is a rocket-fueled journey through astral, sometimes psychedelic free jazz, the sound of Lotus connecting the lineage of his great-aunt and beat music. To realize that vision, he expanded the in-studio personnel, collaborating with anime-obsessed bass god Thundercat, multi-instrumentalist Miguel Atwood-Ferguson, and Los Angeles harpist Rebekah Raff, among others. You can hear Thundercat all over the speeding "Pickled!," where his fusion-influenced bass lines keep pace with the breakneck shuffle of Lotus's percussion. All three collaborators contribute to "Zodiac Shit." On the first half, Lotus constructs an aqueous and hydraulic groove around strings. It's the sound of an Impala hitting switches while riding wire-wheel deep in the Pacific. The back half, though, is as close as he comes to a more traditionalist hip-hop beat. His drums have the drunken swing Dilla imparted to a generation, each kick accentuated by soulful notes from Thundercat and sweeping strings. Some tracks almost fit squarely into the jazz genre (e.g., "Arkestry"), but Lotus breaks from his central thesis. "Do the Astral Plane," for instance, sounds like he's channeling Parliament-Funkadelic into house music. Ultimately, though, Cosmogramma lays the foundation for further jazz experimentation later in his career.
Released a handful of months after Cosmogramma, Pattern + Grid World is understandably far less ambitious. These are sparser, purposefully cacophonous beats meant to fry club speakers. He scraps the strings and ratchets up the tension. "Kill Your Co-Workers" and "PieFace" sound like different levels in the same twisted video game. The former is blistering 8-bit juke, the sound of a Super Mario Bros. game where Mario saves Princess Toadstool by beating Bowser in a footwork battle. "PieFace" is particularly glitched out and punishingly percussive. Lotus complements the drum & bass rhythm of "Jurassic Notion/M Theory" with wooden percussion, and "Physics For Everyone!" finds him warping and fusing synths into the propulsive score for a crashing spaceship. Pattern + Grid World doesn't have the stakes of Cosmogramma, but it remains one of the most cohesive works in his catalog.
Before Until the Quiet Comes, Lotus seemingly included every sound, texture, and ambient noise he could fit in the mix. It follows that he eventually made something more subdued. Until the Quiet Comes plays like the most lucid dream, a somnambulant stroll between time signatures, moods, and genres. Lotus continues to cross-pollinate hip-hop, jazz, funk, and even rock, yet the nuances are subtler here. Even the biggest beats, like the hand-clap-driven "Putty Boy Strut" or the bouncing, synth-squealing modern funk that is "The Nightcaller," sound muted. Lotus has almost always worked with singers, but this album features some of his most artfully integrated vocals. On "Getting There," Lotus fills concussive boom-bap with glinting percussion and mystical atmospherics as Niki Randa's voice floats through like a comforting spirit. Thom Yorke's vocals work in a similar—albeit more haunting—vein on the swirling, tambourine-accented creep of "Electric Candyman." His falsetto is part of the instrumentation more than it is the focal point. In committing to the quiet, he created one of his loudest artistic statements.
By the time he composed You're Dead!, FlyLo had lost close friends (Austin Peralta) and relatives (his mother and great aunt) in a relatively short span. He channeled that grief into an album that looks at death with both severity and levity. Musically, it's a companion piece to Cosmogramma, a more refined hybridization of jazz-fusion, hip-hop, funk, and electronic music. "Never Catch Me" finds Kendrick Lamar outpacing uptempo jazz-funk fusion while meditating on his mortality. And "Coronus, the Terminator" is arguably the greatest requiem in beat music, the anti-genre's answer to Bone Thugs's "Crossroads" and likely the song playing from the speakers on the boat that ferries you across the River Styx. Sparse drums that thud like heartbeats combine with handclaps and organic percussion, Niki Randa's breathy vocals sound at once angelic and ominous. Lotus counters that mood with tracks like "Dead Man's Tetris," a playful Snoop Dogg assisted song where Lotus refracts laser gun funk through a prism of glitched-out electronic-leaning hip-hop. In the grander scheme, though, You're Dead! is part of a triptych of landmark Los Angeles albums that share many of the same collaborators. The other two followed after You're Dead: Kendrick Lamar's To Pimp a Butterfly and Kamasi Washington's The Epic. Together, these three albums signaled the next phase of music in Los Angeles and beyond.
Released in 2019, Flamagra plays like a brilliant sketchbook and a highlight reel, a combination of spontaneous bursts of creation and the peak of Lotus's unparalleled powers as a bandleader and an arranger of parallel sounds. It is as fascinating and unpredictable as anything from David Lynch, who delivers a surreal spoken-word narrative in the middle of the album. On a few of the 17 instrumentals, one can still hear the faintest shades of Lotus's foundational influences. Their barely perceptible footprint affirm his remarkable growth over the 2010s. "Post Requisite" smacks slightly of Slum Village-era Dilla, but Lotus turns a downtempo bump into a layered amalgam of shimmering, cosmic funk, and soul. "FF4" plays like melancholic and eerie avant-G-funk. One can hear Dre in the pluck of the strings and the hydraulic bounce of the drums, but Lotus turns the beat into something super-modern. The album also showcases some of Lotus's best work with vocalists. Anderson .Paak turns in a smoky and subdued performance over an uptempo slice of neo-soul and funk that was born out of a jam session, and Lotus finally makes his ever-present Mothership Connection concrete, recruiting George Clinton to deliver funky and cartoonish vocals over a suite that charts all the connections between 1982's "Atomic Dog" and his latest iteration of progressive beat music. Like many of his albums, Flamagra mines the past to push into the future. The question after this record becomes: Where else could Lotus possibly go?