LABEL PROFILE
Doomtown Records Brings the Past and Present of (Post-)Yugoslav Punk Together
By Jacopo Sanna · September 18, 2023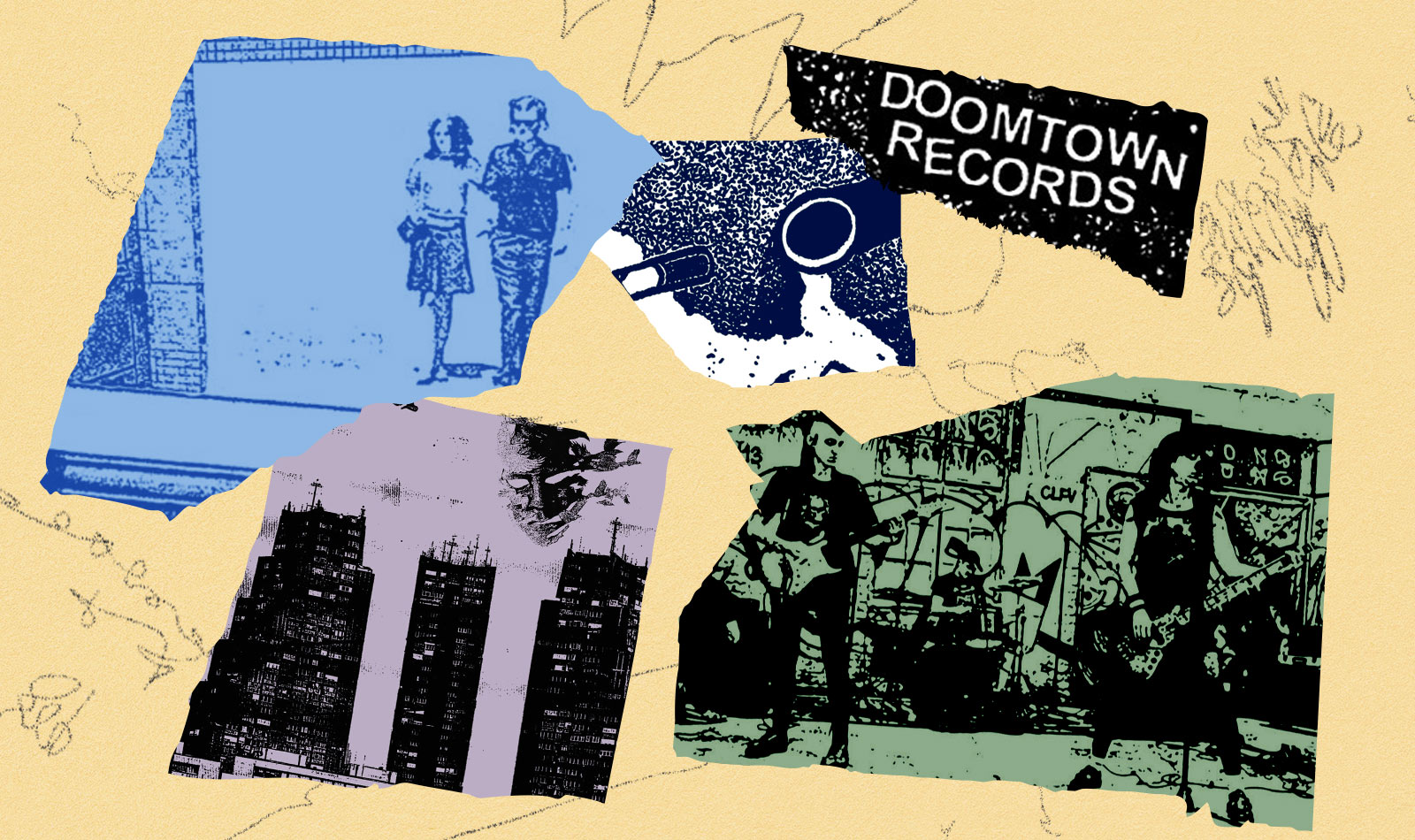 Punk may be in its fourth decade, but that doesn't mean that there isn't still a primal intensity to be found in the music of the 1980s, and many current groups continue looking back to look forward—be it the darkness of post-punk, the innate rage of UK82, or the furious sincerity of early hardcore. Many of the labels focusing on this revival of sorts are British and American—La Vida Es Un Mus, Static Shock, Iron Lung—but the practice is global. What's more, these groups are often digging into the musical pasts of their own countries and regions, bringing to light unique influences. In the post-Yugoslav region, a tape and vinyl label called Doomtown Records has become the center of a constellation of brand-new bands that are reviving the spirit and sound of early Yugoslav punk.
Back in the 1980s, Yugoslavia had quite a varied punk scene. In the late 1970s, several punk rock bands started to be active in the country's major cities; groups like Paraf, Pankrti, Pekinška Patka, and Električni Orgazam were all fairly successful at the time. By the early 1980s, many of them had become even bigger as they embraced new wave, but an underground DIY punk scene resisted doing the same. Meanwhile, in Ljubljana, now the capital of Slovenia, an active and exciting hardcore scene was emerging, with bands like U.B.R., Tožibabe, and Epidemija ultimately influencing the rest of the country and reaching the global DIY network. Regardless of the specific style, the sound of these bands was often imbued with gloom and contemptuous provocation, which resonated well with the uncertain political situation of a country that would soon tragically disintegrate.
Doomtown Records was founded around 2010 in Zagreb, the capital of Croatia, by two friends who had been playing in various local bands. The first releases were diverse, ranging from old-school hardcore (see the split from Lets Grow and Jaibo!) to an anthemic blend of 1980s emo and post-punk (XAXAXA). Tape after tape, record after record, the label has managed to create its own well-defined sound and aesthetics. While they've put out plenty of releases from international bands—Generation Suicida, Savageheads, Jarada—the most interesting branch of the label's roster is probably a close-knit group of Croatian and Serbian bands that share a fascination for different shades of Yugo-punk.
What makes this set of bands stand out is that they sound like they come from another decade but at the same time fit perfectly within today's global scene. Take Mižerija, for example, one of the most exciting projects to come out of Croatia recently. Their distorted anarcho-pop certainly owes a lot to the past; on the write-up that accompanies their self-titled EP on Bandcamp, they reference demos from Yugoslav punk bands of the early 1980s like Boye and Kaos as well as Yes Sir I Will-era Crass. Another example is Крах! from Belgrade (their name is actually written in Cyrillic: it reads "Krah!" and means "Crash!"). They play a sort of street punk influenced by British bands from the 1980s—the same ones that would influence Yugoslav outfits at the time—simultaneously incorporating melodic and post-punk elements in the same way Syndrome 81 and others are successfully doing in the rest of Europe today.
Perfectly in keeping with the musical and aesthetic lines of these releases, Doomtown has also begun to repress tapes and records from the 1980s. The first of these reissues was the remastered discography of Trobecove Krušne Peći, a Croatian band that had only sparse recordings from the 1980s. It was later followed by Quod Massacre, one of the most influential hardcore punk bands from mid-1980s Ljubljana, and by darkwave outfit Psihokratija, an obscure and short-lived band from Belgrade. These represses sit surprisingly naturally alongside the label's newer releases. Together, they generate a diachronic dialogue; the line between the past and the present is thinned by a shared underlying darkness and by the timeless desire to joke and provoke.
In the following list, we dive into this dialogue and the sound of Yugo punk, present and past. Four of these releases came out between 2020 and 2022, while three of them are repressed tapes and records from the 1980s. Yet, distinguishing one from the other is surprisingly hard.
---
TKP were a band from Zagreb active between 1981 and 1987. Their name was inspired by a notorious serial killer named Metod Trobec, which caused a good deal of controversy at the time. Black humor and horror became the pillars around which the band built their ethos; they were heavily influenced sonically by Gang of Four as well as jazz and funk more broadly. Their discography, S Mukom Žva​č​u Trubadurov Vrat, was released in 2012; they had never released a proper record while active. The first 12 songs are part of a 1985 recording. Here, TBK is at their best: mechanistic post-punk structures collide with frontman Darko Begić's furious vocal delivery. There are swirling saxophones, funky basslines, and psychedelic guitars, and they sometimes veer into experimental noise. The rest is archival material, including studio and live recordings that allow for a multidimensional understanding of one of the most iconic acts of 1980s Yugoslavia.
Quod Massacre were among the key representatives of the Ljubljana hardcore scene of the 1980s, even if they didn't release their first LP until 1991. A few years before that, they'd collected four demos and some live recordings in a cassette titled Fait Accomply 83-86. In 2015, the cassette was finally reissued thanks to a collaboration between Doomtown Records and Aftermath Tapes, another Zagreb-based label devoted to repressing Yugoslav punk tapes from the 1980s. Quod Massacre recall bands like Indigesti from Italy, especially vocally, and more generally fit into the tradition of early European hardcore. This comprehensive collection summarizes the band's early years and shows their evolution. It goes from dazzling tracks supported by flanged guitars like "Radnik" to intense hardcore anthems filled with sing-alongs and memorable riffs like "Quod Massacre" or "V O​č​eh." If the band's melodic aspect is predominant in the demos, their authentic rage takes over in the live recordings.
This short-lived band was founded in Belgrade as a duo in 1988, and this was the only album recorded before the band broke up. In recent years, band leader Gorjan Krstić reactivated the band and started releasing new music. Album Mentalnih Fotografija, however, is the only release from the original group. It features eight darkwave songs with neoclassical elements, girded by a backdrop of thumping bass and a steady drum machine; it all creates a somber and haunting atmosphere. Except for the first track sung in English, the rest is in Serbo-Croatian. Zoran Petrović's vocals are sometimes guttural, sometimes deeply resonant, but always reflect the blackness and the horror evoked by the music.
Mižerija
S/T 
Merch for this release:
7" Vinyl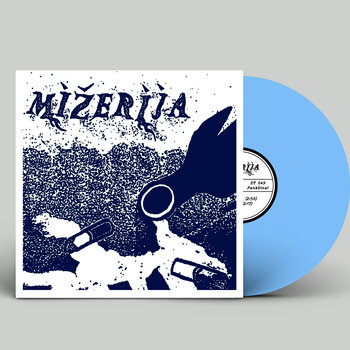 Mižerija hail from Zadar, a city rich in history and tourism on the Dalmatian coast. Revolving around one of Croatia's most active squats, Nigdjezemska, they rose from the ashes of another local band, Bosonogo Djetjnstvo, who played a sort of heavy, spacious version of hardcore punk. Mižerija's sound is more easygoing and mischievous. Their self-titled EP follows an acclaimed demo; it's a collection of hooky, danceable post-punk tracks. It feels like a car chase, a festive escape from authorities who are mocked as they're left in the dust. This sentiment is most explicit on "Crni Grad," where scratchy, metallic guitars turn into police sirens. Yet, that feeling of provocation and delight lingers throughout the record, with sing-song verses, Honey Bane-esque shrieks, and hammering rhythms.
Merch for this release:
Vinyl LP
Apsurd come from Belgrade, though their drummer is from Minneapolis. Their discography is limited to two EPs, Derealizacija and Svemu Će Do​ć​i Kraj, released by Doomtown together on one 12-inch. Here, Apsurd display astounding punk craftsmanship; they seem to know exactly how to write the perfect hardcore song. These 12 tracks flow together naturally, never losing momentum or speed and overflowing with old-school jumpy and choppy riffs. Singer Dragana's vocals, muffled under a wall of lo-fi distortion, evoke the urgency of '80s hardcore as she relentlessly screams to save herself from urban alienation. On the second track, "Mučnina," she lashes out: "Moja mučnina je kao ovaj grad siva!" (My nausea is as grey as this city!)—it's the ideal lyrical counterpart to the vinyl's artwork, which depicts a concrete condominium complex known as the Eastern City Gate of Belgrade.
Crna Žuc
S/T
Crna Žuč began as Apsurd singer Dragana's side project; Apsurd actually broke up prematurely as Crna Žuč took off, and in a way, they start right from where Apsurd ended. The group's exceptional songwriting skills work just as well in post-punk format and there are still plenty of well-placed tempo changes. On their self-titled debut EP, Crna Žuč explore further the sense of alienation on Derealizacija / Svemu Će Do​ć​i Kraj; the sound is more defined, the rhythm slows down, and the guitars are more melodic and more tense. An excellent example of this is the third track, "Prate Me." Over a full four minutes, reckless guitars dance over drums that seem constantly on the verge of speeding up and exploding.
Merch for this release:
Cassette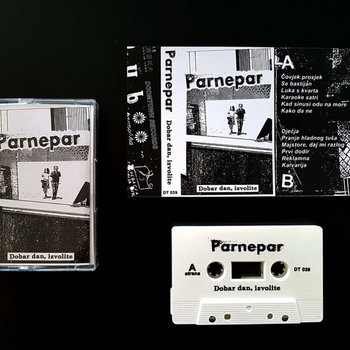 Parnepar are one of the most interesting bands in the current Croatian scene, and they are perhaps the one most strongly influenced by the Yugoslav post-punk of the late 1970s and early 1980s, though they're clearly also trying to enrich that lineage. Dobar Dan, Izvolite, their second album, was recorded with a Tascam recorder (both out of financial necessity and to stay anchored to a certain kind of sound), and features a slower and more complex version of the sound explored on their turbulent debut Kako, Molim? Framed with nocturnal, cinematic atmospherics, their jagged art-punk songwriting feels exhilarating and disconcerting, as on "Karaoke Satri." Guitars, bass, and drums continuously drag each other into disorienting frameworks and whirling tempo changes, taking us along for a wild ride.