FEATURES
Mid-'00s Noisemakers Yellow Swans Bring Their Back Catalog Into the Digital Age
By Brad Cohan · July 22, 2020
The glorious, splattered sound that Yellow Swans sculpted throughout their groundbreaking reign is still reverberating a decade after the release of their final album, Going Places. Over a ridiculously fruitful run that spanned a bulk of the '00s, noisemaking brothers in arms Pete Swanson and Gabriel Saloman—the electronics and guitar duo behind Yellow Swans' sprawling, nails-on-chalkboard landscapes and heady, spaced-out meditations—helped pioneer the noise music movement with a fiercely DIY and pro-community ethic.
Swanson and Saloman were—and remain—revered game changers in the experimental music pantheon, even though the band is long in the rearview mirror. Solid day jobs have taken precedent; musical pursuits are mostly secondary. "We made music, put out records, and toured; then, both of us got really involved in our own personal lives, education, and school," says Saloman. Swanson agrees. "For what it's worth, Going Places was very literal," he says. "It was in the design, like we knew that a lot had been put on hold because we had been prioritizing going on tour like six months out of the year."
From their 2001 inception in Portland to stops in Oakland and New York to their abrupt but amicable breakup in 2008, Yellow Swans amassed a mountainous discography that fits neatly beneath the noise, drone, psych, and improvised music umbrellas, while also co-leading a loose scene of freaks that included Mouthus, Wolf Eyes, and Hair Police. They unleashed a string of mind-bending, marathon-length records that clashed pastoral cinematic vistas with harsh noise, as heard on touchstones like Psychic Secession, At All Ends, and Bring The Neon War Home. The duo were also beloved road warriors, on tour throughout much of any given year.
But what made Yellow Swans such a force of nature, besides their trademark volume-crushing live shows, was their place at the forefront of the ultra-limited CD-R and tape movement that epitomized the '00s underground. Collective Jyrk, Swanson and Saloman's unabashedly DIY label, was a crucial hub. Not only did it serve as a home for Yellow Swans' more left-field, collectible recordings, it was also built on collaboration—a springboard for Swanson and Saloman's fellow weirdo music peers. "What I'll say about Collective Jyrk is that from the get-go—and this is partly implied by the name at least—there was this idea that there are these artists who are making really good work, but who don't have a platform," Saloman explains. "They're either not especially good at self-promotion, or they're not interested in it, or they just don't have the attention that we've been able to build just by virtue of our limited success as a band. A lot of what Collective Jyrk was designed to do was to just create a space for really marginal but really interesting artists to be heard."
Jyrk's roster was an eclectic bunch of wild-eyed, sound exploring outsiders. Stacked next to collaborative records on which Yellow Swans joined forces with The Skaters, John Wiese, and Grey Daturas were limited edition CD-R's, cassettes and 7"s by Inca Ore, Axolotl, Ghosting, Of, Maggoted, GOD, and more.
Now, Yellow Swans and Collective Jyrk are mounting comebacks—sort of.
Swanson and Saloman, both now based not far from one another in California, have begun to tackle the improbable task of uploading their band and label's entire canon to Bandcamp, much of which has been out of print and unavailable for years. Saloman sees parallels within the CD-R and Bandcamp models. "Our music was, by and large, made as a DIY project and it was circulated through the mail, touring, and trading. Economically speaking, I think Bandcamp is the most similar to the brief CD-R economy that we were very much a part of in the '00s."
As far as sifting through the vast Yellow Swans catalog, the consensus is that it's an arc meant to tell a tale of an ever-evolving band experimenting with the densest of sound-making. "It tells a story about what music was like at that particular moment, and this strange transition from punk to noise by way of electro. It's a process. For someone who's willing to go there and listen to a lot of music, they can actually hear how we evolved and what our process was almost in real time," says Saloman. "The question was 'How do we represent what the band was?,'" says Swanson. "Part of that was this weird excess and a lot of sonic experimentation. I think that that will come across if you start digging into the archives. There'll be a lot of different sounding things."
Merch for this release:
Cassette
Detestifi Yellow Swans is a journey with enough unpredictable rhythmic twists and turns it could give you whiplash. Think bruising and sweaty techno with no wave-inspired skronk and proggy time signatures. Originally released as a CD-R in 2003 via Collective Jyrk, Detestifi Yellow Swans shows immediate potential: a pair of knob-twiddling, guitar-string-scraping freewheelers storming out of the gate and into a world where the sonic possibilities are endless.
For Swanson, the album was both a valuable document of the duo's early days, as well as a harbinger of things to come. "One of the tracks from Detestifi ended up being "I Woke Up" on Psychic Secession," he says. "So, we have this CD-R that precedes our first widely-available studio record, Bring The Neon War Home, that ultimately, two or three years later turns into this much more composed piece that ends up on a record with a bunch of other musicians on the track."
After self-releasing a stack of CD-R's, Yellow Swans signed on with the noise rock-centric Narnack label for 2004's Bring The Neon War Home. A hot mess of warped, dancey beats provide the guiding force behind the five day-glo tracks that make up Neon War. Arcade game-like blips and bleeps co-mingle with throbbing grooves and six-feet-under screams on intense bangers like "Police Eternity." Call it mutant disco for DIY basements.
In revisiting Bring The Neon War Home, Saloman had a change of heart about the record. "It's a way more interesting record than I remembered it being," he says. "I think some of that is this thing with technology where we always were interested in appropriating technologies that were kind of just behind the curve. So, after they were already secondhand at the music store and were no longer the cutting-edge of whatever electronic music that was being made, we thought, 'Well, the way we can do something weird or different is with this.' I think that it really captures our first two or three years of existence. There's these really genuinely strange moments of sound-making."
Merch for this release:
Cassette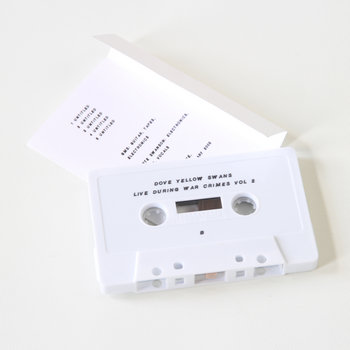 Working under the Dove Yellow Swans moniker, the Live During War Crimes series showcased the duo wreaking havoc in their natural setting: live in concert. Earsplittingly loud, in your face and "overtly punk," as Swanson tells it, the War Crimes trilogy presents Yellow Swans' industrial-strength noise onslaught at its most potent.
That aggro approach was a fitting response to the events of that era, as the wars in Afghanistan and Iraq were being waged to disastrous results. "There is something about the [War Crimes] releases we made during the Bush years," Saloman explains. "There was a sense that we wanted, for me at least, to make music that marked time, that recognized that we were functioning as this band under the conditions of these never-ending wars. In a way, they are protest records as well, and in a sense, that makes sense to me."
Merch for this release:
2 x Vinyl LP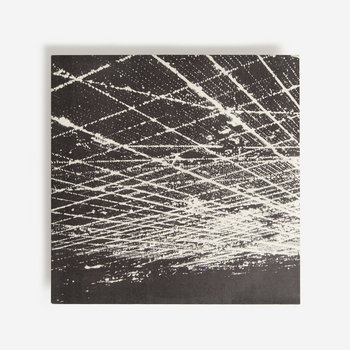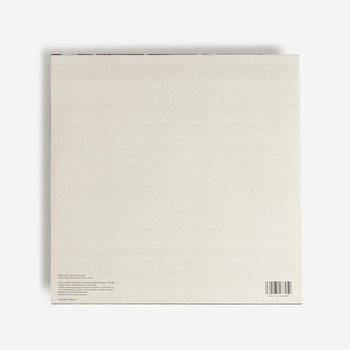 A limited-edition companion piece to Going Places, 2010's Being There has been overshadowed by its more widely-available sister release. However, Being There is, arguably, the superior record. A fully-improvised, booming monolith that combines mind-expanding drone and psychedelia, it's a mesmerizing, life-affirming listening experience, thick with dreamy narratives and caustic blasts. A sublime balance of beauty and brutality with musical mind-reader-level dialogue, Being There raised the free-improv bar as Yellow Swans bid farewell with an expansive and majestic statement.
"Elementally, I think Gabe and I both considered the band to be a psychedelic project from the get-go," says Swanson. "I think that the really long-form pieces on War Crimes #3 and Being There are really super-immersive, take you to a bunch of different places, and are all very long journeys that cover a lot of ground. I think that that often is a lot more interesting than like five, six, or seven tracks spread across one LP."
Oakland-based Inca Ore, aka Eva Saelens, is no stranger to Yellow Swans' universe, having joined them on tour as a roadie, collaborated live, and guested on Psychic Secession. On Brute Nature Vs. Wild Magic, her 2005 debut originally released by Weird Forest, Saelens explores glitch-heavy, junk-fi weirdness, complete with wordless vocals and cryptic chanting. Sounding like drugged-out lullabies, her tape-hiss-covered dreamscapes play like alien transmissions from some strange otherworld.
"Listening to that album of hers, it's just like pure discovery on her end," says Swanson. "She lived with some people who had a four-track. I don't think she was working; she just recorded this album out of nowhere. That's the music, that's the sound that she needed to make—and it's fantastic.
As Axolotl, drone musician Karl Bauer was championed by Yellow Swans, and in 2005 they teamed up for a live collaboration that was released by Collective Jyrk. That same year, Axolotl brought his multi-instrumental wizardry to another Jyrk effort: his own Oranur. A cosmic jumble of squealing violin and haunting electronics and voice, Oranur occupies its own drone universe.
"Axolotl is someone who lived in New York, was friends with the Animal Collective folks and Mouthus and was part of that weirdo music scene and moved out to Oakland at the same time that we did," Swanson recalls. "A brilliant and incredible musician but just not especially adept at getting his music out into a wider audience. I can tell more or less the same story of almost every single [Jyrk] release." 
Like Inca Ore and Axolotl, Portland's Zach Reno and J.P. Jenkins of Ghosting were Yellow Swans' frequent partners in noise and drone crime. Released in 2006, Why Not Be Changed Utterly Into Fire? is a continuous thirty-minute buzzsawing free-for-all that spews out a steady stream of gnarly, trance-inducing static.
"Zach and J.P. were the kind of guys who would start exploring an object and see what sounds they could make with it," says Saloman. "I think they had this idea to take a kind of electro-acoustic approach to sound-making and put it into the context of the kind of long-form drone, noise music that was getting made at the time. And it just happened to be really fucking good."