FEATURES
The Surreal, Post-Emo Wonders of Spring Silver
By Zoe Camp · March 25, 2022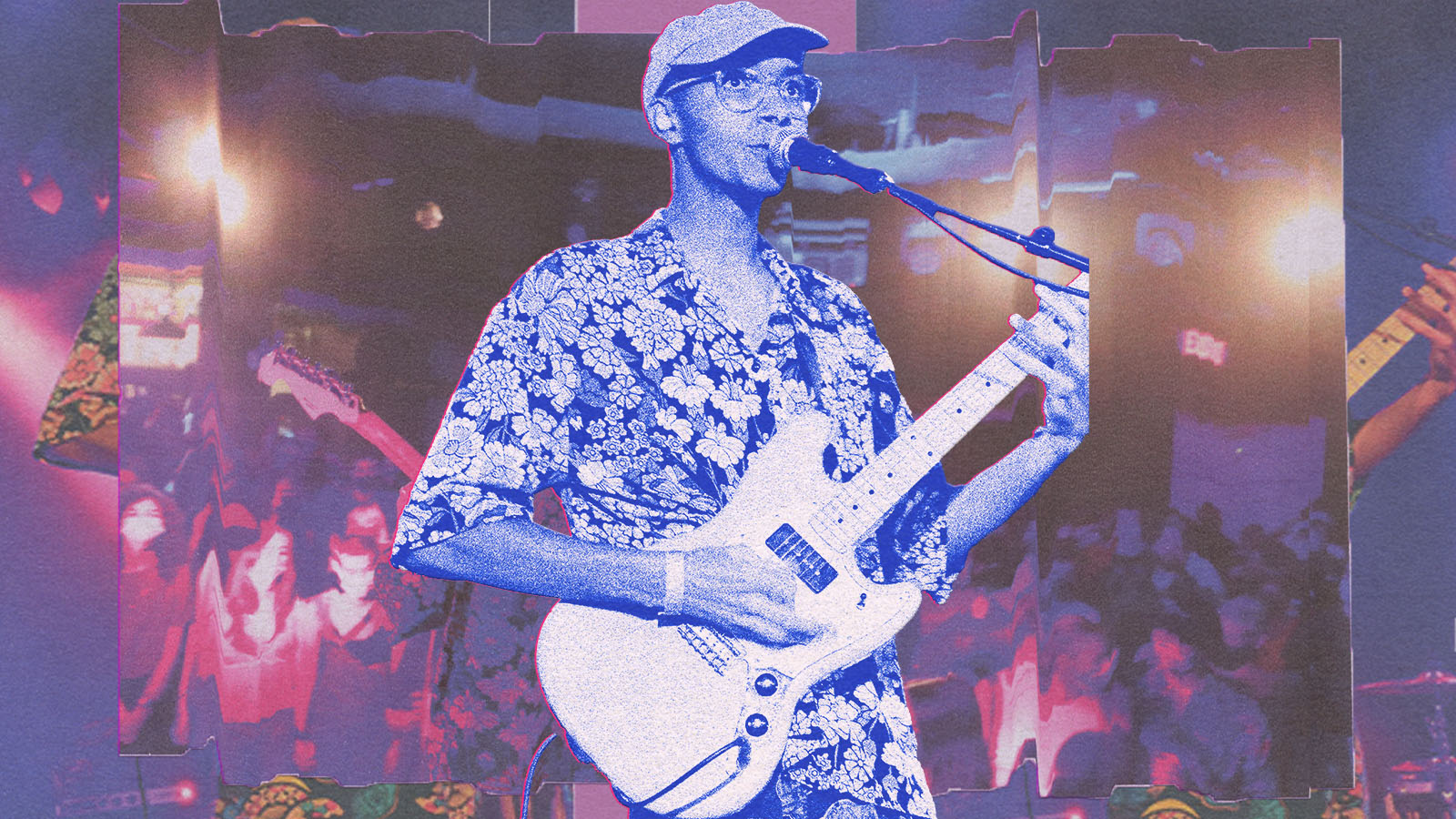 As Spring Silver, Maryland multi-instrumentalist K. Nkanza makes emo-inflected indie with a dreamy, contemplative twist: a taut web of character studies interwoven with lust, regret, and queer joy, lyrically abstract yet emotionally universal. Self described as "they/themcore," it's guitar music primed for handmade cassettes and intimate sets played in basements with sticky floors.
.
00:10 / 00:58
It wasn't always that way. Though they've been playing guitar since they were 11, Nkanza, who uses they/them pronouns, admits they lacked the confidence needed to pursue rock music seriously for much of their life. Before christening themself dream pop artist Aerial View in the early '10s, they made dubstep and trance under the name Captain Galactic. "My friend showed me FL Studio, and I would just make silly-sounding dubstep songs and stuff like that," says Nkanza. "For like a long time, I was like, 'Yeah, I'm gonna be a DJ; I'm gonna make house music.'" They laugh, adding a bit wistfully: "It's funny…my email [address] is still captaingalacticmusic."
Nkanza parted ways with Captain Galactic later in their teens, when their family moved back from South Dakota to Maryland (Silver Spring—hence the name) and Nkanza enrolled in the area high school, as well as the Silver Spring "School of Rock" program. The extracurricular activity gave student musicians like Nkanza an opportunity to connect with one another. This included several eventual members of D.C. noise-pop band The Obsessives, whose drummer Joey "Carrotchamp" Cobin was instrumental in aiding in Aerial View's transition from the studio to the stage, captured in this YouTube video. "There were a handful of places in Silver Spring where we could play for cheap sometimes," Nkanza remembers. "Since we were in high school, we would just get exploited, play these weird shows where we didn't get paid."
Then again, compared to the music scene at University of Maryland, Baltimore County, where Nkanza earned their animation degree from 2016-2020, Silver Spring may as well have been Brooklyn. "As time went on, UMBC got more and more, I don't know…anti-fun, or something. They were just trying to shut down DIY stuff going on campus. I think when I was a freshman, they had a show in the old theater—which doesn't exist anymore, they've replaced it with a physics building. [The room had] those reflective mirrors, where people do ballet practice. I was like, 'Oh, this is so sick,'" and then the campus cops shut it down. You had to go through all of this paperwork in order to play shows, go through the campus faculty and all this stuff."
The on-campus scene may have been dead, but with the I-95 corridor providing easy access to DIY communities in Washington, D.C., Philly, Baltimore, and beyond, Nkanza had ample room to form creative relationships on and offstage. This not only raised Aerial View's profile, but created new opportunities for Nkanza to further their craft as a multi-instrumentalist—which in turn enabled them to work with even more artists. Nkanza's stint as a touring guitarist for Bloomington rockers Mister Goblin brought them in contact with Speedy Ortiz's Sadie Dupuis and Cloud Nothings's Dylan Baldi, while a gig opening for Bartees Strange in Washington, D.C. resulted in the two artists forming a friendship. ("We're in the same scene," affirms Nkanza.) These are but three of the nearly 20 musicians and designers credited on I Could Get Used to This, whose contributions range from chiptune electronics (Harlow Diggs) and saxophones (Baldi), to vocals (Dupuis, Strange), tambourine (Ananth Batni), and even a string quartet.
.
00:10 / 00:58
That I Could Get Used To This juggles so many sounds and guests in such short succession is less the result of Nkanza's ambition than the natural byproduct of their intense fascination with storytelling. Their songs are character-driven narratives that straddle the threshold between still life and fever dream, granular observations snowballing into abstract musings on queerness and mental health. "It's definitely coming from a poetry mindset," they explain. "I'm looking to represent a sort of abstract feeling, an abstract anxiety through a narrative." In replacing first-person confessionals with fictional characters and bizarre scenes—"small, surreal parables," Nkanza calls them—Spring Silver introduces a fantastical calculus that challenges the genre's laserlike focus on plainly stated, personal emotions.
Consider the following lines from "Fetch," which, depending on one's interpretation, could represent a post-capitalist fable haunted by slavery, a Lost in Translation-esque quandary wrapped up in a nightmare, a metaphor for anxiety obscured by Parisian caricature, or potentially something even more far-flung: "I was buying a tarte au riz/ At a family owned bakery/ Stuttering French to the sympathetic smile/ behind the glass case bejeweled with confections/ When the rope/ around my waist/ Yanked me through the window/ Smashing the store front/ I was dragged along the cobblestone/ Through and beyond the countryside."
There's no correct interpretation; Nkanza's isn't the cliffs notes-providing type, and knows full well that their tendency to pair cryptic imagery with existential whiplash leaves a lot to unpack. Most emo and emo-adjacent artists wear their heart on their sleeves; Spring Silver does the same, but with the sleeve turned inside out.
Watching emo round the corner of its inaugural nostalgia cycle, freshly re-heated and re-packaged for the next generation of angsty young folks courtesy of Machine Gun Kelly, Olivia Rodrigo, et al, Nkanza remains unfazed; one could even say they're amused. After all, great emo isn't measured in black eyeliner, snotty riffs, or even lines about hating one's ex; it's just a measure of personal truth, and Spring Silver's anything-goes ethos—or to put it frankly, their selling point—is as plain-stated as it gets. "You don't have to accept the lowest-common denominator version of the sort of guitar music that's coming out." Call it the Silver Standard.