FEATURES
'70s UK Jazz Group Splinters Captures the Era's Restless Musical Spirit
By Philip Freeman · September 20, 2021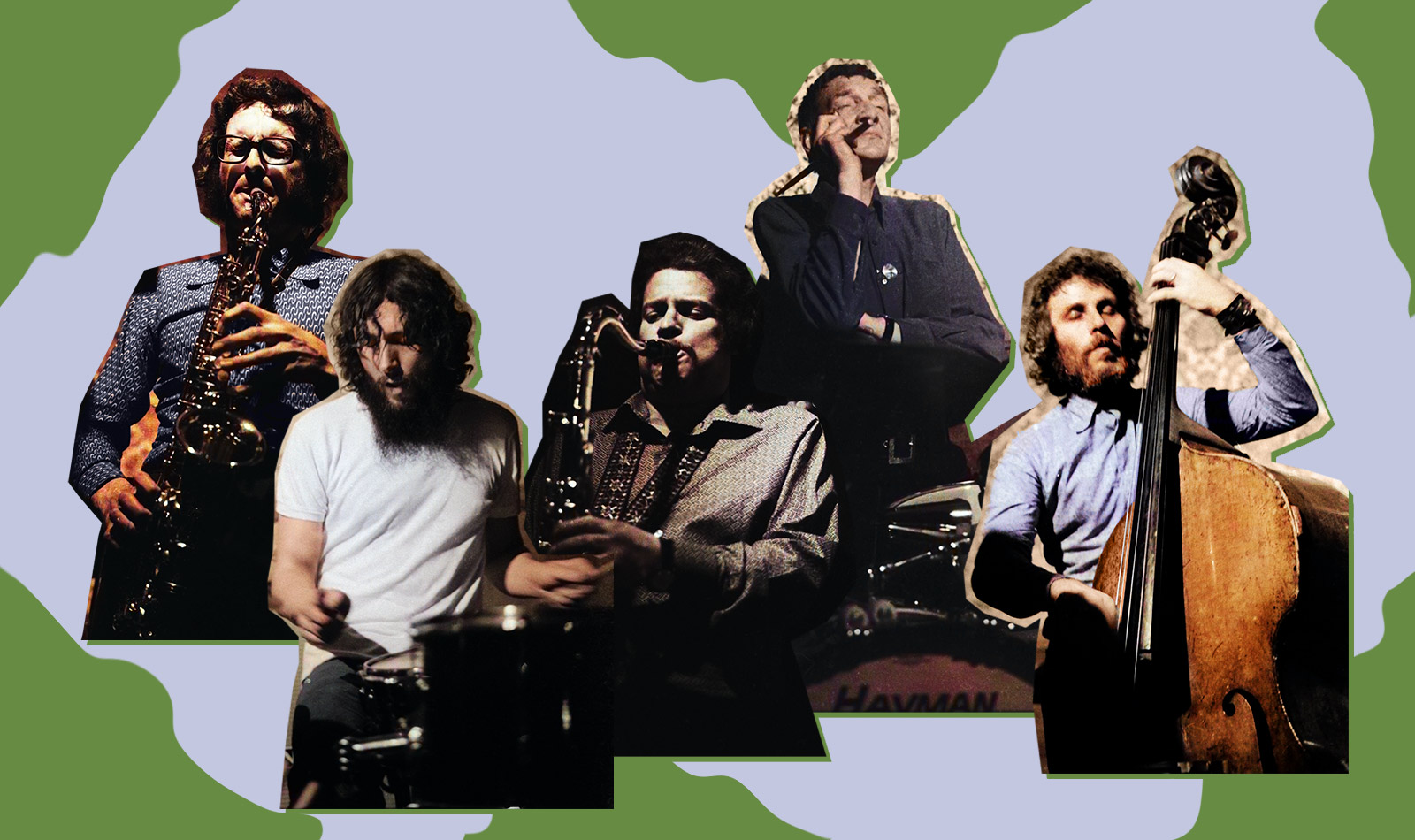 Over the course of the last five years or so, London has slowly emerged as one of the world's foremost jazz capitals. Artists like Shabaka Hutchings, Nubya Garcia, Emma-Jean Thackray, and their peers have released a seemingly endless stream of thrilling, boundary-breaking music that demonstrates compositional brilliance; a high degree of technical skill and sonic innovation; and a crowd-pleasing energy. At the same time, a slew of archival releases have reminded listeners that this isn't the first time the UK has been at the forefront of jazz innovation. The late '60s and early '70s were a fertile era for British jazz, with mainstream and avant-garde players collaborating with one another, and sometimes even inviting progressive-minded rock musicians to the party.
Richard Williams, an editor at the UK music paper Melody Maker at the time and the first host of the long-running BBC TV program The Old Grey Whistle Test (1971-2018), remembers the scene as quite vibrant. "It was a lively time, and it had been encouraged by the engagement of young jazz musicians with the progressive rock scene—people like the Soft Machine and King Crimson used jazz musicians on their albums, and sometimes as members of the band. And the jazz musicians were young guys who'd been listening to Coltrane and Ornette Coleman and Mingus, and they were influencing a generation of the more inquisitive-minded rock musicians."
Merch for this release:
Compact Disc (CD)
At the time, legendary bassist Dave Holland was just beginning his career, and he looks back with fondness on the era's porous musical borders. "I was living in London between 1964 and 1968, and I got a chance to play [in] all kinds of different settings," he recalls. "I was a young musician just trying to get as much experience as I could…You look for people you can share your musical ideas with, and if you share a common background and a common history in the music, then you have a chance to have that meeting point in the music that allows you to play together. Some musicians like to move between different approaches, and I was one of them."
Since May of last year, the nonprofit organization Jazz In Britain has made it their mission to preserve and present rare and previously unreleased recordings from this first explosion of UK jazz. Their catalog includes music by well-known musicians like guitarist Ray Russell, alto saxophonist Joe Harriott (whose exploration of free-form playing is often compared with Ornette Coleman's contemporaneous work), tenor saxophonist Tubby Hayes, and the Don Rendell-Ian Carr quintet. (Their first release, Russell's Spontaneous Event – Live Vol. 1: 1967-69, features some of Holland's earliest recorded performances, from May and November 1967.)
But their most ambitious release to date is Inclusivity, a three-CD set documenting the short-lived and somewhat legendary group the Splinters, whose members included trumpeter Kenny Wheeler, Tubby Hayes, alto saxophonist Trevor Watts, pianist Stan Tracey, bassist Jeff Clyne, and two drummers, Phil Seamen, and John Stevens. Together, they represented a cross-section of the British jazz scene at the time: Hayes was a solid hard bop player with open ears, while Watts and Wheeler were closer to the free jazz side of things. Tracey was a mainstream player influenced by Ellington and Monk who'd embraced the avant-garde late in his career. Seamen was one of the country's most prominent drummers, playing with virtually everyone and even teaching rock legend Ginger Baker, while Stevens was an experimental player who founded the Spontaneous Music Ensemble with Wheeler, Watts, and Clyne.
Merch for this release:
Compact Disc (CD)
Inclusivity contains recordings of two Splinters gigs from May and September 1972. In the liner notes, Watts says, "John [Stevens] had the idea, that was really a very simple thing, of gathering players from the older and some from the newer generation and have basically a jam together. It wasn't about contemporary techniques or more traditional ones. I think all us musicians, we respected each other's differing interests, but all of it coming from a love of jazz."
The performances were recorded on cassette by Watts and expertly restored prior to release. The music has real vividness and a striking power. The two drummers play freely, but still maintain a driving beat, with Stevens in the right channel and Seamen in the left, and Clyne throbbing between them. The horns wail and moan, trading long solos and uniting here and there in ragged-but-right harmony. Pianist Tracey lays out for long stretches (and disappears halfway through the May performance), but his solos are gentle and thoughtful. The horns build up around him, creating fanfares that inspire further exploration.
Merch for this release:
Compact Disc (CD)
The music never really stops, though track divisions have been added for listener convenience. What's most fascinating is that it's impossible to call it an imitation of any of the well-known free jazz models. It doesn't have the frantic heads and lyrical solos of Ornette Coleman, or the tidal wave feel of Cecil Taylor, or the spiritual questing of John Coltrane or Albert Ayler. It's music with a uniquely British quality, friends having a conversation in the pub, throwing ideas back and forth, occasionally agreeing vociferously and never truly disagreeing about anything. And when Stevens and Seamen begin a drum duo toward the end of the second disc, it's as thrilling a moment as any in jazz.
Williams was present at the May performance, which was recorded in London's 100 Club—"a basement club with a long stage, I guess it probably held a maximum of about 300 people, maybe…A very congenial kind of place." He recalls being impressed by the way the musicians managed to bridge the gaps between their different approaches. "Splinters was a really interesting meeting and mixture of musicians from different generations and backgrounds. On paper, it looked like something you'd try in a test tube and it would probably blow up in your face. But it worked brilliantly."