FEATURES
Rich Aucoin Explains the Army of Synths on His New Quadruple Album
By Jesse Locke · October 25, 2022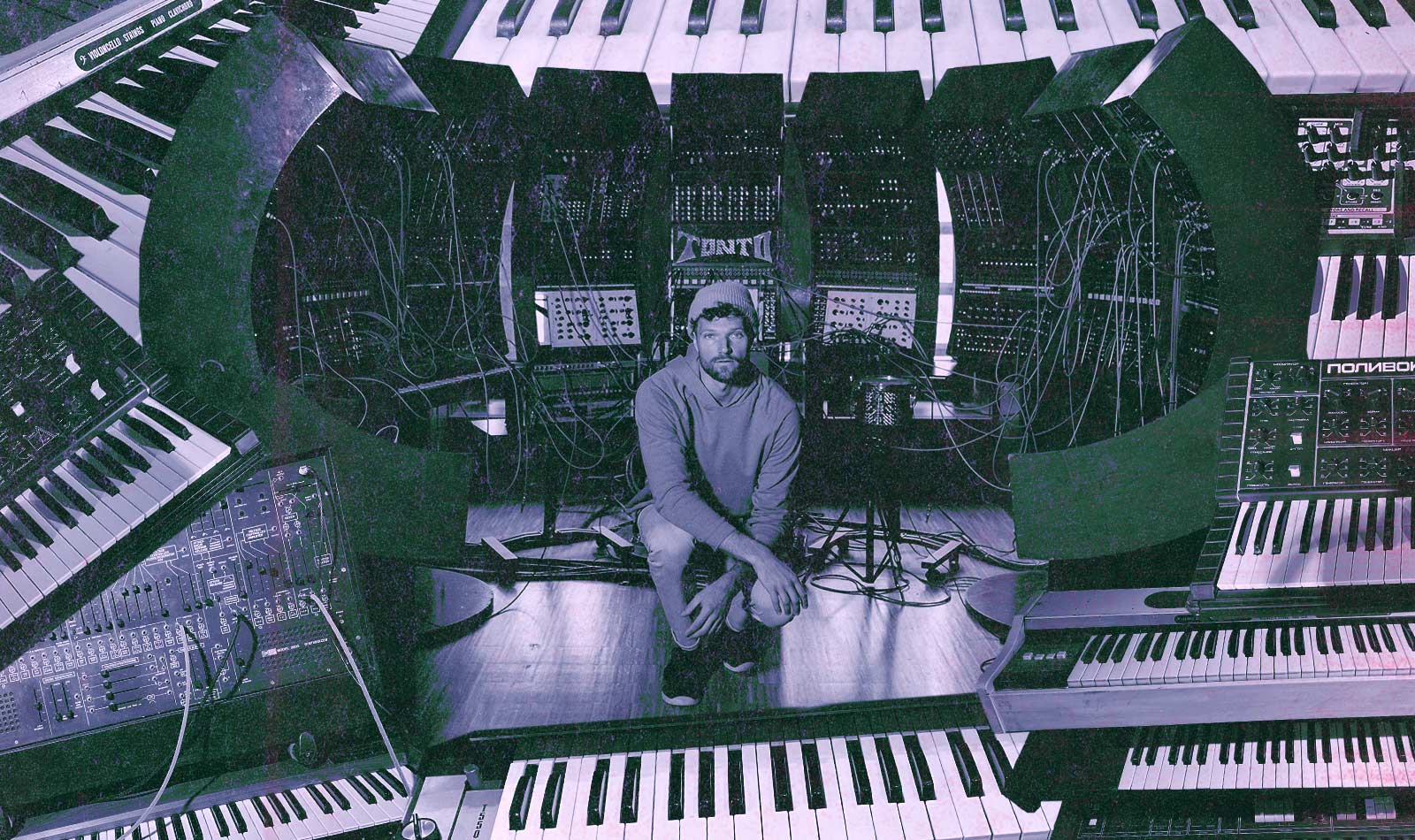 Rich Aucoin doesn't do things halfway. To support the release of his 2006 EP Personal Publication—devised as an alternate soundtrack to How The Grinch Stole Christmas (2000)—the Halifax musician toured across Canada on his bicycle to raise money for a childhood cancer foundation. Five years later, Aucoin's debut album We're All Dying To Live featured over 500 collaborators including members of Sloan, You Say Party, and Rae Spoon. In 2018, he cycled from Los Angeles to New York, writing songs dedicated to 12 different states while witnessing the cultural effects of the Trump presidency. The resulting album United States explores gun violence, political corruption, and civil unrest, interpolating classic melodies from Bowie and The Beatles like Madchester with a message. "When I look back at my career, I want there to be a bunch of different phases where the thing I did before is never repeated," says Aucoin. "Understanding the shortness and finality of each idea forces it to balloon. Every time I realize that, I think, 'Well, if I'm not doing it again, I've got to do this, and this, and this…'"
Aucoin's latest project Synthetic is an electronic quadruple-LP featuring more synthesizers than any album in history. Recorded with the world-class instrument collections at Calgary's National Music Centre and released as four distinct "seasons" staggered in six months over two years, the first edition alone spotlights 37 of the world's most historic synths. These include the monolithic TONTO, the Elka Rhapsody 610 String Musician owned by Supertramp, and the Fairlight CMI famously used on Kate Bush's "Running Up That Hill."
"I wanted to go back to the things that got me really excited about listening to electronic music in the first place," says Aucoin. "Whenever vocals would come in, I would think 'Oh, that's too bad.' I'm just trying to make music that my 12-year-old self would be stoked about." Aucoin recorded Synthetic: Season One on his own, yet for its three upcoming editions he has welcomed the participation of synth players from around the world. (There's still time for anyone to join the interactive initiative by simply sending him a DM.) "Right now I've got an Excel sheet with everyone's names, emails, and what kind of synth they have," Aucoin explains. "It's 200 names long and I'm still accepting submissions. Because the album is coming out over the course two years, I wanted people to hear the first part and get interested in becoming part of the project."
Below, Aucoin walks us through 10 of the rarest synths used on Synthetic: Season One.
---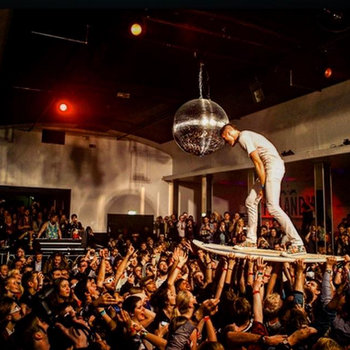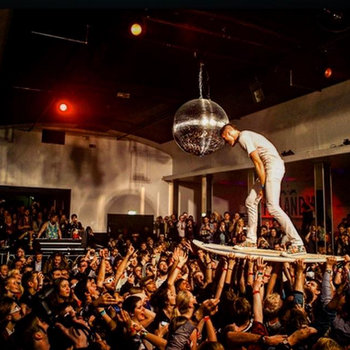 Merch for this release:
Vinyl LP
ARP 2600
"The ARP 2600 was the first analog synth I used while studying at Dalhousie [University in Halifax]. The ARPs I got to use at the National Music Centre were very well-tuned thanks to synth guru Jason Tawkin, especially compared to the ones at Dal, which had their quirks for sure. I used the ARP 2600 on my song 'HyperNormalization' for a bunch of the arpeggiators, and on nearly every track for its great white/pink noise. Ben Burtt famously used the ARP 2600 for R2-D2 in Star Wars."
Elka Rhapsody 610 String Machine
"The NMC acquired this small, organ-looking synth previously owned by Supertramp. I used it on my track 'Return.' It's the harpsichord-sounding broken chord part that comes in with the main theme."
Formanta Polivoks
"This is the Russian answer to Japanese and American monophonic synths from the early '80s. It's a duophonic synth and plays like a Model D by Moog, but has a really aggressive tone. It's the main riff of my track 'Algorithm.' Super rare, too—there are only 32,000 in the world. I had to use a laminated sheet laid over the synth to translate, as it's all in Russian."
Merch for this release:
Vinyl LP
Novatron T550
"From the early '80s, this was the Mellotron made for traveling musicians with a built-in flight case. I used its famous tape-loop-made sounds to start my song 'Return.'"
Oxford Synthesizer Company Oscar
"OSCar is a sweet monophonic synth with duophonic capabilities. I used the latter for my track '456,' and it's mostly audible during the song's final bridge breakdown when I'm holding down 2nds and 3rds, trying to drive the dissonance embedded in the synth's configuration."
Selmer Clavioline CM 8
"An early synth from 1957, it was the first electronic musical instrument to successfully reach a mass commercial market. It doubles the melody on 'Return at the song's height."
Merch for this release:
Vinyl LP
Buchla Easel
"Occasionally on the record, a synth informs both a title and the full composition. The Buchla Easel is a powerful little synth in a case from 1973. Most of the parts in my track 'Buchla' were created with it, all centered around that mouthy 'mmm-maa' part of the choruses."
Fairlight CMI
"This synth has an '80s computer attached to it, complete with QWERTY keyboard, in addition to the usual keyboard a synth may come with. The Fairlight CMI has been brought back into the conversation a bunch this year since it produced the main riff of Kate Bush's classic song 'Running Up That Hill.' I used it on my track 'Algorithm' for a section of the bass that gets crushed and distorted in the middle breakdown.
Merch for this release:
Vinyl LP
LinnDrum
"This rare early '80s drum machine will always be married to the music of Prince. It was also used by John Carpenter on a bunch of his scores. I used it as part of the percussion for the soundtrack-inspired 'Space Western,' for the kick primarily, which punches through just like the classic Carpenter scores."
TONTO
TONTO ("The Original New Timbral Orchestra") is more like a futuristic spaceship than a synthesizer. It began as a Moog Modular Synthesizer Series III owned by record producer Robert Margouleff, before Malcolm Cecil designed and constructed its modules over several years. I was honored to play such a historic synth that was used by Stevie Wonder and The Phantom of The Paradise! It was the most fully immersive synth experience I've ever had, as you have to physically move around TONTO; it's impossible to reach all of it at once. I jammed on TONTO for three hours and then cut that down to the final five-minute track."