FEATURES
Onipa Delve Into the African Roots of Western Music
By Max Pilley · October 23, 2023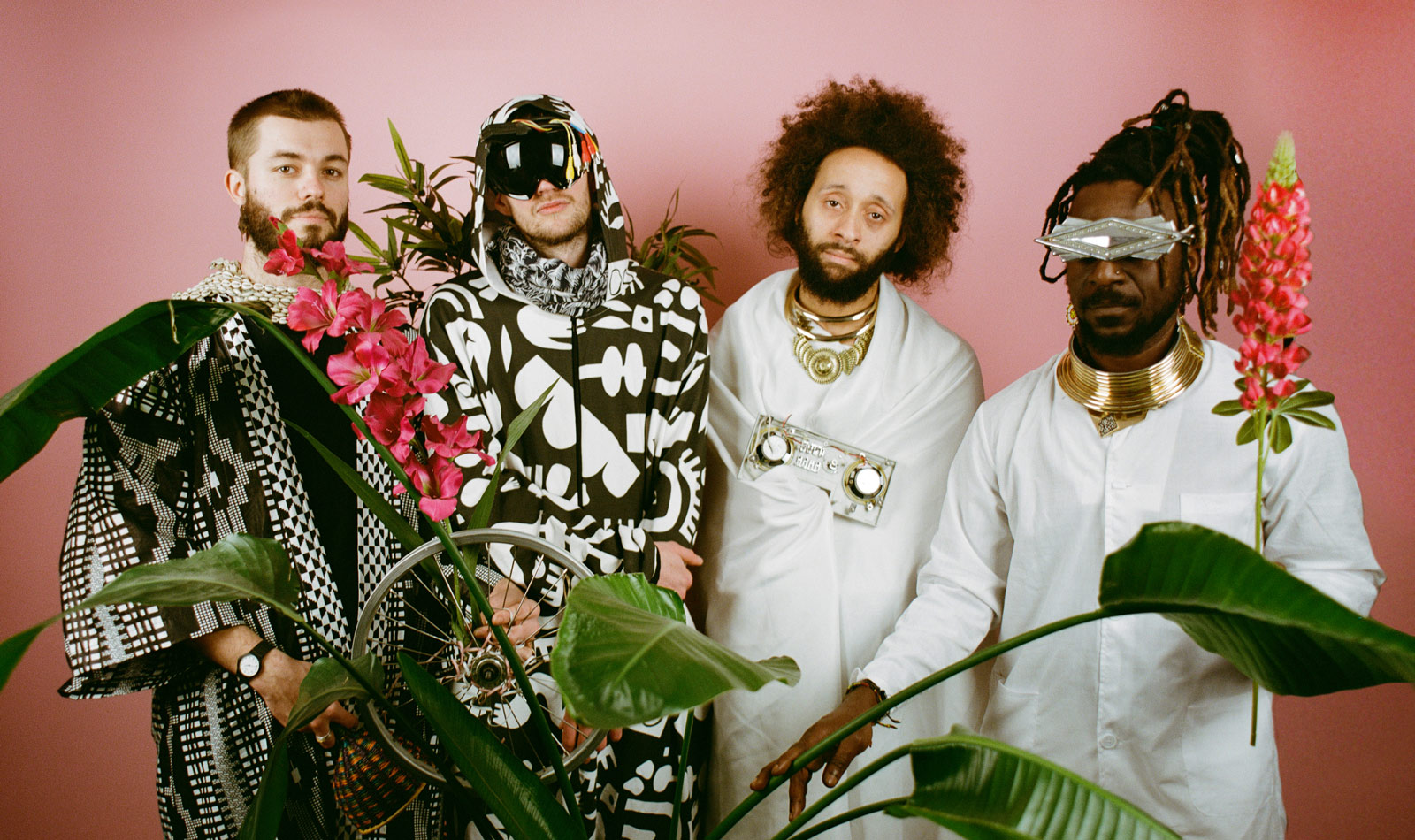 At a time when the exchange of influences between African roots music and American/European pop has never been more fluid, Anglo-Ghanaian quartet ONIPA are choosing with their second album Off the Grid to delve deeper into history, drawing up a retrospective blueprint for how modern Western music owes enormously to Africa in the first place. With artists like WizKid and Fireboy DML riding high in the charts with a West African Afrobeats-style heavily informed by trap, R&B, and dancehall, ONIPA want to show that the richness of the source material holds the key to a deeper understanding of how Western sounds came to be.
"I've always really loved listening to traditional African records and being like, 'This is a techno record!' or 'This is a jazz record!'," says ONIPA co-founder Tom Excell. "You can hear all of those links, from call-and-response to the evolution of the soloist to the types of melody they use, blue notes, melisma, everything."
On Off the Grid, one can hear pop songwriting ingrained inside Ghanaian highlife on "Ayo," proto-hip-hop percussion played by Nigerian ogene on "Machine 2," the conversation between American house music and South African kwaito on "Sh33me," and familiar blues strains from the Malian Sahara on "My Father." All together, it's a headrush of Pan-African energy that is highly danceable and intricately complex.
"Those links are already there," Excell says. "I think for us, it's just digging that bit deeper and seeing how we can try to join the dots a bit more. It's something that we're always instinctively looking for when we're writing."
.
00:10 / 00:58
Merch for this release:
Compact Disc (CD), Vinyl LP
Kweku Sackey, the Accra-born vocalist and composer for ONIPA who now lives in Sheffield, describes it as the "big sound of Africa." Sackey met Excell in the latter's Oxford recording studio in 2014 to record a reggae vocal and the two immediately bonded over Excell's extensive African vinyl collection. Sackey, who also records as K.O.G., began to collaborate with Excell's other major musical project, the Afro-jazz group Nubiyan Twist, before forming ONIPA, who released their first album We No Be Machine in 2020.
Off the Grid partly came together during an extended tour that Sackey and Excell made to Africa in 2019, playing a series of collaborative shows at festivals that introduced them to myriad new localized styles, instruments, and writing techniques. Connections they made there can be found throughout the album: South African firebrand rapper Moonchild Sanelly lights up "Danger," while Fela Kuti band alumnus Dele Sosimi delivers a husky, soulful vocal on "Marching Over."
The other primary theme that drives Off the Grid is the band's wariness of humanity's increasing over-reliance on technology. As Excell explains, "So long as you're in control of the technology and you're using it creatively, then it can be an amazing tool. We become more cynical around ideas of technocracy and the use of technology as a kind of governance on people."
"I guess you can call it a little sonic consciousness," adds Sackey. "You know, we're just trying to spread a sonic consciousness into people to be aware of the times and where we are heading, and to try to find that balance between nature and modern life."
It is for this reason that the band sought to ground the album as much in the real world as possible. Interspersed throughout are field recordings of the bustle of the market stalls and public squares of Accra. "We're trying to bring the energy of the place," says Sackey. "In Africa, there's noise everywhere. When you come [to the UK], there's no noise, which is a massive difference in frequency. Just the sound of hearing people, it lets you know you're in a whole different dimension of energy. It takes your spirit there."
.
00:10 / 00:58
Merch for this release:
Compact Disc (CD), Vinyl LP
Sackey points, too, to the enterprising industriousness of musicians across Africa as being pivotal to the invention and dynamism of the musical genres represented on Off the Grid: "When you go on the street, people don't have the money to even buy drum kits, so they'll make instruments out of anything, bottles, tin pans, whatever. And the sound will be so amazing."
It is this passion for the core human fundamentals that characterizes ONIPA's work; Off the Grid highlights the spirit of creativity that is common to music everywhere. And while Afrobeats feeds mainstream Western music through a modern African filter, ONIPA reciprocally amplifies the African traditions that fed those Western styles to begin with, maintaining the circle of musical life.