FEATURES
Medicine Singers Give Traditional Indigenous Music an Experimental Twist
By Michael Rancic · July 12, 2022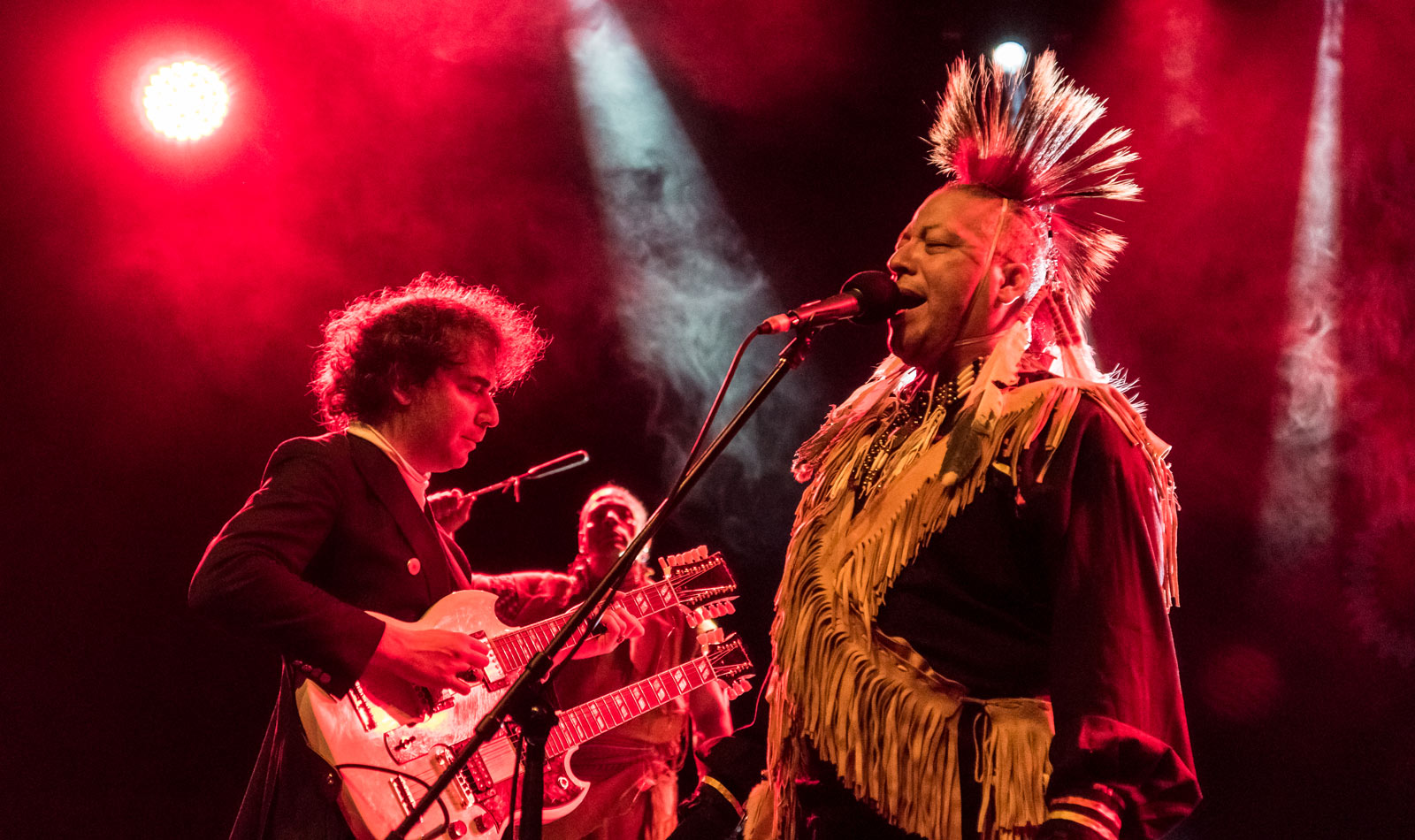 The debut album from pan-Indigenous powwow project the Medicine Singers begins with "A Cry." Not a sob, but a call that is both mournful and rallying as it sounds out. A sample of Kathitha Mequin Myers Brown, Princess Kathitha of the Pocasset Wampanoag Tribe of the Pokanoket Nation, can be heard saying: "The beginning of our people and our language—much of it has been lost, and I am now trying to compile it." Language, and the preservation of it, is central to the music that the Medicine Singers make; an act of resistance and healing from hundreds of years of colonization rendered in song.
Merch for this release:
Vinyl Box Set, Vinyl LP, Compact Disc (CD)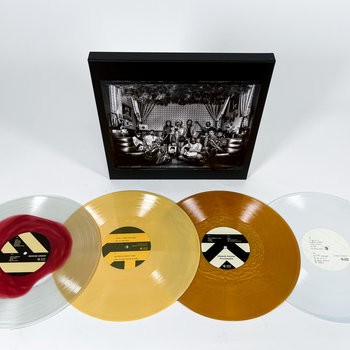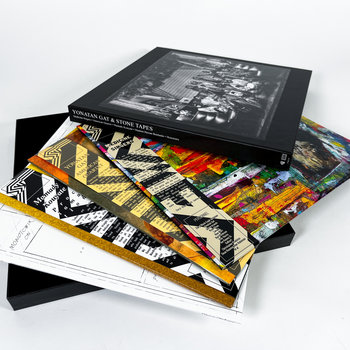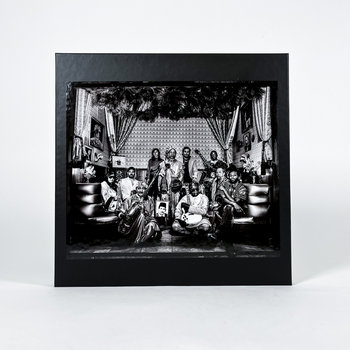 The language she speaks of is Wampanoag, an Eastern Algonquin language that was made extinct as the tribe's land was stolen and settled in what is now called Rhode Island. Chief Daryl "Black Eagle" Jamieson, also of the Pocasset Wampanoag Tribe and band leader of the Medicine Singers, sings in Massachusett, a written dialect of Wampanoag that was preserved through a translation of the Eliot Bible in the 1600s. "It's like somebody from New York talking to somebody from California, we have different lingos, but you can understand it," he says of the dialect's subtle differences.
Jamieson wasn't always a speaker of Massachusett and considers himself far from fluent, but he also never particularly considered himself a drummer or musician. The Medicine Singers's journey as a collaboration with civil rights leader Chief Raymond Two Hawks Watson of the Mashapaug Nahaganset Tribe and musicians including Yonatan Gat, Joe Rainey, Laraaji, Thor Harris, and jaimie branch, began with Jamieson's efforts to pass something on to his children and the other children in his community through song. He refers to a cliche that is nonetheless true, smiling: "Necessity is the mother of all invention."
Along with leaders from other tribes, Jamieson started teaching a children's program at the Rhode Island Indian Council in 2008, trying to instill a sense of culture with traditional music and dance. "At first we were using CDs of other groups to get the kids going, and then we decided we really should have a drum and teach them a little bit about drumming," he says. "It was just a mismatch of guys trying to help the kids. We started to do some different songs from other tribes, and then I decided, 'I don't want to just take somebody else's songs, I'd rather create some of our own.'" That was the first step in a project that now involves collaborators from across the globe.
Their debut Medicine Singers is bookended by "Daybreak" and "Sunset," two medicine songs. "The Eastern people are the keepers of the Eastern Gate, we see the sun first. So we would go out in the morning and say a prayer. I created this prayer with our language and turned it into a song," Jamieson explains. "The reason we call it medicine is because it's medicine for the soul. The drums are medicine for the soul. It drives your heart."
Merch for this release:
Vinyl Box Set, Vinyl LP, Compact Disc (CD)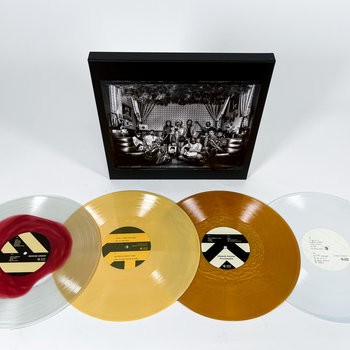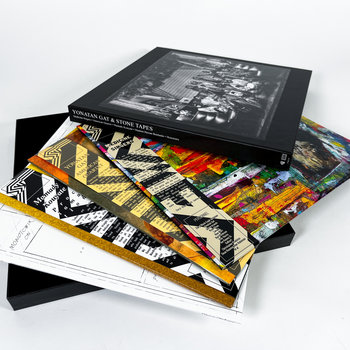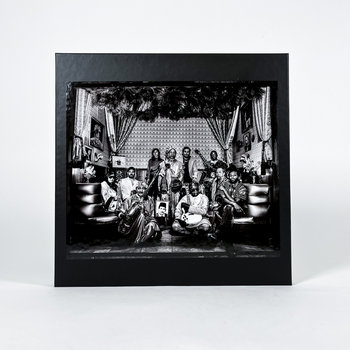 The insistent beat of "Daybreak" is certainly driving, punctuating the squelching electronics courtesy of Gelbart, Ryan Olson, and Isaac Gale (Marijuana Deathsquads). It's a seething, writhing track that deftly challenges tired conceptions of what traditional Indigenous music might sound like. "We wanted to go in like warriors and then come out like a lamb," Jameson says. He credits producer Gat with reverence and respect for his culture, a mutuality that's informed the collaboration since Gat first asked Jamieson and his Eastern Medicine Singers to improvise a set with him on a whim at SXSW in 2017.
As preservation in practice, this debut is a dynamic collection of songs where that aforementioned respect for culture gives the group the freedom to explore much more experimental sounds and even play with notions of tradition, as on "Sunrise (Rumble)," their roaring nod to Link Wray's "Rumble," and the kaleidoscopic cut-and-paste tapestry of "Shapeshifter."
Merch for this release:
Vinyl Box Set, Vinyl LP, Compact Disc (CD)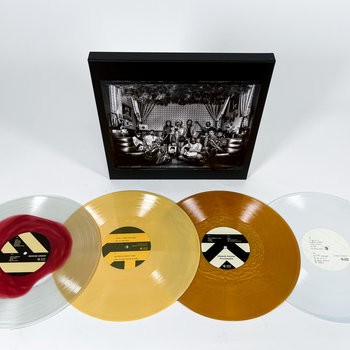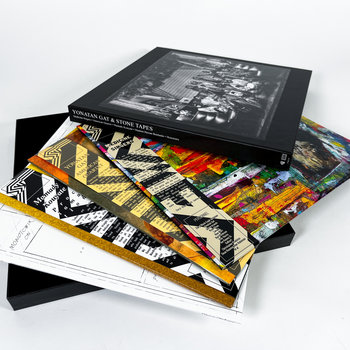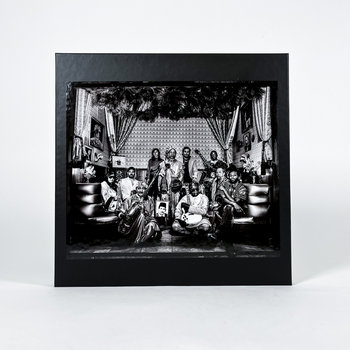 Though he's now dedicating more time to music than ever, Jamieson's priorities remain with his community and culture. He's currently co-chair of the Pocasset Pokanoket Land Trust with his brother Chief George Spring Buffalo which they're using to reclaim, manage, and steward the ancestral lands their tribe was dispossessed of. ($1 of each Medicine Singers sale goes to the Trust.) "We want to save those lands and make a place so that our children, our elders, can go in peace and enjoy what was once ours and be free from any restrictions other than the restrictions that we have of keeping the land pristine," he explains of the project, which is in the process of acquiring 53 acres in Tiverton, Rhode Island.
"We'll have the younger children come in and learn [land stewardship]. One of the biggest things for me is that, and also having the ability to give drum lessons down on that land, teaching those children what we are doing, because I'm not gonna be here forever. Nobody is, so we want them to carry it on."