FEATURES
With the Vibrant Pop of "Miss Colombia," Lido Pimienta Redefines "Beauty"
By Amaya Garcia · April 15, 2020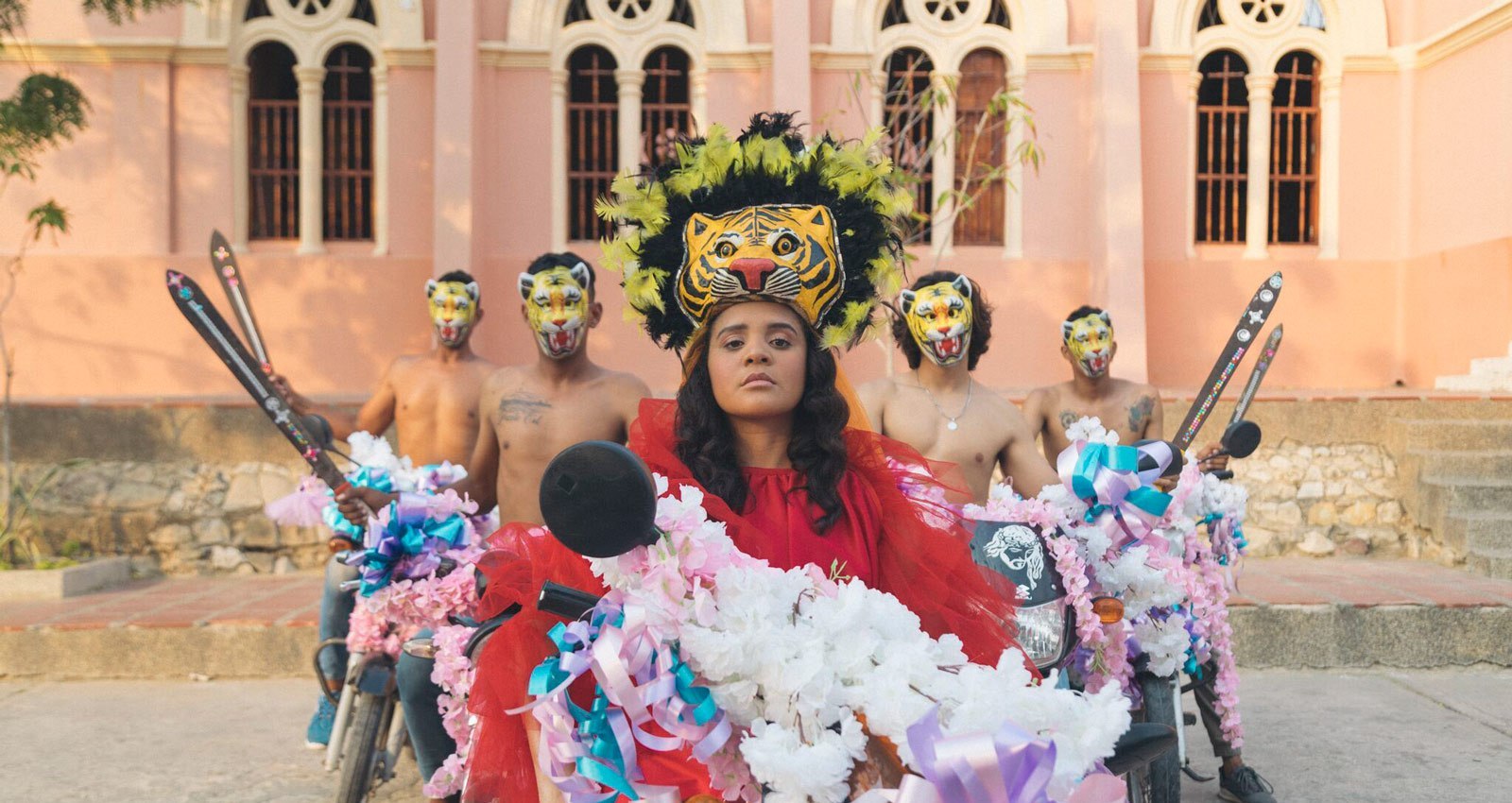 Lido Pimienta's public profile has grown dramatically since the release of her 2016 album La Papessa. After nearly 10 years as an independent artist in both her native Colombia and in Canada, where she has been based since 2005, Pimienta beat out marquee names like Leonard Cohen, Feist, and BADBADNOTGOOD for the Polaris Music Prize in 2017. La Papessa was the first independently-released "foreign language" (i.e. not French or English) album to win the award. One year later, Pimienta was signed by the U.S. label ANTI-, the home of Mavis Staples, Neko Case, Calexico and other indie all-stars.
Merch for this release:
Vinyl LP, Compact Disc (CD)
But if you ask her, Pimienta will tell you that not much has changed. She's doing the things she's always been doing, only now it's for a bigger audience. Case in point: as her platform started growing larger, Pimienta began to pay more attention to her social media presence. "I basically said to myself: 'Okay girl, you're very funny, and you need to use that to your advantage,'" Pimienta says. She's begun using Twitter to bring greater attention to causes that matter to her as a queer artist, mother, Afro-Colombian, and part of the larger Latin American diaspora. "My songs and the things that I stand for are very intense," she says. "The things that I talk about are not the happiest. I don't write hetero songs, and I don't sing in English. For somebody like me, humor is my coping mechanism, because I come from a place of extreme poverty and injustice. The things that I want to change are very difficult to change. But it's easier if we laugh at ourselves a little, and that's how I've been able to just do it."
That ethos is the backbone of Pimienta's new album, Miss Colombia; a triumphant, beautiful collection of songs where the singer-songwriter deals with the complexities of race, indigeneity, womanhood, and her identity as both a Colombian and a Canadian. She grapples with colonialist violence, and celebrates acts of self-love and self-care as an Afro-indigenous Colombian in the greater Latin American diaspora. As she tells it, the album was conceived and created around the concept of beauty and art in their most primal forms—a way for Pimienta to draw in her listeners by hypnotizing them with glamour, in order to get a larger message across. That sentiment is reflected not only in the album's title, but its cover photo, for which Pimienta is arrayed in eye-catching pink, turquoise, and purple ruching, and dons a silver crown.
"I'm obsessed with beauty these days," she says. "Everybody has to be beautiful—the show has to be beautiful, I have to look beautiful. That's how we hypnotize people. I wanted to take all these tropes—what makes a perfect Colombian woman desde el bautismo hasta el matrimonio (from baptism until marriage), all of those important images of the Virgin Mary—I wanted to grab all of that and be tongue-in-cheek about it. I am Miss Colombia now: this perfect, short-ass, brown woman, and I needed to show it in the most high fashion, the most beautiful way. My mom's dreams of me becoming a beautiful lady are coming true."
The music on Miss Colombia is a fizzy amalgamation of Colombian cumbia, bullerengue, sexteto, and global pop like bass music, EDM, steel pan music, and hip-hop; lyrically, Pimienta highlights the tragic history of colonialism and anti-Blackness in her native country, but also suggests that through visibility, we can begin to combat these forces. Songs like "Eso Que tu Haces," "Nada" featuring Bomba Estéreo's Li Saumet, and "Pelo Cucu" are different perspectives on this story, equal parts a celebration of the beauty that it is to be part of Afro-Colombian culture, and an indictment of the inequities that still run through the social fabric.
Merch for this release:
Vinyl LP, Compact Disc (CD)
"'Eso Que Tu Haces' means 'that thing that you do'" Pimienta explains. "And then I respond with 'it's not love.' I wrote this song specifically about what happens when the government and Colombians as a whole ignore our African side, except when it's carnival time, or when there's a foreign diplomat. Then, they bring out the indigenous people and the Black people so that they can do a little dance. After that, it's, 'Let's hide them away and starve them and not give them jobs, because they're lazy Black people.' That's what the song is about."
"Eso Que Tu Haces" is a proud, bombastic pop song, but later in the record, we get to witness the contrast between Pimienta's modern approach to production and the rustic, percussion driven sounds of the Palenque region. "Pelo Cucu" and "Quiero Que Me Salves," were both recorded in San Basilio de Palenque with Sexteto Tabalá, and the group's legendary leader, Rafael Cassiani Cassiani, who lovingly recounts the group's history from its foundation in the prelude to "Quiero Que Me Salves." Featuring a call and response chorus, syncopated percussion, and Pimienta's strong voice, the song is a loving plea for protection from pain, and an homage to Palenque's historical importance.
Palenque, as it is known, was the first town in the Americas to be free from slavery. For Pimienta, recording in Palenque was not only a way for her to give back to her community and highlight the talent within it, but also to create a love letter to the sights and sounds of her culture. "It was important for me to do it in Palenque, to record with those people who are super hardworking dance students, mothers, and fathers," she says. "I made sure that, when we shot the video, that I and the group had equal screen time."
Merch for this release:
Vinyl LP, Compact Disc (CD)
Pimienta also wanted to expand the definitions that people have developed around her music. As a student of experimentation, she mentions that she listens to and incorporates every style she can, as long as it sounds good to her. "Because I've been called so many times, 'The new face of Nueva Cumbia,' I wanted to debunk that," she says. "I'm influenced by cumbia because I am Colombian and it is a part of me, but I wanted to make an album that's just good. Can I just do that, please? I don't want to have this label attached to it that doesn't make sense. If I'm gonna be called this Nueva Cumbia person anyway, then, OK: here's cumbia by Lido Pimienta, here's some bullerengue by Lido Pimienta, here's some sexteto by Lido Pimienta. This is how, through my filter, my experience, and my truth, I wanted to do the songs."
The fusions pay off. Miss Colombia is a wild, spiritual adventure through Pimienta's world—a place where the pains of history and the love of a community meld to become a powerful celebration of Afro-Colombian culture, identity, and womanhood.