FEATURES
Jeremiah Cymerman, Clarinetist of Doom Metal
By George Grella · April 18, 2023
"A screaming comes across the sky."
The opening line of Thomas Pynchon's novel Gravity's Rainbow is also the opening sound on the opening track on Sheen, the first album from Bloodmist—with Jeremiah Cymerman's clarinet keys clattering in the aftermath. Bloodmist is an improvisational, electro-acoustic doom metal (or free doom jazz) trio of bassist Toby Driver; Mario Diaz de Leon (a composer who has written music for the Los Angeles Philharmonic and the International Contemporary Ensemble) wielding synthesizers and drum machines; and clarinetist Cymerman.
Call Cymerman a heavy metal clarinetist; he's likely the only one there is. Though more experimental subgenres of metal have occasionally made room for woodwinds—usually squealing saxophones—Cymerman's playing shows how well the clarinet, in imaginative hands, is suited for music that uses dark sounds and atmospheres as both a means and an end. His centered, clear, strong tone outlines and traverses the far-reaching landscapes that Bloodmist produces.
Cymerman found his way to the clarinet independently of any one musical aesthetic. He tells the story over a Zoom call: "I started playing music when I was 11, but didn't start the clarinet until I was 19. My first dedicated instrument was the electric bass, but the house I grew up in had a lot of unusual instruments: there was a Minimoog, there were unusual percussion instruments, bamboo flutes. I was always making music on my 4-track, and would use any instrument that was around, so in addition to playing the bass, I was also tinkering with these other instruments."
A growing interest in improvised music and free jazz coincided with Cymerman picking up the clarinet. It was, he says, "a period of time where I just was becoming less and less connected to the bass itself. I wasn't getting much of a thrill playing it. And I thought that maybe I'm just not a musician, maybe this was something I did as a teenager and it's time to focus on other things. The music that I was listening to, the electric bass didn't really fascinate me the way that it once did."
"It was purely by coincidence that someone gave me a clarinet, and listening to free jazz, experimental music, improvised music, and even 20th century composition, the instrument became very alluring to me and as soon as I could get a sound out of it," he continues. "It revitalized that feeling that I had originally, like I'm more present in my mind and in my body than at any other moment in my life."
He took a couple lessons with a friend who had played clarinet in high school. She taught him the basics such as how to form an embouchure and fingering, and the rest he taught himself by working through The Clarinet and Clarinet Playing, David Pino's classic guide to the instrument. "It was very much like a crash course," Cymerman says, "I became pretty obsessed pretty quickly."
While Cymerman points out the importance of "honing a creative practice," and finding "something that resembles a singular voice" in the jazz tradition, he connects it to what he's drawn to personally: "Underneath that, the challenge has always been: How do I bridge the different interests I have musically, the different interests I have spiritually, the different interests that I have with literature and film? All these things have always been kind of going around in my mind."
He credits a conversation with Matthew Welch, a composer and musician who has himself connected his instrument of choice—bagpipes—to Indonesian music. "We were just having a talk one night and I think I was going on about something, and he just said, 'You just need to figure out a way to synthesize these things.' That sounds incredibly basic, but it made the challenge clear to me, while also making it more approachable—the idea is in fact to get these different things to talk to each other."
Those things included "deeply profound experiences listening to John Coltrane—John Coltrane's music saved my life—[and] equally profound experiences listening to really loud, aggressive bands," says Cymerman "There's this band from England that I was really into for a while called Esoteric, an early '90s funeral doom band. I've cried listening to that music. I very rarely listen to 'fun' music. I'd rather not listen to anything. My wife got me really into artists like The Cure and Nick Cave and Bauhaus and Christian Death, and that music's become incredibly important to me."
He tells the story of how Bloodmist came together. "There's this thing when you're in New York, you're a young improviser and you're trying to get out and play as much as possible and meet people and play with people, and you get on with someone real well, you just start having a conversation, you're talking about music, and it's like, well, we got to play together," says Cymerman. "With Mario and Toby, it just started happening naturally. When we first got together, we were just like throwing it all in. It's a band that has been going through a purification process for a very long time."
Bloodmist has released four albums so far and another is on the horizon, but Cymerman has also released several solo albums that are products of his years of playing solo concerts and his interest in the recording, sound processing, and editing. A highlight is a 2021 album with guitarist Charlie Looker, released on Astral Spirits. Looker's playing builds a more rhythmic, repeated foundation than usually found in Bloodmist, but the attitude is no lighter, with Cymerman's clarinet scrawling and swooping overhead. The depth of that one simple sound of the clarinet is clearest on his 2021 album Citadels & Sanctuaries, music mostly free from overdubbing, recorded in single takes during a residency at Pioneer Works in Brooklyn.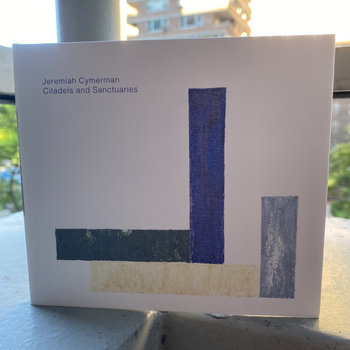 .
00:10 / 00:58
Merch for this release:
Compact Disc (CD)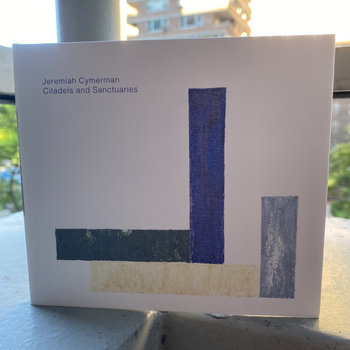 "I'm the youngest child," Cymerman explains, "and have always struggled to have my voice heard. No matter what the playing situation is going to be, it's really important for me to feel as if I'm not struggling and battling for space to say something. Frequently, that tends toward atmospheric playing. I'm trying to get out of that right now, but spaciousness is very important to me. I love listening to insane, claustrophobic music, so spaciousness as a listener and as a player is very important."