FEATURES
The Second Life of Dur-Dur Band (International)
By Oumar Saleh · August 23, 2023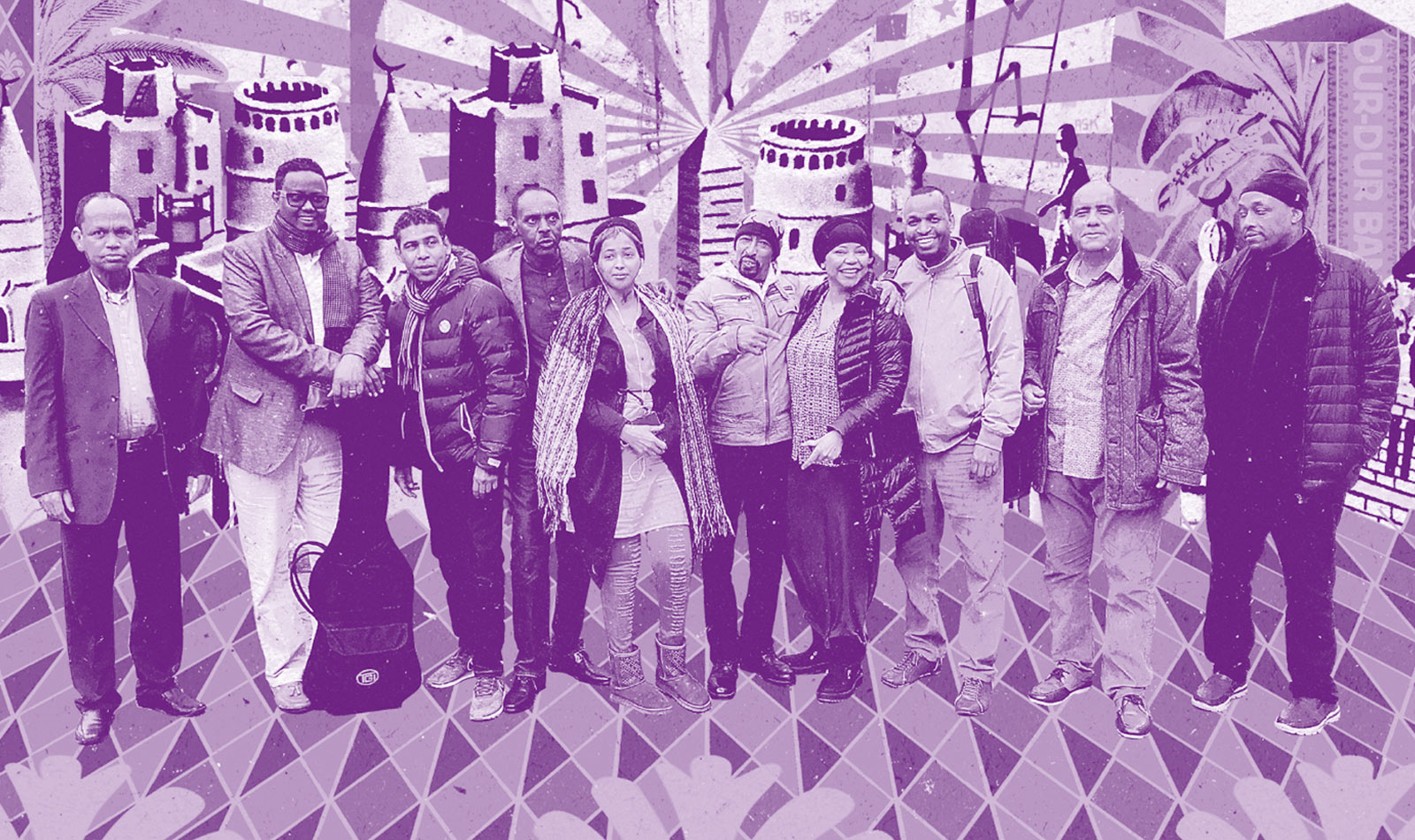 When London's Whitechapel Gallery hosted the Somali Museum's interactive ANY-SPACE-WHATEVER exhibit in June, it was fitting that Dur-Dur Band International would close out opening night with a typically exhilarating set. Despite the absences of several key members due to travel issues, the musicians on stage nonetheless embraced the spotlight, playing a medley of their funkiest tracks as a (mostly) youthful crowd cheered them on. It was a sight that made community activist and band manager Liban Noah beam with pride. "This is amazing, as my dream when I started this was to continue tapping into the younger generation," he says.
To older attendees in the Whitechapel audience, watching the revival group perform must have felt like a time warp to Mogadishu's once-vibrant past. Somalia's independence in 1960 brought forth a pro-arts movement within its socialist regime, which would later break ties with the Soviet Union and bring forth a rush of American pop, soul, funk, and disco that dominated Somali air waves for decades. During those halcyon days, night clubs—of which there were more of than mosques—and Mogadishu's National Theatre attracted a young and cosmopolitan crowd, mostly sporting afros and decked in disco couture, to party well into the early hours of the morning.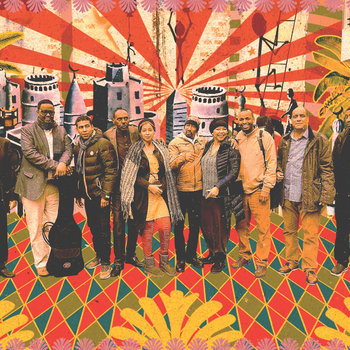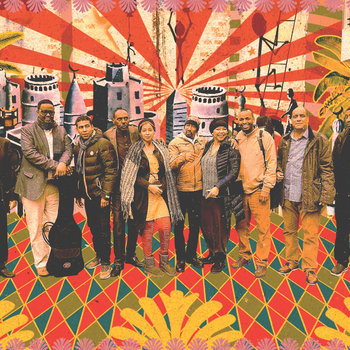 Merch for this release:
Vinyl LP, Compact Disc (CD)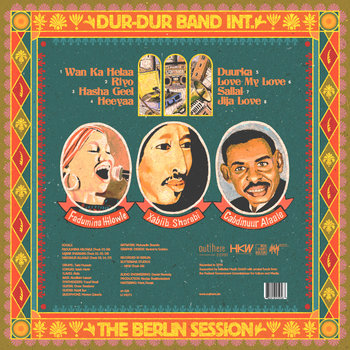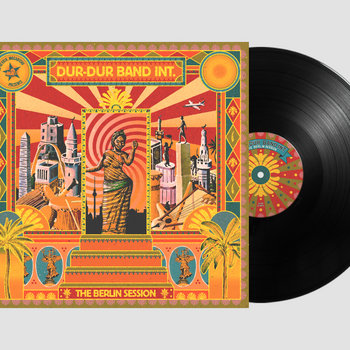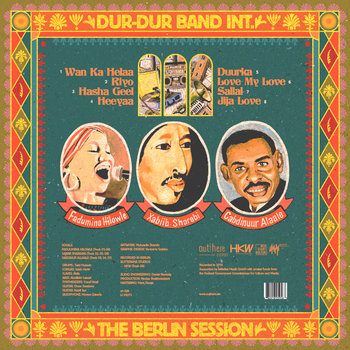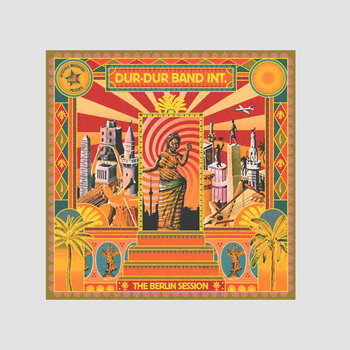 At the epicenter of that thriving cultural scene was the original Dur-Dur Band—whose name translates as "spring." Unlike many other artists who were forced into the government's propaganda machine, Dur-Dur Band largely avoided then-President Siad Barre's machinations and simply focused on the music. Combined with their ambivalence towards the country's political landscape, their potent fusion of traditional Somali dhaanto and Western rhythms helped their popularity skyrocket in Somalia.
"The band's vision was complete once they were exposed to artists like Michael Jackson and the Jackson Five, Tina Charles, as well as Bollywood music," recalls Noah. "They wanted to combine those sounds with their own unique twist on Somali folk with instruments such as the shareero [lyre] and the ashiko [cylindrical drum]." The results were a joyful revelation, opening up a plethora of electrifying soul-disco-funk blends that would define Somali music at the height of its "Golden Era."
However, the late '80s and early '90s saw a civil conflict that reduced the glitz and glamor of Mogadishu to rubble. Pro-Islamist militias waged war across Somalia, also banning music and other artistic endeavors in the process. Meanwhile, many Somali creatives had no choice but to flee the country, settling in Canada, Sweden, the U.S., and the UK. It was in London where Noah first formed his plan to revive Somali music in 2002, working in tandem with OG Dur-Dur Band bassist Abdillahi Ujeery to gather as many talents from the local Somali diaspora as possible to form a new band. "I remember myself, Abdillahi, and a few others deciding then that we were going to make our own band," says Noah.
Merch for this release:
Vinyl LP, Compact Disc (CD)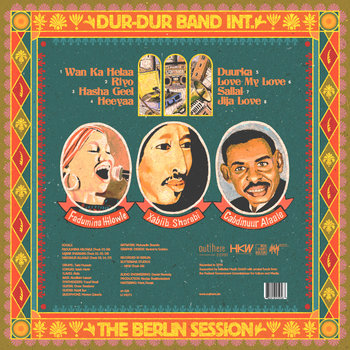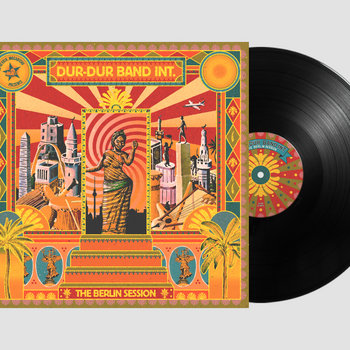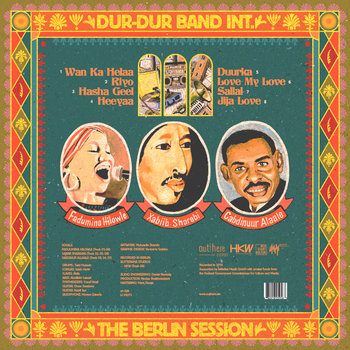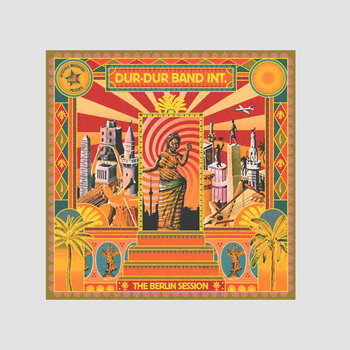 They later settled on restoring Dur-Dur Band's name for a new generation, adding "International" at the end to reflect their exiled status. Eventually, the newly-christened Dur-Dur Band Int. performed their first gig in 2011 at a local concert hall in southwest London. Like the original incarnation, whose music didn't travel beyond East Africa, the group's music didn't stray far from their own community. It wasn't until labels such as Analog Africa reissued lost tapes from the band's heyday that Western listeners took notice, sparking demand for today's iteration across Europe and the rest of the world. "People want to listen to Somali music, and these gigs also help us to promote our country and its culture more," says Noah. "With the help of guys like [Analog Africa founder] Samy Ben Redjeb, we were able to break that barrier and have people who don't understand our language to dance to our music."
All of Noah and Dur-Dur Band Int.'s hard work culminated in a seminal concert in Berlin's House of World Cultures (HKW) four years ago. "We called it The Berlin Session because we didn't originally aim to record it as an album," says Noah. "However, as we were rehearsing and recording in an analogue studio with actual instruments, we came to the realization that we should release this not just as an album, but as a tribute to the original Dur-Dur Band and the idealism of Somalia's Golden Era."
Merch for this release:
Vinyl LP, Compact Disc (CD)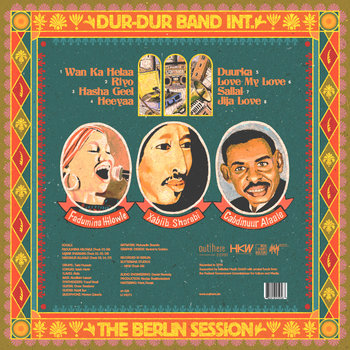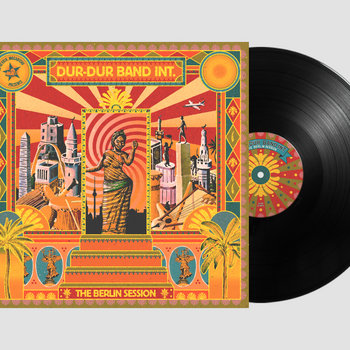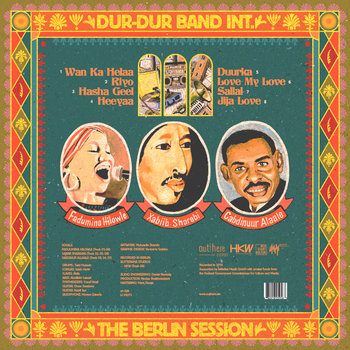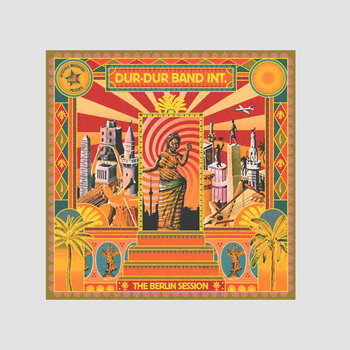 Initially advertised as a one-off reunion between OG band members and names such as '80s "King of Pop" Habib Sharabi and charismatic songstress Fadumina Hilowle (whose cousin was the late Somali swing icon Fadumo Qasim), The Berlin Session soon became the first album of newly recorded material by a Somali act in over 30 years. Despite featuring only one OG band member, the LP is a time capsule that captures Dur-Dur Band at their peak. Opener "Wan Ka Helaa" is funky psychedelia that complements Hilowle's towering vocals, "Riyo" pays homage to Somalia's Silk Road roots with sitars strumming in the background, the rhythmic reggae slink of "Heeyaa" is intoxicating, and the catchy "Duurka" is a kaleidoscopic floor-filler that rapidly grew into a crowd favorite during the band's live sets.
Since The Berlin Session's release, interest in the revived Dur-Dur Band Int. has exploded. They've played gigs and festivals across Europe and the UK, including Camden's famous Jazz Club earlier this year, and tour life isn't slowing down anytime soon. Given that Somalia's global reputation is intrinsically linked with violence, the eight-person ensemble's music has also helped to rehabilitate the country's image in the eyes of many. "I remember being in Stockholm during one of our concerts, and there was this young Somali girl in her 20s who told me that she was so proud of what we were doing," says Noah. "She told me that people used to look down on us, but because of us and the music, not anymore. Her words gave me goosebumps. I hugged and thanked her, because moments like this make reviving the band and the music worth it."
The work has only just begun for Noah and Dur-Dur Band Int., who are aiming to take a prominent place alongside Afrobeats, alté, and highlife acts in today's zeitgeist. "While I want to keep the core musicians, I want to create a bigger international network by recording with other artists," says Noah, who plans on bringing in the likes of composer and one-time Peter Gabriel collaborator Maryam Mursai and talented multi-hyphenate FAUZIA to work on future projects. "My priority right now is to push the band to its artistic limits, and I'm confident that we can achieve our goals."