FEATURES
Milwaukee's Music Scene Converges in Credentials
By Erin Margaret Day · January 31, 2022
 Credentials sit at the crossroads of many facets and multiple eras of Milwaukee's music scene. It's there in the band's name, a reference to the fact that every member—vocalist Sevan Arabajian, guitarist Joshua Backes, drummer James David, and bassist Peter J. Woods—has been involved in so many musical projects over the years, all in different genres, ranging from post-hardcore and Americana to noise and electronic.
It's also there in the opening riff on their latest record, which Backes has had in his back pocket for decades. When he was playing with drummer James David in experimental Milwaukee post-hardcore bands like Murder in the Red Barn and Guns Blazing at the turn of the millennium, he brought the riff to various practices, but none of the bands he was playing in ever came to a consensus about using it. It's fitting then, that the riff would kick off Credentials's Why is My Arm Not a Lilac Tree?, a record which encapsulates a quarter century of independent music in Milwaukee, and represents the convergence of sounds, scenes, and individuals who were historically segregated. Apparently, that riff needed a different environment in which to thrive.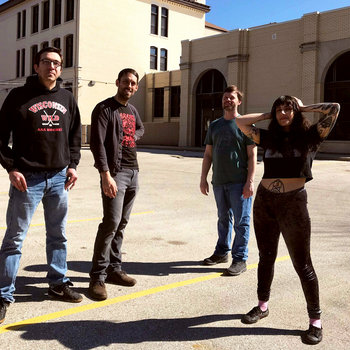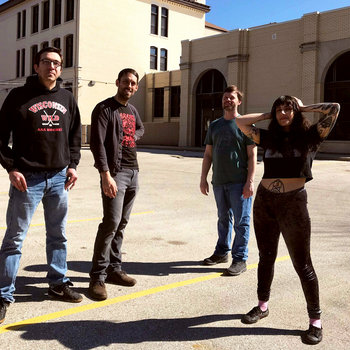 Merch for this release:
Vinyl LP, Cassette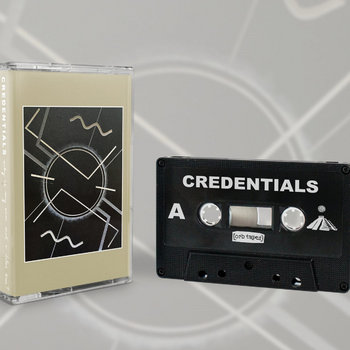 Backes' earlier bands were part of a Milwaukee rock scene that he describes using several iterations of the word "punk," "post," "rock," and "pop," before clarifying that it was united by the fact that "everybody was loud—and we all had half-stacks." The scene was largely based around house shows, and primarily at the Bremen House basement, which Backes describes as being only twice the size of the tiny library conference room in which we're sitting. It managed to exist for a full decade by securing new tenants who were also interested in living at a show house, until neighbors with less tolerance for noise started moving in.
Murder in the Red Barn were essentially outliers in a scene that included bands like Managra, Insidious, Tintoretto, and Hero of a Hundred Fights who took their inspiration from similar sources in first-wave post-rock, post-hardcore, early screamo, and Chicago-style math rock. The band specialized in a sort of surreal Americana, closer to what bands like Quix*o*tic were doing in D.C. around the same time, but on the fringe of folk and country rather than soul and doo-wop. Murder in the Red Barn existed on the margins of their hometown scene, and were never great at making and maintaining connections to it; ultimately, simply being one of the most interesting bands from Milwaukee wasn't enough to sustain them. As the project fizzled out, it morphed into Guns Blazing, and both projects got a bit buried in the sands of time, until a recent slew of reissues focused on this region and era on labels like Dog and Pony Records, Forge Again Records, and Woods's own label FTAM Productions brought them back to the surface.
Where many musicians from that scene followed its movement toward "sassy" hardcore via bands like Call Me Lightning and Temper Temper, both Backes and David played in Fuiguirnet, a band that used rock music as a platform to tell epic tales of science, both fiction and fact. Eventually, Backes returned to the folk music he was raised on, becoming part of a scene of open mic nights and folk performances happening in venues like Linneman's Riverwest Inn and the Bremen Cafe. David moved onto playing with the more piano-driven singer-songwriter project Marcella, though he continued working with Backes on a folky project called Joshua and the Trumpets—a silly bible reference playing on Backes's name—which evolved into an Americana band called The Grasping at Straws.
Theirs is not an unusual story in Milwaukee music. As a mid-sized industrial Rust Belt city, its scene is small, and vulnerable to the kind of seismic shifts that result from changes in interpersonal relationships or venues closing. The scene tends to move in four or five year cycles says Woods, who has been a central figure in Milwaukee music since he was a teenager. One great examples of this is the Jazz Gallery Center for the Performing Arts, which was historically a jazz venue where huge figures like Sun Ra and Dizzy Gillespie played, before it began hosting hardcore shows decades later under the name of its address on Center Street, 926. Now, the venue is a home for gallery shows and things like the Experimental Education Series that Woods curates to help address disparities in access to gear and knowledge in experimental music.
Merch for this release:
Vinyl LP, Cassette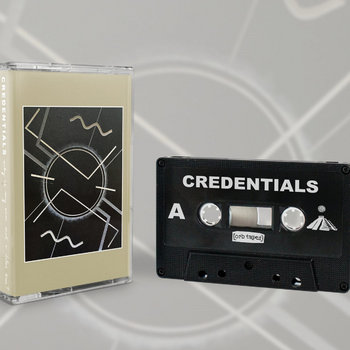 Though Woods had managed to catch one of the last Murder in the Red Barn shows at Pierce Street House, he firrst became deeply involved in the scene around 2003. His entrance point was going to metalcore shows in places like Watertown, which led to shows in other all-ages spaces like the Logemann Community Center in Mequon and the Shorewood Legion Hall. He began going to basement shows right when, "Milwaukee moved past naming all of their basement venues after the name of the street and actually started coming up with creative names," he recalls with a laugh, citing house venues like Barely Legal, Endless Nameless, and the Dead Squirrel House.
Around this time, Woods started the band e=mc hammer, an outgrowth of his realization that he wanted to make music that was stranger than what he was hearing around town. The band ended up being a sort of "Mr. Bungle meets Frank Zappa sort of thing, with jarring stylistic changes and this kind of conceptual humor that went over the top of it." But he doesn't think any of the jokes actually landed, and in retrospect feels like most of the group's stylistic choices didn't make any sense. Inspired by bands like June of 44 and the guitar-less Dianogah, Woods started experimental post-rock duo Coelacanth. His interest in the noise scene began around th same time Wolf Eyes signed to Sub Pop around 2004, and from then on, making music and booking music events became his social circle, resulting in an endless litany of projects including Phoned Nil Trio, Galactic Cannibal, Mountain Language, Tunnel Shepherd, and Raffle House. He has since become an educational scholar, focused on how oppression is done or undone in performance art spaces—particularly within noise and experimental music, so that social circle now also extends to conferences and other work in academia.
The final piece in Credentials is vocalist Sevan Arabajian, who brings a soulful and spiritual element to the group that is usually lacking in more technical kinds of rock music. "Sev is like an Ozzy Osbourne kind of thing for us," Backes explains. "They add a kind of sweet darkness to our noisy craziness. And we would just sound like all those old bands if Sev wasn't around, because Pete and I would just bark into the mic, and we would never think about it anymore beyond that. And we would sound like Shellac, or whoever."
Arabajian, who previously made music as Cat Ries, attended some hardcore shows in the mid '00s, but gravitated towards the sort of acoustic and low-amplitude scene that was happening at community spaces like the Cream City Collectives, where there was greater gender diversity and a larger queer community. At the time, hardcore and noisy music and more lyrical, soulful, folky music were relegated to separate spaces like Fratney House, where louder bands played in the basement and acoustic singer-songwriters like Arabajian played in the attic. At the time, Backes recalls, there weren't a lot of women or trans spectrum people in the heavier music scene—and definitely none in bands—but he adds that the men who were a part of that culture were largely against toxic masculinity, while also not really understanding healthy ways to facilitate changing it.
Arabajian's solo work became more electronic under the name Pleasure Thief; they also began working with the performance group/party collective Rio Turbo, and found their greatest success with NO/NO, who toured a lot, won multiple regional awards, played local festivals, and got a nice payday after one of their songs appeared in an episode of the Showtime comedy Shameless. Despite all of their success, none of these bands really made full use of Arabajian's enormous talent, and they were also not finding success with their solo material, which was closer to their heart.
"When given the chance, I have a lot to say," Arabajian explains. "In pop music, you have to be really concise—which is a fun challenge." But ultimately, condensing their intensity into accessible form was too limiting. Credentials is a 180 pivot from NO/NO's easily metabolized synthpop—combining the deeply philosophical poetics of Arabajian's solo compositions with insane time signatures and calculated explosions of noise.
How did such a drastic shift manifest itself? It happened via a strange and prophetic dream Arabajian had. In the dream, they were in a church with Woods, and a performance was taking place. Woods was freaking out, so Arabajian tried to calm him. "I was like, 'Here, give me your hands,'" Arabajian explains, "and we did the 'hot hands' thing, but we didn't play the game, I just transmitted some energy to him. Then he calmed down and was like, 'You should do what you just did, but with a beard,' and made some insinuation about collaboration and performance."
That was enough to convince Arabajian that they needed to collaborate with Woods. It's meaningful that the dream took place in a church; much of Credentials's oeuvre revolves around the idea of unleashing the divinity in each of us, becoming and living like the gods we are. (Their music has been described as "hard-grooving, devotional noise worship," according to Arabajian.)
Woods had already been looking for people to play in a rock band context after a lot of time spent devoting himself to the noise scene. He wanted to start a band that sounded like Murder in the Red Barn and Guns Blazing. But when he would talk to other people about those groups, it was clear almost no one had any idea who they were. Woods had been in occasional communication with Backes and David over the years, and had been in Backes's ear for a while, asking if he was tired of playing folk music yet. Just as Woods got tired of making noise and wanted to rock, Backes was also ready to play heavier music—and knew a great drummer who needed to come out of retirement. The band immediately "shit out" five or six songs, according to Backes, releasing a demo in 2019, which prominently featured the litany of bands each member had been a part of over the years on its cover.
Woods notes that the order in which they composed the songs shows their development as collaborators, gradually moving from simpler structures to more complicated ones. "The songwriting process feels very familiar from Murder days and Guns Blazing," Backes says. "Everybody stands in a circle—and I don't know what it is like to be the singer, but Billy [Zientara] from Managra and Tintoretto [and Murder in the Red Barn], he would just kind of sit there until he finally had something he could sing over, poor guy. [Sevan is] more active than he ever was at that, so the lyrics in those bands came much later. Sevan always seems to be bubbling with whatever you want."
Merch for this release:
Vinyl LP, Cassette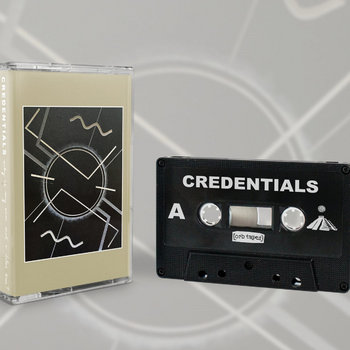 What is striking about Credentials isn't just the diversity of their influences, but how well those influences interweave and connect. While their engagement with what they refer to as the "Chicago to Louisville Pipeline" of bands is definitely audible, Woods found inspiration for "Body Builder's Lament" in "So What" by Miles Davis, and "Deliverance" ends with a twist on the popular gospel song "This Little Light of Mine" in which the band sings a new refrain ("This fragile mind of mine, I'm gonna let it die"), clapping their hands out of sync until the song slowly disintegrates—something they encourage the audience to do during their performances. Album closer "I Set Your Hair On Fire" is like a scorchingly seductive stoner metal take on Mazzy Star.
While Credentials wait for the world to catch up with what they've already created, they've set upon working on something else to release by spring: a set of miniatures, little musical tchotchkes inspired equally by chamber music composer György Kurtág and the extremely short songs Melt Banana wrote in the '90s. They are looking forward to seeing where their tiny models of sound take them next.