LISTS
A Further Exploration of the Many Sun Ra Albums on Bandcamp
By Piotr Orlov · February 25, 2021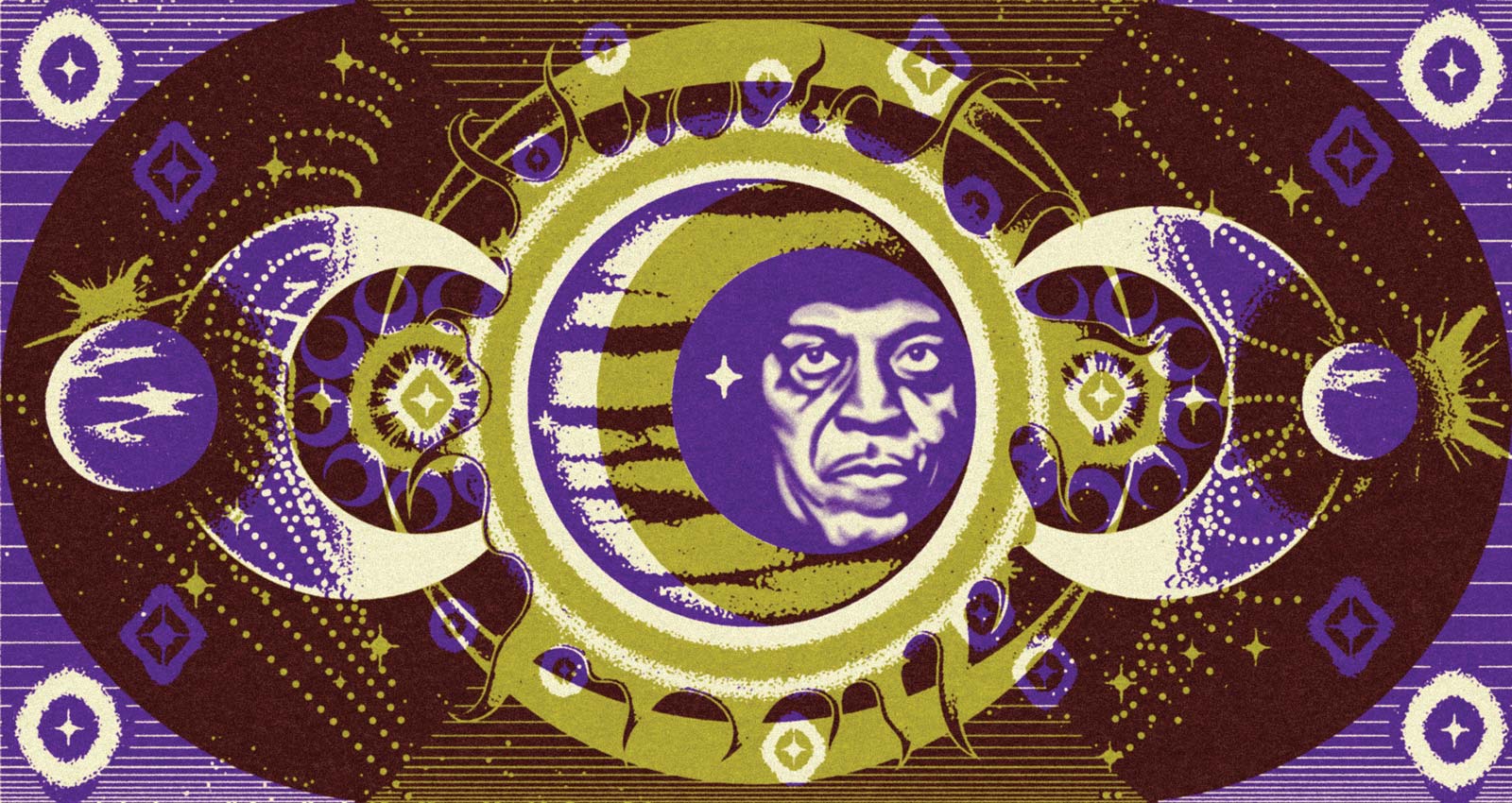 Maybe it was written in the glow of the stars—or, more likely, foretold in the Blackness that surrounds them! Over the past few years, growth in the collective admiration for the music, art, and philosophy of the Afrofuturist keyboardist and composer Sun Ra, and his band The Arkestra, has been phenomenal to behold, matched only by the volume of his own available recordings.
The Sun Ra discography's march from decades of outsider cult status towards the vicinity of the 20th century's canon has undoubtedly been aided by the fact that The Sun Ra Arkestra remains a fully active unit 27 years after their founder's passing (thanks in no small part to the leadership of 96-years-young alto saxophonist, Marshall Allen). Yet among this journey's most curious aspects is how much of Sun Ra's eccentricity has been allowed to remain intact—the interest he's gained not despite it, but largely because of it—and how it has attracted a multitude of contemporary perspectives. Listen to Sun Ra albums in 2021 and his work can be rightfully placed in a multitude of frames.
It's not far-fetched to say that Sun Ra has expanded the modern creative music tradition and has become central to broader reappraisals of post-war African American and avant-garde art; that he inarguably sowed the seeds of Afrofuturist and utopian thought, while espousing a Black universalism centered on both self-sustainability and art-political history, while employing a trickster's mirror on white supremacy. The Arkestra, meanwhile, has become an exemplar of long-term, DIY autonomy, embodying the historical throughline of theatrical experiential music performances from the age of "exotica" to the reign of Tik Tok. Ra's name can come up in conversations about the roots of free jazz or of techno—his music carrying proof of both.
In fact, the sheer amount of recordings Sun Ra left—plus new pieces discovered in his own or other people's archives, and thematic compilations reframing the work—is the primary reason for the breadth of interpretations of his and The Arkestra's many impacts. Sun Ra ran his own record company (El Saturn Records); did sessions for other labels and licensed material to them; constantly recorded concerts and radio appearances, but also allowed others to record him. All that material propagated self-sufficiency, and a pointedly indiscriminate approach to qualifying the art. Canonization was most certainly NOT the point, and "Great" could often be found next to "Lukewarm"—subjectivity being as cruel a mistress as time.
Since our last guide to listening to Sun Ra in 2017, there have been more than 50 new additions to the catalog available on the site. For sanity's sake, I only considered those that have been added in the time since—and even then, left many worthy live and radio sessions out.
88 Keys to the Kosmos: Solos, a Duet and a Trio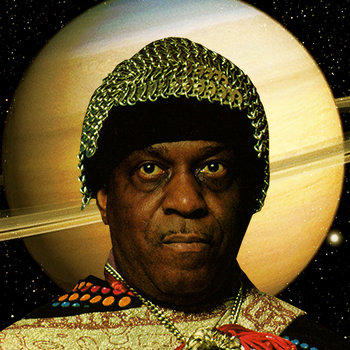 .
00:10 / 00:58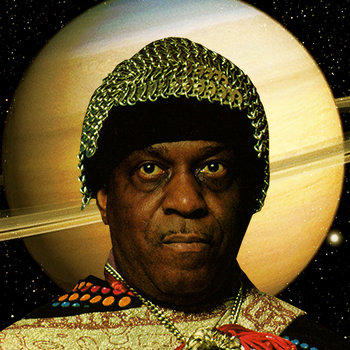 Merch for this release:
Compact Disc (CD), Vinyl
On some level, the idea of solo piano Sun Ra records is pretty natural: Herman "Sonny" Blount was a piano prodigy in Birmingham, and his dexterity on the instrument (moving seamlessly from ragtime and stride, to volcanic, Cecil Taylor-like waves of sound) could be heard at most Arkestra performances, many of which had moments of unaccompanied Ra. For a long time, the two volumes of Monorails and Satellites (orig. a "late 1960s" release) were his best-known solo piano albums, and the new version adds a third volume. Though they generally present a restrained Ra, showcasing mostly meditative swinging originals (like "The Eternal Tomorrow"), neither the appearance of electronics ("Astro-Vision") nor a drive towards atonality ("Calundronius" sounds like chopped Gershwin) ever seems far.
A set of albums from the latter half of the 1970s saw Ra return to solo keyboards, at times in unique ways. Both Solo Piano, Vol. 1 (studio 1977) and St. Louis Blues (live 1977) were produced by the pianist Paul Bley; and both feature a mix of originals and standards where the two playing approaches—free, searching alongside the melodic, laid-back—are closely integrated. (Dig the loose-threads-tied abstract blues in Solo's version of "Sometimes I Feel Like a Motherless Child.") The previously unissued Solo Piano at WKCR, 1977 was recorded a week after St. Louis Blues, and along with the familiar mix of originals and standards includes four dramatic improvisations. That mix of material is also present on the unofficially recorded Solo Keyboards, Minnesota 1978—three of the performances are not on piano but a Crumar synthesizer, which adds an electric glow and futurist tributaries to "Motherless Child." The latest solo recording, Haverford College Solo Piano 1980, is also a bit of a misnomer, as Ra performs the entire concert on a Fender Rhodes, creating natural bridges between "Space is the Place" and "Somewhere Over the Rainbow," then invoking Star Wars sound effects on the second of two original improvisations.
Sun Ra's exploration of the spare environment resulted in two other unique albums in this period. Visions is a lovely duo curiosity from 1978 with vibraphonist Walt Dickerson, a guest on one of the Haverford tracks who is credited with all seven compositions. Most are spare and full of easy interplay, the exceptions being "Utopia" and "Prophesy"—on which synth noises, prepared piano scribbles, and other-worldly clusters play counterpoint. Sun Ra's only career piano trio session, 1979's God Is More Than Love Can Ever Be, is far more than a curiosity. With Samarai Celestial (aka Eric Walker) on drums and Hayes Burnett on bass, the album embraces the accessibility of the form to its fullest ("Magic City Blue" is an exuberant boogie-woogie) while never forgetting to stretch in numerous directions (the propulsion of "Blithe Spirit Dance" is driven by all three players). This one is deserving of greater acclaim.
In the Shadow of 'Space': The ABC/Impulse! Years
After 1972's commercially successful Space Is The Place album, Sun Ra signed a record deal with the famed Impulse! label, an ambitious agreement that was supposed to include licensing old Saturn Records releases for reissue as well as creating new recordings. Things did not go as planned. After the first album in the deal, 1973's Astro-Black, flopped, the agreement fell apart; yet other titles did come to market, and Arkestra music recorded for Impulse! found its way onto future releases. (A full recount of this confounding matter is part of John Szwed's crucial Sun Ra biography, Space Is The Place.) In fact, that period in the Arkestra's earth-time existence (1972-74) saw Ra and the group making some of the most intriguing studio recordings of their "career," embracing the noisy, electronic, and discordant. Quite a few albums from this period are now available digitally—or organized—for the first time.
Seemingly the most "famous" music of this period is actually a misnomer: a 1972 session released in 1993 as Space is the Place: Music for the Film is not the soundtrack of the cult film that it appears to be, though it was recorded as such; nevertheless it includes new/different versions of some of Sun Ra's best-known material performed by a "tight" 12-piece Arkestra. On the other hand, October 1972's Discipline 27-II is all original, encompassing the many notes and routes that hitherto made Ra and his band musical explorers. It's expansive (over 20 players and singers); percussion and voice-heavy; free and swinging; celestial, funny and philosophical, with a poetic 24-minute suite that gives the album its title and serves as its beating heart. A classic.
Crystal Spears is something else altogether. Recorded winter/spring of 1973 and intended for a 1975 Impulse! release (but shelved by the label's "suits"), it opens with a noisy synth-meets-organ emotional freak-out, strays into traditionalist song-oriented territory only for a moment ("Eternal Sphynx"), and builds to a percussive, psychedelic crescendo not for the faint of heart. The scattered Cymbals/Symbols Sessions (New York, 1973), all gathered here for the first time, are Spears's sister recordings; more structured in their interplay of a relatively small Arkestra, thorny and electric in spirit. Only the exchange between John Gilmore's tenor sax, Sun Ra on the organ, and drummer Harry Richards on the short "Universe Is Calling" feels like a settled moment.
Also recorded in winter of 1973, Pathways to the Unknown was actually released by Impulse! in 1975, bringing an end to the label experiment. It too sounds of a piece, the "out" playing full of spaces for charged small-combination digressions, full-band explosions, or long outward-bound solos (Gilmore and Allen on the newly added "Intrinsic Energies"). Extended melodies and structures are hard to come by. The one exception is "View From the Mountain Top," a three-minute snippet added to the reissue, where Ra's organ, Gilmore's tenor, and Eloe Omoe's bass clarinet create a more focused mood. Whether it was the disposition, the circumstances, or the studio, Sun Ra's Impulse! music embraces a dystopia his other eras only acknowledged.
Time Travelers & Super Heroes: Oddities & Curiosities
.
00:10 / 00:58
One reason Sun Ra's character and music always stood out was the variety of information that went into it. He was a magnet, a translator, and a builder of utopias, with a broad array of esoteric interests; yet also a highly skilled, uncompromising musician, a consummate bandleader who'd fronted an orchestra since his early 20s, driven to bring his philosophy and sound to the broadest audience possible. The mixture of these attributes made for a mighty cosmology. It also led Sun Ra down unusual creative pathways towards far-off destinations, while bringing him into contact with other great minds. We are blessed that he recorded many such discursions.
There is, for instance, the expanded version of With Pharoah Sanders & Black Harold, a recording of a 1964 concert at New York's Judson Hall that marks the only document of the great tenor saxophonist's time with the Arkestra. A new version expands the original historic set by four numbers, presenting Sanders a few months before he joined John Coltrane's group—and already in full flight. Sun Ra's version of commitment to Black liberation also put him in touch with artists in the then-fledgling Black Arts Movement, most famously with the Arkestra's 1968 accompaniment of writer Amiri Baraka's play, A Black Mass. The Ankh and the Ark introduces another piece of evidence in Ra's engagement with that literary tradition, a 1966 interview with the great writer and Arkestra advocate Henry Dumas (who'd be killed by a New York City police officer two years later). Their conversation lays out Ra's then-current worldview, with Dumas as a mighty interlocutor. The Stranger: A Radio Play (from around 1968) is the sound of the Arkestra as a working band in the odd context of radio theater, doing anything they needed to do to get by—yet unable to save the mediocre presentation with their exotic score. The 1966 album Batman & Robin, credited to "The Sensational Guitars of Dan and Dale," also sees Sun Ra and Arkestra members (as well as members of Al Kooper's Blues Project) doing a money gig; but this one—a quick session produced by Tom Wilson (who'd just worked with Bob Dylan and was about to record The Velvet Underground & Nico)—is a hoot, featuring not just the theme music but instrumental versions of the day's hits (under Batman-friendly titles), played as rough-hewn R&B.
Egypt played a central role in Sun Ra's mythology from the very beginning—inspiring his adopted name and providing him with a Black-centered cultural history and a star-map that literally changed his life. So it is no surprise that Egypt was one of his dream musical destinations, a dream that first came true in December of 1971. The massive Egypt, 1971 set compiles all the available recordings of the Arkestra's historic first trip to North Africa, a remarkable four-plus hours of music, with Ra relying heavily on electronic keyboards—often playing long, solo, proto-techno passages—harkening to the galvanic noise of his upcoming Impulse! period. Sun Ra twice returned to Egypt in the early '80s and upon doing so in 1983, he and the Arkestra went into the studio with the drummer/composer Salah Ragab, one of the country's key "jazz" figures. The resulting two-track EP, "Egypt Strut"/"Dawn," is the Arkestra in their later-period boogie band mode, with North African tonalities.
An even more intense dancefloor vibe can be found on 1979's On Jupiter, a kind of sister record to the prior year's Lanquidity. That universally-beloved Arkestra album, recorded with famed New York producer Bob Blank, is a high-point in Sun Ra's DJ-friendly music; but for my money it pales to On Jupiter's "UFO," a delicious, funky (courtesy of the electric bass provided by co-writer Steve Clarke) song that marries the bandleader's outer space gaze with the era's deep disco ruminations. On Jupiter is as much a classic slice of Arkestriana as a reflection of its musical moment, and thus feels sympatico to last year's Swirling, the first new Arkestra album in two decades. These vocals-heavy reinterpretations of the original Sun Ra and Arkestra songbook anticipates our contemporary state (see the a cappella "Sea of Darkness," a great reading of On Jupiter's "Seductive Fantasy") while simultaneously feeling timeless.
Chopped: Thematic Compilations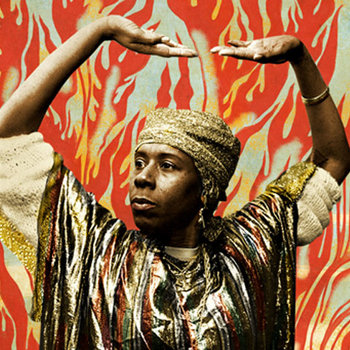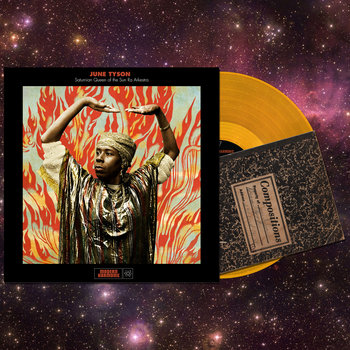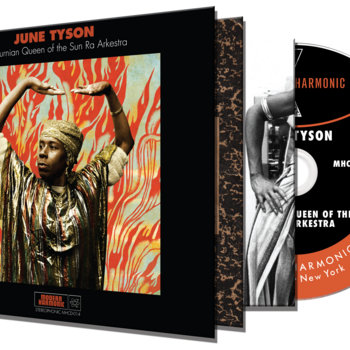 .
00:10 / 00:58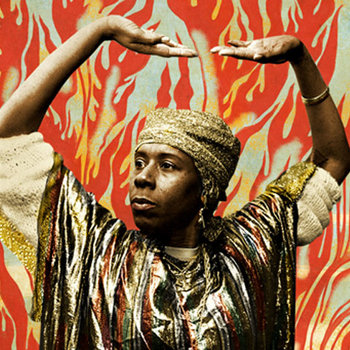 Merch for this release:
Vinyl LP, Compact Disc (CD)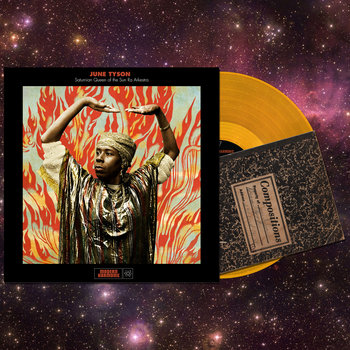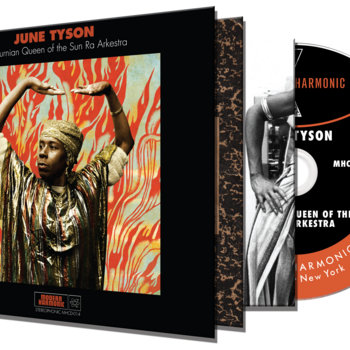 Finally, one of the great aspects of now having Sun Ra's entire output administered by a single legal entity, Sun Ra LLC, is that the immense (and growing) archive can be recontextualized in a variety of ways, allowing for more thematic reconsiderations. A handful of recent compilation albums have done just that, some spotlighting individual members of the Arkestra, others engaging specific parts of the group's repertoire.
The compilations that honor the work of singer June Tyson (Saturnian Queen of the Sun Ra Arkestra) and tenor saxophonist John Gilmore (Kosmos in Blue and Blues at Midnight), two of the group's longest serving and central players, give them their dues in a way that popular music history hasn't. Tyson was the only long-term female member of Sun Ra's bands during her quarter century tenure. She was a dancer, choreographer, and vocal foil, but most importantly, was the universal voice of reason and humanity delivering the bandleader's cosmic philosophies—often with a touch of sassy humor (listen to "Outer Spaceways Incorporated") that were rarely part of Ra's own approach. Gilmore was one of the Arkestra players whose presence made it impossible for jazz traditionalists to fully write the group off as a gimmick. John Coltrane loved Gilmore's tone so much he modeled his own after it; Gilmore was also a sometime member of Art Blakey's Jazz Messengers in the mid-'60s, before fully committing to the Arkestra. Based on Sun Ra recordings of the 1950s and early '60s, the twin comps make a case for Gilmore as a great hard-bop-era saxophonist, playing the changes rather than skipping through galaxies of sound. (Though he could, of course, do both.)    
Collections based on sonic themes deconstruct Sun Ra's musical thinking according to tropes the great composer himself may have regarded less as categories than ingredients. For instance, there are no lies in naming a 25-track compilation Sun Ra Exotica, couching his admiration for the "easy listening" kitsch of Les Baxter, or the appropriation of musical locales and hi-fi sound effects, as on-trend, rather than as source material for Ra's universalism. Sure, numbers like "Tiny Pyramids" and "Cha Cha in Outer Space" fit comfortably alongside umbrella'd cocktails and fads of the day, but they're actually prep for the Arkestra's multidimensional soul stew; as was his work mixing doo-wop, urban R&B, and big-band swing that first made his name as a musician in Chicago in the late '40s and '50s.
Space Age Rhythm & Bop (1950s) features Sun Ra as writer/producer/arranger/engineer of the day's local hit parade, sprinkling stardust on gut-bucket material like Yochanan's roughhouse growl "Hot Skillet Mama." Its lyrical delivery and purpose communicate directly decades later. Using almost 40 years of recordings, in a variety of settings, Sun Ra Plays Gershwin performs another type of recontextualization, showing an American radical engaging one of the nation's beloved classics. The Arkestra's previously unreleased 1979 live reading of "Rhapsody in Blue" opens with an extended solo piano improvisation on its famous theme, followed by a rambunctious version—a triumph of the outsider, a new meaning on an old standard, and a hoot. That Sun Ra played "Blue" cooler than George Gershwin should go without saying.