FEATURES
Mapping Cave-In's Sprawling Post-Hardcore Cosmos
By Gregory Adams · May 24, 2022
That Cave In named their latest album Heavy Pendulum is quite fitting. Named after a Codeine song, yet at various points pulling influence from the worlds of metallic hardcore, '80s thrash, early '90s alt gloom, the effects-soaked expanses of space rock, folk, scraping electronic noise, and more, it's been a wild ride for Cave In and their listeners so far. 
Since forming in Methuen, Massachusetts in 1995, Cave In's line-up has been anchored around guitarists Stephen Brodsky and Adam McGrath, and drummer John-Robert Connors. The act's earliest, parameter-expanding approach to hardcore didn't exist in a vacuum—they were contemporaries, tourmates, and collaborators with the likes of Converge, Botch, and the Dillinger Escape Plan—but their unique twist co-mingled tech-heavy riffs with an unabashed look back at the then-recent past of grunge and dark alt-rock figures like Alice in Chains and Failure. They perfected this up front on their 1998 debut album Until Your Heart Stops, yet went on to shake their sonic foundation with each subsequent release.
That said, there are a few mainstays of the band's sound. Take the omnipresent, unnatural undulating of the Boss PS-3, a pitch-shifting guitar pedal that's been bolted onto both Brodsky and McGrath's pedalboards for a quarter century. The band have lovingly dubbed their eerie, octave-splitting sheen "The Cavinator pedal," an inside joke furthered in the recent video for Heavy Pendulum's "New Reality;" Brodsky asks producer Kurt Ballou if he's got another PS3 inside the basement of his fabled GodCity Studios, which Brodsky plans on chaining-up to the three he's already got in his hands. 
Despite that kind of light-hearted nature, Cave In's sonic heft has been wrought with hurdles. Early on, a revolving-door line-up made the band's identity a little unclear, especially when it came to who was behind the mic; a bid for a mainstream breakthrough petered out following the release of their 2003 major label effort, Antenna; most tragically, longtime bassist Caleb Scofield died in a traffic accident in 2018 when his truck collided with a concrete divider. Through it all, Cave In have persevered.
Outside of Antenna, Cave In's full-lengths, EPs, and even a couple of live sets are all transmitted through Bandcamp via their current label, Relapse Records. To celebrate the release of Heavy Pendulum—Cave In's first to feature longtime friend, Converge member, and Scofield's former Old Man Gloom bandmate Nate Newton on bass—below are just a few of the hardcore-adjacent highlights the group have soared through the stratosphere over the years.
---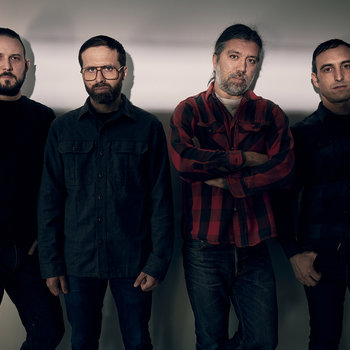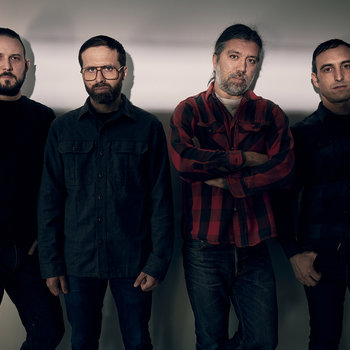 This compilation CD brought together the band's earliest vinyl singles, though the facelift motif throughout the artwork is key. Curiously, Cave In diverges from the source material by swapping most of the vocal performances from their first screamer, Jay Frechette, with then-current, but short-lived frontman Dave Scrod. In the grand scheme of things, the difference in shrieks is negligible—both trade-off perfectly with Brodsky's yearning yowl—but it was a weird move (the former vocalists acknowledged as much over Facebook a while back). 
While embryonic, the collection is ambitious in scope. "Chameleon" works the percussive, open chord chugging of mid-'90s hardcore with an almost "Arise"-like thrash mid-section; on pieces like "Programmed Behind" or "Crossbearer," Cave In feels like the nexus point between Converge-style guitar skittering and the earnest, awkward emo of fellow Mass locals Piebald. That makes sense from a foundational standpoint: Brodsky played bass on the former's When Forever Comes Crashing in 1998, and rejoined Converge two decades later for the Bloodmoon project; Converge members Ben Koller and Nate Newton have also played in Cave In at various points. Piebald's Travis Shettel also stood in briefly as Cave In's touring bassist before Scofield joined in 1998. 
We'd be remiss not to mention how Beyond Hypothermia also showcases the lighter side of Cave In, vis-à-vis its gloriously moronic, closing "Crambone," a numbskull-simple, three-note mosh-metal goof full of feverish, mock-Hetfield ad-libs about "beef-filled bathtubs" and "seven-can six-packs." In peak '90s form, following a few minutes of silence, you're treated to a pretty rippin' secret Metallica medley.
"These are the crushes meant to crush you," Brodsky bellows up front on "Moral Eclipse," the compact but complex piece of thrashed-out barbarism Cave In barrels into for the opening moments of Until Your Heart Stops, their first formal full-length. Damned if that wasn't an apt warning for the album altogether.
Cave In significantly levels up in this period, ironically, by whittling down the line-up. Dave Scrod exited the band just a couple of weeks before they entered Ballou's then basement-set iteration of GodCity Studios, leaving Brodsky to become their full-time vocalist—though the record does feature guest spots from Converge's Jacob Bannon, Travis Shettel, and more. This is also the moment where former Strike 3 bassist Caleb Scofield links up to provide the low-end, a line-up shift that pretty much locked Cave In into their classic line-up until the bassist's death in 2018.
There's an unnerving energy to Brodsky and McGrath's knuckle-busting guitar gymnastics through "The End of Our Rope is a Noose" and "Juggernaut," with Brodsky telling Self-Titled that the record's densely-packed riff farms "felt almost too technical for our own abilities." Those bombastic epics nevertheless come across effortlessly, while the multi-faceted record also wraps in the streamlined eeriness of "Bottom Feeder" and a series of effects-riddled noise pieces.
Until Your Heart Stops is a benchmark for the period, and beloved to this day. Cave In played the album in full last December during the Decibel Metal & Beer Fest, no doubt triggering a few cardiac events for anyone in attendance.
Though in retrospect, Cave In's dynamic pivots have been a key part of their story the whole way through, the about face they made from neck-bulging metal towards the gentler, if mind-expanding cosmic plains of 2000's Jupiter was seen as quite radical at the time. To be fair, though, some precedent had been set. Behind the scenes, Brodsky apparently wasn't sure about the long-term implications of screaming yourself raw. As such, 1999's Creative Eclipses EP was driven by "Luminance"—a dry run for the octave-splitting guitar sonics and Brodsky's cleaner vocal approach on Jupiter—and a faithfully inky cover of Failure's "Magnified"; the stoned-out, instrumental practice tapes that make up The Sacrifice Poles (recorded between 1998 and 2000, but released in 2001 through Robotic Empire) likewise point to the band moving beyond the raw-throated, and arguably jock-ier constraints of hardcore. Outside of the recordings, Cave In escaping from a van fire on a 1999 tour was something of a poetic, phoenix-like start to their next phase ("The van fire that burned most of our gear and personal belongings forced us to reset our brains," Brodsky explained).
This is all to say that with Jupiter, the world of Cave In seemed even more far-out than before. The music seemed a bit more streamlined compared to epic riff salads of Until Your Heart Stops ("The fact that some of the Jupiter songs had, like, three riffs, was pretty appealing," Scofield has previously told Decibel), yet the effects-soaked textures of Jupiter felt otherworldly. Its title track worked a kind of Eastern modal melody; "Innuendo and Out the Other" was laden with echo-blown soundscapes and Brodsky's newly sky-gazing falsetto vocals; "Big Riff" was aptly named for its gargantuan guitar rock groove, at least before Cave In usher in sci-fi phasers and an FM-ready classic rock solo.
Jupiter and 2002 EP Tides of Tomorrow smoothed out the harder edges of Cave In's sound before they entered the mainstream stratosphere. They signed to RCA records for their first—and only—major label release, Antenna. It did not go as planned.
Though Antenna was a natural extension of the spaciest moments of Jupiter— albeit with punchier, radio-friendly cagings—by most accounts Cave In's experience with RCA records was a bust. On the one hand, they toured with the Foo Fighters, and their "Anchor" video got at least a few spins on MTV2. Then again, major label excess meant they spent an ass-load of money on making the album, and RCA interfered on all kinds of creative levels (Brodsky told the Rigs of Dad podcast that they argued extensively on minutiae, like the band name placement on the album cover). Antenna ultimately stalled out the gate. 
Demoing for their next album apparently fared even worse. During the Antenna tour cycle, Cave In began reintroducing Until Your Heart Stops-era pieces back into the set list, with Scofield taking over bellowing duties for Brodsky. That return to heaviness was met with consternation with the label, who thought the group was backsliding by bringing back "cookie monster vocals." The label parted ways with Cave In but let them keep their demos, which ultimately became 2005's Perfect Pitch Black. 
Perfect Pitch Black was more than a simple merging of eras, though—the panicked, Slayer-like dual guitar harmonies of Until Your Heart Stops were still a thing of the past. Instead, Cave In found a way to connect their psychedelic, electro-acoustic hybrids ("Down the Drain") and precious, nocturnal waltzes ("Tension in the Ranks") with heavier songs that drew upon both Scofield's sinister howl and Connors's skeleton-rattling grooves—see amped-up desert rock boogie "Trepanning" or the Neurosis-like "Off to Ruin" for proof. 
Shortly after the album's release, Conners left the band and relocated to Germany. Converge drummer Ben Koller subbed in for a while, but the band announced at the end of 2006 that they'd be going on indefinite hiatus. 
Merch for this release:
T-Shirt/Apparel
After some time apart playing with Zozobra (Scofield), Clouds (McGrath) and Old Man Gloom (Scofield, alongside Newton), Cave In regrouped with the classic line-up for 2009's Planets of Old EP a tastefully diverse four-song slam—in terms of highlights, check "The Red Tail," a max velocity noisecore salvo with a rare, full-screech lead vocal from McGrath.
2011's White Silence album is an even more profoundly erratic and challenging release. Brodsky recently told the Songwriting Malpractice podcast that he'd been experiencing writer's block at the time, so Scofield and McGrath "took the reins" through the sessions—the former crafted the Southern Gothic sass of "Centered," while Brodsky called Scofield's "Sing My Loves," a lush and supremely stoney dirge, "arguably the best Cave In song." Elsewhere they bristle ear-blistering black metal screams with ambient electronic frissons and demonic double-kick drumming ("White Silence"), while "Iron Decibels" ricochets interstellar effects off Danzig-croon cosplay. Truly out there, this is one of Cave In's best.
The preciously strummed title track that leads off 2019's Final Transmissions is without a doubt the most contextually heavy moment of the Cave In catalogue. The short acoustic piece is entirely performed by Scofield, recorded to his phone memos one night following what ended up being his final practice with the group. The unplugged playing is limber, Scofield adding a few whispered "doo doo doos" as a melody guide. A month later, he died. While Cave In finished the rest of the nine-song collection as a tribute to their friend, they kept "Final Transmission" a stunningly stark and intimate solo piece.
Otherwise, Final Transmissions comprises four-track practice recordings with Scofield, gorgeously polished in the mixing and mastering stages. In comparison to White Silence's most extreme metal pivots, there's a more mournful and melodic nature coursing through pieces like "Shake My Blood" and "Strange Reflection"—understandably so. But while the release marks Cave In's last work with Scofield, Final Transmissions wasn't the closing chapter its title suggested.
Merch for this release:
2 x Vinyl LP, Compact Disc (CD), Cassette, T-Shirt/Shirt, Sweater/Hoodie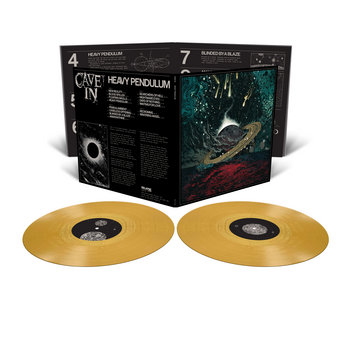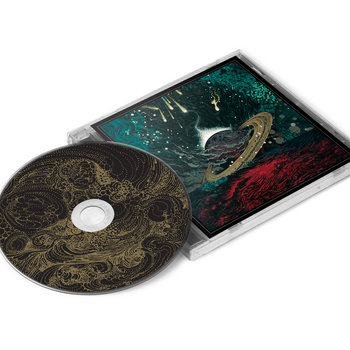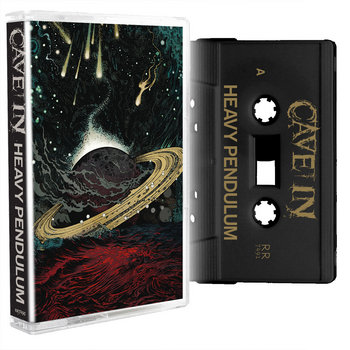 After Scofield's death, Cave In turned to longtime friend Nate Newton to fill in on bass for a series of shows to support Final Transmissions. Ultimately, he became fully ingrained in the band during the making of Heavy Pendulum. 
Opener "New Reality" is perhaps an on-the-nose addressing of Cave In's latest iteration, the song arriving as a gnarly, motor-psycho stomp-out full of PS-3 drenched leads; Newton's raspy holler sits perfectly alongside Brodsky's sinewy lead vocals. Overall, Heavy Pendulum is a more expansive affair for the band. It's also their weightiest, a 70-minute collection that swings between derelict, metal-punk freak-outs ("Amaranthine"), sludge-blues mellifluousness ("Nightmare Eyes"), and the gloom-glazed, glacial beauty of "Blinded By A Blaze."  
Perhaps in light of the band being in rebuild mode, Heavy Pendulum's lyrics are often disaster-laced, Brodsky concentrating on scorched-earth settings, oceans of blood, and dumpster fires. Though they've arguably made it through "the eye of the storm," per Brodsky's croons on the title track, there's no telling where their journey will take them next.