FEATURES
Burger Highlife Was the Sound of the '80s Ghanaian Diaspora
By Megan Iacobini de Fazio · Illustration by Bob Mollema · June 24, 2022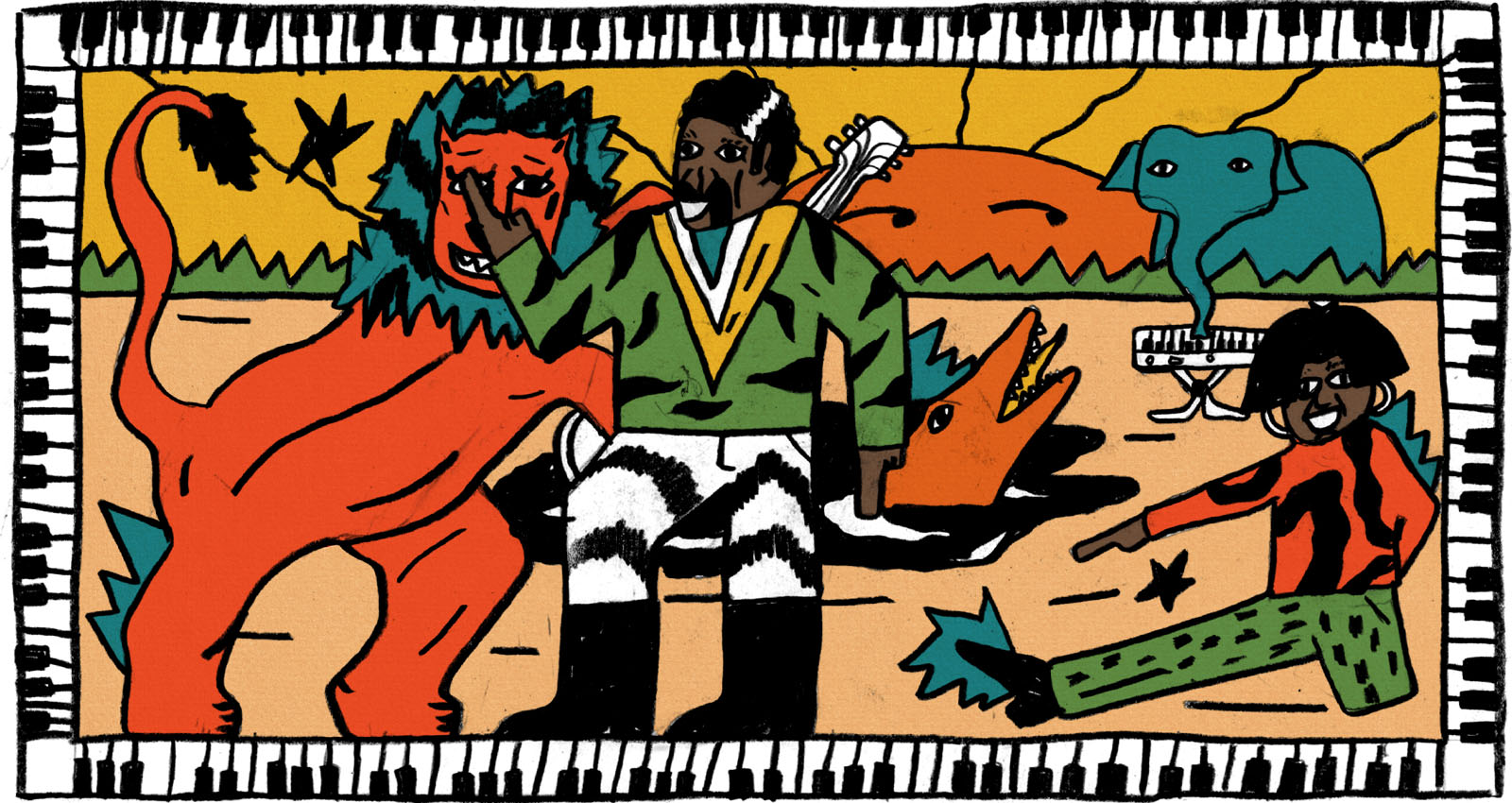 "We knew we couldn't destroy our roots, our highlife music, but what we were trying to do was to come up with something new, something different," says Ghanaian musician Wilson Boateng over the phone from his home in London. Herman Asafo-Agyei, one of Ghana's most revered bassists, echoes Boateng's feelings: "It was very eclectic, we were picking up ideas from different artists, but in spite of all the branches that one took, there was always the root which is the African rhythm and the percussive aspect of our music."
Boateng and Asafo-Agyei are reminiscing about a transformative period in Ghanaian music that, between the 1980s and 1990s, was marked by a move away from traditional highlife towards a new modern sound that embraced the latest technologies, incorporating West African melodies with synthesizers, disco, boogie, and funk. The new sound, known as "burger highlife," was the result not only of these technological advances but of a particular alchemy between social, cultural, and political transformations both in Ghana and abroad. "It's quite multifaceted. You have political dimensions, social dimensions in there, so it all comes together in this interesting story," says Chris Webb, founder of London-based label Kalita Records, whose newly released compilation Borga Revolution! Ghanaian Dance Music In The Digital Age, 1983​-​1992 (Volume 1) traces the evolution of this idiosyncratic style.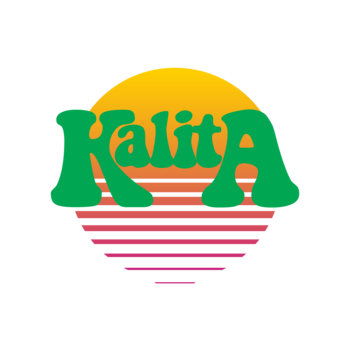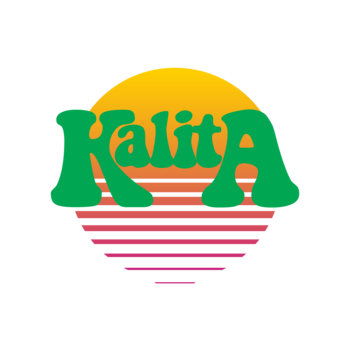 Merch for this release:
2 x Vinyl LP, Vinyl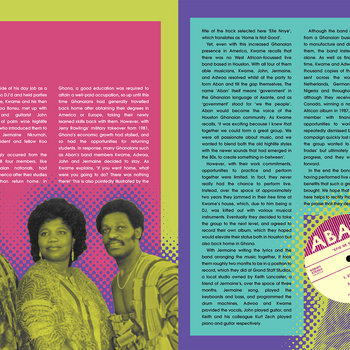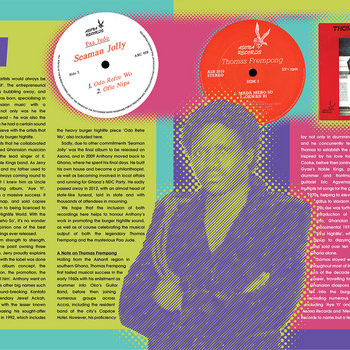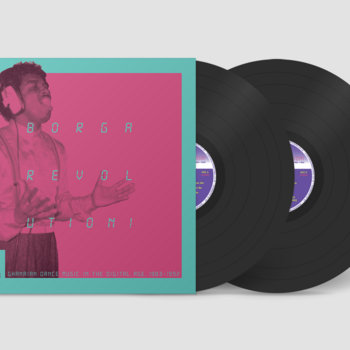 The compilation is the first of four, which bring together a total of 45 burger highlife tracks, including some by pillars of Ghanaian music like Pat Thomas and K. Gyasi and lesser-known artists such as Aban and Uncle Joe's Afri-Beat.
Stories and opinions on who first came up with this sound vary, but it's safe to say that it emerged among the Ghanaian diaspora in Europe, especially in Germany, in the early to mid-'80s.  Some musicians, such as Pat Thomas, had already left Ghana for Germany in the '70s, but due to restrictive military dictatorships and growing poverty, in the '80s, musicians began leaving in droves and settling in Berlin, Hamburg, and Frankfurt. Here they built a new diasporic sound, heavily influenced by Western disco and boogie and aided by the ready availability of modern drum machines and synthesizers. In fact, the movement takes its name from these early German transplants, who, upon returning home with their new sound and style, were named "bürgers," the German word for citizen.
"The live music scene in Ghana had collapsed a little bit, so people had to put something together for themselves, and that's why the African music scene in Europe really exploded," explains Asafo-Agyei.  "One artist who came up with the concept of burger highlife was George Darko, who was very influential in creating this sound. It was something a little bit unheard of but you could tell the influence of strong traditional highlife with overtones of Western funk."
Merch for this release:
2 x Vinyl LP, Vinyl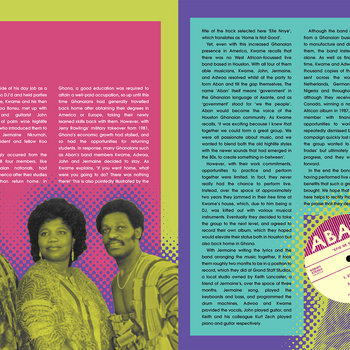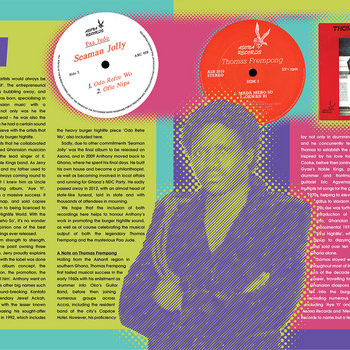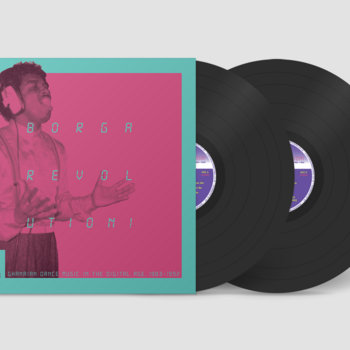 Borga Revolution! Volume 1 includes two of Darko's recordings: the disco highlife track "Medo Menuanom" from his 1982 album Friends and "Obi Abayewa," a superb highlife-boogie crossover from his 1986 album Moni Palava.
Other tracks, like Native Spirit's "Odo San Brafie," combine stronger funk elements with late disco and boogie sounds of the time. Formed in London in 1986 by Asafo-Agyei, Native Spirit were the heirs to the Afro-rock and Afro-funk wave that had swept the continent in the 1970s, a heritage that can be heard in Asafo-Agyei's percussive bass playing and the extended guitar workouts on "Odo San Brafie." Asafo-Agyei started his career in music as an 18-year-old bass player with Afro-funk band Basa Basa before playing in various dance groups covering American soul and funk hits in Ghana and eventually moving to London in 1976. "The idea was to come and pursue a law degree, which I did, but the music business was knocking on my door," he recalls.
Merch for this release:
2 x Vinyl LP, Vinyl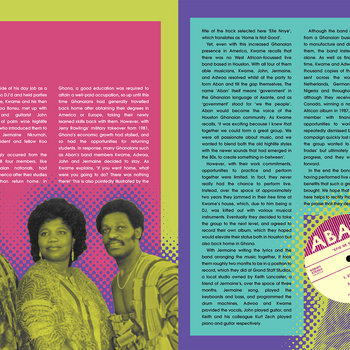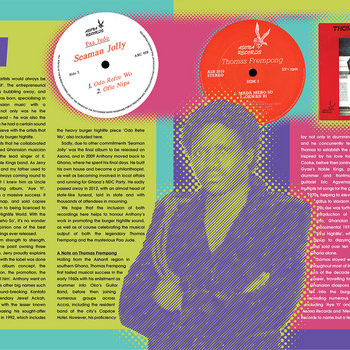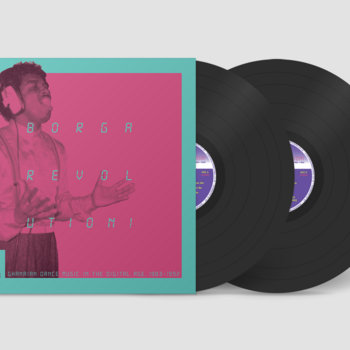 He was an extremely prolific session musician and played in well-known bands like Highlife International and Kabbala, and in 1985 joined Afro-rock supergroup Osibisa. A year later, he decided to form his own outfit, Native Spirit, initially as a backing band for touring Ghanaian musicians like Thomas Frempong and Pat Thomas. While touring North America, the band impressed local label Afronova, who invited them to Canada and offered to produce their album. "I wrote most of the songs, and you can tell the influence is very African but also funk, because my experience with African music has always been a combination of rock-funk mixed with the original African kind of percussive music," he says. The record made an impact in North America but failed to do so in Europe and Ghana. "Had I not been a known artist, the record wouldn't have made any impact at all because, at that time, the Ghanaian music scene was facing quite a lot of problems," he says.
It was around this time that multi-instrumentalist Boateng left Ghana precisely because of the difficulties that he and other musicians were facing there, as enforced curfews and prohibitive import taxes on instruments completely stunted the once lively music scene. Boateng started his musical career as a young teenager when he founded The Psy-Kiss, a band of teenage musicians from secondary schools around Kumasi: "We played all the American soul, funk, and rock music, but at the same time we were listening to the traditional highlife numbers, which was important to us," he explains. "We were trying to do something different, when you listen to it, you get the feel of highlife and pop-rock style in the same music, and so it makes you wonder: what sort of music is this?"
Boateng initially traveled to Lagos looking for better opportunities, but following a failed record deal with EMI, he moved to London in 1985. Burger highlife was becoming increasingly popular in Ghana too, and Boateng was excited by this new style: "When you listened, you could hear different synthesizers, brass, electric, pianos, and modern gadgets, and I thought well, 'I don't think I can get [those instruments] here,' so that's why I came to London," he says. Within three years, he had produced his phenomenal burger highlife album Highlife Rock, which he worked on with musician Gerald Elms on drums, keyboards, and brass programming. "There were only two of us working on it, and thank God the guy was so good, we seemed to really gel, and he played everything exactly in the style I was looking for," he says.
Merch for this release:
2 x Vinyl LP, Vinyl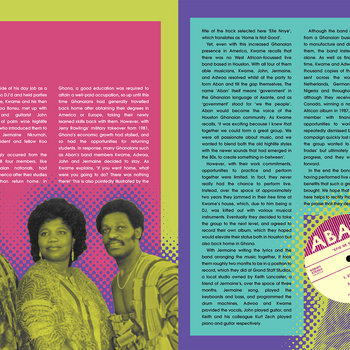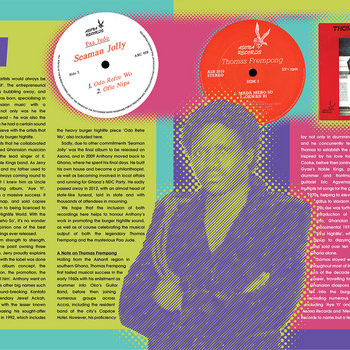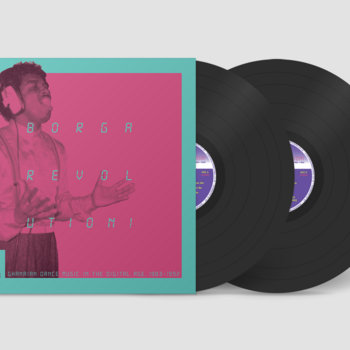 Two tracks from the album feature on this compilation: "Asew Watchman," a humorous song that tells the story of a woman who becomes a "watchman" to hide her daughter's infidelities from the husband, and "Mabre Agu," about someone who is good to people but ends up being taken advantage of. Despite the excellent production and its dazzling mix of disco rhythms and highlife vocals, Highlife Rock failed to take off without a record label backing it.
After the album was released, Boateng stayed in London and took a job as an assistant manager in a bookshop. For decades, he led the choir in his local church. Now retired, he can spend more time listening to and making music and is currently working on a new record: "I have some real belief that it's going to be my best album," he says. Asafo-Agyei also lives in London, where, after disbanding Native Spirit, he pursued a master's degree in criminology and social economics, served as a Family Court Advisor, and is currently the Pastor of Northolt Grange Baptist Church. Although he hasn't had the time to make music in a while, he toured with Osibisa until 2011.
When talking to Boateng and Asafo-Agyei, one theme seems to be central in the burger highlife story: the importance of being curious and open to all kinds of music. "When people ask me how did you come to this, I say, 'well, I listen to all sorts of music, I don't discriminate,'" says Boateng. "You start from one place, but because of all the different kinds of music you've heard, played, and experienced, it creates its own unique personality," Asafo-Agyei agrees. "I guess that's the nature of creativity, isn't it?"