FEATURES
Beabadoobee Channels Life Lessons and '90s Nostalgia Into Triumphant Indie Rock
By Gabe Friedman · November 25, 2020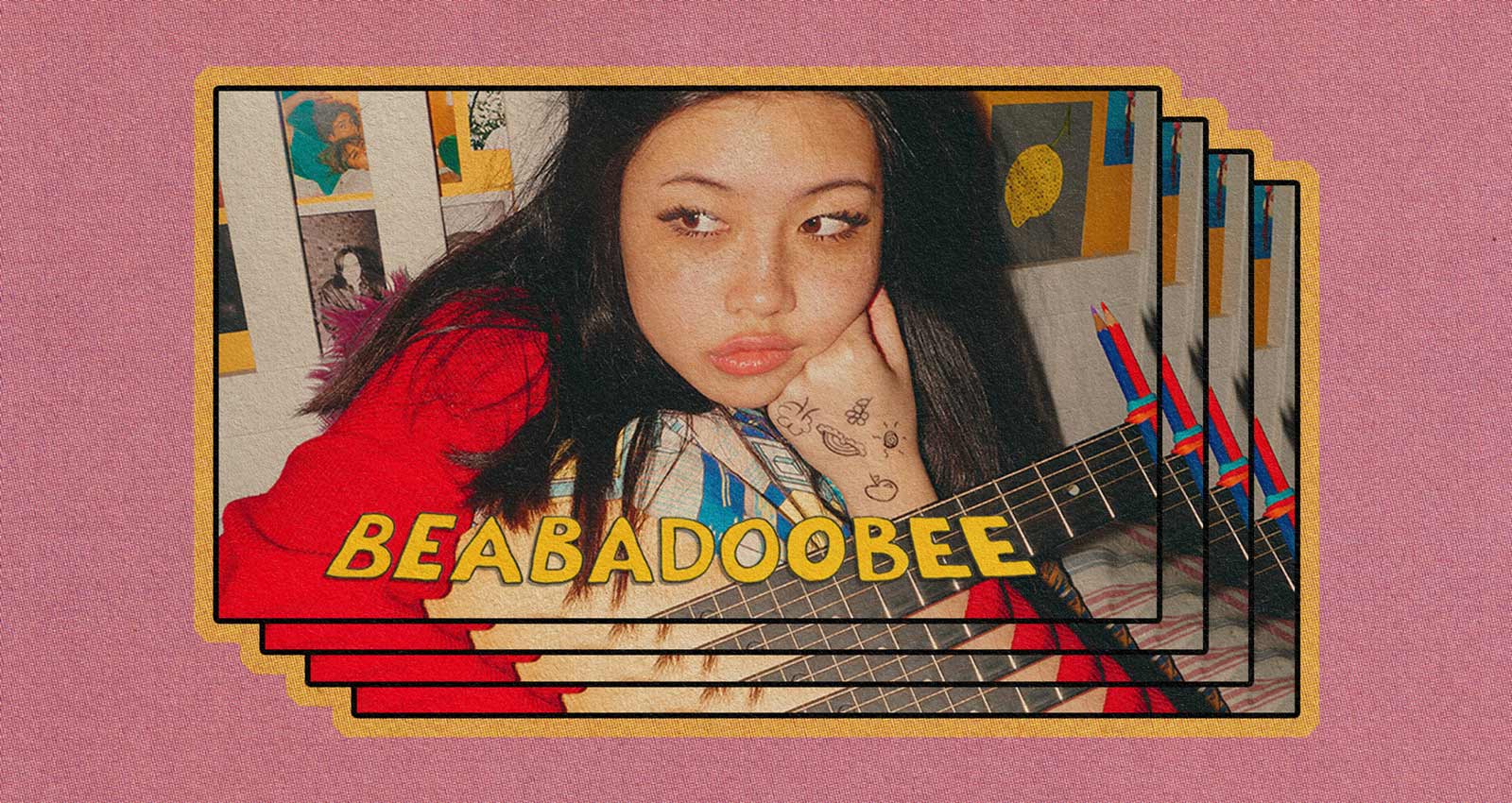 Beabadoobee's cluttered London bedroom is kind of famous. It's where she poses in the Instagram photos that have helped her gain nearly a million followers, and where she still writes demos on an acoustic guitar.
.
00:10 / 00:58
She never quite lets her followers see the many posters on her walls (or what she calls her "shrine" to Tom Hanks), but they're mostly of '90s bands, like Sonic Youth and The Smashing Pumpkins.
It makes sense. The 20-year-old rocker's music, especially the songs on her debut full-length album, Fake It Flowers, are a loving ode to her favorite decade. The record, released last month on Dirty Hit, the label that's home to other pop rockers such as The 1975 and Pale Waves, is full of big, thick guitars and unapologetically fun melodies anchored by her high voice.
It can get dark at times, with references to people and memories from her turbulent teenage years, but for the most part it's refreshing and fun, infused with a tried and true "I don't care what you think, I'm doing what I want" attitude. Opening track "Care," which sounds like it would fit in at the end of a '90s rom com, is the album's manifesto: "I don't want your sympathy/ Stop saying you give a shit/ 'Cause you don't really/ Care," she sings over building guitars.
Like Soccer Mommy and Snail Mail, Beabadoobee (real name Bea Kristi) isn't the only young artist these days gravitating to the indie sounds and ethos of the '90s (one of Kristi's earlier songs is called "I Wish I Was Stephen Malkmus" in an ode to slack rockers Pavement), but she's forged her own style through combining the sounds of '90s alt rock with more contemporary lo-fi bedroom pop. On the epic "Charlie Brown," her soaring yell in the chorus is a bit reminiscent of Pixies singer Black Francis. On closer "Yoshimi, Forest, Magdalene," she gives her voice the fuzzy Flaming Lips treatment—the name "Yoshimi" is also a direct reference to one of their albums—and takes her garage rock chords in new directions.
It's not all loud; album highlights "Emo Song" and "Further Away" nod to her earlier EP's softer, acoustic palette. That said, they're much fuller than her early songs, filled out with strings and other effects, partly with the help of producer Pete Robertson, who formerly drummed for the chart-topping British band The Vaccines.
Her sensibility was also formed from a unique combination of Filipino and British cultures. When she was two, her parents moved from their native Philippines to Harrow, a town that's part of greater London. Her mom cooked Filipino food and played lots of Filipino music on the radio but also introduced young Bea to Alanis Morrisette and the Cardigans. Bea, who attended a Catholic all-girls school, insists she had a "typical British upbringing."
.
00:10 / 00:58
She began using drugs and smoking in her school's bathroom, which got her kicked out before she could graduate. Amidst all of that, she wrote and recorded a spare love song for her boyfriend called "Coffee" and uploaded it online for fun. It surprisingly earned her an audience, and she released a few more singles and a couple of EPs. Last year's "Space Cadet" was the first to showcase a louder full band rock sound closer to that of the groups she idolizes.
"I never imagined at all being a musician," she writes over email. She wanted, and still wants some day, to be a nursery school teacher. "It all happened organically, meeting the right people at the right times… [Everything] started lining up when I signed my deal to Dirty Hit. I began to think 'I can tour, and make more EP's, and an album.'"
She's had to do it all while fighting the stereotypes many Asian artists face, something she struggled with growing up in England, and that she's just starting to open up about. Luckily, it hasn't been exacerbated by an industry and a genre that, in recent years, has opened itself up more to gender and ethnic diversity. "I'm concentrating on doing what I can and being creative and working at my craft. Bringing others up and being positive with what I got," Kristi says. "I've been fortunate as it's been more outside of music that anything like that has affected me. In music I've been accepted more."
The album's final track "Yoshimi, Forest, Magdalene," titled after the names she wants to give to her future children, hints at where sound is heading next. We're entering what she calls the "weird Bea" era. "I've got a lot of ideas and I'm experimenting with new sounds. A couple of songs sound influenced by me listening to Jamiroquai, Bjork, and others," she teases. "There's a lot of new ideas and can't wait to share. I think it will surprise people!"