ESSENTIAL RELEASES
Essential Releases, November 3, 2023
By Bandcamp Daily Staff · November 03, 2023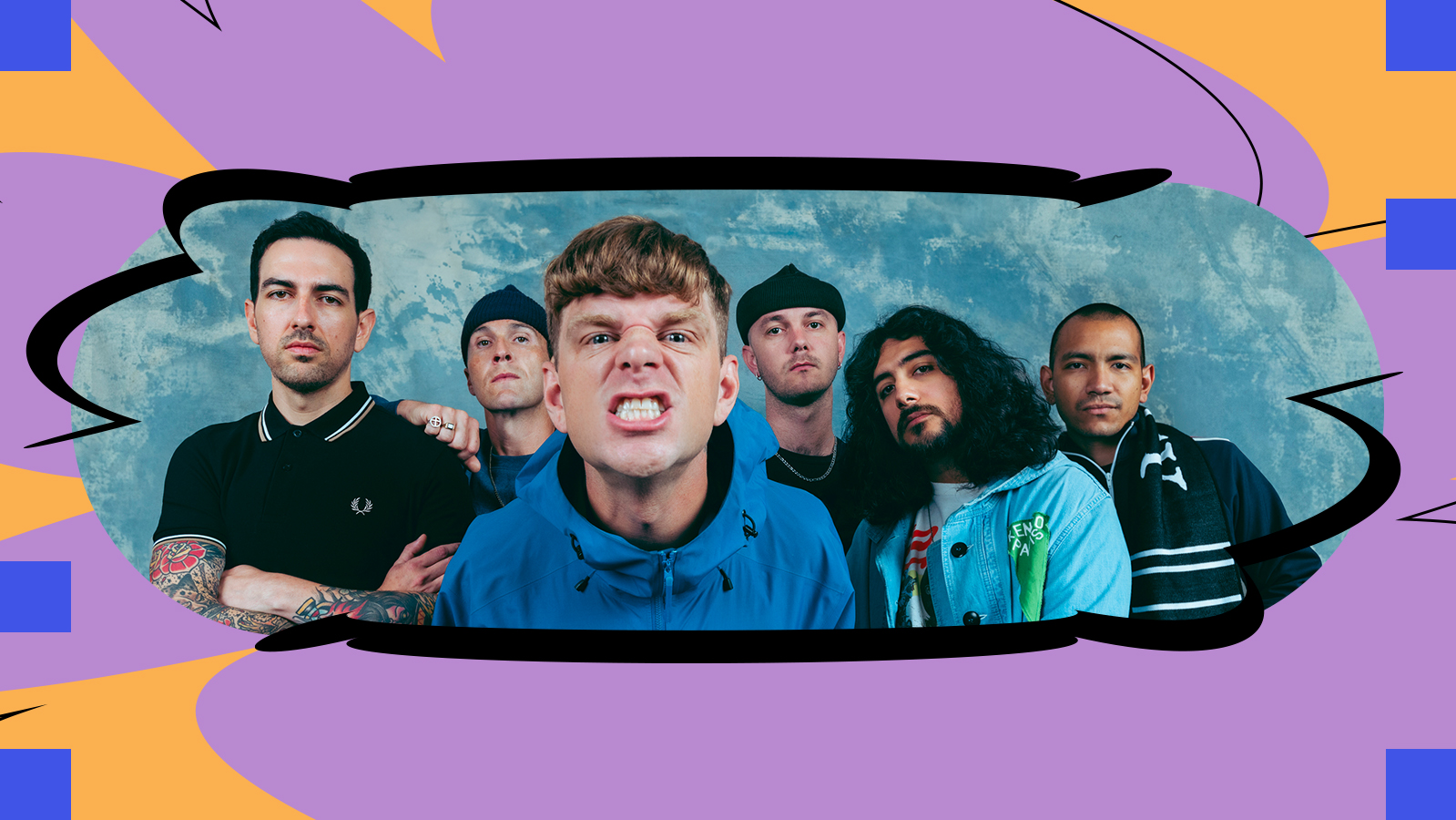 What the Bandcamp Daily editors are listening to right now.
This 2018 record from French foursome Rose Mercie has really struck a chord with me this fall, perhaps because October/November always has me turning to the chilly atmosphere of UK post-punk. And that's exactly what the group delivers on their self-titled debut. As writer Robert Ham put it for Paste Magazine, unlike some other contemporary acts, "there's little to differentiate their work from vintage recordings by the Pop Group, Ut, or The Raincoats." True to their source material, the arrangements on Rose Mercie press forward in a sure-handed march of percussion and bass, locking you into a semi-hypnotic groove where basslines are plucked like a threat and the girls' chant-like harmonies huddle bittersweet in the back of the mix. Tracks like "Les Glycines" and "Moyen Âge" lean heavily into the metronomic throb while "Spring and Fall" layers clean, bright guitar picking against a swarm of distortion that buzzes like a mass of angry hornets. "The End of Love," a favorite of mine, is a dreamy, chilly elegy intoned by feminine vocals that quicken and fall like drops of rain off a rock face. The compressed tones of an electric organ sound like that of a child's toy, which adds a sort of gentle naiveté to the whole funeral procession. Perfect November listening.
Merch for this release:
Cassette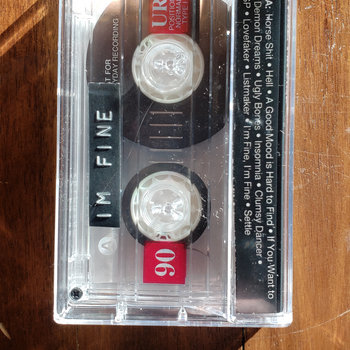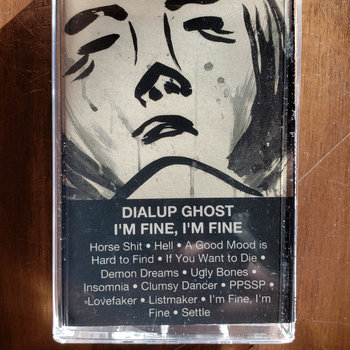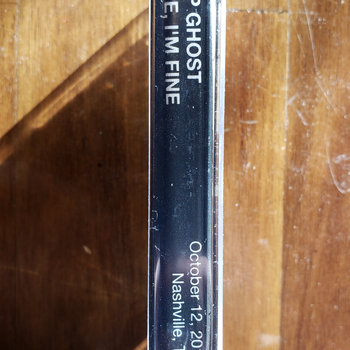 Generations come and go, fads fade and new ones take their place, but it's heartening to know that bands like Nashville's Dialup Ghost are still finding new wrinkles and deep wells of emotion in the enduring sound of early '90s indie rock. Their 2018 album I'm Fine, I'm Fine (spoiler alert: they're not) is a wonder: 13 songs built from fuzzed-out guitars, clattering drums and endearingly earnest vocals that know their way around a pop hook. Dialup Ghost wear their wry sense of humor on their sleeves: in the cleverly titled "A Good Mood Is Hard To Find," vocalist Russ sighs, "I'm dating my depression/ I thought I learned my lesson/ But I keep letting her sleep over," and in "If You Want to Die," which channels prime Sebadoh, Russ advises, "If you want to die/ Take a selfie and put it online/ It will get about 44 likes/ Enough to validate living your life." And "Insomnia" has the same dreamy haze as Painful-era Yo La Tengo, plaintive vocals winding their way through a thicket built from amp buzz. But what hits hardest about I'm Fine is the immediacy—nothing here feels overthought or overworked; instead, it's all as natural and easy as a sigh, the kind of airtight indie songwriting that doesn't need to turn cartwheels to impress.
Merch for this release:
Vinyl LP, Compact Disc (CD)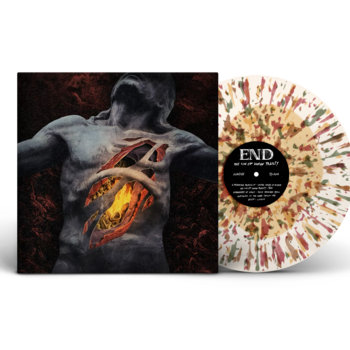 End are often labeled as a metalcore supergroup: a tantalizing description that, while technically accurate, also sells them a bit short. True, many of us were initially attracted to the New Jersey five-piece on account of its roster, which comprises current and former members of Counterparts, Fit For an Autopsy, Shai Hulud, Reign Supreme, and Trade Wind; key architects of '00s and '10s metalcore. But 2020's debut, Splinters From An Ever-Changing Face, wasn't your typical crossover event. Rather than fusing respectively established sounds together in a Transformers-esque spectacle, End transfigured their associated traditions into an unyielding, and yet surprisingly nuanced, heavy music masterpiece. The follow-up, The Sin of Human Frailty, takes an even more adventurous approach, contrasting the hot-blooded claustrophobia of grindcore and hardcore punk with the haunted, digital textures of industrial metal and experimental electronica. "Thaw" sounds like a Nine Inch Nails deep cut remodeled for the circle pit, the breakdowns supplemented by subtle, plaintive piano melodies and intermittent breakbeats, while "Twice Devoured Kill" strings together lurching grindcore rhythms, guttural vocals from Pig Destroyer's J.R. Hayes, and a prog solo so melodically scattershot and unspeakably fast, you'd swear the guitar was temporarily possessed. What we're left with is an impressive feat of sheer strength made all the more impressive by its fresh, subversive tendencies: an exemplary set of rippers destined for constant rotation.
Merch for this release:
Compact Disc (CD), Vinyl LP, T-Shirt/Shirt
Puzzling in the best possible way, the new record from Spain's Melenas at first listen might seem flat and unfinished, a bunch of grooves and organs lines in nebulous conversation rather than in intricate formations as on their debut, Dias Raros. Yet Ahora has a kind of elasticity to it that's appealing and hypnotic. The band's hooks aren't submerged so much as abstracted, stretching and contracting over simple arrangements and instrumentation for a kind of hypnotic sound that's as much post-punk and krautrock as it is bright and buoyant indie pop.
The best release yet from the stealth best band in Los Angeles, Mo Dotti's "For Anyone And You" is a galactic blast of dream pop stardust arranged around a reverberating hook the size of Jupiter and frontwoman Gina Modotti's angelic vocals.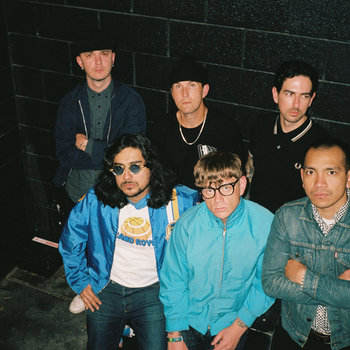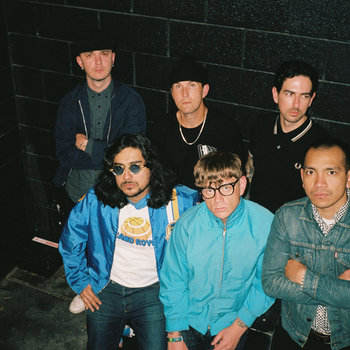 Militarie Gun, MS Paint, Scowl, and Koyo having all racked up massive Ws over the past twelve months from RYM heads and mainstream critics alike, I think it's safe to declare 2023 as the year of the sorta-kinda-hardcore-punk band. To be clear, I don't mean that in a gatekeep-y way, and certainly not as a diss; on the contrary, the broader shift away from hardcore agnostics is neccesary not only to keep the genre exciting, but to further its evolution; sparking novel connections between scenes, sounds, and traditions, thereby fostering more diverse, inclusive communities. Spiritual Cramp, a rowdy, stylish Bay Area band with ties to the hardcore scene, are easily my favorite of the new-old guard. Headed by Michael Bingham of Creative Adult and Self Defense Family fame, and rounded out by members of Primal Rite, Scalped, and Fentanyl, they traffic in a high-strung blend of garage, punk, post-punk, and reggae they've labeled "hard mod:" a little bit like Devo or the Clash except meatier, more disheveled, and incessantly cross-faded. The songs' momentum isn't dictated by the usual tension and catharsis, but rather texture and melody—all choppy garage riffs, bouncy bass, and shout-a-long hooks, with a splash of dub here and there. The gameplan's lean and lacking in finesse, but thanks to their smart, economical songwriting approach, and Bingham's animated vocals, Spiritual Cramp reap considerable dividends from the simplest of sources, be it the adrenaline-fueled garage of "Better Off This Way" and "Can I Borrow Your Lighter?" or the trippy, reggae-infused "Clashing At the Party." Spiritual Cramp is the sorta-kinda-hardcore-punk album of the year, guitar music for the misfits as well as the masses.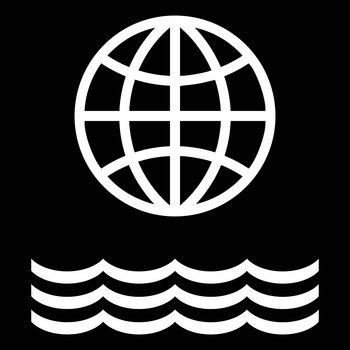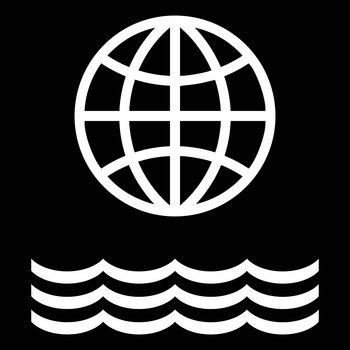 Merch for this release:
Cassette
Over the course of the last two years, the Copenhagen label Posh Isolation—once known for the serrated noise of acts like Damien Dubrovnik and Puce Mary—have taken a turn for the beautiful. This quiet reinvention reached its peak with a pair of releases by Croatian Amor, the devastatingly gorgeous Remember Rainbow Bridge and A Part of You in Everything. Both featured haunting, gentle songs that wrestled with the ache of loss and the sadness that comes with growing old. That mission continues on I Am Here Now, When Will You Be Here Again?, a 28-song compilation showcasing artists from across Copenhagen, all of who are operating here in a delicate, muted mode. The result is an album that hangs together as a coherent whole despite the wide range of contributors. Lust For Youth's dreamlike "Blue Suzuki," with its pillowy synths and forward bassline drifts effortlessly into "Perhaps a State of Being" by Der Mohn, a series of sustained notes held to create a tranquil drone. Late in the album, Violence of the Fauve's New Romantic R&B "Sleepyhead" sets up the miragelike dubstep of Mini Esco & Yen Towers "Do Vesny." I Am Here is as much a soothing balm as it is an album—as tender as an embrace, and just as comforting.