BIG UPS
Patrick Stickles of Titus Andronicus Picks His Bandcamp Favorites
By Ethan Beck · October 17, 2022
From the Abraham Lincoln quote that opens The Monitor's "A More Perfect Union" to The Most Lamentable Tragedy's angelic choir on "The Angry Hour," Titus Andronicus always knows how to make an entrance. On the Patrick Stickles-led quartet's seventh album The Will to Live that hasn't changed. By starting with a rallying, three-minute opener of guitar solos and building excitement intriguingly titled "My Mother Is Going To Kill Me," it's clear that The Will to Live is a huge, anthemic rock record.
The Will to Live is a return to the grand scale that many know the New Jersey-born, Queens, New York-based punks for. Looking to classics like Hysteria by Def Leppard and Who's Next by The Who, Stickles became fascinated by what he calls "Ultimate Rock": albums that are the biggest, strongest, and most deliberate versions of a band's style. "The [definite] Ultimate Rock record is still perhaps yet to be made," explains Stickles. "It's not necessarily a goal that you set out to achieve, but [Ultimate Rock] is like a north star."
As soon the drums kick in on "(I'm) Screwed," Titus Andronicus are firing on all cylinders. The song pairs the album's catchiest moment ("Are you gonna turn the screws on me?") with Stickles' most thrilling guitar solo since The Monitor, creating a classic that's destined to be hollered at Titus Andronicus shows for years. The punishing "An Anomaly" taps into The Will to Live's core ideas by pairing a seven-minute run length with biblical themes, while "All Through the Night" and "Give Me Grief" both deserve a place among Stickles' best pieces of songwriting. The former song feels like a lost Pogues bar anthem, while the latter is a laidback duet with ex-Titus drummer Eric Harm that features hints of saxophone.
Merch for this release:
2 x Vinyl LP, Compact Disc (CD), T-Shirt/Shirt
Despite the colossal, uplifting qualities of "Baby Crazy" and the Cock Sparrer cover "We're Coming Back," The Will to Live's closer acts as both its calmest moment and its thematic centerpiece. "69 Stones," which dates back to 2015, was a guiding light for the album. "I was like, 'What am I on about with all of this 'will to live' stuff?'" says Stickles.
"I felt that the sentiment of ["We're Coming Back"] neatly encapsulated the wider themes of the record. That, to me, relates to the stuff talked about on the album about the interconnectivity of all living things," he continues. "If you view it that way, no one is ever really gone. The loved ones that we've lost are still with us because the [larger] organism persists. They were part of it and so am I."
Bandcamp Daily spoke to Stickles about some of his favorite records, which are often made by some of his favorite people, friends, and folks he has worked with in the past and the present.
---
Merch for this release:
Vinyl LP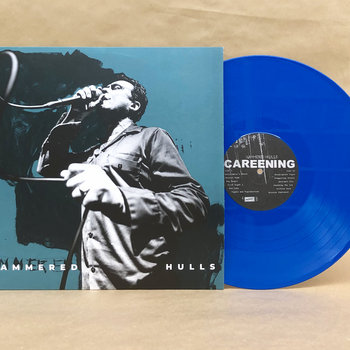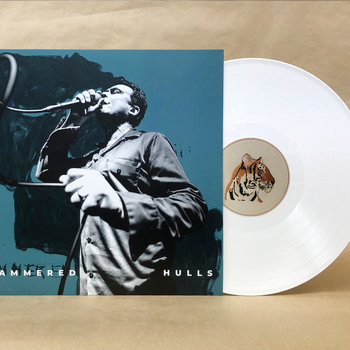 "I first heard about them because the drummer of Hammered Hulls Chris Wilson is also the drummer of Titus Andronicus. But I'm not just purely playing favorites. Hammered Hulls is a great band. This new 'Rights and Reproductions' song from the forthcoming album Careening is really lighting up the internet right now, rightly so. It's a really exciting piece of music. Chris is a bit older than myself and he has an incredible resume, having played with Ted Leo as well as some other awesome acts over the years such as Open City, Acquaintances, Ground, Shake Ray Turbine. He's got a lot of great stuff. His resume speaks for itself, and then in this group, Mary Timony is in it—we all know her. I can't just run down everybody's resume, but if you were to make like a proper D.C. hardcore-style, '80s poster for this band, you wouldn't have any room to put the name of the band if you put members of The Faith, Ted Leo, Helium. It'd be crazy.
"Their history more than speaks for itself. When real legends and lifers like this team up and they step forward, you would be wise to listen and happily know they're there. Any respectful listening that you give to these legends will be very, very justly and richly rewarded because they're really cranking out some really vital, exciting music with a lot of guts. So proud of Chris Wilson. Since he was a kid, I know he wanted to have a record out on Dischord Records, and now he will have one. We love that for him. Every great band needs a great drummer, and Chris Wilson is that. I can't say enough nice things about his drumming."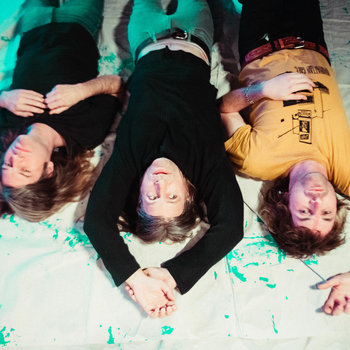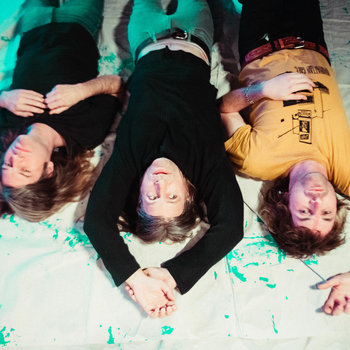 Merch for this release:
Vinyl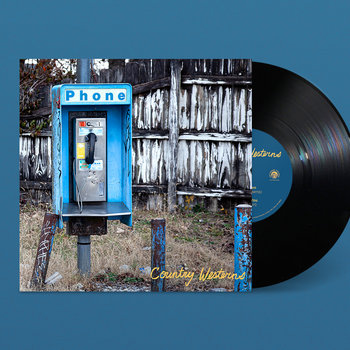 "Allegedly, there is a rumor that we may be doing some tour dates with the Country Westerns next month. I don't know if that's confirmed, but it looks like it's going to happen. I look forward to making fast friends with those dudes. If for whatever reason, that doesn't turn out to be real, I'm glad to have been exposed to this music. It's not always easy for me to keep up with new bands. Country Westerns are a great band from Nashville, and they're another one where their resume kind of speaks for itself. The drummer is the former drummer of Silver Jews, and I'm a very big Silver Jews fan. I love that David Berman music. This guy is a great drummer. One of the other ones in the group was previously part of the band Gentleman Jesse and His Men. They were from Atlanta; they were kind of like a power pop, maybe Nick Lowe kind of vibe. That was really cool.
"So, I was like, 'Oh, hey, well, this is certainly worth me clicking on.' I'd say that's a nice intersection of my musical interests there. It was a click that paid off because it is great music, and it doesn't necessarily sound all that much like Silver Jews or Gentleman Jesse. It's very cool; it's like song-oriented rock. It's a bit twangy but not that much twangier than, say, the Replacements. I love to see bands when they're writing strong songs. It's not about cultivating some vibe or some hodgepodge of reference points. They're writing songs and delivering them really well. Country Westerns do the harmonies in a cool way that's naturalistic and rough but also very pretty. "Wall of Death" was the first one that I heard, and it starts off with a little five-second flashy drum solo that doesn't really have anything to do with the rest of the song. I love that."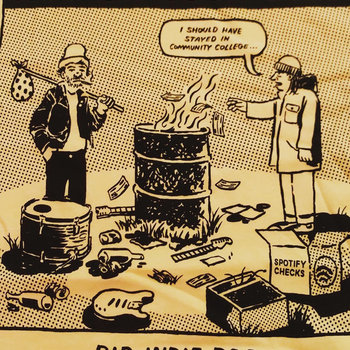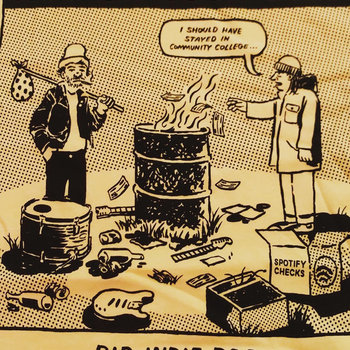 Merch for this release:
Vinyl LP, Compact Disc (CD)
"Ryley [Walker] and I used to be roommates. He's a very incredibly gifted guitarist. He's another one of these guys that I admire a lot. A couple of years ago, when he made his Course inFable album, he financed it all himself, booked the studio, and wasn't tied down to a record contract at that time. He made this great record, and he was saying all these different labels started trying to pick him up. Labels that we've all heard of were trying to put this record out. I was like, 'Dude, this is great for you! You have your pick of prestigious labels.' He was like, 'Maybe I'd rather just put it out on my own label—like fuck it, I'll just put it out.' I looked at him like, 'What are you, nuts?' A lot of people would give their right arm to like to get some of these offers that you're getting. He ultimately decided that he wanted to be the guy to do it and like to control the presentation of his music.
"He started this Husky Pants record label, which he's used to put out his own records, and also a bunch of other records by really worthy experimental-type artists. He's creating opportunities for the next generation of freakier music. I'm really impressed with what he's done. I think that he's known to be a smart aleck, and he is, but he's got a lot of integrity. He's the real deal. So I really applaud him and Husky Pants Records. I thought the record he put out the previous year was really good, and I think the EP is just as strong. The song "Pharos Plastic" was really exciting for me because he's really belting it out. He's singing in a more powerful, assertive way than ever before, which I thought was really, really cool to see. We knew that he could croon, but he can really belt it out too."
"R.J. [Gordon] and Baked…he's the bass player for Titus Andronicus and another really great friend. I just love all these guys; what can I say? I'm lucky I have them at my disposal to execute my particular musical vision. But I'm really impressed at the strength of their own individual musical visions and different pursuits. I love to see them utilizing their talents in a number of different ways. R.J. does a fantastic job on the bass guitar for Titus Andronicus. He's also a really good record producer, really handy in the recording studio. He's also an excellent live sound engineer. He works here at the Bowery Ballroom in New York, which is a very prestigious club, and he's one of the top engineers over there. In Baked, he's one of the songwriters for most of the band's material.
"The EP that I picked, they just call it II, Roman numeral II. It's more collaborative, but he's got two awesome songs on there. He's got a really evocative, vibey sound, but also very hard-hitting at times. It's got a lot of different gears where it can cruise comfortably, whether that's hard-driving rock or the kind of more ambling kind of music that you would expect from a band called Baked. There is something of a stoner element to it, but their music is a lot more purposeful than a regular jam band. Not that there's anything wrong with those. R.J. is a master of the whammy bar guitar; think of a My Bloody Valentine kind of thing. He's really an expert at that, which is kind of a rare, rare talent to have. Especially because it's quite different from the bass playing that we see him do in Titus Andronicus. This is a man of many, many talents. He wears many hats, and he looks good in all of them."
"Prison is a rock band that was founded by my friend Sarim Al-Rawi, who was the original drummer of Titus Andronicus and played on our first two 7″s. He's another fucking great guy, a one-of-a-kind character. For many years, he was the leader of the band Liquor Store, who are not as active as they used to be, but they still pop up from time to time. His main, most active project now is Prison, which he freely admits is a jam band. I'm not certain what the personnel on this record is because they have a rotating cast of musicians on a lot of their recordings. But in addition to Sarim and the drummer Matt Lilly, sometimes they've got…they got the guy from Endless Boogie in Prison a lot of the time, my buddy Mike Bones from the band Weak Signal plays with them a lot, they got this guy Mike Fellows. So, it's a loose collective of these all-stars from throughout the years just gone wild, totally let off the chain because that's the energy my buddy Sarim always has. He helps people get in touch with their adventurous side. Prison is just exciting, free music that rocks and kicks ass but is also crazy, unhinged lunacy that manages to cohere into an exciting ride. I wanted to highlight this very exciting band that's taking the New York City underground rock scene by storm."
Merch for this release:
Cassette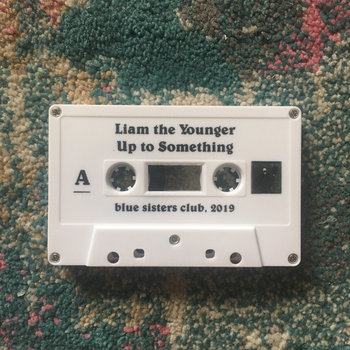 "A lot of people don't know about Liam [the Younger]'s really super prolific solo career. 2019's Up To Something was his eighth full-length solo album, which is very impressive. He's a very impressive guy with these records that he puts out, especially because he puts them out on his own. He has his own record label, he's always changing the name of it. I believe it's called Blue Sister Club now. He does all his manufacturing and distribution, which is not on the largest scale that he necessarily deserves, but he takes it all on himself and engineers and mixes the albums too. On this particular album, our friend from high school Ian Dykstra [plays drums]. He also played in Titus Andronicus for a few years and played on our first record. Liam and Ian are the only two musicians on the record.
"I'm very impressed with him and his ingenuity and his gumption in putting these things together. Besides that, it's just great music. It rocks. There are a lot of catchy tunes, but he also talks about some heavy stuff. His lyrics have real literary value to me. The song 'Eyes On The Back of My Head' is a very interesting and cleverly presented song about the modern surveillance state in which we live. He's really impressive, as well, because the last album that he made was called Music For A While, which was an entirely electronic album—really long, sometimes like 15-minute songs over this kinda spacey, hypnotic electronic music. Up To Something couldn't be more different from that. It's really pretty hard-charging, electric rock. He can do it all; he's the man. I've known him for a long time, and I really dig him."
Hallelujah the Hills
I'm You
Merch for this release:
Compact Disc (CD), 2 x Vinyl LP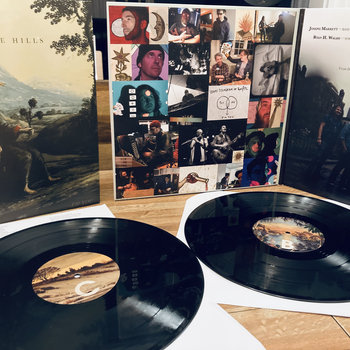 "Hallelujah the Hills are a great band from Boston that have been good friends of ours for a long time. We've done a lot of shows with them over the years. Some of them have contributed to some of our records, including The Monitor, most notably. They're another band where they've been at it for a long time. I think this is like their sixth or seventh album. They've been at it probably like 16 or 17 years which takes a lot of guts. Their album from 2019 I'm You impresses me a lot because I think it's their most fully realized statement yet, which is a tough thing to do on your seventh record for sure. They're another one, not unlike Ryley or Liam, where they put the record out digitally and then did a crowdfunding campaign. I was happy to contribute to getting the vinyl records pressed up. They're going out there and making stuff happen, which I admire enormously. It's great music, and my guy Ryan [Walsh], who's also a celebrated author, wrote the book Astral Weeks: The Secret History of 1968, a great nonfiction book about the Boston music scene in 1968. Naturally, I think his lyrics as well have a lot of literary value, and I'm always interested to hear what he has to say. So I'm You is a great record, one of my most played in 2019, and I'm excited that it's finally entering the physical realm on a gorgeous double LP. I can't wait to get mine in the mail."
Merch for this release:
Cassette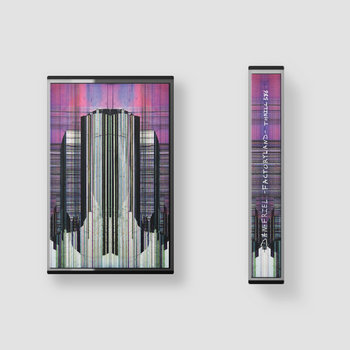 "Dan Friel is a guy that I've been a fan of for a very long time. In the 2000s, he had a band called Parts and Labor who were a very big deal in the Brooklyn rock scene. In that band, he did something more similar to his solo records, but if they had a rock rhythm section and singing with lyrics. You'll notice that his solo instrumental music is very noisy, but it's also very melodic and follows regular rock and pop music structures. There's no singing, but there are repeated melodies that are often quite catchy and major key, but they're wrapped in the gauze of industrial, harsh, noisy sound. I think it's a really cool juxtaposition of ideas. Parts and Labor had a lot of that stuff too, but in like a regular rock band format.
"I was a Parts and Labor fan, and then when I started listening to his solo albums, I was like, 'Damn, this is crazy.' This is all that cool, melodic, oftentimes uplifting stuff he's doing with all of the rock singers taken away. He performs solo live doing that music with all kinds of crazy machines, pedals, and stuff. Big, gargantuan sound comes out of these tiny little Casio keyboards and stuff. He's a very fucking cool guy. He has a rock band, a trio called Upper Wilds, who are also very good. They're more similar to Parts and Labor in that it's like song-oriented rock. He plays guitar in that band, so it's different from the electronic solo stuff, but it does have that underlying melodicism that unites so much of his work and makes it so appealing."