ALBUM OF THE DAY
Party Dozen, "The Real Work"
By Brad Cohan · July 07, 2022
​
​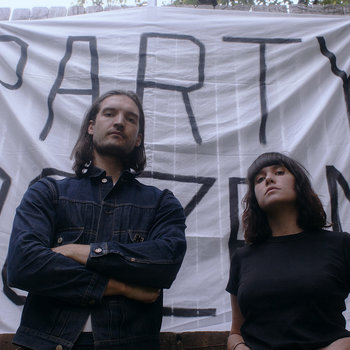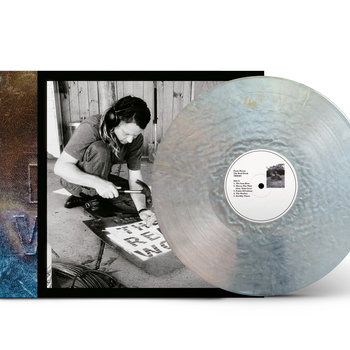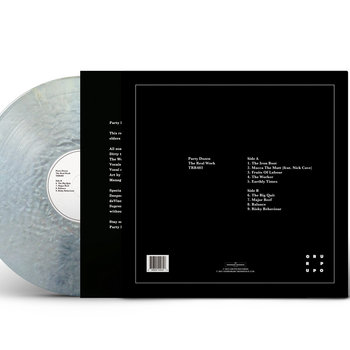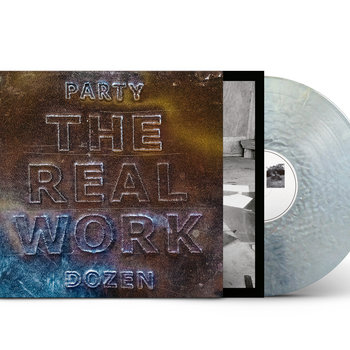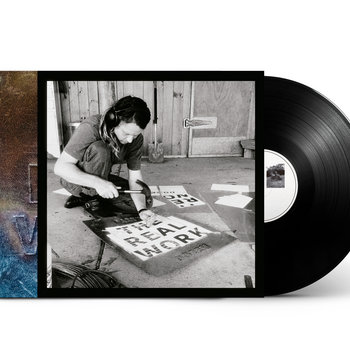 .
00:10 / 00:58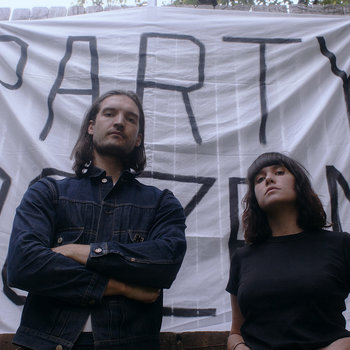 Merch for this release:
Vinyl LP, Vinyl, Compact Disc (CD)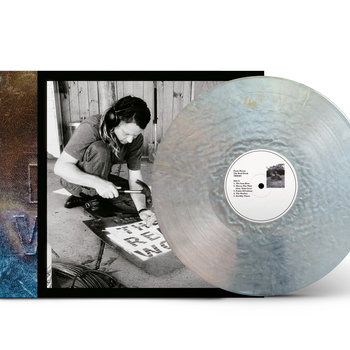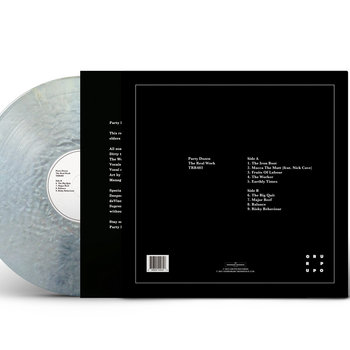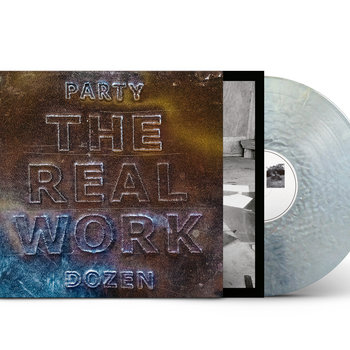 In sonic terms, two-piece bands utilize minimal instrumentation and achieve maximal impact. Duos like Lightning Bolt, armed with bass, drums, and miscellany effects, obliterate any and all conventions of volume through sheer force and unique mechanics. Party Dozen is a duo blazing a similarly noisy path. An Australian twosome made up of a saxophonist and a drummer, Party Dozen are cut from a Lightning Bolt-ish cloth: their music whips into a frenzy, in your face and earsplittingly loud. 
But unlike Lightning Bolt, the duo of Kirsty Tickle (saxophone) and Jonathan Boulet (percussion and sampler) draw from a stylistic hodgepodge that is all over the map. Their first two stellar, albeit overlooked albums (2017's The Living Man and 2020's Pray for Party Dozen) showed an ascendent band with an affinity for hopping from free-improv, doom, jazz, psych rock, and no wave, sometimes within the span of one track. Their brand of arena-sized, heavy bangers would ostensibly appeal to both the devoted listeners at Big Ears Festival and the metal heads at Maryland Death Fest.   
That's a given on Party Dozen's newest releases. Beginning with a recent standout Sub Pop single (the fire-breathing "Fat Hans Gone Mad" seven-inch) and indelibly stamped on their excellent third full-length called The Real Work, Tickle and Boulet have realized a huge and gnarly sound where skronk, hooks, noise, and melody seamlessly converge into one ecstatic beast. The Stooges are a clear influence, specifically their punk-jazz masterpiece Funhouse, but Party Dozen seem partial to all three of the proto-punk legends's touchstones. Tickle's hurricane-force sax blasts channel the piercing blows of Steven Mackay (the late saxophonist who brought Funhouse into the free jazz conversation) but there's also plenty of Raw Power's glammy grime dripping from Boulet's hard-charging beats and rhythms on The Real Work. 
The Real Work opens with an incredible one-two-three punch. Opening tour de force "The Iron Boot" is, arguably, their heaviest turn towards 1970s-style stoner metal that descends into a breakneck-speed, spastic free-for-all before ultimately returning to its original slow-burning lick. The forward momentum doesn't let up from there. The following "Macca The Mutt" (featuring Nick Cave winging it on vocals) is the record's should-be hit, a relentlessly catchy rager complete with a singalong chorus and highlighted by Tickle's soaring sax lines and manipulated howls. "Fruits of Labour" is another earworm that'll be stuck in your head for days on end; it's as if New Order's danceable, locked-in grooves converged head-on with the no wave jazz stylings of James Chance and the Contortions.
Loosely based on the concept of work and their instruments thought of as tools, the vibes reflected on The Real Work are anything but. With the album's nine songs rooted in free-improvisation (tunes are born out of jams and experimentation in the studio), Tickle and Boulet—using noise pedals, looping effects, overdubs, and various contraptions—lay down white-hot riffs and effects-drenched squeals that are celebratory and uplifting (unlike most work) and emerge with one of the year's best records.