ALBUM OF THE DAY
Loraine James, "Building Something Beautiful For Me"
By John Morrison · October 13, 2022
​
​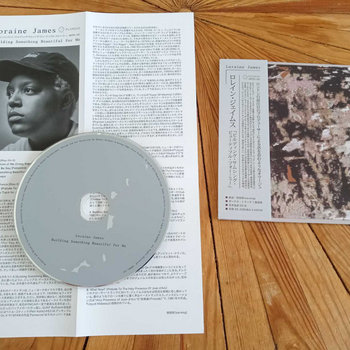 .
00:10 / 00:58
Merch for this release:
Vinyl LP, Compact Disc (CD)
When composer, pianist, and vocalist Julius Eastman passed away in 1990, his name, stylistic innovations, and body of work were largely unknown to avant-garde music fans. As a gay Black musician who struggled through poverty and long bouts of homelessness, Eastman was firmly disconnected from the social and economic class privileges that many experimental musicians enjoy. Despite this, Eastman and the music that he created were connected to something much greater. With their hypnotic rhythms; harmonic and melodic inventiveness; and a deep sense of spirit, Eastman's compositions demand acknowledgment as part of a rich and old tradition of Black experimental music. Today, his name is remembered alongside forward-thinking Black musicians like Butch Morris, Amina Claudine Myers, George E. Lewis, Sun Ra, and others.
On Building Something Beautiful For Me, London-based musician electronic Loraine James interprets Eastman's music with a sensitivity and a distinctly modern flair. In a delightful sleight of hand, the album opens with "Maybe If I (Stay On It)," with James transforming Eastman's joyous, euphoric string piece into a darker, sensuous song. "The Perception of Me (Crazy N—)" is a dreamy take on Eastman's landmark composition "Crazy N—." Here, James' gorgeous synth lines and chords dipped in reverb and delay. Anchoring the piece, the synths are subtle, patient, and evocative, wringing every bit of emotion out of the piece. "Choose To Be Gay (Femenine)" is built are billowing synth pads and James' voice.

"Enfield, Always" ups the tempo, opening with a tight four-on-the-floor kick drum and bright, plucky synths. Here, the similarities between James' and Eastman's styles meet beautifully across the gulf of time and space. Both masters at constructing relentless rhythms, Eastman's and James' respective musical pulses occupy "Enfield, Always," resulting in a driving, hypnotizing track. "Black Excellence (Stay On It)" offers another take on Eastman's original piec, "Stay On It." With its sweeping synth arpeggios, "Black Excellence (Stay On It)" twists, contorts and eventually builds to a furious climax before settling into a ghostly closing section.
With Building Something Beautiful For Me, James provides a fresh new context for Eastman's work. These compositions are not covered as much as they are completely reframed as James adds the emotional elements of contemporary soul music and the textural characteristic of electronic music to Eastman's minimalist classical works. Full of intriguing sound design and compositional ideas, James gifts listeners with a new way of hearing Eastman's work. As tragic as it is that Eastman died in relative obscurity, perhaps works like this can act as a small consolation. It is a pleasure to hear a contemporary musician tackling the music of one of the great, unheralded composers to walk the earth in our time.