ALBUM OF THE DAY
KMRU, "Dissolution Grip"
By Eli Schoop · September 29, 2023
​
​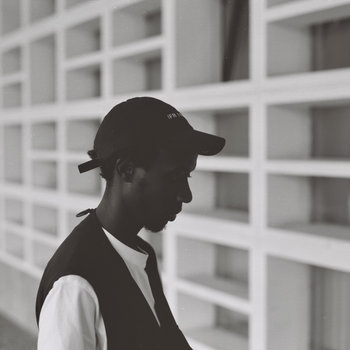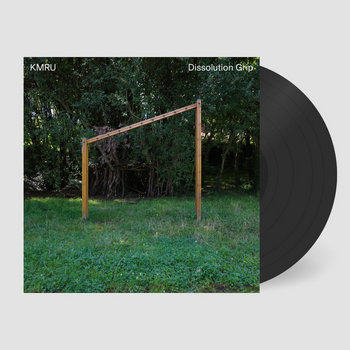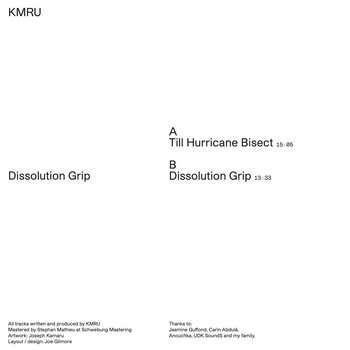 .
00:10 / 00:58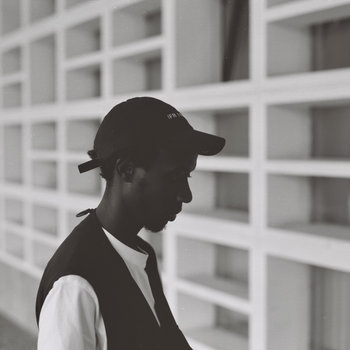 Merch for this release:
Vinyl LP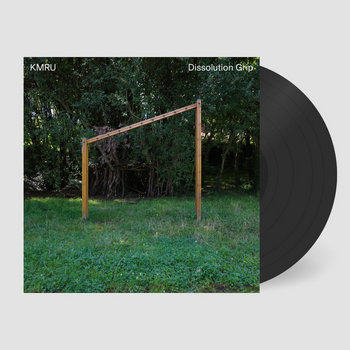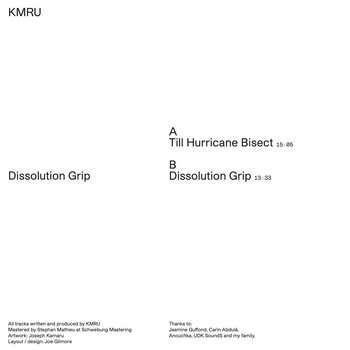 Music is in Joseph Kamaru's blood. His grandfather is the legend of the same name, a Kenyan giant in the world of benga, and an icon of the Kikuyu people. To be situated in that legacy is extremely difficult; to break away from it entirely and forge your own path, doubly so. In this context, Dissolution Grip is about Kamaru synthesizing his disparate worlds, disregarding sonic formalities insofar as his background in sound art. From his lineage in Nairobi to his trans-continental musical evolution in Berlin, it's a powerful statement of intent, of stripping away sonics as they come until only the purest form of recording emerges.
Dissolution Grip's liner notes say that he "looked at waveforms—the visual representation of sound itself—and embarked on a process where he would write scores from the shapes, gradually turning the scores into raw synth sounds." A naturalistic approach serves this type of kosmische well, drawing the listener into a trance through off-kilter repetitions and noises, echoes of KMRU's past in field recording. This is exemplified by the opening track "Till Hurricane Bisect." Titled in reference to an Emily Dickinson poem, it layers meditative, ambling synths atop each other in a precarious balancing act; until Kamaru suddenly sends the house of cards tumbling down in one fell swoop.
In the title track, KMRU delves deeper into the ambient synth motif, embracing rippling waves that keep coalescing until they turn into tsunamis. Drawing from Konoyo-era Tim Hecker, the mood is somber and reflective while continually escalating, further bringing the aeroacoustic nature of the song into the foreground. Little chips and cracks appear in the electronics until there is an endless symphony of furrowed noise. It's a piece that doesn't demand attention until it's ready, then wrestles itself aggressively into place with a divine sort of noisiness consecrated by the cold sounds that precede it.
"Along A Wall" bookends the album with a locational recording captured at Kamaru's estate in Nairobi. The original track was recorded in an old shack, as the building was being shaken to its core by winds. Here, we can see KMRU's resourcefulness and environmental cognizance coming into play, channeling the natural world's musical instincts into a sound that's simultaneously alien and familiar. That's what makes Dissolution Grip so compelling: a record by a musician masterfully bending a myriad of influences to his will.