ALBUM OF THE DAY
Kee Avil, "Crease"
By Miles Bowe · March 15, 2022
​
​
Merch for this release:
Vinyl LP, Compact Disc (CD)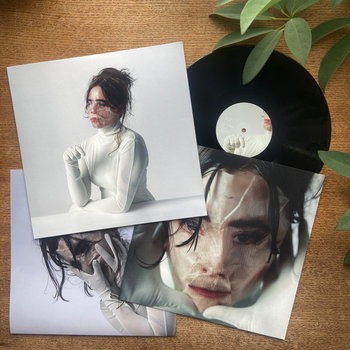 As Kee Avil, songwriter Vicky Mettler delicately threads guitar, piano, and electroacoustics to craft music that is intensely intimate and organic. It can be easy to only think of those words in pleasant contexts—as something soft or peaceful or pastoral—but the Montréal producer has something different in mind on her unsettling debut album Crease. Her sounds hang together like organs in a body, tightly wound and uncomfortably amorphous, each instrument at least partially digested, every tension unplaceable. Moving at a dreamlike pace while rarely rising above a whisper, Kee Avil has produced a debut of fiendish creativity filled with uniquely gentle terrors.
Crease arrives four years after Kee Avil's self-titled debut EP—a brief three-track release built on guitar harmonics, ASMR vocalizations, and churning electronics—and its greatest strength is in the way Mettler tunnels deeper into that sparse foundation. From the ominous opener "See, my shadow," Mettler lays out a palette that feels almost subterranean in its use of low-end from drilling electronics to cavernous chords played at the far end of the piano. Songs like "Drying" or "Melting Snow" embrace the void-like spaciousness of early industrial while making uneasy clearings that align the ghostly folk music of Lucrecia Dalt and Eartheater to Wolf Eyes at their most quietly tense. Every track builds on Mettler's sound in entirely distinct ways—the prickling micro-cuts that run through "HHHH" like nerve pain, the spindly guitar harmonics twinkling through "And I," Mark Molnar's bottomless cello that emerges on the late highlight "Devil's Sweet Tooth" like the monster in a horror movie's third act.
If there is a secret weapon on Crease, however, it's Mettler's own voice and words. Her hushed, seemingly narrow range gradually widens into a chasm of close-mic'd intricacy with lyrics that get under your skin while giving little away—just like the eerie mask she wears in Crease's artwork and music videos, which is somewhere between papier-mâché and Leatherface. It's here where Crease gets outright bone-chilling, finding emotional impact in abstraction, as on "Okra Ooze," where Mettler repeats "What is the perfect balance?" with the maddening intensity of Scott Walker. But it's the early highlight "saf" that haunts most of all, a song blurring heartache and disease with almost supernatural ambiguity. "Is this the same ache we all share?" she asks, before needling the question even deeper: "Can you feel it there?/ Under your ribs?/ Sitting with its feet up and going nowhere?" It's a line you can almost physically feel, and it captures Kee Avil's alluring debut as a whole. The further these dark songs seep into your ears, the more unforgettable Crease becomes.