ACID TEST
Acid Test: Soothing Techno, Free Jazz, Music Made by Chickens, and More
By Miles Bowe · June 10, 2020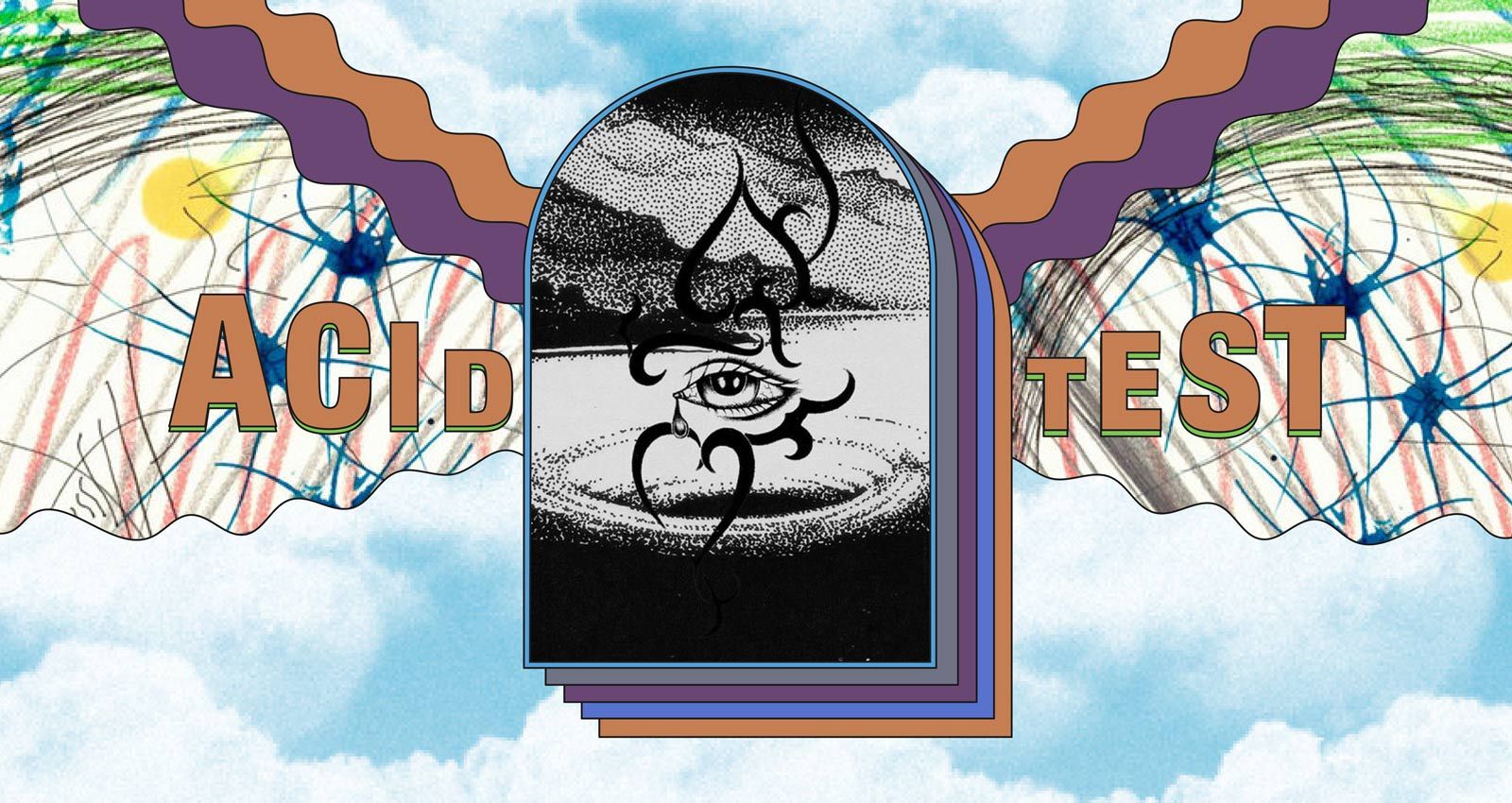 Bandcamp's outer limits continue to be a rewarding place for psychedelia, experimental club, noise, vaporwave, and music that is wholly uncategorizable. In each volume of Acid Test, Miles Bowe explores the platform's far reaches to dig up hidden gems and obscure oddities. This month, we explore an album made with the sounds of bats and another "played" by a pair of chickens; an emotionally heavy set of featherlight techno and a collection of healing music heavier than most doom metal. But first, we highlight the genre-smashing project Dreamcrusher, who in a single track, deliver their best album yet.
Merch for this release:
Vinyl LP, Cassette
Dreamcrusher, the project of NYC-based artist Luwayne Glass, has always expanded beyond the confines of noise, envisioning club music through the harsh lens of hardcore punk. But while cult classics like 2014's Suicide Deluxe may have helped grow their audience, Glass has never expressed their vision as majestically as they do on Panopticon!, a 39-minute, single-track epic and an album that warrants the exclamation point at the end of its title. The album takes its time, with murmured vocals and streaks of feedback stretching out luxuriously, before a wailing guitar sets the album aflame. These earth-shaking surges, and Glass's throat-shredding screams, rocket forth so hard the speakers can barely contain them. Noise, hardcore, and club are all genres that go straight for the body; but where so many albums fail at getting that volatile combination right, Panopticon! masters all three of those genres on a foundational level. It's a stunning breakthrough, and the perfect place to start diving into Dreamcrusher's epic discography.  If you like rap, noise, rock, or dance music—in literally any combination—you will love this album, you will tell your friends, and you'll feel that damn exclamation point.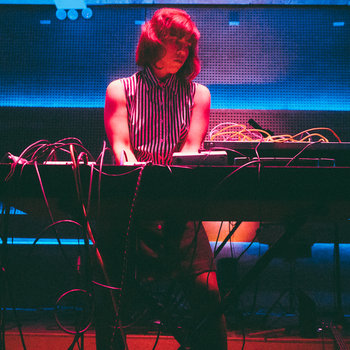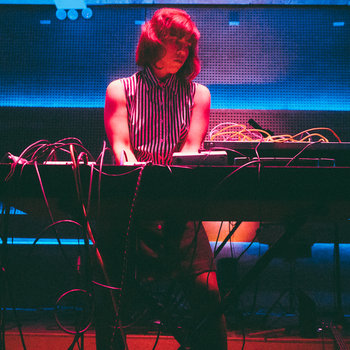 Merch for this release:
Vinyl LP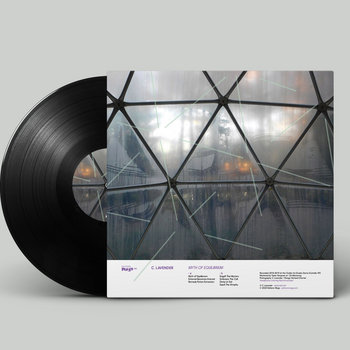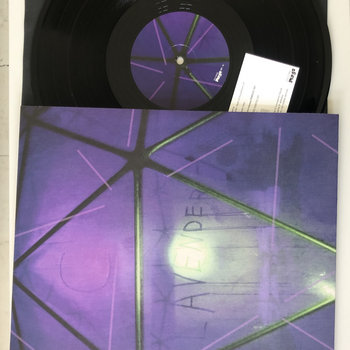 We typically picture "healing music" only as something calming and soothing, but C. Lavender—a sound therapist and former assistant to the late Pauline Oliveros—takes a different approach with her Editions Mego debut, Myth of Equilibrium. Recorded in the foggy geodesic dome pictured on its cover, Lavender utilizes bells, bowls, gongs, and enough distortion to fill a doom metal album to create soundscapes designed to build and release tension in the mind and body. The album's longest track, "Remedy Potion Extraction," captures this balance perfectly, opening on the grimmest note possible before gradually blossoming into a blissful state. Lavender also makes incredible use of a binaural microphone to create an atmosphere that's almost three-dimensional, where sounds envelop the listener. It's a recording technique that almost always comes off as a cool gimmick to me, but Lavender uses it in ways I've never imagined to create an album that sounds like nothing I've ever heard. Myth of Equilibrium transcends simple ideas of noise or new age, creating a form of "healing music" that feels more honest and invigorating on every level.
Auscultation
III
Merch for this release:
Vinyl LP, Cassette
Oregon techno artist Joel Shanahan makes a welcome return with his third album as Auscultation, the first since surviving the unbearable tragedy of Oakland's 2016 Ghost Ship fire. Much like its understated title, III unfurls like a long cathartic sigh. Even in its liveliest moments, like the booming finish to penultimate slow-burner "Fool," or the agitated rhythm of "Purgatory Sway," the album remains immensely sensitive and gentle. The sprawling opener "Glowing Hearts In The Rainbow Room" and the equally haunting and dazzling "Turn Down These Voices," offer blissful portals to fall through infinitely; but it's III's softest moment that hits the hardest: the stripped-back album closer "Exit" brings the album to a heartrending finish with only a fluttering streak of synthesizer and a simple chord progression that gains power with every life-affirming repetition.
Merch for this release:
Cassette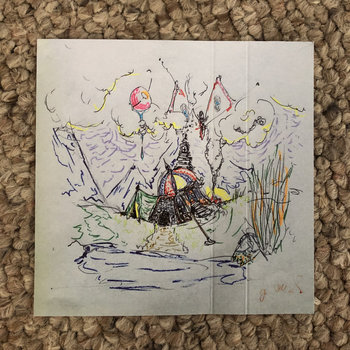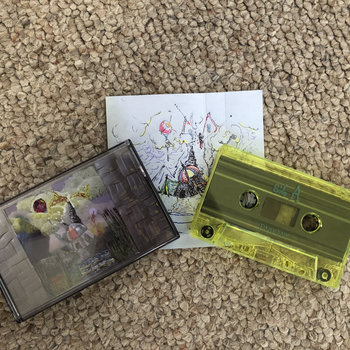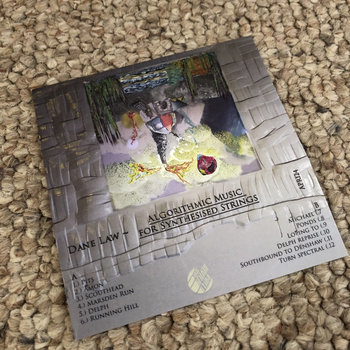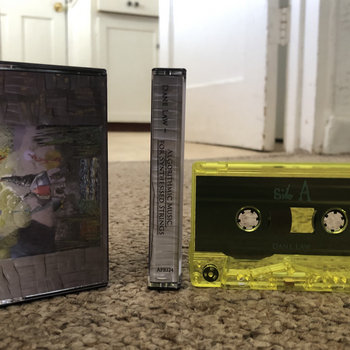 Keep the title in mind when you hear Algorithmic Music For Synthesised Strings, because Dane Law's computer music is so hypnotic and naturalistic, it will make you forget its source almost instantly. Every sound on the London-based artist's album was generated by running MIDI files through a computer algorithm, but the brittle music that results—often resembling a finger-picked guitar or lute—flows like traditional folk music. Some tracks, like the outstanding "Delph," embrace techno while remaining stripped down to a minimal and pointillistic edge. But it's just as satisfying to hear these beautiful tones when they simply tumble in abstraction. Equally ancient and futuristic, computer music has rarely sounded so removed from time itself.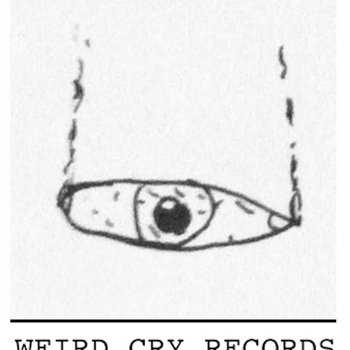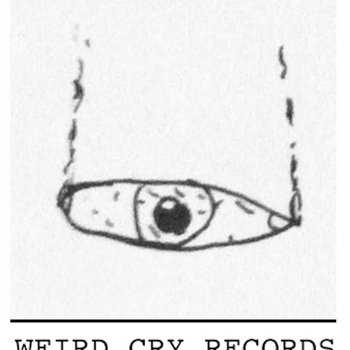 Merch for this release:
Compact Disc (CD)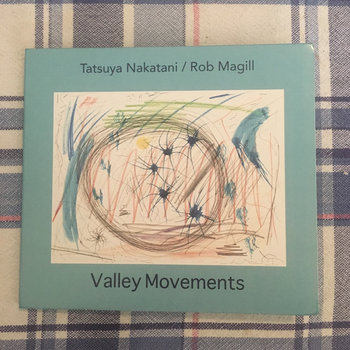 Valley Movements captures a lightning storm of a live set between free jazz percussionist Tatsuya Nakatani and saxophonist Rob Magill. The sole track is titled "Consequences," after the curiously named New Mexico town of Truth or Consequences where it was recorded. Though Nakatani and Magill embrace rattling and skronking extremes respectively, there's a deep sense of communication throughout Valley Movements. Nakatani's vast polyrhythmic webs can take the form of crashing cymbals, squeakily rubbed metal resembling a screaming violin, and dizzying rushes of prickly drum taps. It's thrilling hearing Magill not only roar along in these moments, but also pull back and work his knotty, tenor sax melodies through the labyrinthine clamor. The best part is how that sensation only increases as Valley Movements plays out. Through quiet rumbles and full-on explosions, it's a thrill hearing these two unique musicians figure each other out in real time.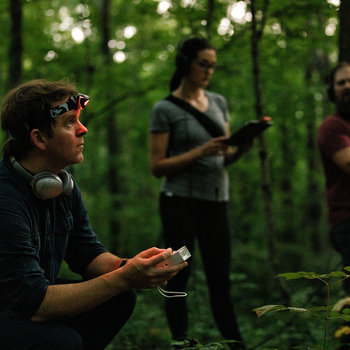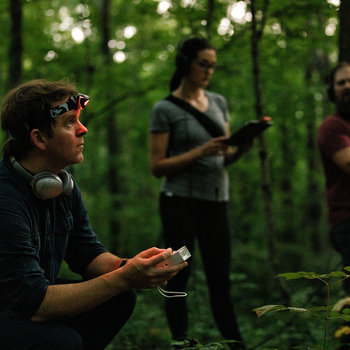 Merch for this release:
Compact Disc (CD), 2 x Vinyl LP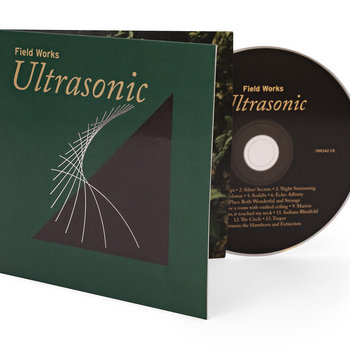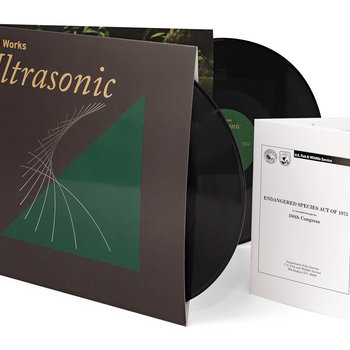 Through his unique Field Works project, field recordist Stuart Hyatt finds some of the most fascinating sounds on–or beyond–Earth, and enlists collaborators to make music with them. Ultrasonic embraces our furry friend the bat and the wondrous sounds of echolocation. An excellent roster of contributors, including Kelly Moran, Jefre Cantu-Ledesma, and Sarah Davachi use this unique sound source as a jumping-off point to offer their own distinct visions. Mary Lattimore creates a brittle, beautiful duet with the bats using her harp, while Noveller creates a dark fanfare with her distorted guitar. Others move towards abstraction like Christina Vantzou's haunting "Music for a room with vaulted ceiling" or Felicia Atkinson's "Night Vision, it touched my neck," where the head-spinning, but whisper-quiet, sound design matches the mystery of the elusive animal. Satisfyingly capped off by a moving spoken word contribution from Julien Marchal, Ultrasonic represents the Field Works project at both its most musically and conceptually satisfying.
One of the most memorable experiences I've had during this pandemic was the collective brain-melt fans experienced during Aaron Dilloway's quarantine concert for ASRA, when the musician performed live with two pet chickens. The video is a masterpiece in clever reveals—the uneasy creak of Dilloway's rocking chair that continues looping after he gets up, the ominously jangling bell that hangs off the back, the subtly curved metal plate on the floor that unexpectedly slams when Dilloway steps on it like a haunted house prop… All of that before the first chicken enters a playground Dilloway made from singing bowls, contact mics, and a guitar. The contrast of Dilloway's bemused reactions while conducting his enthusiastic birds with handfuls of feed with the terrifying music they're inadvertently producing makes the video a must-watch, but the concert's official audio release is just as essential. Removed from actually seeing its playful creation, it's a far more abstract and threatening listen where the line between animal and machinery unnaturally blurs. More than just a fun idea thrown together during quarantine, Chicken Traces is one of Dilloway's most substantial releases made even better by these two distinct vantage points.